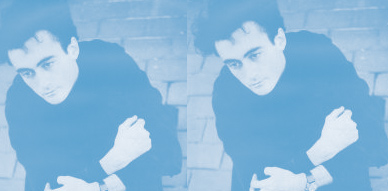 Thanks so much to Patric O'Connor for this fantastic interview! It was great to read his honest answers and learn a bit about his involvement with My White Bedroom/Patric and the scene that was around at the time. Some time ago I wrote a small piece about Patric and he was so kind to get in touch and tell the story of his music. Hope you enjoy it!
++ Hi Patric! Thanks so much for being up for this interview. Whereabouts in the UK are you now?
I live in a house, in a street, near to the river in central London, England.
++ Are you still involved in music?
Yes, I'm still writing, recording and playing live and releasing music on my own label via Bandcamp & CD Baby.
++ The record I have from you, the three track 12″, was released in 1989. Before that, had you been involved in any other bands?
No I had not been in any other bands prior to My White Bedroom. I originally formed the band with the bass player Chris Rutter in 1985 and this was my first band.Chris was still at college and I had only just finished my degree when we got together in his basement in Brixton with a drummer called Andy.
++ Why did you decide to just use your first name as the band name?
I didn't decide to call the band 'Patric' for the recording you have. In fact I thought the whole idea stunk like a huge pile of horse manure. We had been called My White Bedroom for about two years prior to the record company taking us on. The idea came from our management at Orange Records who wanted to sell me as the new Morrissey. I don't think the rest of the band were too happy with the new name and concept either; they all quit soon after the record came out.
++ During those days, what sort of music were you into? What would you say were your influences?
From about the age of 14 my influences had been The Velvet Underground and The Doors, even when punk was happening all around me I still liked those old sixties bands. I listened to them incessantly and bypassed punk completely. Post punk came around and I was listening to Joy Division, The Cocteau Twins and The Smiths. Lyrically and stylistically Morrissey must have been an influence as I remember going to a party with a bunch of gladiolas in my back pocket and my hair done up in quiff. I looked like a right prat.
++ Were there any like-minded bands that you use to follow in the late 80s? Did you feel part of a scene? There were so many guitar pop bands then…
I wouldn't really say I followed or was a fan of any particular band at the time. All the singers I admired, like Ian Curtis and Jim Morrison were either  dead, or, like Lou Reed & Morrissey, had become dead boring. I saw The Smiths once or twice and I saw the Butthole Surfers at The Ambulance Station, which is still one of the best gigs I've ever been too. I went to see american band Swans play an incredibly loud and bowel shaking gig at the Town and Country in '88, supported by The Pixies and The Sugarcubes. Apart from that I rarely went to see bands as it often meant not having enough money to afford my daily diet of beans on toast.
As for being part of a scene I guess that was very true of Camberwell in 1985 – 89. Back then Camberwell was a shabby South London enclave full of squatters and art college students. Indie bands started forming like desperate barnacles on the hull of a ship. Before us there had been musicians like Syd Barrett, Brian Eno, This Heat, Bronski Beat and The Dave Howard Singers living in the area. It's all been gentrified now. Upper class warbler Florence Welch comes from Camberwell Grove, which says it all.
We formed around 1985 and started playing anywhere in Camberwell and South London where we could get a gig. Wimbledon Art College, an old disused cinema in Camberwell called Dickie Dirts and The Ambulance Station in The Old Kent Road where we supported Australian band The Moodists. We soon made friends with and played gigs with other bands like The Auto Sexuals, Go Hole (who eventually found success as Gene) and of course The House Of Love. The Grove pub in Camberwell was the epicentre of all this activity and was a dropping in place for proper rock stars and hipsters. I remember Ian Mcculloch, Bobby Gilespie, Miki Berenyi ( from Lush) and Dan Treacy (TV Personalities) making an appearance there between '86 – '89.
++ This 12″ was released by Orange Records. Who were they and how did you sign with them?
By 1988 my band had split up and I'd more or less given up on the idea of being in a band and having a 'career' in music. I was holed up in a filthy squat in Camden when Chris Groothuizen turned up at my door with his girlfriend and saved me from a life of debauchery and iniquity. The House Of Love were huge that year and were on the verge of signing a big deal with Phonogram so I guess Chris felt indebted to me for helping him out when he first lived in Camberwell.
I moved back to Camberwell and we put a rough demo together on his four track Fostex and added some songs from an 8 track studio demo I'd recorded with Simon Walker and Chris Rutter in '86. Chris took the demo to  Orange Records, which was a subsidiary of Rough Trade, based in Camberwell. An unfortunate looking little hobbit-like woman with hairy feet, who was one of the managers at Orange, listened to the tape and was soon huffing and puffing down the phone saying she thought the songs were brilliant and I must sign a contract 'as soon as I get out of bed'.  A lot of legal stuff followed with lawyers and pen pushers and then I got back in touch with Chris ( Rutter) & Simon who were happy to reform the band and go along with all this nonsense. We rehearsed and  played a few gigs with some well known acts and cut the record at Cold Storage in Brixton. The hobbit told us we were the 'best indie band' in England and she would have us signed to a major before the year was out. We'd be awash with money and hanging around swimming pools in Hollywood with beautiful woman laughing at all our jokes. For a no good slacker like myself who had been on welfare and living in squats for five years this sounded like a pretty good idea.
Orange Records were mainly management and had The Beloved and Momus on their books. Their plan for me and the band was the same as it was for all their artists; make a record, get some press, get some radio play, crank up the hype and sign to a major. I think the hobbit liked my tight trousers and quiff but she didn't like Simon and all that 'weird stuff he did on his guitar'. In fact I don't think she really liked music at all but we were nice looking boys and that made us a good 'product' to be marketed.
++ This record had three songs, "The Message", "On the Road", "It's Over". Care telling me in a few lines the story behind them?
The Message was about an old girlfriend from Camberwell Art College. The line about 'now she lives undergound / speaks to me without a sound' refers to us smoking dope together in her basement and listening to The Velvets after an argument. On The Road was about a sad mixed up alcoholic I used to know who was always 'Out on the road looking for different friends'. The line 'and so there is a time, a time to murder and create' refers to an unwanted pregnancy. The last song on that EP with the line 'take a gun and set me free' is an even more morbid song about a friend who committed suicide.
++ What do you remember from the recording session for this record? Any anecdotes you could share?
The recording session was mildly thrilling for me as it was the first proper studio I had been in. However there was a lot of tension in the band and nobody was happy with what we eventually conceived. The studio was called Cold Storage and belonged to a musician called Charles Bullen, one of the founders of This Heat, a very cool experimental band from Camberwell. This impressed Simon Walker who was in awe of anything weird, atonal and avant garde. He played all the lead guitar parts and did a brilliant job but was told to avoid the atonal guitar licks and play it straight. The bass player was Chris Rutter who had been playing on and off since the early days and the drummer was an eccentric Swiss bloke called Daniel who had a habit of leaving his turds in bottle for anyone he took a dislike too. During the recording the arrangements were changed by Chris Groothuizen to make it more radio friendly and a thick layer of music biz polish was applied. Simon was blind with rage after the record was finished because it wasn't the way we played it live. The recorded  version has its merits but I can now see he was right and our live version of 'The Message' was a much more powerful and interesting arrangement.
The session was completed in two days and I recorded a lot of new songs on acoustic that never made it to the final EP. There was a woman called Sarah who came to contribute backing vocals and it was mastered and released fairly quickly on Orange Records. The hobbit told me it was loss maker and harangued me later on for money to recoup her losses. Apparently it sold about 700 copies. You have one copy and I have the other 699 under my bed!
++ And what about gigs? Did you have a full band for these occasions? Did you play many?
We played a quite a few gigs from '86 – '89,  not a humungous amount but enough to keep us ticking over. There was always a full band and we delivered some of the songs at breakneck speed in an intense  manic barrage of over driven guitars, completely unlike the insipid records we made. The best of those gigs came after we had signed to Mick Griffiths booking agency. In '88 we supported The Happy Mondays and Jesus Jones at Dingwalls in Camden.  After the record came out the original band split up and I quickly assembled another group of musicians. I found a rock solid French rhythm section and an amazing but eccentric American guitarist called Pete Donaghy. This was a great lineup and we went on tour with HOL for a few dates around Southern England but split up when Orange dumped us in '89.
++ Are there more unreleased recordings by Patric?
I have quite lot of post Orange recordings in my cupboard which I've had digitally transferred from the original master tapes. Some of the songs come from the Plastic records sessions and some from later on in the 90's when I was playing with a different line up. I still have some rough takes from a session at Blackwing Studios when Terry Bickers was working there after he had been kicked out of HOL. I'm in the process of mixing these and will put them online soon .There are also a few very revealing video clips from the HOL tour which I will upload to Youtube in due course.
++ Then you stopped recording and releasing as Patric, right? And started a new band called My White Bedroom. Why the change?
Ah well … As I explained earlier the 'Patric' misnomer was only for the one record. I restored the 'My White Bedroom' moniker in December '89 when we started working on the album. I continued with this name until about '95 when I more or less hung up my guitar strap to go travelling.
++ How different and how similar would you say were these two bands?
Well as I explained earlier there wasn't really a proper band for the My White Bedroom /Plastic Records recording, it was just another solo effort with guest musicians. The 'Patric' EP and the 'My White Bedroom' album featured  different musicians I'd played with at various stages but all the songs were written by me and both records were co-produced with Chris Groothuizen. The only musicians who featured on both records were myself and Simon Walker.
++ The other members of My White Bedroom were part of The House of Love, how did you know each other?
None of the members of HOL were ever part of My White Bedroom; in spite of what it says on Wikipedia. HOL members only played on the recordings and played the occasional gig with us but only as a stand in for absent members or for fun. I've uploaded a video to Youtube showing Terry on bass with MWB in 1987, Chris played a couple of gigs with us on bass and drums and Pete Evans played drums on the record.
I met Chris Groothuizen in '85 and helped him set up a squat next door to my place in Vicarage Grove, Camberwell. We used to get stoned together and jam in the basement with his New Zealand friend, Wayne, on drums. We were both lousy musicians and fans of The Velvet Undergound so we became quite good friends during those years. Andrea Heukamp, who was a member of HOL during the early days,  moved into the squat next door and use to join us for jamming sessions; she was a much better musician and singer than either of us. Chris met Terry Bickers in Camberwell; he had just quit Colenso Parade and auditioned for Guy Chadwick who was putting HOL together in '86. The House Of Love played their first ever gig with us at Dickie Dirts followed by a gig at the Half Moon in Putney. Sometimes Chris would stand in on drums for us or Terry would play bass. It was all very friendly and very much in the spirit of post punk.
Terry was a great guitar player and a very charismatic guy who went on to make some incredible music with Levitation. In those early years he  was always dropping acid and getting up to strange things. I remember calling round to see him at his squat and he'd knocked a huge hole in the living room wall  'to make it easier to reach the kitchen'. He always said he preferred MWB to HOL but my friendship with him probably scuppered my indie 'career' after Guy had him kicked out of HOL and we were asked to leave the HOL tour because of our association. I very rarely spoke to Guy who was a very aloof and difficult character and I hardly knew Pete Evans but he did a great job playing drums on the Plastic Records album.
++ With this band you released one album with Plastic Records. How did that work out?
The album was recorded at a 16 track studio in Balham Hill, South London, over a period of about two weeks , it was mixed at Grannies Studio in Fulham and mastered at Porky's Mastering Ltd in Soho. I put up the initial £500 for the studio time and Chris and I worked through the night for two weeks throwing all kinds of wonky ideas into the mix. It was a good combined effort. My Velvets and Doors influence are obvious but it was Chris's idea to give 'Into the light now' that groovy little bass line which made it one of the more interesting tracks on the record. An American guitarist called Pete Donaghy did some excellent work on 'Into the light now' and 'The Ocean' and we had a keyboard player called Mick Gallen who put down the Ray Manzarek style organ on 'Lovechild'.
++ For this record you worked again with Chris Groothuizen, how important was his work for your music in general?
As I mentioned earlier we were good friends until about '95 when I moved away from Camberwell and went travelling. I'll always be grateful to Chris for helping me out and I know that I never would have made those records without him. He became a decent bass player and a good performer on stage but his taste in music was very conservative and I was more influenced by Simon's guitar playing than anything Chris ever contributed. Simon was completely obsessive about music and guitar technique and was in quite a different league to the rest of us. Chris was a calm zen like presence who had a knack of holding things together during the recording sessions .
++ Is it true that when raising money for the album even Alan McGee dropped a grand for it?
Yes , I heard it was a grand. I put in £500 of my own money and the record sold about 4000 copies; CD's and vinyl. It was released via Creation Records through Pinnacle distribution and must have made a few thousand for somebody but I never saw a penny of that money. There was some creative accounting going on at Creation in those days. Alan McGee McGee was only in the music business for the money and didn't care too much about paying musicians what they were due.
++ And what about the backing vocals on this record, was that your sister Rachel? Did she play in other bands or make music?
Rachel sang backing vocals on the My White Bedroom / Plastic recordings but that is all she has done since then. She's married now and has four kids and a mortgage, so not much time for singing.
++ Did you gig a lot with this band?
My White Bedroom existed from 1985 until about 1995, so yes, I played a lot of shitty old dives. The best gigs we played were supporting The Happy Mondays at Dingwalls, the HOL tour in '89 and a great gig at a rave in '91 where the whole floor was a sea of people dancing to 'Lazer Gun'. It's all been down hill since then!.
++ What happened after? Why didn't My White Bedroom continue as a band?
The last incarnation was myself on guitar, Sebastien Vandevyver on drums and Kevin Philipsz on bass. We had some rehearsals but we were in our thirties by then and had long passed the point of ever being signed, so we gave it all up in '95. I had suffered a bad head injury and had been in hospital for surgery so I didn't have the strength to carry on. I went abroad for a rest and a change of scenery and spent a year in France working part-time as a goat herd as well as playing with a French skiffle band ; we used to promote open air saunas in our underpants. Bizarre but true!.
++ These days what are you up to? What other hobbies do you have aside from music?
A lot of the time I'm either earning a crust from my day job or mucking around in the studio. I formed a group with a bass player and percussionist about three years ago playing a mixture of folky fingerpicking blues and alt country. We've been performing at various pubs in London town in the hope of finding an audience amongst the beard and waistcoat crowd. I've also been working in Ableton Live creating groove based music with a mix of psychedelia, world and indie influences. I've just released a new My White Bedroom called 'Back in Bed' which was recorded in London with drummer Sebastien and bass player Dominic. It was mastered in Nashville and is out now on Plastic Records via Spotify and other streaming services and can be downloaded from iTunes: https://itunes.apple.com/us/album/back-in-bed/id1219309071 or CD Baby https://store.cdbaby.com/cd/mywhitebedroom3 . I also spend a lot of time in France cycling, swimming and drinking Pelforth.
++ And looking back in time, what would you say was the biggest highlight for Patric?
There are no particular highlights but I have some great memories and the best of those memories were the gigs I played and the music we made. Mostly I remember the good times jamming and performing with Terry, Simon and Chris before all the Orange/ HOL music biz bullshit took over. I remember us  playing a 20 min version of Interstellar Overdrive with Terry, Simon and Chris at an open air festival in Camberwell while tripping on acid. We also played a gig as a Velvets tribute band at Goldsmiths tavern with Mixmaster Morris supporting us dressed up as Nico. Another Camberwell gig was at a disused old cinema known as Dickie Dirts, where we had an old generator chugging away to provide electricity and crusty old hippies sat around open fires in the auditorium. Playing at a warehouse party in East London with a brilliant drummer called Bobby Demers in '91, looking out to a thousand people consumed by the groove. Good memories, it was all highlights.
++ Thanks so much for this interview, anything else you'd like to add?
Thanks, I'd just like to add a few thoughts I had while writing this piece.
Back in the eighties London was a fertile breeding ground for indie guitar bands, gigs were easily available at the numerous venues left over from the pub rock and punk era and the fanzines and national music mags like the NME and Sounds gave bands a voice.  Some bands we knew, like Gene & HOL, made the big time and enjoyed the pleasures of the big stage while some bands, like us, burnt out trying. Looking back our naivety and desire to try something fresh, unknown and experimental was, for me, the essence of what indie music should be. It was also one of the reasons why we didn't break through to the 'big time'. The music business , as we soon discovered, isn't really interested in musicians trying different styles of music, it wants one musical style and an image to go with it; the music biz wants product. The House Of Love  with their careerist attitude, clearly defined image and use of '60s rock cliches realised this and set a precedent for Britpop bands like Oasis, Pulp and Blur who cashed in on the commodification of indie guitar music.
The conditions that helped indie guitar bands flourish in London in the eighties have vanished now. Most of the indie venues have closed down, squatting has been made illegal and a lot of the freedoms we had back then have been taken away from young people by the burden of debt. Being in an indie guitar band has become a grim career choice and a pathway into mainstream music, instead of a means of expression and creative discourse. It's great to find someone like yourself keeping the flame alive for all the forgotten guitar bands of that era and it also gives us old indie soldiers some comfort in our twilight years to think that the adventures we had and the music we made, wasn't all for nothing.
::::::::::::::::::::::::::::::::::::::::::::::::::::::::::::::::::::::::::::::::::::::::::::::
Listen
Patric – The Message