30
Nov
author: Roque category:
rants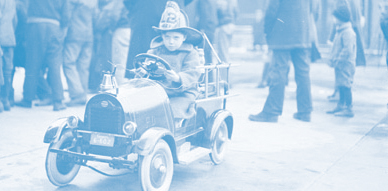 We were supposed to arrive in Berlin around lunchtime. Nana and me have been on the autobahn for days. At least that's how it felt. Everyday driving all over Germany while listening to Peter's "The Sound of Glen Waverley" compilation. We arrived quite late, around 4 pm. I was afraid that Uwe was going to be pissed. We woke up late, that's true; and we left Hamburg even later. Berlin was empty, it was a holiday, May 1st, May Day. We didn't see any revolts or demonstrations though, maybe because we were pretty lost in the city. It took as around 30 minutes to find Uwe's place, and 15 to find a parking space. Not an easy task.
At last at Uwe's apartment! Wow, what a record collection!! Records everywhere, on racks, on shelves, I bet even in the fridge! To my surprise, also waiting for us was Jan. We were meeting two thirds of Firestation Records!
Glasses of lemonade kept coming. Indiepop gossip, the latest news, future releases and plans. The state of indiepop labels, the dishonesty of legendary labels, the enthusiasm of up and coming Japanese labels, the price to press vinyl in Japan. And etcetera. It was a conversation that could have lasted for hours, maybe a sleepless day. Uwe, especially, had that same passion and drive for jangly guitars that I have. Passionate, now I can see how the Leamington Spa compilations take shape. I can see him dedicating hours and hours of searching and looking for the old bands, especially during those early volumes, where there was no myspace and old bands were almost impossible to track down. I know for a fact that he would send letters to the addresses that appeared on the back of the sleeves of the records. I wonder how many answered back.
A little trade with them, Explained Emma's "When My Heart Rings" 7″ and The Groovy Cellar's "When You Fly Away". The first one appeared on the last Leamington Spa compilation, but this 7″ appeared early this year as a co-release between the German label and the Japanese Fastcut Records. This are songs from the early 80s released today! I believe this record is now sold out, sadly. But you can still get the second Explained Emma 7″, out too on Fastcut Records and Firestation: "Unnecessary Stain". I recommend them both! I would most probably try to get in touch with the band, would be great to have an interview sometime! On the other hand, The Groovy Cellar is one of my favorite German bands. "Mac Arthur Lane", on Marsh Marigold, is such an underrated album, it's great. Also if you are curious check Olaf's previous band, the legendary Most Wanted Men. This 7″ is part of the Singles Club that Firestation started not so long ago, this is number 4.
The future is even brighter! The Sound of Leamington Spa Vol. 7 will be out early next year. All I know is that there are going to be 21 tracks, and one of them is from Home and Abroad. I guess I'm not nosy enough? Also around the same time there will be a retrospective album from The Ferrymen. The 15 track album from this Doncaster band should be a winner. Their sound reminds me The Housemartins and The Beautiful Sound, and though I'm not a fan of either, I'm enjoying these tracks! Coincidence or not, the final show this band ever did was in Berlin. Huh!
The other great news, and the one I'm looking forward with excitement!, is that this December will see the release of a retrospective album of an overlooked C86 band: The Man of Westnesse. Hooray! The only two songs I know (Boating and The Coldest Water) are pure jangle bliss, favourites among favourites. The album is called "Are You Brothers" and it contains 15 (!) tracks. This is a MUST have. If you are skint, ask Santa for it. You NEED it.
And then it was time to leave, time to go meet Kat and Day, and a night tour around Berlin's historic sites.
::::::::::::::::::::::::::::::::::::::::::::::::::::::::::::::::::::::::::::::::::::::::::::::