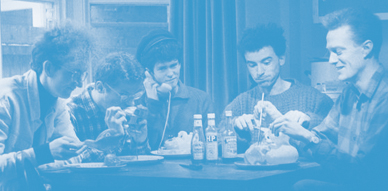 Thanks so much to Pete Geoghegan for the interview!
++ You've made it to Wikipedia, meaning you are an important band in popular music. See, smaller bands' pages get deleted. Are you surprised by it? How do you feel about it? What is that that Mighty Mighty left to POP!?
Important is not a word any of us would use. The internet is still a bit of a mystery to us all. We're 20th Century boys. What is great is that people have access to our music. As for our legacy? Mick is such a great songwriter. If it wasn't for him, I'm not sure the rest of us would have attempted to write. So on a very personal level I'm glad of that.
++ You said you started the band over a shared love of soul music, Postcard Records, The Velvet Underground and Socialist Worker Party politic. What was your favourite Postcard release? What do you think was Postcard's legacy?
Mick and Hugh were the postcard fans. My favourite is Blue Boy by Orange Juice – raw power and emotion. Again – legacy? A label responsible for Orange Juice, Joseph K, Aztec Camera, The Go-Betweens….it speaks for itself.
++ How involved were you all with the Socialist Worker Party? How important was for the British to be involved in these parties during the Thatcher years?
There were no jobs, the miners were on stike, Nelson Mandella was still in jail, nuclear attack still iminent…the divide between left and right, rich and poor was a lot clearer in those days I think. It was dificult not to be politically active. There was a benefit gig to play every week! People seem more apathetic these days but that's a generalisation. I wasn't old enough to vote when I joined the band! It was a long time ago.
++ Who were Mighty Mighty? When and where did you got together? Why the name?
Mick (my brother) and Hugh met in the early 80's and palyed in a band called Domestos. They formed Mighty Mighty (Curtis Mayfield song), Russell joined on bass, H on drums and I was last to join. I said to Mick one day, "If I buy a keyboard, can I join the band?". He said, "Yes". Simple as that.
++ How much luck was there to appear on the NME C86 tape? How did you end up there and how did it help the band after? What is the song "Law" about?
Luck? Yeah. It's all based on luck. Ask any band. There are plenty of talented acts out there who we'll never get to hear. It helped tremendously. We got a lot of exposure for a band with no manager or agent even, at that time. Law? I think it's about a dangerous girl. You'll have to ask Mick but he'll probably insist on having a lawyer present!
++ Your first release was "Everybody Loves the Monkey"… what do you mean by "the monkey"? I was wondering about the Girlie label, who ran it? and why the catalog was organized by the word GAY?
Again, you'd have to ask my brother. The only monkeys I've ever seen live in zoos. We ran the label ourselves. It was very primitive and great fun. Russell and I got through quite a few Pritsticks putting the artwork together. Gaye is H's partner. We used their house as head office. It was just a little "thankyou" to her.
++ How involved were you in the Birmingham scene? I've noticed you were really close to The Sea Urchins, with members of them appearing in your record sleeves. Which other bands were good friends with you? Was it a friendly scene? Or did you have any problems with any bands?
Don't think we were ever really aware of a scene. There were bands we shared the bill with who we admired. Pigbros were great. Bridget, Robert and James (Sea Urchins) were friends. I played with them very briefly in my mum's front room. My sister has a family with James's baby brother so there's still a close connection. I'm off to London to see Bridget at the weekend.
++ You did gig a lot! What were your favourite gigs, those that you still remember vividly?
Aberdeen. Everybody's fave. The power/lights failed but we played on. It was just great fun. Fantastic crowd.
++ You were also part of the first flexi released by the legendary Sha La La! How did Throwaway ended on Matt Haynes label? Were you followers of his labels? Would you have liked to be in Sarah?
Pete: I haven't a clue how we got on the flexi. I guess he asked us. I think we may have been more at home on Sarah but then if Chapter 22 hadn't come along, we probably wouldn't be talking to each other today.

++ How did you end up on Peel's show?! Was that the biggest highlight of Mighty Mighty?
He played Monkey. That was the highlight as far as I was concerned. I remember Russell and I jumping up and down. Recording the sessions was fantastic. He insisted on introducing us on stage once. We still miss him. He can't be replaced.

++When and how did you signed to Chapter 22 Records? Who were they?
Erm…1986? Craig Jennings…don't think I spoke a word to him. I was very young and shy. I use that as an excuse quite a bit.

++ Early this decade you end up releasing all your back catalog on Vinyl Japan. Was there always interest from Japan? How rare are these CDs now? I'm still looking for copies of the BBC CD and "A Band from Birmingham"! How did you end up releasing in Vinyl Japan, an historic indie pop label!?
We had no idea we'd been picked up by them but were thrilled to be available on CD now as well as vinyl. Craig was behind it. Think it helped to claw back some of the studio costs for him. I don't think we had much of a fanbase in Japan in the 80's. It really was great to find out that people were still interested and listening. We're trying to track down any remaining stock. We'll let you know if we find anything!
++ Were any of you in other bands before, during or after Mighty Mighty?
We had a few funny side projects – Russell Burton's 15 Minutes, The Velvet Underwear (feat. Bridget Sea Urchin), The Kitchen Cinq (feat. Derek Hammond of Yeah Yeah Noh – our friends and fave band – how could I forget them!). Hugh left and formed The Belfast Cowboys, releasing a mini-album on Swordfish. The rest of us played as The Raree Show, quite a different sound, all guitar and three lead singers! Pre-MM? The usual garage and college band sort of outfits. Nothing of note although Domestos were really quite good.

++ How important was the fanzine culture of the eighties? How involved were you?
The fanzines were crucial. Before the major weeklies picked up on you it was the enthusiasm of the fanzine editors that started to spread the word. No internet remember. Again, it was all part of the homemade/handmade aspect of music. It goes on now but the tools available are so sophisticated these days, it's barely comparable.
++ What is that that you miss from the pop scene back then? How different do you think it's from today? Do you still listen to indiepop?
It was a much smaller world and by that I mean there were fewer of us. It seems saturated these days and there are good and bad points to that. People were not really interested in forming or listening to guitar bands so you really did feel outside of the mainstream. It wasn't conscious, it was just what we loved. We were extremely naive, as were most of the bands back then. Kids are a lot more savy these days and perhaps they need to be. I still listen to music. I still make music. Indiepop? Sure. If I like it, I like it.
++ Why did the band decided to split up? Will there be a reunion gig?
Hugh wanted to leave. We let him go. With hindsight, I think it was a mistake. We should have soldiered on. We had no deal, but we started without a deal. It's quite easy to loose sight of why you do what you do. Hindsight though. Easy for me to say it now but I was very young and shy at the time….A reunion? We hope to play Indietracks this Summer. We're scattered here, there and everywhere so it will take some organising. We'll see.
++ Thanks so much! Anything else you'd like to add?
Thanks for talking to us. Looking forward to getting The Leaking Machine out on Cloudberry. Maybe we can find some lost MM tracks for you!!
::::::::::::::::::::::::::::::::::::::::::::::::::::::::::::::::::::::::::::::::::::::::::::::