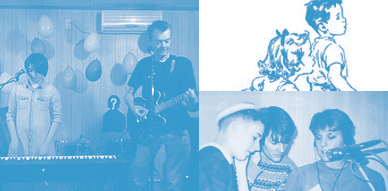 Thanks so much to Mark Litten for this interview! Trixie's Big Red Motorbike are back, with a slightly different lineup, but as good as ever, touring Japan and Europe. This year they released a retrospective album called "All Day Long in a Bliss" which you can get from their Bandcamp. It's essential for anyone that likes indiepop! And there are more news, they are recording a new album!
++ Hi Mark! How are you? Right now you are in Europe touring! How is that going? What has been the best so far?
I'm good (ish). Very hard to answer that, because the audiences have been great everywhere. Each one different from the next, but all great. The show in Hamburg was probably the best overall. Sound, management, rehearsal time, a place to take a nap, and good food. Jane and I miss the place already.
++ I heard you have covered in this tour "Some Candy Talking" by The Jesus and Mary Chain! How come?! Have you done or you plan doing any new covers?
No, it's "Just Like Honey". Jane used to sing along with it as a four-year old. I just believe JAMC and the Pastels saved indie around the mid eighties, and it's nice to do their songs live. There are a few new songs I'd like to do covers of. Mostly by Japanese bands (Tenniscoats etc.), so we might do our own translations!
++ A friend of mine in Hamburg was really impressed by your gig, but it seems she confused the JAMC song! Anyways, she was telling me that you definitely should play at Indietracks! So I want to ask you, after this Trixie tour, what's in store for you guys?
Writing a new album now. Aiming for 14 pop classics, to be released Feb 2013. We have a couple of shows to do here in Japan, but I think we'll be concentrating on recording for a while. Then we'll be ready for any touring offers in the school holidays. Indietracks indeed looks like a comfortable spot for Trixie to park her bike.
++ I'm a bit sad that you didn't get to come to New York, I was really hoping that you will come. Do you think there will be a another chance for you to play here?
It really depends on money. As you know, we are based in Japan and travelling overseas is extremely expensive for us. Of course we would love to play both the east and west coasts, where we seem to have quite a following!
++ This is a different lineup than the original Trixie from back in the 80s. Now you also live in Japan, right? How come did you decide to bring back Trixie's Big Red Motorbike?
It all started about a year ago. The Trixie's archive was in a mess, with dodgy MP3s floating around the internet, nobody knowing our discography properly, lost photos from the eighties etc. So I tried to bring everything together on the album "All Day Long In Bliss", which we released in February this year. Lo and behold, people asked if we could re-form and start playing live. My sister Melanie is too busy (and shy) to do that, but my daughter Jane has always loved being on stage. Her voice is uncannily like Melanie's, she's now 15 years old, so we are back in action.
++ With this comeback you released "All Day Long in a Bliss", a fantastic retrospective compilation of the band. My first question is, are ALL songs by Trixie included or were there any missing?
There are four or five unreleased songs which need re-mastering, plus some cover versions ("White Horses" among them). Then there are the two John Peel sessions. It would be nice to release them all on one album someday. I'll keep saving my pennies.
++ Let's go back in time, to the early 80s when you started the band. What inspired you to do so? And what sort of expectations you had with it?
I think it started when portable cassette recorders became available, around 1970. Melanie and I used to record little comedy sketches. We would also put each other to sleep by improvising lyrics to TV theme tunes, advert jingles etc. I was 16 when punk happened and it was a really exciting, inspiring period. I was completely obsessed with the Buzzcocks, Rezillos and the Undertones. I bought a guitar. When I got the albums "Colossal Youth" and "Beach Party" I started writing songs. I think those two records are the reason Trixie's got going. Melanie expected exactly nothing to happen, and I expected to be a superstar within a few weeks. We have different personalities…
++ How easy was it to convince your sister to be part of the band? Did you two listen to the same music?
That's an interesting question. She wanted to sing and record, and she loved hearing our stuff on the radio, answering fan mail etc. But she was too shy to get on stage, didn't like having her photo taken and was totally averse to all the sexism in the rock biz. Actually, I was the same. Until we got the two albums I mentioned above, she was listening to Adam and the Ants in "New Romantic" mode, Haircut 100 and (thank God) Orange Juice. I liked Altered Images, TV Personalities and PIL. Suddenly we were both listening to the Marine Girls all the time. That's when we did our first single, in 1982.
++ And where does the name Trixie's Big Red Motorbike came from?
The Rezillos split up. I retired to my bed in utter disbelief. I think I had a dream based on the imagery in their songs. Then they came back as the Revillos. There's a girl called Trixie in one track on their album, so it's connected with that.
++ Your first 7″, the one with Invisible Boyfriend and A Splash of Red, is so scarce, 100 copies. Why such a small number?! I wonder if you even have copies yourself?! And why didn't you seek for a record deal?
The budget for that was incredibly small. 100 was the most we could afford. We recorded it at home, also to save money. I'm glad we did it that way now, because I doubt it would have turned out better using a studio, engineer and so forth. I love the sound of it! I've just got one copy of my own. The other 99 are all in good homes, I'm sure. As for a record deal, we just sat and waited. Neither Melanie nor I were any good at business, promotion etc.
++ So you released that first 7″ on "Chew Records" and then the next ones on "Lobby Lud". Both being your own labels. Why change the name of them though?
That's the beauty of the DIY approach… complete control! The name change was just for fun. I'm still calling my label Lobby Lud Records and Tapes.
++ 1983 and you release "Norman and Narcissus", perhaps my favourite song of yours, so I have to ask, who are Norman and Narcissus? Friends of yours?
Norman is me, and Narcissus is a cousin of mine. You know the Narcissus myth?
++ On this single you had Jane Fox doing backing vocals. How did you know her and ask her to join? I guess you were a big fan of the Marine Girls?
Yes, both Melanie and I are big fans. I especially liked Jane's songs and bass style. We became pen friends, and they really encouraged us to make our music. In Summer 1983 the Fox sisters came down to the Isle of Wight and we met up. Jane sings on our second Peel session, and on that single. She let me play her lovely acoustic bass on it too.
++ Then there was also the 5 song EP, and again is a winner. I love the aesthetics, even if I only own the last CD compilation and not those 7″s, but I've seen the artwork online. The whole Trixie thing, the DIY, the choice of artwork for the sleeves, and even the little texts on the records, they show they were made with a lot of passion, and love. How important would you say that was compared to the music?
To be honest, I think the music stands up all by itself. I'm quite proud of some of those songs, our sound and of course Melanie's voice. But the artwork was all part of our approach as well, yes. I guess the early eighties was the first time mass photo-copying became cheap enough for anyone to do, and it was a great way to control the whole atmosphere of the 'product'. Again, I'm glad we did things that way. I wonder how many bands are proud of their records but have no affection for the sleeve design?
++ And last but not least there was a split flexi with Clive Pig, right? Were you good friends? Or how did this release came about?
We never met Mr Pig! We recorded our track on the Island, and he did his on the mainland. The whole thing was produced by the legendary Alvin Smith, who made fanzines and arranged events documenting the indie scene in Hertfordshire. Do you know that compilation album "Alvin lives! (in Leeds)"? Named in his honour.
++ Did you play many gigs back in the day? Any favourites?
I think I can count the gigs we did back then on the fingers of one foot. Shyness again. There were a couple of "jam sessions" with people hanging about, but nothing with a real audience, I'm afraid.
++ There was also a tape compilation called " Reynard The Fox"  were you were included, what do you remember about that?
Yes. I'd forgotten all about that until I saw it on eBay a couple of years ago. A German label put it out around 1986 I think. We sent them a cassette of two songs and they did the master from that. When it came out it was dedicated to the Animal Liberation Front. That was a surprise!
++ And a Isle of Wight compilation called "Feet on the Street" were you contributed "When He's By My Side" and "Fairytales". Am I forgetting anything on your compilation? If not, where there any other good bands in the Isle of Wight?
That was a good experience. Those were our last recordings before we split up. The producer / label manager was Rod Gammons and he also did the Norman and Narcissus session. A really talented and trustworthy chap. He managed to get exactly the sound I'd been aiming for at Trixieland. We really didn't have any contact with other Isle of Wight bands. We never heard anyone from there with even a remotely similar approach to music.
++ In 1995 there was an LP compilation called "The Intimate Sound Of Trixie's Big Red Motorbike" on Accident Records. How did that one happen so many years after?
I was sitting watching TV in my flat in North London when the doorbell rang. As usual I went to the window and shouted "yeah?". This bloke said "I'm looking for Mark Litten" It was Chris Vinq, owner of Accident Records. So he came up and told me he wanted to release all the old Trixie's stuff. I found a couple of cassettes, and we did the mastering at Porky's Mastering Services in Piccadilly. So the first ever Trixie's album is a Porky Prime Cut. I'm proud of that!
++ In retrospective, what would you say is your favourite Trixie song?
I find myself unable to choose. There are six or seven that I will never tire of.
++ And now that you are back, are you writing new material?
Yep. Trying to write an album full of singles, if you see what I mean.
++ How important was John Peel for you and Trixie? Any anecdotes you can share about those Peel Sessions you recorded?
John Peel was absolutely crucial for us, as he was for most interesting unsigned bands at the time. I remember the first time he played our record. Melanie was absolutely stunned (and gave me a big hug). Without his help it would probably have taken years for us to get our music known around the country. The only other stations playing our stuff were in Germany. The mainstream music press ignored us, (as they still do).             Melanie was very nervous at the first session, and we had to cope with the unsympathetic producer's sexist cracks. The second one was great though. Jane was there, and we were all relaxed and well-rehearsed. The staff managed to get a lovely sound on tape, too. We were all exhausted though. I nearly got us all killed driving home (I fell asleep at the wheel).
++ Tell me about Trixieland. What was it? I heard it was a a 7x7x7 box?
That's right. Maybe a little bigger, with the cupboard space. It was my bedroom. It was stuffed full of music gear, records, two tape recorders and a bed. I kind of learned how to record as we went along. The very last things we recorded there sound fine to me.
++ So when and why did that first Trixie's lineup split? What is Melanie up to these days?
It must have been around 1986. Melanie went to live in Brighton with Jane and some other friends, and I stopped writing songs, so we just called it a day. She still lives in Brighton, with her son. She works in insurance.
++ You played guitar too on Sarah Goes Shopping. How was that experience? Were you involved with other bands after Trixie's demise?
That was nice. When Twa Toots split up Sarah Brown called me and asked me to do the arrangements for her new songs. Then I went down to the Isle of Sheppey and we recorded a four track ep. Sarah Goes Shopping are a bit of a cult with the indiepoppers here in Japan. After our show in Tokyo in August the DJ played us off to a track from that ep, which was nice.
++ Do you miss the Isle of Wight at all? If I was ever going to go there, which is probable because it seems I go so much to the UK, what places would you recommend me visiting!? Or probably there's some sort of local dish I have to definitely try?
I wasn't very happy living there as a teenager, but I've been back a few times recently and yes, I do miss it sometimes. Melanie and I were born in London, so the Island isn't really our 'hometown'. The people can be a bit unfriendly towards outsiders, but I guess if you are a tourist you'll be okay! It's kind of split down the middle-the west is pretty rural with all the sailing types and pricey property, with the east being the more urban and popular for holidays. Newport would be the best place to stay because it's right in the centre and you can reach anywhere in a couple of hours. I'm sounding like the local tourist board. The Bees are the best recent band from the Island. Not sure how often they go back there though. Best local food is fish and chips on the east coast.
++ And one last question, when you are not making music, what do you do? Any other hobbies or interests that you have?
My hobby seems to be annoying people on Facebook.
++ Well, that was a long interview! Thanks so much Mark! Anything else you'd like to add?
Yes… Jane and I are both also sad that we couldn't get to New York this year. Some fab support bands were waiting for us. You know Daniel Fromberg from Chicago? And Rabbit Troupe? We are determined to play there in 2013, hopefully with the same team. New York! Please accept my sincere apologies!
::::::::::::::::::::::::::::::::::::::::::::::::::::::::::::::::::::::::::::::::::::::::::::::