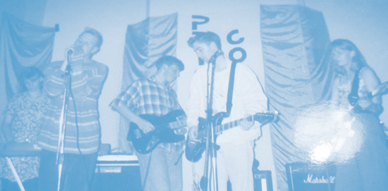 Thanks so much to Brian Price for the great and thorough answers! It's indeed a treat that Peru are back, and hopefully I will catch them live soon. If you have never heard them, definitely be on the lookout for their split 7″ with Mary Queen of Scots on ebay or, just go ahead and buy their new retrospective compilation "Across Blue Skies" from Jigsaw Records. I recommend it dearly.
++ Hi Brian! I heard the Peru show at Big Pink Cake Weekender was a nice surprise for the attendees. How did you enjoy it? Any future shows planned?
It was very enjoyable and we received some really nice, positive feedback about the performance which is very reassuring. I was quite nervous as it was the first time I'd performed as a 'frontman' for 18 years but, all in all, I was very happy with how things went and the reaction we've received.
As for the future, we're keen do more shows wherever we're wanted and there are a couple of shows lined up already – we're playing in Cambridge on April 2 and we're very excited to be heading over to Limoges in France to play at the annual Popfest there on July 9. Hopefully, we'll be adding more dates in the coming months…
++ So what made you have a comeback with your old band? It's different people in the band now, right?
I hadn't listened to, or played, any of the songs for a good few years but, inspired by watching lots of live indiepop bands at Bristol's excellent Big Pink Cake club nights over the past few years, I picked up my guitar again and started playing again with a sort of vague dream that I might perform again in public and maybe even record some new Peru songs.
I didn't think it would actually happen though and I was certain no one really cared about the songs we had recorded back in the 1990s.Then, in early 2010, a couple of things happened that inspired me to turn the dream into something concrete.
The first was at a Big Pink Cake night where I was introduced to Marianthi who told me that she had loved our song 'World of Jason' which appears on the first Shelflife Records release 'Whirlwheels' for many years and she knew nothing else about Peru. So she was surprised to meet the person who wrote the song and equally I was amazed someone I had met in Bristol had heard the song, never mind liked it!
The same night, a certain DJ/record label owner from Peru was playing at Big Pink Cake and he told me he had bought our debut 7" purely because the band was named after his home country!
Around the same time as that, I received an email out of the blue from Chris McFarlane of Jigsaw Records saying he'd collected up all the tracks we'd released on various '90s cassette compilations, as well as our 7" on Waaaaahhh! and the track which Shelflife used. Chris asked if I would be interested in him releasing them as an album on Jigsaw?
All of this made me think 'maybe now is the time to get Peru back up and running!' I then asked Matthew of Big Pink Cake if he would let a reformed Peru play at the forthcoming Big Pink Cake weekender in Bristol. He said yes – so I thought, shit, I'd better contact my old bandmates and see if they're up for it!! Initially, the plan was to have guitarist Steve Woodward and bass player Chris Smith on board. Both were both keen to do it but a number of events transpired against us and we weren't able to make it happen, so Thom and Jim – guitarist and bass player from Bristol band The Kick Inside – stepped in late in the day and did a brilliant job. The great news is they're happy to continue and we now also have The Kick Inside's drummer, Alex, on board too.
++ Are you planning to record new songs?
Absolutely! I've been busy writing some new songs since the Big Pink Cake weekender and once The Kick Inside boys clear a few other commitments they currently have, we'll be getting together to rehearse and then record those.
In the meantime, there's talk of a 4 or 5-track EP of 1990s Peru songs which didn't make it on to the Jigsaw album possibly coming out on Dufflecoat label… If that happens, that will draw a line under the '90s stuff I deem suitable enough for release, and I'll then concentrate on new stuff, with hopefully a 7" or EP of new stuff to follow the Dufflecoat release. If no one else wants to put any new stuff out, then I'll look at doing it myself.
++ So, Peru started in Derby right? How come you are in Bristol nowadays?
My parents and I moved from Glasgow to Derbyshire in 1985, when I was 13, and I lived there for 10 years before moving to Edinburgh to study Journalism in 1995. After that, I worked on a newspaper in Devon before moving to a paper in Bristol in 2002. I've been here ever since.
++ Alright, let's go back in time? How did Peru start? Who were the original members? How did you know each other?
At the start of the 1990s, I was playing drums in The Millers which was a noisier band with influences such as Fugazi, Sonic Youth, Dinosaur Jr, Husker Du etc. However, I've always had a pretty wide taste in music and was quite immersed in the whole C86, Sarah Records, fanzine-type scene, collecting 45s and buying fanzines and tapes.
My friends and I used to go to a brilliant indie night at Rock City in Nottingham and beforehand, we'd generally meet at my place, drink a few beers and listen to records in my bedroom before heading to Rock City. Chris Smith, my best mate from school, and John Coolin, who we met at a party and knew from an indie band he played in called Kim's Balloon, jokingly said one such drunken night that we should start an indiepop/Sarah Records-style band.
At that stage, I had only ever played drums but wanted to do something different in this new band, so I said I'd play guitar and sing. Chris, who didn't play any instruments, said he would learn bass and we both hoped John – a real musician – would keep the whole thing together!
So I acquired an acoustic guitar, learned a few basic chords and attempted to write some songs. Chris got a bass and picked it up pretty quickly and off we went! It really was as simple as that. A little while later, in early '92, Zoe Head joined on keyboards but left in November '92. Her sister Kay also joined us for one recording session and one gig. John left sometime in 1993 and Steve Woodward – who was in my other band The Millers – teamed up with Chris and I. That final line up of Steve, Chris and I proved to be the most productive and was responsible for some of the better Peru material, in my opinion.
++ You know I'm from Peru, so the first time I read that there was a band called Peru I was thrilled. I wondered  why would anyone name the band with my country's name. What was the reason?
Chris and I are massive football fans and when we were thinking up ideas for possible band names, we came up with Cubillas and Chumpitaz, the surnames of two Peruvian footballers we remembered from 1970s Panini sticker albums we bought as kids. We almost went for Cubillas but decided it was a bit too obscure, so we somehow settled on Peru instead – plus we also loved the famous 1970s Peru kit with the red diagonal band on the white shirt.
++ And who had the idea to have a Peruvian flag as an insert of the split 7″ with Mary Queen of Scots? That was such a treat for me!
These were, of course, the days before the internet/photoshop etc, and everything we did was very, very DIY, mainly due to lack of resources and money. It was established the sleeve for the 7" would be fairly plain but each band would have an insert to put their contact details etc on. We initially wanted to have a photo of Cubillas photocopied from a Panini album, but we needed to keep some white space free to stick down some contact details/info and it wouldn't have worked. So we found a photo of a Peru flag instead, photocopied that and put the info onto the white spaces.
++ Alright, talking about that split 7″, that was the only proper release, right? Of course, until now that we have the Jigsaw CD. But why? Why didn't you get to release more stuff during the nineties?
We had put some stuff out via the usual tried and tested method of the compilation tape and the next obvious step was to do a 7". Richard at Waaahhh wrote saying he was starting a 7" Singles Club and asked if we wanted to be on the first one. As money was short and we couldn't really afford to self-finance a release, we said yes and Richard paired us up with Mary Queen of Scots. We already knew Chris Lam from MQOS via correspondence from compilation tapes/fanzines etc, and we both like each other's songs, so we went ahead with it.
Unfortunately, we didn't do a great job of recording the two songs which appeared on the record – it sounds really muffled. We had to do it very quickly and only had a borrowed 4-track recorder and I think we just tried to cram too much on to it. Plus, John (who was in his final days with the band) badgered us into putting a brand new song he'd written called 'Down' onto the record when he'd originally planned to use 'Oasis' and 'Kim's Balloon'. It meant we had to learn 'Down' immediately and record it there and then, without any rehearsal or work on arranging it etc. Listening to it, you can really tell!!!
After that, we were supposed to release Roundabout as a 7" single on the German label Meller Welle. In true Peru fashion, we somehow didn't get around to recording it in time or something, and the label ended up getting fed up waiting and released the songs we eventually sent them as a split cassette with a band called Lament.
The only other thing released 'properly' was the aforementioned 'World of Jason' on Shelflife's 'Whirlwheels' compilation CD in around '95/'96.
++ You did appear on many compilations though, do you remember on which and what songs? I don't mind you sharing the whole discography here!
Er, I don't remember how many tapes we appeared on, but there were many! I started my own fanzine, Long Live Vinyl, mainly as a vehicle to promote Peru and get the name out in the open – again, for younger readers, this was what you did pre-You Tube/Myspace/Facebook etc etc. I also compiled tapes to release with Long Live Vinyl – the first being a split tape featuring, unsurprisingly, my two bands at the time, Peru and The Millers!
Other ones I remember us appearing on included C92, which featured a song called 'Wonderful' and one other, I think? Also – Kim who did the Bliss/Aquamarine fanzine/tape series put quite a few of our songs on those, as did David McLaughlin (aka DMCL) who ran the Fluff label which released early Boyracer/Hood output.
I reckon Chris McFarlane could be your best bet for a definitive cassette compilation discography! He even has versions of Peru songs I don't even remember recording, never mind sending out to anyone!
++ What about gigs? You played lots? Which ones do you remember the most and why?
No, we only did a handful of gigs – all of them in 1992. The first was with The Marmite Sisters at the Princess Charlotte in Leicester. The rest were either in Derby or Nottingham and included supporting Heavenly at The Dial in Derby.
We also played a few gigs with the great Derby indiepop band The Almanacs which were probably the ones I remember most fondly. To be honest, we weren't very good as a live unit at that stage. It was only 6 months or so earlier that I had first picked up a guitar and sang in front of anyone else – singing or playing guitar weren't my natural 'instruments' and I found it too difficult/stressful to do.
So Peru became a 'bedroom only' band after our final gig in November 1992. (Playing drums was a different matter – I loved every minute of that!)
++ Was Peru your first band by the way? How involved were you in the indie/guitar pop scene of those days? I mean, I assume that being in Waaaaaah! made you a cutie? Or I'm wrong?
No, as I mentioned earlier, I played drums in The Millers, who grew out of an earlier band called Spacerat. Once Peru began, I was fairly involved in the indie/guitar pop scene, I guess, as I was running my fanzine and issuing tapes, as well as playing gigs with Peru and The Millers and going to see lots of bands.
On reflection, it was a great time for music – particularly in Derby which had a great little venue called The Dial where we saw the likes of The Sea Urchins, Brighter, The Orchids, The Field Mice, The Telescopes, Ride, Teenage Fanclub and even Primal Scream (in their leather-clad Ivy Ivy Ivy phase)!!
There was also a Sarah Records package tour with Another Sunny Day/St Christopher/The Field Mice on the same bill – but there were only about 20 people maximum there as it was close to Christmas and most of the students had gone home!
Over in Nottingham, there seemed to be far less going on than in Derby – although we did often see The Fat Tulips play or bump into Mark, Paul or Sheggi and gigs we went to.
We also followed a Brighter/Blueboy joint tour around the country thanks to our friend Lisa having a car and being willing to go to silly locations!
Whether all of that confirms me as a cutie or not, I don't know. But there was a sort of indie scene, I guess, and you would tend to meet the same faces at the same gigs and club nights.
++ What about fanzines? did you have any favourites back then?
I used to buy any I could get my hands on, or swap for copies of Long Live Vinyl. As for favourites, I can't really remember, sorry!
++ How did that release happen by the way? Did you know Richard?
The Waaahhh single?? I only knew Richard though writing to each other to swap fanzines/flyers etc. He just asked if we wanted to do the split 45 and we were happy to do it.
++ So who is Jason from "World of Jason" and "Sammy"? And Kim from "Kim's Balloon"? What are the stories behind these songs?
Jason is an old school friend I haven't seen or heard from for about 20 years. The song 'Sammy' isn't technically a Peru song. My brother, Mark, and I were recording a batch of his songs (Marcus) which I went on to release as a split cassette with Johnny Domino (another of Steve Woodward's projects) through Long Live Vinyl, and I was just jamming the two chords which make up the song. Mark began jamming along and we recorded the guitar parts. He didn't want it to be an instrumental so I quickly scribbled down some words and recorded a vocal part and he then added the harmony vocal.
It needed a title so we went for 'Sammy' which was the name of our old red setter dog. The irony is that Chris McFarlane at Jigsaw said it was his favourite 'Peru' song and wanted it on the album – so there you go!
'Kim's Balloon' was named after John Coolin's former band, which he had named after his niece, Kim.
++ Why and when did you split?
As is often the case, we never officially split. The difficulty we had – and I guess the reason why we didn't release much stuff back then – was that we were rarely in the same place at the same time. John went off to study in Manchester while he was still in the band, then after he left and Steve joined, Steve went off to study in Sheffield. Things slowed right down when I left for Edinburgh. We did record a few songs when I came back during holidays, but it was getting more and more difficult to carry on so it just fizzled out…
Chris and Steve did record a few songs together in my absence – one of which, Horror Story, appears on the Jigsaw album.
++ What happened after? Were you involved in other bands?
While Peru was still stumbling along, my other band The Millers fizzled out, too, and Steve and Giles from the Millers started Johnny Domino – a kind of lo-fi / alt-country combo.
Some time in '94, I joined a new band called Boy Scout which featured Marc Elston from Bulldozer Crash, Nick Glyn-Davies, who was in the original White Town line-up, and Rob Fleay who played bass in The Almanacs and was involved in loads of other things too. This quickly became quite a serious band and we courted some major label interest for a while. Unfortunately, it coincided with me being accepted for a place on a Journalism degree course in Edinburgh which I started in '95. We tried to keep it going with rehearsals and shows during holidays but I felt I couldn't properly commit to a band based in Derby while studying in Scotland so, after summer '96, I reluctantly left Boy Scout.
While studying in Edinburgh, I played drums in my brother's Mark's band – a little ramshackle, country-pop outfit that has had a residency in a Glasgow bar for the last 20 years or so!! It was always great fun and involved lots of drinking as well as playing and singing! That ended when I moved to Devon in 1999 but I'm happy to say the band is still going and I always join in for a few songs every time I visit Glasgow.
++ Fast forward, 2011. I have in my hands the "Across Blue Skies" CD, a compilation of your recorded output on Jigsaw Records. But it was missing the song "Cubillas", right? But hey, Cubillas star in the cover. What a player he was! What do you remember about him?
As I said earlier, we were huge footy fans and we remembered Cubillas and his teammates from the old Panini sticker books. Also, as a Scotsman, I have always had a bit of love-hate relationship with him as I have nothing but admiration for his play and the two great goals he scored against Scotland in the 1978 World Cup in Argentina – but he also broke our nation's heart as his goals effectively made it impossible for us to qualify to the next stage of that tournament! After we named the band Peru, I was determined to have a song called Cubillas – so I wrote a little instrumental and named it after him. For some reason, Chris McFarlane didn't want it on the album, but it will get included in something soon, maybe on the Dufflecoat Records EP?
++ And hey, tell me about this CD, how come Chris find out about you? And what do the people that have never listened to Peru can expect from it?
He somehow got a hold of my email address and just wrote out of the blue in early 2010. He said in the email that he didn't think I'd be interested in releasing stuff and probably didn't want to look back or think about the band, but he was wrong and I was delighted to hear from someone in the US who knew as much about the band as I did!! I'm grateful to him for getting the CD together so quickly and for his support. What can people expect? Some honest, from-the-heart melodic and mainly melancholic indiepop songs recorded between 1992 and 1996.
++ Let's wrap it here, see you in London Popfest? We have to continue the beer drinking but no soul club this time!
Yes, I look forward to catching up for another beer or two at the London Popfest – maybe not as many as last time, though. ☺
++ Alright, thanks again Brian, anything else you'd like to add?
Thank you! And thanks to everyone who has bought the album, downloaded tracks, helped, encouraged and given words of support so far!
::::::::::::::::::::::::::::::::::::::::::::::::::::::::::::::::::::::::::::::::::::::::::::::
Listen
Peru – World of Jason