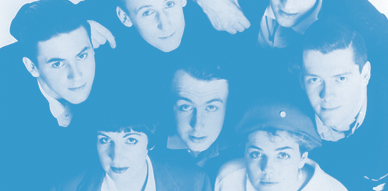 Five more days to bid and it's going for £70+ on eBay. I'm not going to buy it as it's way away of my budget, but if I was earning much more at work I'd give it a shot. I wouldn't care much if the B side was an instrumental version of A side "Window Shopping". Mind you, I'm not a big fan of instrumentals. But it's all for that sweet first side, for the Window Shopping trumpet driven pop feast! But, if you are skint, you can always find this track on the "Too Much Two Tone" compilation released by EMI some years ago. That you can find used for around 5 bucks. Not a bad deal at all.
It must be that the high price has to do with the label where it was released: 2 Tone Records. This label was founded by Jerry Dammers, from The Specials, and it has been closely identified to ska and reggae influenced music. They released some big names such as Madness, The Specials, The Higsons and, even Elvis Costello. I guess by the time The Friday Club was signed, they were broadening their tastes as this is P!O!P! and quite different from their past offerings. Makes a lot of sense! as this single was the penultimate of the catalog. Nevertheless it was Jerry Dammers who produced this soul-inflicted pop gem. And he did a brilliant job! So who knows!
I love the surprises that foraging on eBay can give to you, like the exorbitant sums people pay for records and then asking yourself, would I pay that? What is also surprising is that 2 Tone did not have small runs, I believe most of their releases surpassed the 10,000 copies, so how rare are these items really? And hey, The Friday Club record was also released on 12″ format where the A side was an extended version of 'Window Shopping'.  So, on the surface, there should be lots of copies of this record, but maybe not.
The Friday Club was a big seven piece outfit, formed in 1984 in Scarborough. The lucky seven were Andrew Brooks (Composer, Vocals, Guitar), Michael Hodges (Lyricist, Vocals, Congas), Adele Winter (Vocals and Vibes), Terry Bateman (Vocals and Sax), Eddie Eve (Keyboards), Graham Whitby (Bass Guitar) and Anton Hilton (Drums). That same year they all decided to move to London looking for better opportunities for their music. Quite a risk to take, I mean, the seven of them collectively moving to the big capital and it's not like Scarborough is around the corner. Luckily they found a record deal quite immediately. Andrew Brooks tells the story:
"We managed to find out where Jerry Dammers lived, which at that time was a squat in Stockwell. On the way to rehearsal one evening we dropped a tape and a flyer for a gig in his letterbox. The next day our manager got a phone call from Jerry to say he liked the tape and he was coming to the gig. The gig was in a pub Brixton near where he lived, and sure enough Jerry came along, I think him and his mate and the bar man we're the only people there (laughs). He came up to me after the gig and said he'd enjoyed it and thought the songs we're really strong – but he'd "never heard a band so out of tune in his life" and laughed. Next day he called to say he wanted to record one of our songs, he would produce and this would be released on Two Tone."
The band went on tour supporting Madness as the single was released. Sadly the record didn't do that great on the charts, it did get airplay though and found itself reaching the top 100. But that was it. To make things worst, not too long after, 2 Tone folded. I wonder what happened to The Friday Club then. It can't be that they were just a one-hit wonder. Did they still kept playing? Did they form any new band? What about that demo they left at Jerry's? There must be more tracks there than the fantastic 'Window Shopping'. What about any other demos? Will these tapes still be in someone's attic? Or on some boxes left in the garage after many house moves? Who knows. But if you have anything else to add, please leave me a comment, I would love to know more!
::::::::::::::::::::::::::::::::::::::::::::::::::::::::::::::::::::::::::::::::::::::::::::::