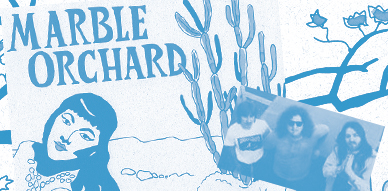 Marble: is a metamorphic rock composed of recrystallized carbonate minerals, most commonly calcite or dolomite. The word "marble" derives from the Greek "μάρμαρον" (mármaron),[2] from "μάρμαρος" (mármaros), "crystalline rock", "shining stone", perhaps from the verb "μαρμαίρω" (marmaírō), "to flash, sparkle, gleam". This stem is also the basis for the English word marmoreal, meaning "marble-like."Whilst the English term resembles the French marbre, most other European languages (e.g. Spanish mármol, Italian marmo, Portuguese mármore, German, Norwegian, Danish and Swedish marmor, Dutch marmer, Polish marmur, Turkish mermer, Czech mramor and Russian мрáмор ) follow the original Greek.
Orchard: An orchard is an intentional planting of trees or shrubs that is maintained for food production.
News abound at Cloudberry HQ. First of all beginning next year the label will be based in New York City. Not sure where exactly, but in the next couple of weeks I should be traveling there to find a place (any suggestions?) I'm really excited about it as I'm starting a better job there, with a view to the Hudson, and also because I think is a step forward for Cloudberry. There's not only NYC Popfest in town, but also plenty of gigs unlike Miami. Hopefully I'll be able to take part on this, I'd love to start booking some bands, you know? A mini-Cloudberry fest would be fantastic. More news on this soon. Just giving you the heads up as your orders won't come from sunny Miami no more, but from massive New York instead.
By now most of your favourite mailorders should be carrying the Youngfuck 7″s. If not, their copies should be arriving this week as the latest. The record has been selling quite well, even though the band's last gig was in February. That proves that when music is good, you don't need a band gigging all the time to promote it. And talking about promoting, we are working on a video for "Black Tulips". Keep your eyes peeled.
Those who have visited the Cloudberry Rcords site you must have noticed that the Feverfew CD is already listed, tracklist and all. You can even preview one of the tracks: "Crimson Gloom". As stated there, the CD includes 17 remastered tracks (which comprises all their recorded output), a booklet with liner notes by Phil Ball (bassist of Feverfew), and for the first 100 orders, a pin that has the original design of the pins Feverfew used to have back in the 80s. The digipack is custom made for our new series, the Cloudberry Cake Kitchen, were I plan to bring the best albums, retrospective mostly but new too. No fillers. So start making space in your book shelves, you'll like to line these up. Future releases include…
… I won't say yet.
But the start couldn't be more promising. Feverfew's "Something of Nothing" must be by far the best retrospective album of this year. It is really that good. Keith Girdler's genius is all over it. And this was pre-Blueboy. Great lyrics, great vocals, great musicianship, a youthful edge, catchy melodies, it just has it all. You don't want to miss it.
Alright, let's move onto something else. The CDs on rotation this week:
1. Dot Dash – Spark>Flame>Ember (The Beautiful Music)
2. Various Artists – Amen (Richmond)
3. My Darling YOU! – AK Art (Luxury)
4. Almedal – Till Kyrkogården (Luxury)
5. Makthaverskan – Makthaverskan (Luxury)
And our obscure band of the week: Marble Orchard.
Looking at their Discogs page, I would have never thought they were obscure as they have 7 releases. But googling about the band members you barely find any information. My knowledge about the band is zero if I'm honest. I came into one of their songs, "Our Love is Up To You", on my friend Heinz's Youtube account. I thought it was a very nice tune. I looked around. I found the 7″ on ebay, I bought it. All of this, just today in the morning while working on some PDFs for a Sexual Health campaign in London. The cover of the 7″ is quite peculiar. It has a woman, it has a lamb, and it has cacti. Seem as if it was painted with watercolours. The woman looks like a Greek amphora painting. On the cover of this 7″, the title track is written in red, "Paradise". This record was released by the German label September Gurls in 1994 and is catalog number SGs12.
On the label site there's a little review of the title track: "Once you have listened to "Paradise" you will be hooked by melody, harmony and memories. Flip is outtake from session for 1st CD. Great twelve string 60's style." It seems you can also order the record from there for around 4 euros plus postage. Not bad, though I found it for 4 dollars. And talking about September Gurls, I do have some records by them, now that I think about it. I believe some Throw That Beat in the Garbagecan. So yeah, seems like a fine label I should explore more.
Anyhow, it's the flipside the one I know and been enjoying all morning long. To my surprise this song doesn't belong to one of those hundreds of bands that during the 80s contributed songs on different tape compilations in the UK. This band, even though it sounds like those other bands from Britain, is from Portland, Oregon. Go figure! Well, if you do look at the picture on Discogs of the band, well, two of the guys have long hair, that's very American, isn't it? So, there you go.
The track is really inspired, they remind me a lot to the most recent band The Librarians who had a release here in Cloudberry. Also they sound a bit like The Dupont Circles from Washington DC. Lots of sixties influences, but with that 80s production, perhaps could be a good description? A lot like the Perfect Pop releases in the early nineties too! Scroll down and have a shot I say.
The Marble Orchard were Jayson Breeton, Ron Kleim and Steve Frothingham. Prior to this 7″ they had an album called "Savage Sleep" released in 1991, and two 7″ singles: "Something Happens" (1990) and "It's my Time" (1992). All of these releases were put out by Estrus Records, off from Bellingham, Washington. And after the September Gurl 7″ it seems they continued with the German imprint and released the albums "Agent Invisible" and "Adventures in Mutation" as well as a split 7″ in 2003 shared with Surf Trio. Surf Trio being the latest band of Ron Kleim.
The description for these albums don't really catch my attention to be honest: ""Adventures in Mutation" shows the band's versatility: heavy melodic Wiper-esque rock thunder, surf metal…"  Not sure I want to listen to surf metal! But well, I wonder if anyone has listened to these records and can tell me I should give them a chance. For now I enjoy this one track, waiting for my 7″ to arrive from the ebay seller from Port Lucie, FL, and hoping Paradise is another great jangly track!
And as always, please do share if you have any more information about the Marble Orchard!
::::::::::::::::::::::::::::::::::::::::::::::::::::::::::::::::::::::::::::::::::::::::::::::