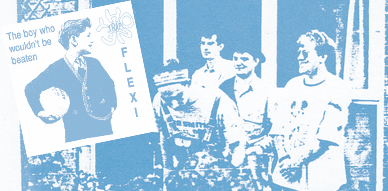 NYC under a snowstorm. Perhaps the best moment to write blog posts even though I have little to say. I already posted this week and it is not too often that I make two blog posts a week (excepting the times when I post an interview). But I feel like researching some more indiepop. Digging deeper. Finding new records to buy, new songs to listen, new bands to add to my pantheon.
Detective novels and long rides on the subway now that I work  in the Financial District. Days go fast. A week of vacations might open for me the first week of September. Might go back to London. Or to The Netherlands. Or Iceland? Those seem to be the best choices. Was doing a little research of what new to see around London, a city I've visited so many times. Shamefully I still haven't been into the Tower of London or Westminster Abbey, so those I'd visit for sure. But then I noticed this place, Royston Cave, in Herfordshire, that I can reach on the train, and I think I would love to visit that place. And then I'd need to add at least a castle visit. I've always wanted to go to Bodiam castle, but seems complicated to reach. Warwick then? Anyways, I'm only dreaming at the moment. I might not even go!
I should instead focus on my Finland trip the last week of May. I already have the plane tickets. What would my route look like? It all depends. There's a chance we end up renting a car. If that was the case there's the intention of driving all the way north to Rovaniemi and then crossing to Sweden, to Luleå. That'd be something! The only other extra places we'd visit if we rent a car would be Vaasa and maybe Oulu. Without the car the plan is to definitely go to Helsinki (obviously), Turku (there's a castle!), Hämeenlinna (another castle!), Tampere (for Moomin museum), Savonlinna (probably the nicest castle in Finland, at least from the photos), and then Rovaniemi to get inside the Arctic circle. We'd probably do this in a mix of buses and trains. We still can't book either anyways, so probably by March we could have a better idea. Very excited.
At the end of the year, for holidays, it seems the plan is to head to Mexico, but this time to Yucatan and the Riviera Maya. Checking out mostly pre-columbian sites as well as beautiful beaches. Escape the winter and have great food (cochinita pibil, yum!).
What scares me a bit about all this traveling is that there is absolutely no indiepop involved in it. Maybe if I go to London that would change, maybe there's a gig or two. Or at least I could meet with indiepop friends. But then, this just may not happen.
I should try to go to more of the small gigs within NYC, those that are really not indiepop gigs but a mixed bag of bands where 1 happens to play nice indiepop and the rest crap. Tough. Paying to see 4 bands but only caring for 1. Hate that. But that's how it usually is. Promoters usually don't care.
Anyways, turning the page… here are some bands that I've discovered lately (thanks to CD16) and I think you should check them out:
Toilettes: I heard "Observatorio" on the CD16 and thought, where does this beautiful lo-fi racket comes from? They hail from Barcelona and they are two girls, Joana Mallol and Julieta Caprara. They have a tape out (I don't know if it is still available) on Discos Walden/Discos Populares and it includes 8 songs, all which you can stream on their Soundcloud. This is really, really great. Pop that reminds of flexi girl-fronted indiepop bands like The Felicitys, The Definite Article, or even Talulah Gosh!
Lillet Blanc: quite the surprise. Their song "Foul Play" is gorgeous, but more surprising is that they hail from NYC! Damn. So close and I had no clue. Joel all the way in Peru could find them first. This means I should try to go see them whenever they play. They have three songs out on Bandcamp and it seems these songs were also released on tape. They seem to be formed by Sean Camargo, Andre Bellido and Emily Rawlings. A three-piece. That's always a good number. And they seem to have some connection to Latin America because of their last names, so that makes me even happier. My only problem, as you know I hate tapes, is that I'm really sad these songs, and also the Toilettes ones are available in that format. Bring back CDR!
I Saw You Yesterday: the song they included was "Girlfriend" and has a great shoegazy sound. I look for them on the web. Surprise, surprise, they are Japanese and on the Ano(t)racks net label. I've checked this label before and it's bands. But somehow I must have missed them. They have for download the "Malibu EP". 4 songs that you can also stream. The band is formed by Hidemasa Shimoda, Kai Murakami, Kazushige Suzuki and Reiji Shibata. Not sure where from Japan they are from. I wish this label, with so many great releases, would put out some stuff in physical format. CDR?
Memory Drawers: seems the CD16 was pretty international. Memory Drawers contribute the song "Maybe" and they hail from the Philippines. It has been a while since I listen some great pinoy pop! So this is pretty exciting. On their Soundcloud I could find two more songs, "…For Any of This" and "Hart (?)". There's not much info about them, but they do have a Facebook page where I hope I can find more stuff about them in the future. So far they have been featured in a filipino newspaper. Maybe they'll be big someday?
————————————————–
Honey trapping is the private investigative practice of evaluating the fidelity of partners in marital and nonmarital romantic relationships. Investigators are employed by wives, husbands, and other partners usually when an illicit romantic affair is suspected of the "target", or subject of the investigation. Occasionally the term may be used for the practice of creating an affair for the purpose of taking incriminating photos for use in blackmail. A honey trap is primarily used to get evidence. In a typical honey trap a private investigator will approach the spouse of a client and attempt to flirt with them.
Honey Trap or Honeytrap. I've seen the name written in both ways. But I'm going to go with Honeytrap. One word. I own a flexi by them and it is fantastic. I've heard some other songs and they are pretty good as well. I notice I know nothing else about them. Time for detective work then.
"Honeytrap were formed in 1988. Basically what happened was that I was first starting to do gigs I called myself "Sonny Rancher" then as I drafted in more members we changed the name at the same time. The complete and final line up just before we broke up in 1990 was as follows:
Phil Walton – vocals, guitar
John Peel – guitar
Jon Haslam – keyboards
Dave Haytack – bass
Jon Dickson – guitar
Tony Stewart – drums
All songs were written by myself and Jon Haslam.
Phil Walton (January 2003)"
This is what it says on the booklet of the Sound of Leamington Spa Vol. 3 compilation where Honeytrap appeared contributing the song "Peace in a Picture". There is a bit of a different story on Twee.net. That one says:
"All but John Peel and Tony Stewart worked at TRADECRAFT, a company that traded with third world countries and paid 1st world prices direct to producers, look it up . Whoosh fanzine started at around the same time, owner Steve Joyce also worked at Tradecraft. During a conversation regarding an imminent Whoosh Club which was due to be held upstairs in the Broken Doll public house featuring Jesse Garon and the Desperadoes, Phil Walton agreed to fill one of the support slots. Calling himself Sonny Ranchero, taking the name from a ditty he had recently penned he enlisted the services of John Peel. A small handful of gigs later and David Haytack joined, closely followed by Tony Stewart. At this point and still operating under the name of Sonny Ranchero, Phil Walton and Jon Haslam began discussing and exchanging song writing ideas. Jon joined the group which was promptly re-christened Honeytrap. One additional member was later added, John 'Dicka' Dickson (Guitar) before the band went their separate ways around 1991."
From Twee.net we also know that Phil Walton and John Peel hailed from Washington, Tyne & Wear, David Haytack from Flint Hill near Consett, Tony Stewart from Gosforth, Newcastle and Jon Haslam from Jesmond, Newcastle.
Washington is a large town in the City of Sunderland local government district of Tyne and Wear, England, and part of historic County Durham. Washington is located geographically at an equal distance from the centres of Newcastle, Durham and Sunderland, hence it has close ties to all three cities.
The band is listed on Twee.net as hailing from Washington in England. A lot of information already and I haven't had to do much digging.
They only had one proper release, a flexi with two songs on the Sublime label (catalog Sublime One). There are no other releases on this label so it is kind of safe to think that it was a self-release. The two sogs on this fold-over paper picture sleeved record  were "The Boy Who Wouldn't be Beaten" and "Make Me Happy". The flexi also included a lyrics insert and a postcard. It was released in 1989. As far as I know it is not difficult to find this record,  I see some on Discogs. If you are missing it, please get it, it is GREAT. Two classic indiepop songs of jingle jangly quality!
That same year, in 1989, the band were to contribute the song "England" to the "Turquoise Days" compilation released by Red Roses For Me. A classic compilation packed with so many great bands from the period, from The Popguns to The Penny Candles to Fat Tulips and more!!
The other only compilation appearance I could find was that on the legendary "You Can't Be Loved Forever 2" tape. On it they appear with the song "A Slender Grip".
A little more digging and I could find Phil Walton's Youtube channel. It hasn't been updated in 3 years but he has uploaded 4 out of the 5 songs I've mentioned before (missing "A Slender Grip") for you to stream and listen. The cool thing is that he has included lyrics for them!
I couldn't find much more about them. I wonder why their flexi didn't come out on Woosh, seemed like the obvious choice. I wonder if they have more recorded and unreleased songs. What happened to them after? Were they involved with other bands? Did anyone of you reading this remember anything about them? Did you go to any of their gigs? Would be great to know more about this obscure English band!
::::::::::::::::::::::::::::::::::::::::::::::::::::::::::::::::::::::::::::::::::::::::::::::
Listen
Honeytrap – Make Me Happy