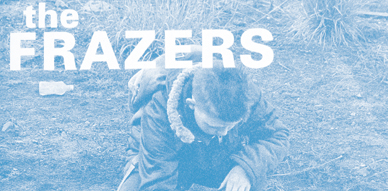 Hello indiepop darlings. How are you? I have some news for you, now you can preorder the Don't Cry Shopgirl 7″ on our website. Scroll down to the Coming Soon releases and there you'll find a nice button. I'm very excited about this release, as it's so good and has taken a long time to happen. It includes 4 perfect slices of pop, and it has been dressed in a beautiful sleeve painted by Amanda from Alpaca Sports. It's all very Sweden, and it's all very friendly, the kind of record I love releasing. I hope you all like it!
Let's see. Last week I saw Ed from Shelflife here in NYC and he gave me the new Red Sleeping Beauty 7″. I love it. I think everyone should get a copy, it sounds like classic RSB, back to the 90s. I miss that sound (even though I wasn't listening to indiepop back then! I was just a schoolboy!). What I mean is, there needs to be a jangly revival! I don't mind the noisy guitars, but I miss listening to crystalline guitars and clear vocals. There are not many releases that have that sort of sound these days, don't you think?
The other big news this week was the announcement of the dates for Indietracks 2016. It will happen on the weekend of the 29 to the 31 of July, in the same place, at the same time, at the shed, at the church, at the main stage, on the trains. I know many friends have already booked their hotels. Should I? At this point I don't think I'll make it, though I really want to go again. I guess I will perhaps wait for the first announcements. I know that by doing so everything will be more expensive, hotel, airfare, etc. But I think it's my safest bet at the moment. I miss it though so much, seeing friends and having a good time with them. I think many of my best weekends in my life have happened there, at what was the best indiepop festival for sure.
Then my indiepop week has been very quiet. At home I listened time and time again the compilation Firestation released of Reflection A.O.B. and while I walked the streets of NYC I listened to the Flyying Colours CD Shelflife released with their two EPs. I'm catching up with releases, and I know I have to get The School, Alpaca Sports and Jessica and the Fletchers new albums. I also broke the piggy bank this time and took a chance and ordered the Go-Betweens vinyl box set that Domino is re-releasing once again, I guess for the ones that missed it the first time around and also to make some big bucks so they can release ugly bands.
Also I'm patiently waiting for my Optic Nerve order with the McCarthy reissue (and 7″ reissue). I think this one will make me very happy even though I own this record already. But then, there's nothing wrong with having many McCarthy records at home. They are the best band ever (the only shame is that Cherry Red owns their catalog), but what can you do. Nothing in the end is perfect.
I still read the "Pequeño Circo" book at nights. It's so long, but it's such a pleasure to read it. I didn't live the indie scene of Spain, but reading about all these bands that meant something to me when I started listening to music is really exciting and nostalgic too. I'm already by page 600 and even though there's still more to read, I don't want it to end.
And that's more or less what's happening in my indiepop life. What is happening in yours? Have you discovered any amazing bands? Bought any cool records? Would love to know how all of you are doing.
——————————————————-
Do any of you know about The Frazers?
Today I was just thinking about them. I remember I was introduced to them by Takashi, the Japanese guy that once was very nice and generous, who loved sharing songs with me and the rest, but suddenly turned bitter and angry. I wonder what happened to him.
Online there's barely anything written about them. There's two unlisted videos on Youtube and an entry on the From a Northern Place blog. Takashi has written on his defunct blog too about them, but he only wonders about why this record is so obscure (well, according to Google Translate).
On one of these videos (actually not a video, but you know, a song on Youtube) though, on the one for the song "Selfish", the singer of The Frazers actually commented 5 years ago. He says: "The first disc i ever played and sang on, with a band that was called The Frazers. we were so young. feels like a hundred years ago. amazing guys. such laughs. good times. good friends. still feel proud of it. cheers! Ricky"
So we know the first name of The Frazers vocalist. I inspect his Youtube acount and see he has uploaded a bunch of songs by Scottish bands, from Perth, from Dundee. I wonder if he was involved in any of them? Athletico PoP, Grapefruit, Spiral TV, The Amazing Love Bees, are some of them. I had never heard these bands, and they actually sound good!  Hard to pick one for you to check, but I would say check 'Carnival Headache" by The Amazing Love Bees, a bit él sounding! If you have the time, check them all of course.
The band only released one 7″ on The Thistle label in 1988. The catalog was SRT8KS1420. There were two songs on it, on the A side was the amazing and upbeat "Selfish" and on the b side another guitar pop gem called "Get it Right".
Safe to assume that the band hailed from Scotland I think, but I think that's the only conjecture I can make at this point. This is is as obscure, and as good, as it gets!
::::::::::::::::::::::::::::::::::::::::::::::::::::::::::::::::::::::::::::::::::::::::::::::
Listen
The Frazers – Selfish