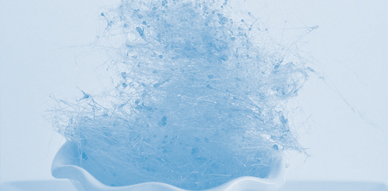 It's been a week since publishing the first podcast, the pilot episode, and it's really surprising for me that there's been almost 300 listens! I expected maybe 30, or 50 at the most to be honest, because I've been feeling indiepop was kind of quiet. That's exactly why I decided to make the podcast, to create enthusiasm, to create some noise, and hoped that I'd get to 300 listens by the third or fourth podcast. I never expected it to be this soon! So THANK YOU all.
Also many thanks to everyone that has given me feedback in the past week. I know there's a lot of room to improve, and I think many of you pointed to specific things that we'll try to get right in the January podcast. It's been really helpful.
I'm very happy about it, even though that early on I had some doubts on how to do this. Especially because it was a DIY adventure, without professional tools. And it's true, the quality of the recordings are not ideal. I have now invested, or more like given me a Christmas gift, on a better microphone and a pop filter. I think this will definitely make better the listening experience. I know the pops and breathe noises were a bit annoying.
I think most of the suggestions and criticism had to do with technical issues. Content wise people have been very enthusiastic. For example I've heard good things about the section that covers every continent as well as with the interview with Andreas from Alpaca Sports.
The only bitter pill was to learn that SoundCloud takes down any file that includes a registered Cherry Red song. I had a small clip, around of 1 minute, of McCarthy's Red Sleeping Beauty. After waiting forever to upload, the podcast was deleted because of copyright issues. This pissed me a lot because McCarthy's legacy tells you that they wouldn't care or mind about a 1 minute clip. I can't picture Malcolm Eden writing to me saying, please take that 1 minute clip down. It wouldn't happen. They were the anti-capitalists of indiepop. So seeing that Cherry Red has this sort of tactics with SoundCloud, killing a bit my favourite band's ideals, well, it made me sad, terribly sad. I love the Cherry Red reissues, but I wish they behaved a bit more indie, less business-minded. It's definitely not cool and after so many horror stories about them, I have started to dislike them 100%. I would not promote or support any of their artists from now on.
All of this has been a learning curve and I couldn't have done it all by myself. I had the very special help of Toni Amaya who is the producer of the podcast. We both as we are speaking are already working on the 2nd episode. Just yesterday I conducted the interview and the tracks for it is already sorted out. So we hope that within 2 weeks as the most we'll have it out.
But before that, no one has yet guessed the clip at the end of the podcast! I think it's pretty easy! Just let me know, even here as a comment on the blog, what song it is. And if you got it right you can request a song for the next podcast!
So I'll see you next month on the podcast, and next week on the blog. This is the last obscure band of the year. It may be or not the last post, as there are some interviews waiting to be published. In any case I hope you all have a happy new year's party. I hope for everyone involved in our scene, a great 2015!! Hope it brings lots of new blood, new bands, great concerts, and fantastic festivals!
————————————————————–
Spun Sugar: a fluffy confection made from threads of hot boiled sugar.
When I was working on the second volume of the Starke Adolf series I got in touch with Sugar Spun Charge, a band that was around the years 2002, 2003 more or less. Sadly I never ended up getting a bio or a WAV file for one of their songs. One of the many reasons this 2nd volume stalled and hasn't been out yet.
In the early days of planning for the first volume it was Victor from Second-Hand Furniture that tipped me with a bunch of Swedish bands from those early and mid-noughties. He was kind enough to make a compilation of mp3s with many known and unknown bands for me. One of those unknown bands for me was Sugar Spun Charge.
The song that he showed me was "State." It was a fantastic splurge of guitars, noisy, shoegazy and dreamy. One could guess that they were fans of the Jesus and Mary Chain (and it's funny that I found a blog online from that period that says they were the worst JAMC copyists. Damn. Some people just don't get it. ). And just doing a fast recollection in my head, they may be possibly one of the few bands from that scene that was into these sort of sounds.
In 2009 I contacted one of the band members. Kristian Spång. I believe he was the drummer. He shared with me another song, one called "A Brand New Start." This one was terrific too. It's perhaps less immediate than "State", but it makes you wonder instantly how come they didn't release a proper record.
As far as I know there was a 4 song demo. On a dodgy website it lists the demo under a label called KATTRACKA. For sure I've never heard about it before. Could be a self-release.
The only other member that I know was part of the band was Joel Karlsson. He is much better known now as he was part, along Henrik Markstedt, of Air France. If memory doesn't lie to me, I also emailed him asking for one of their songs. They always said yes, mind you, and seemed willing to be part of the compilation. But I guess life and time got in the way for them to deliver the WAV, bio, or hi-res photo needed for the booklet. And that's okay, life happens you know.
About Air France I'm sure you can find a bunch of information online. Sadly about Sugar Spun Charge the information is almost none. There's a blog that mentions Zenith Recordings along Sugar Spun Charge. Was their demo actually released by them? It says 20 copies. But I couldn't be sure. There were some very nice records on that label in that period like Dorotea and The Javelins. So it could make sense!
The only other connection I find with Sugar Spun Charge is that I believe that they were part of the organization of another classic and legendary indiepop club in Göteborg, "Razorblades and Lemonades" (just like the TVPs song!).
Online on some Air France interviews it seems Joel wasn't too interested in talking about Sugar Spun Charge. I guess it's understandable. But then, it seems we won't get to know much about them. Does anyone remember them? Perhaps someone could actually help me with a bio and a hi-res pic? And does anyone know or have the other two songs from their demo? And were there more recordings? I'd be curious to know more about them!
::::::::::::::::::::::::::::::::::::::::::::::::::::::::::::::::::::::::::::::::::::::::::::::
Listen
Sugar Spun Charge – State