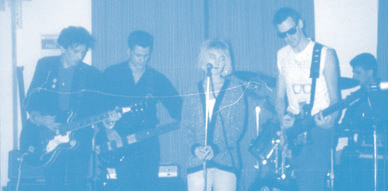 Thanks so much to Pat (JP Bananas) for the interview! Screeming Custard was a late 80s-early 90s band from London that released two records, a 7″ and a 12″ as well as some appearances in compilations. I was always curious about them because they sounded so different to their indiepop counterparts. Even though there's quite a bunch of information on their website, I always wondered what happened to them. If you also want to know more, sit back, read and enjoy!
++ Hi Pat! Thanks so much for being up for an interview. Tell me are you still making music? And are you in touch with the rest of the band these days?
Hi Roque, good to hear from you and thanks for remembering us!
Although I get the guitar out from time to time I'm not doing anything serious any more. I think Rob (Action Jackson – bass) is still playing and Paul (The Corner / Donkey – guitar) may be as well. Paul went off and did the whole rock star thing with a real band after the Custards, not that any of us are jealous..
Paul, Rob and I got together at Flo's funeral last year – nice to see them again but obviously not under those circumstances. Our original drummer, Larry, surfaced recently but no-one has seen Abbie for a while.
++ I read on the Screeming Custard page that there is or was the intention to make a retrospective compilation if there was enough interest. How is that going? Might it happen? Also, how feasible will it be for a sort of a reunion gig?
I did get the old tapes re-mastered but they were in a sorry state unfortunately. The engineer (Chris from the excellent Dalek Beach Party) said he'd never used so many Q-tips in one session. The plan was to find the best version of each song and then release a compilation through the website. Unfortunately it never really got further than wondering about names for the album – Never Mind The Dollops? I was wondering about doing something with Spotify but wouldn't really know where to start.
We briefly discussed a reunion but Paul is living down in Bristol now. I suppose we could do something clever using the internet for rehearsals but for us the rehearsals were almost as good as the gigs. We used to be holed up in a cat-infested room on the Catford one-way system 2 or 3 nights a week and the noise and energy was fantastic. Not sure that'll be quite as exciting over Skype. I don't want to rule it out as I always wanted to play an English festival – back when we were knocking around there weren't any to speak of other than the occasional New Cross and Lewisham Fun Days – but it's unlikely.
++ When did you get your first guitar? And what made you choose that instrument over the others? Was Screeming Custard your first band?
My first guitar was from the Freemans catalogue – a Kay I think with terrible action. Must have been in the mid 1970s and it took months to pay it off. I wasn't bothered about any other instrument – it was always the guitar for me. I took classical lessons at school, which almost put me off but then bought a book of chords, so when punk broke I was ready with E, A and D. I was in several bands before the Custards, most of which are not worth mentioning. A couple with Norman Cook (I was going out with his sister at the time) and then when I moved to London I joined The Wait, who were a pretty good Lewisham band. The band before that was called Between Yes and No; we had trumpet, viola, flute and me thrashing away on guitar. Very serious, very early-Eighties.
++ So how did the band start? How did you get to know each other?
We really did do it all through the Melody Maker ad pages. Paul advertised first and I went down and we thought we might have something. He got Rob in on bass (they'd been in a band together before) and Larry helped out on drums. We didn't think we needed a singer and were just going to do instrumentals… When we realised we did need a singer we advertised again and didn't get much response. But Abbie came along and although we couldn't really hear her she just slotted right in, which was fine by the rest of us. When we first heard her voice on tape we thought Oh my God – how didn't we notice that in the audition?
When Larry had his glider accident we advertised again and Flo was the only drummer who could keep up. He was amazing – easily the best and most innovative drummer I was in a band with. We used to see how many songs we could play in a row before he fell off his stool. We would open the set with five songs in a row but my girlfriend pointed out it was probably a little too intense, and we were also finishing the set too quickly. We all got on really well – lots of banter, lots of abuse, and no fallings out until the very end.
++ I read that it was on your second gig that you played under the name Screeming Custard. So, under what name did you play the first? And how did the name of the band come about?
The first gig was in Bromley and we went under the not very clever name of Bastard. It was the only thing we could agree on for some reason. Before our second gig we decided we needed something else so went for a lunchtime session in the Sun On The Sands pub in Blackheath. We didn't come up with anything at all but on the way back Paul just said, how about Screeming Custard? We changed the spelling to annoy journalists I think. We knew it was a good idea when our first break was a mention in Sounds' '10 Crap Band Names' chart. Fantastic.
++ I read you were based in Bromley. How was it back then? Where would you usually hang out? Were there any other good bands in town? And has it changed much from those years?
Paul and Rob were the Bromley boys – I was in Blackheath Standard, Abbie in Eltham (I think) and Flo somewhere in-between. We used to rehearse in Pauls' Mum's Front Room until she got fed up and then we moved to Catford. We were part of the Catford Musician's Collective so spent more time there and did some early gigs they put on at the Black Horse and Lewisham Labour Club. There was a band called Dandelion, who were pretty good. Before I joined the Custards I knocked around with the June Brides a bit, who were probably the best band to come out of the area at the time.
++ I've met Ian Watson many times, so I'm pretty curious how did he end up being your manager?
Ah, the mysterious Ian Watson. He was going out with a friend of mine so I asked if he'd be interested in helping out. He did a great job and got us some good gigs we wouldn't have got otherwise. Not sure what we gave him in return other than headaches and five minutes on-stage at one of the Pauls Mums Front Room Extravaganzas. Before Ian got involved we were facing the problem all bands in London did at the time – you couldn't play the better clubs unless you had a manager. Our solution was for Rob or I to phone the venue as Mr Potter to book a slot. After we'd played we'd just say that Mr Potter was with one of his other bands that evening and that we'd give him the money later. It always worked. We chose Potter because England had a caretaker manager at the time and Potter was the caretaker in 70's sitcom Please Sir.
++ You toured in Spain. That wasn't that common for indiepop bands back in the 80s . How did that come about and what were your highlights of that trip?
Spain was a great laugh and we got paid enough to release the first single. It was done through the Musician's Collective so we went out and stayed with a band who got us gigs and then we did the same in return for them. So they got us on TV, a slot at a Barcelona festival and a couple of gigs in packed clubs, and in return I'm afraid they played to an empty Hype Club, were interviewed on local radio but did a good show at the Labour Club. We weren't really similar music – they were quite quirky and rocky. Luckily (for us) the collective in Terasa where we stayed were mainly punks so we had a great time. Paul and I stayed with a performance artist called Kiku Mistu (I think) who once posted himself across Spain in a box. The TV was a definite highlight but the festival was also good. That was the first time we strangled Chic's Freak Out.
++ And in the UK you played so many gigs! Which would you say were your favourites and why?
Hard to remember them all but playing with Cud was always great. We got in touch with them and said we'd book them a gig in London – they hadn't played anywhere major at that point. We put them on at Hype and the place was packed. In return they put us up in Leeds and we did a gig with them in a pub – great weekend. David Gedge was apparently in the audience which was a thrill as the Wedding Present were one of the bands we all looked up to. We always loved playing at Hype before Jon Beast went off with Carter. It became a bit of a home venue for us in those rather bleak days before Brit-Pop opened doors to guitar bands again. The Fountain in Deptford was also always a good night. Not sure how they got away with cramming that number of people in the upstairs room.
++ I love your sound, "Tracy", is one of those great indiepop gems you know. But I wonder what were you listening at this time to make music like this?!
Thanks! It was just one of those happy accidents that that was how we sounded. We were already quite noisy and then with Abbie's twee vocals on top it seemed to just work. We were likened to The Cranes, who I liked along with bands from the Twee movement, but we mainly listened to the likes of Pixies, Gang of Four, Wire, Wedding Present, Cud, Carter, Family Cat and New Model Army.
++ Your two releases came out on Pauls Mums Front Room Records. What's the story behind that peculiar name of the label?!
As you've probably guessed, that's where we rehearsed initially and also where we recorded the first single. The engineer set up at the top of the stairs and we used the front room. Abbie was nervous so recorded in the dark apart from a globe that lit up on the mantlepiece. We set up the label because it was hard to get anyone to take a chance on us at the time. I'm pleased we did as it was a good experience running it. The label of the second single shows Paul's mum on one side and the front room on the other. We signed up with the Cartel and sold a lot of singles in America as we were getting played on college radio out there.
++ Your first release was the "Tracy" 7″. Who was Tracy? And David?
I think David was one of Abbie's old boyfriends but Tracey was Abbie's generic term for any girl happy to under achieve in life. John Peel asked us the same question and then told us his daughter is called Tracy. Slightly awkward.
++ For the second release, the "Lurve" 12″ you had to get a big loan. How did that work out? Is it all paid now?
I had to take out a loan to get a roof fixed and used it to pay for the single instead. It took a lot longer to pay off than my first guitar! In fact the second single didn't sell very well but I had 250 nicked from a lock-up, which turned out to be the label's best day's business when the insurance company finally paid up.
++ On the Waaaaah split flexi you were supposed to contribute a New Order cover but in the end you gave Richard the song "Raft". What happened with New Order?
We were still doing one of the early instrumentals live and Abbie wanted to put some words over it so she wasn't just standing there. She said she knew John Barnes's rap from World In Motion and promptly sang it over the instrumental. It fitted okay and so we offered it to Richard at Waaaah. Someone said we should ask New Order in case they had a problem with it and we were amazed that they said they did. In the end we had to give Waaaah an out-take track that we had also offered to another fanzine, which we felt bad about. New Order then got some bad publicity for turning us down and said we could use it after all. Too late by then of course so it's just become one of those tracks that turns up on download sites from time to time.
++ You had a song on a Big Muff fanzine flexi. I wonder how involved were you in the fanzine scene of the late 80s? It seems like there were so many of them championing indiepop.
Yes, we loved the whole fanzine scene. I'd grown up with the punk fanzines and then through the football fanzine era so the idea of DIY was always something I supported. I'd helped Norman Cook out with his Peroxide fanzine and later a football fanzine, but there wasn't really time to get too involved once the Custards were up and running. We were good friends with Richard Waaaaah so I still have a soft spot for that publication. The internet has done many good things and keeping the spirit of fanzines alive with blogs like yours is definitely one of them.
++ Tell me a bit about the "several dodgy tapes" you made. And what about the t-shirts and badges? Did you make any other merch? You seem to have been pretty productive!
This was something I got from Norman really. He was great at making badges and tapes of that band so it seemed obvious to do it for the Custards. We had the idea for the logo and Better Badges did some good ones for us. The T-shirts were as rough and ready as everything else. I'd already hand-made one, which I wore at early gigs but we then did two versions – one with yellow custard and then one with pink. I think they sold better than the records. The tapes were just demo tapes that we drew covers for. We'd do special editions that we'd send out to fans that wrote to us. We used to get a lot of mail from fairly troubled young girls. Flo was very good at writing back; he was our agony Aunty hence his band name of Aunty Flo.
++ From all your songs, which one would you say are your favourites, and why?
I did have to go back through them when I was thinking about the compilation and it was interesting hearing them as complete songs rather than just wondering where my guitar had gone to in the mix. I have to say I still like Mouth and a Brain, for the lyrics but also for the way we were able to get the guitars to sound a bit heavier with each verse. I also like the two singles and Le Freak. When you're playing the songs, your favourites are different because there are some parts you just like doing so as I say it's odd hearing them again in a more dispassionate way.
++ Something that always caught my attention about Screeming Custard were Abi's vocals. They are quite unique! How important were they in the vision you all had of the sound Screeming Custard were creating?
Yes, I'd like to say it was all part of a plan but as with most things with the Custards it was just a lucky accident. Abbie really was unique and had done a bit of work with Terry Hall after his Colourfield period, that didn't go anywhere. We were the next people she tried, luckily for us. She could have been a top gymnast when she was younger but injured her wrist I think. She'd turned to music after that.
++ And when and why did you decide to split?
Well, Abbie was still finding playing live nerve-wracking and in the end decided to leave. That was the end of the band really although we did struggle on with a new singer for a while, who had big plans and took some of the band with her. It was the right time to end as we'd run our course.
++ What did you all do after? Were you involved with other bands?
The others did – I'd always said it would be my last band so I hung up my plectrum after that. Rob gigged around with the Pig-Keepers Daughter, Flo had a band the name of which escapes me but they did a single or two and Paul did very well. He's a great guitarist so it was no surprise. We called him The Corner because he was good, but not quite as good as The Edge.
++ And these days, what do you all do? Do you have any other hobbies other than music?
I think Abbie was doing some bread-art when I last heard but the others are still into their music I think. Football was my other big interest and I currently run the doingthe92.com website for people trying to visit all 92 football league grounds. There's about 5,000 people signed up on it and I've just done our first piece of merch – a poster showing the location of them all, which is selling well.
++ One last question, looking back in time, what would you say was the best part of being in Screeming Custard?
For me it was the rehearsals in the early days when the songs started to come together and we thought we were going to be as big as Bros. If you're reading this and you've ever wondered about being in a band just find a couple of mates and do it – there's nothing quite like it. I was never a good guitarist but a bit of fuzz and the right attitude can cover up a lot!
:::::::::::::::::::::::::::::::::::::::::::::::::::::::::::::::::::::::::::::::::::::::::::::
Listen
Screeming Custard – Love