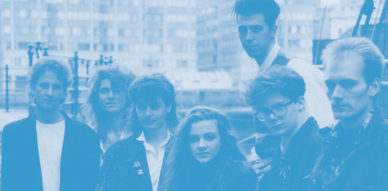 Thanks so much to Guy Cresswell for the interview! Playing for Time just released a retrospective CD on Firestation Records and you can order it from the label page. Back in the 80s they only released one 7″ that is sought after by indiepop fans, especially our Japanese brothers. It goes for crazy prices on eBay! Now sit back and enjoy the interview with this obscure, but great, London band.
++ Hi Guy! Thanks so much for being up for the interview. I've been enjoying the new CD "The Unreleased Sessions 1984-1989" on Firestation Records. How come this record came about, 20 years later? How was the process?
Thank you so much for asking us – deep breath here goes
We started to receive emails from Japan asking about the single 'With my Heart' which we had released on our own record label "Thumbs Up" in the 80's.
Obviously we were really pleased to hear there was still interest in the band and suitably shocked to hear how much the singles were being sold for, bearing in mind we only pressed 1000 copies and never distributed them outside of the UK!
The break through came when we connected with Takashi Yonezawa, a great fan of the band and a huge figure in the world of vinyl collecting, and he put us
in touch with Uwe and Olaf at Firestation Records, both passionate music lovers with a great record company and we went from there to discuss the ossibility of a retrospective album.
++ And what can people, that listen to you for the first time. expect from this record?
A slice of pure 80's pop music from a young, quality band on the London scene having a great time playing music, we view it as time capsule of the period, we now play the CD and it takes us back to a London that was vibrant, colourful and fun.
++ Though, the name is not completely right, is it? I mean, "With My Heart" did get released, and now is highly collectable. How do you feel when it goes for very high sums of money on eBay? It seems it's the Japanese your biggest fans, and you can't compete with them on eBay!
No one was more surprised than us, as I said we only pressed 1000 singles, we got the money to do this by playing some bigger gigs and then we sold the
singles at the time for £3 each to friends and fans, the singles were never heavily distributed but we did get quite a lot of airplay when we promoted the single to the London Radio stations.
++ And I don't blame them for paying that, this song is great! So I'm wondering what inspired you to write it? And what's it about?
Thanks, we were pleased with the song but also recognize it's the single's rarity that makes it so prized for our Japanese friends, we do know there is a box of 25 brand new, unplayed, singles stored somewhere and you can bet we are trying to find it, but like lost gold it keeps alluding us
'With my heart' was an unusual song for us as Steve had written the verses and I had independently written a chorus and both of us were trying to finish different songs without realising what the other had written, Robin heard both parts and realised we were could put them together, what's the song about?
Rule 3 of song writing, never explain your lyrics, let the listener decide what it means to them…..
++ So, 15 songs on the new CD. Are these all your recordings? Or were there some stuff left behind?I ask because I was looking at a playlist of yours on your page and I read some song names like Loveblind, Merry Go Round, Sloan Sq to Menorca, and more…
We had quite a few other songs but we decided that we would stick to this selection of 15 tunes as a good representation of the band, however just the
mention of Loveblind, Merry Go Round, Sloane Sq to Menorca, takes me right back to playing those songs live; we never recorded them in the studio though,
and the live recordings we do have, whilst being a great memento for us, are not good enough quality to release.
++ What would you say was your favourite Playing for Time song?
For me personally it was 'Six weeks in July' which was the b side of 'With my Heart', why, well because I wrote it and because it always reminded me of growing up on the South Coast of England but Steve Noyce, my writing partner in the band, wrote some absolutely amazing songs and like me is still writing, and so if I had to choose one of Steve's songs it would be 'Blues' it has a brilliant chord sequence and was always a great crowd pleaser, it was also the song that most interested the bigger record companies.
The other stand out song was 'Don't Criticise' as this featured Jack Cryer on lead vocals, Jack sings even better now than she did then, and her voice has matured to velvet, an incredible performer and talent.
++ Let's go back in time, to the 80s. What were you doing just before starting the band? Have you been involved in other bands prior to Playing For Time?
Personally I was playing in bands and working as a freelance guitar demonstrator for Roland UK and writing songs, playing in such great unknown 80's bands such as 'The Missing Links' and 'Innocent Party' and 'In at the Deep End'
++ And how did the band come about? How did you all knew each other?
Robin did a brilliant band history on the CD cover notes and so if you would like to know the full story then grab a copy of the CD from Fire Station records before they sell out!
++ What about the name of the band? What does the phrase mean?
We liked the name as it had various meanings, depending on the context you use it, but like most band names as soon as it is associated with music then it
just becomes the words to describe the sound, say 'Playing for Time' to me and I hear a melody.
++ You gigged quite a bit, are there any particular gigs that you are fond of? Any anecdotes you could share?
Scott's famous club in Denmark Street and sold it out twice. That was an incredible experience to play and we felt very privileged to have played in the
place where so many great legends and our musical heroes had played, it was exhilarating and humbling at the same time.
How about a gig at the Savoy for The Vegetarian Society, we started to play and instead of dancing, they formed couples and ballroom danced to our music, at that point 'Captain Sensible' from the Damned arrived, rushed the stage and sang Blue Suede shoes with us before ripping the stage apart.
'Right Said Fred' used to open for us before they had their string of hits, they were an acoustic duo then and sounded a bit like The Everly Brothers, they were brilliant and we were surprised and pleased when they broke through with a new sound!
Driving down to Portsmouth in a convoy of terrible cars and having a food fight on the way, I remember lots of sandwiches on the windscreen and when we
used the windscreen wipers bits of sandwich and cake were smeared across the screen.
My future wife Kate collecting me from a gig in VW golf convertible and giving the 3 piece brass section a lift home, they would not all fit in the car and so we
took the roof down and the three of them sat on the back of the car as we drove across Tower Bridge playing their instruments.
Lots of memories, most of all I remember the laughter, even to this day if you put the old band members in a room together within 5 minutes there is laughter.
++ And on the liner notes you mention the coach convoys organised by the McArthur clan. Care to expand on that? 🙂
PD (surname McArthur), our bass player, had a great idea that when we played Ronnie Scotts we should bring up lots of people from the South of England and so he hired two coaches, filled it with people and beer, charged them a couple of pounds for the trip and we sold out the venues……I always remember turning the corner to Ronnie Scott's and seeing a massive line of people and wondering who they were going to see………..It was us!
++ You only released one 7″ record, on your own label. Why the decision to release it yourselves? How did you enjoy doing "label" stuff?
We had got frustrated waiting on the major labels and so just decided to do it ourselves and we were very pleased with the result.
++ And how come you didn't get to release more records back then? You had plenty of songs clearly!
It was a classic case of getting tied up in record company land, we had plenty of offers for singles deal but with so many songs we really wanted an album deal or nothing, in those days if you signed a singles deal the record company could issue the single, not promote it and then keep you on contract for years and we wanted real commitment, we also found that when we did get a champion in a record company by the time we got to the signing stage they had moved on or music had moved on, we were very disappointed and frustrated at the time but interestingly when we look back on it we are very glad we were never signed to a major. It meant that we kept our friendship intact and that, over the years, we have valued far more than the success we craved back then.
++ Let's go back to that 7″, I don't have it, but I've seen the sleeve cover online. The photo on the cover conveys a lot of mystery to me. Where did you take it? And what did you want it to say?
Robin organised the photo shoot in his then girlfriend's bedroom if I recall and did a really good job, if it conveys mystery to you then that is perfect as that was the intention, I am still trying to figure it out myself and I love that J
++ And how do you remember the recording of the songs for this record? I read on the liner notes that you were really proud of the producers you worked with.
We recorded 'With my Heart' with an up and coming producer, Ray Hedges' who was also a part time fireman (Firestation records would approve!), I remember
recording one day and a huge fire engine pulled up outside of the studio and all his friends came into see how we were doing in full fireman's outfits, that's the sort of thing that happened to this band on a regular basis.
We recorded the track on an old 8 track tape machine that used 2" tape and so the analogue quality mixed with the digital synch track really beefed up the sound, it was done quite quickly and the mixed down, Rob and I were the last to leave and in the car we talked about what we were going to put on the b side, we called a friend of ours who ran Midge Ure's studio, Midge had been very kind and done some production for us and helped promote us, the studio was free and so Robin and I popped in there on the way home and recorded '6 weeks in July' in about 2 hours from start to final mix and we were done.
++ I live far away from the UK, so I don't know much about the GLR chart where you reached the number one. Care to tell me a bit about the GLR? And how did you end up so high there!?
GLR was the old 'Greater London Radio' station and a new DJ called Chris Evans, who Robin had met whilst working at the BBC loved our single and
played it a lot, that's how we got to the top of the chart, Chris went on to become a broadcasting legend in the UK and he is still a fan of the band, he currently has the breakfast show on BBC's radio 2.
++ So what happened, when and why did you split?
We realised that the band was not going to get signed and that music was changing, so it was time to do something else. We played our last show at
Ronnie Scott's, payed off all our debts, and then we walked away with our friendships and memories intact. Undeniably we were sad at the time but had
given our hearts and souls over, and after 20 years we look back with great fondness at those times.
++ And what did you all did after? Were you still involved with music?
Hell yes, we view 'Playing for Time' as our apprenticeship, Robin moved to Switzerland to continue his work in TV and film, PD moved to Ireland, still plays
and has a studio and loves his music, Jack and Steve recorded a demo CD at my studio and then got a deal with Longman records and released a stunning
album called 'The way I feel' If you have not come across this album and you like PFT then you have to check this out.
Here is the website for the album
http://www.richard-durrant.com/pages/jack-cryer/7031?products_id=58
and here is a link to Jack's site
http://www.jackcryer.com
Steve went back to study music and is now a guitar teacher, he is still writing and performing and his songwriting just keeps getting better. He and I are back in the studio at the end of this month to record one of his new tunes, it's definitely one of his best yet!
For me, my fascination with music has never ceased, I am still writing and have just finished a 3 year degree course at Berklee College of Music in Boston which I really enjoyed doing. I even become composer in residence for the LSO (Late Starter's Orchestra) for a while whilst playing Double Bass in the orchestra!
Steve and I are looking to release some new songs in the New Year with Jack's help on vocals and we're, really looking forward to that.
++ Nowadays, after putting out this great compilation CD, looking back to those 80s, what would you say were the best moments, the highlights, of Playing for Time?
Easy, it was the friendship and laughter we shared in the band, there were really hard times when we had no money, we had problems and frustrations but I don't remember us ever having a row, or even a raised voice. The success would have been short lived but our friendship and mutual respect for each others talents and opinions lives on
I can't say better than that……….
++ Alright, let's wrap it here, thanks so much for the interview. Anything else you'd like to add?
Thank you for still being interested in the band and what we do, we do appreciate it
::::::::::::::::::::::::::::::::::::::::::::::::::::::::::::::::::::::::::::::::::::::::::::::