29
May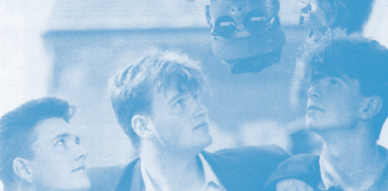 It's been 2 weeks since the last update. A lot have happened in between. Last weekend I was in New York City for the Popfest that once again was a success thanks to Maz organizational skills and the great lineup he managed for this year. Highlights include Days, Go Sailor, The Motifs, Caucus and Persian Rugs, among the bands I haven't seen before.  It was such a treat to have my two new 7″ releases being played lived. I was so thrilled. On top of that, the Caucus and Persian Rugs folks were as nice as I imagined them. Also it was great to see some familiar faces from Europe that came all the way to play at Popfest like The Felt Tips or The Sunny Street. They were charming.
On the American side of things, Tiny Fireflies were deliciously good. They should have played later I think, but I can understand that as it was their first gig ever they got the afternoon slot. But they were indeed a highlight. Kristine and Lisle are way too talented. Gold-Bears brought the nice and the photo booth to Popfest. They were just blazing through their set. Lots of energy, and attitude, something I haven't seen since that one time I saw The Faintest Ideas live. Meeting friends was good too, seeing Jennifer again after just a couple of months, meeting Vernon who came all the way from Singapore, Ed from Shelflife, Scott from Summer Cats, Alex who never stopped dancing, Stephen who told me Cloudberry was the 'music of the people', and more that I'm probably forgetting. I hope at some point I can do a full review of the Popfest, but as I have promised reviewing each festival I attend, and seeing I have still lots to document from past events, I don't see it happening soon. But bear with me.
Now on to Cloudberry updates. By now you should know that Persian Rugs and Caucus 7″s are out. And yesterday I sent to the pressing plant the masters for the Very Truly Yours single. Hopefully it will be ready for their UK tour in July. I plan joining them on their tour, probably to do their merch table or just carry instruments. Should be fun. I believe we are doing Manchester, Glasgow, and somewhere else. The single A side is called "Girls Tell You Secrets" and you can download it from the Cloudberry site. The B side is "Sleep with the Clouds" and is a precious slice of heartfelt pop!
The fanzine number 6 is almost ready. Finishing some articles for it this weekend and then proof reading. And also coming up is the Cloudberry Classics CD by The Deddingtons. It's going to be fantastic! Oh! And there's also another Cloudberry Classic release lined up, but I can't tell you all yet! But trust me, it's going to be really good. Quite obscure! And if we keep moving on, maybe around September/October, we'll be looking into 7″s by Youngfuck and Nixon. Exciting times ahead!
This week's recommended obscure band also comes from the same place as the last one: Wymondham College, in Norwich. They were called "June Recruits" and only released one 7″ on their own Mania Records (REC 1). The single included two tracks "Rape" and "And She Sells", being the A side the true winner despite the "Rape" name. "And She Sells" is a rock song, so probably you won't like it much, I don't if I'm honest. But "Rape" is such a poptastic song that the single is worth just for that one song. But believe me, I've tried finding this record for a couple of years now, and only saw it once on Ebay. I lost the bid on the last second. I still have nightmares about that.
The band formed in the Spring Term of 1987 and was featured in the 1988 College Magazine.  Members were Antony Jones (vocals/rhythm guitar), Daniel Bates (lead guitar), Graham Jordan (bass guitar) and Jeremy Trett (drums).  They came second in the area finals of TSB Rock School and recorded several tracks that were sold on cassette and disc. Wonder what happened to these songs. Maybe there were more great pop gems like "Rape" among them?
As it is always the case, the information is scarce about the band. I do know that Daniel Bates and Graham Jordan before being in June Recruits were part of a band called Natural Instinct, who I will be covering on the next blog post. Promise. They had some great tunes!
The other piece of information I found comes from the Norwich Bands Wiki, it says:
Wymondham College band circa 1987 formed from the ashes of a sixth form band, Headed up by the larger than life character of Antony Jones, who could seriously belt out a song. They came second in the area finals of TSB Rockschool and produced one single on there own label, Mania Records on the prize money. They split around 1989, and formed The J.R. Hartleys
The J.R. Hartleys? Who is J.R. Hartley? Wikipedia to the rescue:
The fictional character appeared in television advertisements for British commercial telephone directory company Yellow Pages, first shown in 1983. The character was played by the actor Norman Lumsden.The advertisement shows an elderly man asking in several second-hand bookshops (which are recognisably real shops in London's Cecil Court) for "Fly Fishing by J. R. Hartley". Every attempt fails, and the next scene shows him at home looking dejected. His daughter, sympathising, hands him the Yellow Pages; in the next scene he looks delighted as his end of a telephone conversation reveals that a shop has a copy of the book. He asks them to keep it for him. He responds at dictation speed to a question: 'My name? Oh, yes, it's J. R. Hartley.' The advertisement ends by promoting the Yellow Pages.
According to the Norwich Bands Wiki, The J.R. Hartleys released 2 demo tapes, both recorded at Purple Studios, and knocked out some fairly respectable Jangly Pop circa 1990, They split when Tony went to University to study something that involved going to Mongolia. Wow! Jangly Pop! I'd love to listen to these demo tapes if possible!
There is also a post by Jeremy Trett on the Wymondham College bands page where he expresses his wish to get back in touch with his former band-mates. It reads: "We were at College from 1986 to 1988. The other members were: Tony Jones, Dan Bates and Graham Jordan. I lost contact some 19 years ago!". He left an email there as well. I wrote him maybe around a year ago but no response sadly.
And that's all I've been able to gather. Again if anyone knows the whereabouts of the band members, or has access to their several recordings, or even stuff from the J.R. Hartleys, please share! Let's solve the mystery behind the June Recruits!
::::::::::::::::::::::::::::::::::::::::::::::::::::::::::::::::::::::::::::::::::::::::::::::
Listen
June Recruits – Rape