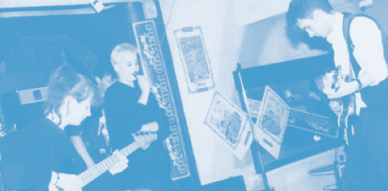 Thanks so much to Andrea Reid for the interview. I'm really thrilled to at last be in touch with The Wilderness Children as ALL their records are among my favourites. It all happened thanks to David McLeish who put me in touch with her after he had uploaded some videos by the band including a live performance!! After that The Wilderness Children have also set up a facebook page with lots of photos and memorabilia, so you should all become fans! And now just enjoy the interview!
++ Hi Andrea, how are things going? I see some Wilderness Children videos have been unearthed and are already on Youtube! How did this come about? I've been looking for more stuff from you for ages!
I'm kind of bemused to see Wilderness Children videos on Youtube. Someone from Dundee who runs a club, had been collecting bits and pieces over the past year and found the videos, talked to Phil the drummer and stuck stuff on Youtube. It turns out he lives near our old house in Dundee and had been intrigued when he bought a single off a website to see the address on it. Kind of a walking the same streets thing….. It's been really nice to see the stuff again and also pretty funny as I'm not sure anyone else even knew we existed at the time never mind now!
++ So let's go back in time. Was The Wilderness Children your first band? How did the band start? How did you all knew each other?
We had all done different bits and pieces with other people before. I remember Fraser getting in touch with the Wildhouse (another band from Dundee) – Fraser then met up with Ian and Billy, John Weir was involved at points, Peter Moog and Susan Henderson.
We finished up with Phil on drums, me singing, Fraser alternating on guitar and bass (bass live) and Mike Kane on guitar.
Lots of people were involved in different ways, at different times. Laura Walker for instance doing art work, back drops, posters and things, or Sandy who did videos, another guy organized slides and film stuff we projected when we were playing, others did photos, we had a guy who drew cartoons for us. Then we had people like Joe driving us around, or others who just turned up and contributed just by being who they were!
In some ways when I think back it was more about having something to do and people to be with who knew they wanted to do something creative with their time. None of us had any money and so I think what we did was create our own entertainment out of nothing. There were places that we could use to do this like the Grey Lodge or the DRCU where we could go, practice, put on gigs.
++ And what influenced you or sparked you to start a band? Did you have any music heroes then?
We all liked music that's pretty much why we played, and we didn't see why we couldn't do something good – it didn't really matter to us if anyone else liked it or not as long as we did. We all had different bands, musicians we liked – pretty varied I guess – I seem to remember I was pretty obsessed by the Jesus and Mary Chain around then. I think me Mike and Fraser agreed we all liked My Bloody Valentine. I couldn't speak for the others on musical tastes.
++ Where does the name of the band come from?
Was never greatly keen on the name but at the time it was the only one we had and I guess we were all too lazy to think of something else. Billy came up with it from a song.
++ How was Dundee back then? Where did you usually hang out? What other like minded bands were around? I think you and The Wildhouse are
the only bands I've ever heard from your town!
I think I usually hung out at home…. We practiced in the Grey Lodge, went to the DRCU, drunk in nearby pubs but didn't have much money to do much more… We didn't get on very well with some of the other bands in Dundee… We all had hugely exaggerated opinions of ourselves and spent a lot of our time thinking up stuff to say about each other. People would then write stuff up in a fanzine, which would set off another round of outrage.
++ What about gigs? Did you play many? Any favorites?
We constantly gigged. We played Dundee, Glasgow, Edinburgh, Aberdeen, London etc etc. We played anywhere we could which sometimes pissed Mike off to be honest. I seem to remember playing at the end of a jumble sale somewhere, there was still bric a brac lying about when we were setting up.
Favourite gigs – as a highlight playing with Strummer was something as he was a hero of mine. Really enjoyed when we played in Ayr at different points and anytime we played with Blam Blam YC who liked a drink too. Also we supported Dinosaur Jr – it was a plus as they gave me a couple of t-shirts. I really enjoyed when Phil's brother drove us round England.
++ Most of your releases appeared on a label called Doss Records. Who were they? Care to tell me a bit about it?
We just put the records out ourselves and that was the name we called our pretend label!
++ And what about Magic Bus Records?
Magic Bus was Andy Wood who was one of the few people who clapped enthusiastically at any gigs we played He also did a lot of fanzine writing and helped organize gigs, flyers and the like.
++ First I want to ask you about the only release I'm missing from you, the flexi. As I have never heard it before and it was your first release, I was wondering how different does it sounds from the rest and if you could tell me the story behind it, how was that experience of recording your first single?
I think we might have recorded that under the floor in our flat in Dundee, we cut a hole and made a basement practice area. I'm not entirely sure though.
++ After that you released the fantastic 7″ "We're A Council House Punk Rock Band". I like the title a lot. But it makes me wonder, did you feel closer to punk than to pop? And also, who is this Mrs. Susan Spence you sing about?
Pop wasn't really part of my life.
Mrs Susan Spence was a dentist who nearly murdered Fraser when taking out his wisdom teeth. The song wasn't about that but we her name was good.
++ Next release was even more fabulous, the "If You Love Him, Let Him Go" 7″. By now I start wondering, was there any major label interest at some point? And what's the story behind this great song?
We were from Dundee, no-one knew we existed! Any bands at that time that sounded a bit noisy with a female singer weren't exactly in high demand!
The song was about depression and arguments. Life wasn't a bed of roses for any of us.
++ And then the last 7″ is an indiepop classic for me, "Plastic Bag From Tescos". Is that your favourite place to shop Andrea? And again, please, tell me the story about this song. This should have been a hit I think!
Tesco isn't my favourite place to shop, in fact I pretty much avoid it!
Fraser had a plastic bag from tescos with cards and stuff from a previous girlfriend in his Mum's shed. I told him to toss it. That's what the song was about!
++ I was checking that you recorded your stuff in Edinburgh, at Chamber Studios. That city I do know and I really liked it. How do you like it in Edinburgh? And why did you have to go all the way there to record?
We went there to record with a guy called Jamie as he had a good reputation and it wasn't too expensive. We had very little money so that was always pretty important. Edinburgh isn't all that far from Dundee.
++ And then one last release. A 12″ at last. It's the "Paint For Me a Picture" EP. And that was your goodbye. I was wondering, have you ever thought in putting all your releases together on some sort of retrospective album?
I'm intrigued that anyone now has even heard of us! So the answer would be we'd given that no thought!
++ And what about unreleased tracks? Are there still more songs by The Wilderness Children waiting to see the light of day?
We had a whole lot other songs, probably tapes of bits are mouldering away in our attics
++ Well, so 1990, last release. And then what happened? When and why did you split?
Last release. Fraser and I moved to another town. We all did other bits, People like Mike have been doing loads of stuff in other bands etc. Jobs, lives, children… the usual things!
++ Were you involved with music after?
Yep did other recording with other people. Mike has been done a lot of stuff – just works away at it.
++ Are you all still in touch? If so, what are The Wilderness Children up to these days?
We talk over facebook, and have been laughing and thinking recently since these videos were unearthed. Last time I saw Mike and John was at Fraser's funeral so its been nice to get out old photos and things at a happier point now.
++ I do have to ask you, in general Scotland produces so much great music. Why do you think that is?
No idea!
++ Looking back in retrospect. What were the best moments for you with the band? Any anecdotes you'd like to share?
The best moments were when we played gigs. It was just good fun – lots of drinking, laughing and arguing.
++ One last question, tell me about Dundee, I'd love to visit some time. What are the sights to see? And is there any particular Dundee dish you can't miss?
Sights in Dundee – well I'm thinking you'd just wander and see where it took you. New V&A museum opening there soon. Visit the Rep Theatre.
Food – who knows what's a speciality in Dundee – Dundee Cake…. All I know is I miss white pudding suppers as I can't get them where I stay now (some kind of greasy oatmeal thing with chips and lots of vinegar).
::::::::::::::::::::::::::::::::::::::::::::::::::::::::::::::::::::::::::::::::::::::::::::::