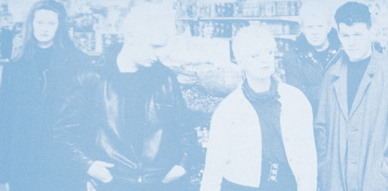 Back to the indiepop research after a a few days.
On the last blog post, Natsubot, from the Japanese band For Tracy Hyde, left a comment telling us that they did release an album last year titled "Film Bleu". I had written that their last releases dated from 2014, so definitely it is good to know that they are still putting out music. He also mentions that they have an EP on the works for this year. I guess my mistake comes from me not being aware of streaming services, "Film Bleu" is available in that format. Sadly, I never do that, and it is complicated for me, to twist my principles, and start supporting these platforms. But the fact remains, the band is still releasing good music and in the end that is what matters! Oh! And also their vocalist is not the same as in the 2014 releases I listened to on Bandcamp. Now their singer is called Eureka. Their previous singer, Lovely Summer, is now pursuing a solo career and you can check one of her songs here. It is quite good!
From Edmonton, Alberta, Canada, I just heard a superb new release (sadly only available on tape through Hidden Bay Records. Please stop releasing tapes!!) by the band Brunch Club. They have 6 songs and they sound like a good mix of Tiger Trap, Cub, and All Girl Summer Fun Band. It is good! The band is formed by Ellen Reade, Patrick Earles and Clay Francis. It makes me so happy to be able to find this sound again. They also have two demos dating from June 2016 on their Bandcamp. So quite a few cool songs to listen and discover. Top Pop!
It is true too that A Turntable Friend is back. The classic German band is releasing a few new records in this comeback. The first is a 7″ by the British band Drahla. There are two songs on it, "Fictional Decision" and "Dog Collar Guillotine". Sadly this is not for me, not much indiepop here! On the other hand the label is releasing a 40 song compilation, as 3 LPs or double CD, titled "The Test of Time". On it you'd see most of the fantastic bands that were once part of the label from Boyracer to Love Parade passing by Tree Fort Angst or My Favorite. The proceeds of these release will be for the William Wates Memorial Trust. There are old songs as well as many unreleased songs in it so it might well be a good thing not to miss it.
The two last new releases coming up from ATF are by the Isle of Man band Tea. They are the "Breathing EP" and the "Everybody's Happy Sometimes" album. The EP is available only on CD while the album is available on both CD and vinyl. Both of these releases I want to get as they include band members that also were part of Stoliday a band we released a 3″ CD many years ago!
And last but not least the Darling Buds are also doing a comeback releasing a 10″ 4 song EP. The EP is titled "Evergreen" and sounds as if they never left (the same feeling I had when I saw them live at NYC Popfest). It is a surprise to see they chose to release with Oddbox, though maybe their Welsh connection had something to do with it. It is such an indiepop sounding record that doesn't seem to fit in this label. But that's the beauty of it.
Who are the Keep Left Signs? Some days ago I got a tip from a Spanish friend about them. It seems they've been going for some years now, but I had no clue even though they played a gig time ago when indiepop was in better health with many good friends of mine like The Fireworks, The Electric Pop Group and The Garlands. They have a bunch of very jangly and classy songs on their Soundcloud. I feel they are English, but I couldn't say for sure. Would love to know more!
And lastly there's a new video by Colour Me Wednesday for the song "Don't Tell Anyone". I have always enjoyed this band even though I have few things in common, I'm no vegan and I don't enjoy the DIY bands they normally support for example, but Colour Me Wednesday do craft fantastic and catchy pop songs like this one.
—————————————————-
I finished yesterday with the plastic sleeves. I gave all my 12″s one. Now I think the next step would be buying paper sleeves so the record can be outside the sleeve. But that would be homework for later.
As I was doing that I picked some 12″s that are a bit obscure and I think would be appreciated by the blog readers, just like Rasca Cocous did last week. Among these obscure records I picked for this week the one 12" by Blam! Blam! Y.C.
As I don't know much about this band it makes sense then that it would be good to do some research about them. When I try to remember how I discovered them, I think it was thanks to Youtube. I saw a cover of The Who's "The Kids Are Alright" by this band. It said on the description that the band playing this song was a UK jangle pop band. So I had to find more, and as I couldn't find anything else, I decided to buy their record.
And so I did. And this cover of The Who appears on the B side. It is a live version. The full tracklist is: on the A side only one song, "Rollercoasting Barbie & The Dumb Angels". On the B side "Mandy Is", "The Kids are Alright (Live)" and "Touch of Grey". The record was released in 1988 by Pussy Face Records (catalog CLT 001) and it was their sole release both for the band and for the label.
Time to check the back sleeve, there's a cool photo of the band, only in pink tint (as the whole record sleeve is) plus some more info. We know the band members were:
Isobel Cline – rhythm guitar and vocals
Ewan Grant – bass
Debbie Hutcheson – vocals and tambourine
Alan Berry – lead guitar
Graham Sanderson – drums
The record was recorded at Toad Hall in Glasgow and was engineered by Ian Carmichael.
Was the band Scottish then? The label has an address from Middlesex in England. I though it was a self-release. Then they would be from Middlesex, but their sound is very Scottish. I'll keep digging.
As with this obscure bands it is difficult to find more information.  I want to know what the name of the band means. What does Y.C. stand for. I end up on Alistair Fitchett's website, Tangents, on a post from August 2002 about St. Etienne. There he mentions the band on this paragraph:
There was a great record store at this time in Ayr, whose name I can no longer recall. The guy who ran it had been in the group Blam Blam YC and used to disappear off to Edinburgh when he was 15 to see Fire Engines play. I think his name was Euan. Euan used to play 'Only Love Can Break Your Heart' in his record store all the time, and that's where I heard it first. He also spun it in the club night he ran down in some god-forsaken new bar in town, where it always got a fantastic reception.
Was the band from Ayr? The Scottish theory starts taking some shape.
Ayr is a large town and former Royal Burgh situated on the west coast of Ayrshire in Scotland, United Kingdom. It is the administrative centre of the South Ayrshire Council area and historic county town of Ayrshire. Ayr is currently the most populated settlement in Ayrshire and is the 12th most populous settlement in Scotland. The town adjoins the smaller town of Prestwick to the north, forming a single continuous urban area with the town.
The band is also mentioned on the Firestation Records old blog. Uwe doesn't seem to be a big fan of them:
Not so much my cup of tea but everyone who is into bands like Motorcycle Boy, Fat Tulips or The Rosehips should check out their sole 12" single which called "Rollercoasting Barbie and the Dumb Angels", released 1988 on Middlesex-based "Pussy Records".
I find another mention but this time I don't understand anything as it is in Welsh. It is from a book by Rhys Mwyn titled "Cam O'r Tywyllwch: Hunangofiant ". I'm guessing here that he says the band played alongside The Wendys in Perth. There's also something about "Rock Against the Rich" which I think was the name of the gig.
It is no surprise that I would find some information about them on an interview I did with The Wilderness Children years ago. They mention that: "really enjoyed when we played in Ayr at different points and anytime we played with Blam Blam YC who liked a drink too."
They must have been from Ayr then. And I can confirm it after I find a newspaper cutting from The List dating 23 February 1990. In it it says: "Ayr – The Coletranes and Blam Blam YC – Pavilion Ballroom, The Esplanade, 0292 265 489. Indie strummers Blam Blam YC play their hometown on an eight-day band exchange scheme wtih punchier Dublin band The Coletranes".
Next stop is Avo-8's gigography. They mention a gig at Rooftops in Glasgow on January 12th of 1989. They lineup for the gig was Avo-8, The Darling Buds and Blam! Blam! Y.C.
Remember I was talking about "Rock Against The Rich". Now I find a fanzine I believe titled "Class of War No. 29". It is all scanned and seems to feature the Rock Against the Rich Tour 88. This is very inspiring. On page 4 I find the mention of Blam Blam YC. It says:
"The first ever Rock Against the Rich gig was in Ayr in Scotland. It was organised by a band called Blam Blam YC who are the support band in Glasgow. 
The gig featured The Cataran, Blam Blam YC, The Wilderness Children (support at Aberdeen), Hee Haw, The Flat Stanley, The Salt Cellar, Southern Approach and Memphis Hipshake. "
So that is pretty cool, they were a political band. Sadly they only released the one 12″. I don't know if there are more recordings by the band, perhaps demos. It seems they played quite a bit of gigs. Wonder if anyone out there remembers them.
With examples like this it is hard to believe there are people that say indiepop is conservative and can't be political. What nonsense.
::::::::::::::::::::::::::::::::::::::::::::::::::::::::::::::::::::::::::::::::::::::::::::::
Listen
Blam! Blam! Y.C. – Rollercoasting Barbie and the Dumb Angels