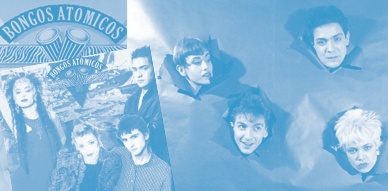 On my last post I said I had mentioned all the bands worth recommending from the Latin American Twee 6th compilation. I missed one, The Spiracles, mainly because I thought they had appeared on the blog some time ago. But after a quick search I found out that they had no mention whatsoever here. So I want to make amends with my terrible memory now.
The Spiracles as far as I know are a Peruvian band though their Bandcamp has them hailing from Toronto, Canada. Might be a mistake? Or maybe some members have relocated? I don't really know. The song that appeared on the compilation was "Beneath A Sky of Stars", and it is a pretty dreampop song. The song is part of an April 2016 eponymous release that is available digitally. All of the songs on this digital release are reworks of already released songs, all of them had already appeared on their 2014 album "Last Night I Dreamt About You". The band is formed by Romina Roggero, Enrique Medina, Luis Rodriguez and Franco Bahamonde. I like their music, just wish they were a bit more orderly when it comes to their songs and releases! It is a bit confusing having them all over the place.
After, I went back and did a quick recap of the Latin American Twee vol. 5 download compilation earlier today. On an earlier blog post I recommended from it Un Verano en Portugal, Verano del 83, 1994 and María. I missed some bands that deserve your attention too.
Las Piñas: the song that introduced me to this band is the catchy "Hawaii". This song is included in their 2016 album "Espanto Caribe" which was released on CD and tape by the American label Yippee Ki Yay from San Antonio, Texas The band is formed by Sofía Cardich, Antonela Perigo and Celina Ortale, an all-girl band, just like my friend Jennifer has been asking for. They hail from La Plata in Argentina. I wonder, are they fans of Estudiantes or Gimnasia y Esgrima? Or Platense maybe?
Ruidas: another band from Argentina, also from La Plata. They don't have a proper release yet, but 3 songs available dating from October 2016 to download and stream on Bandcamp. The first song I heard was "UUU" and I thought that it was great! The band is formed by Vitro Hache, Min H. Felt and Niña Niño. Of course those are not their real names. Anyhow, this sounds good and I look forward to hearing more by them!
María Morena: I don't know anything about this band, just that they are from Lima, Peru. They had one song, "1996" on the compilation "Todos Mis Sentimientos Adolescentes" that was released by La Flor Records. It reminds me to the times I hunted for demos from up and coming Spanish bands on Soulseek sometime around the early 2000s. The naive sound, the girl vocals, are a weakness to me. There are some live videos on Youtube too.
I also had a look at the latest Indietracks announcements, checking out if there was anything that I was missing out, some new discovery perhaps. Definitely the best band to be booked this year by Indietracks is Luby Sparks from Japan. I have already recommended them on the blog and I can't wait to get their 7″ from the Sailyard label (hello Masami! don't forget about it!). Then Baby Arms could be another interesting addition to the festival. Their song on the CD16 compilation was a favourite. Of course there is also The Understudies, a favourite band of mine, but they are not a new name for the festival, and probably all of you have already heard their classy songs. But that's about it. The rest of announcements are truly disappointments.
Among the DJs announced, I'd be curious about Evripidis' Jukebox, that is Evripidis from the Barcelona based indiepop band Evripidis and his Tragedies. I feel he may play some good proper indiepop. Then How Does it Feel To Be Loved? repeats once again. The other DJs, Offbeat and Sweet Revange are unknowns to me. Who are they?
A new release on the Chinese premier indiepop label, Boring Productions, is available now. That means I need to get in touch with Jovi again, and it feels like yesterday since I ordered some of his latest releases. This time around it is not a Chinese band, but a Russian band: Малыш Камю. They have an 11 song album titled "Nobody Wants to Play With Me" and it is a fantastic continuation of beautiful bedroom pop after their debut on a 3″ on Cris' Little Treasure Label. You can actually stream the whole release on Bandcamp, but it is available on both CD and cassette. So I urge you to get the physical release even though if you don't understand a thing of Russian. On the CD booklet the lyrics are translated to English. For those new to the band, Malish Kamu (that's how you say their name), are Evgeniy and Kate, a couple from Taganrog in Russia. Where is Taganrog? It is on the Sea of Azov, kinda close to Rostov-on-Don. Quite remote for indiepop lovers, right?
The classic Huntington Beach, California, band, The Arrogants, have uploaded a bunch of demos and rarities to their Bandcamp. The band was active between 1997 and 2005 and released some records on Shelflife Records which are true treasures in my CD collection. For some reason I missed their compilation "You've Always Known When Best to Say Goodbye" even though some copies were distributed by Plastilina Records. I could never get a copy sent to me from Lima to Miami. And then when I visited Lima on vacations, I believe Jalito never saved me a copy. That made me angry of course. Anyhow, you can check all these rare recordings if you click here.
I don't know if it is sold out all over the place. I hope Ed Shelflife has still a copy somewhere for me. The Fireworks released on April 21st, a new 7″ with 3 songs and well, as usual, it sounds magnificent. The songs on this red-coloured sleeve record are "Dream About You", "Better Without You Now" and "We've Been Wasting Time". The record was released by Shelflife in the US and on Opposite Number for Europe. You can stream all songs on their Bandcamp. A must have!
And to close these week's reviews, I discovered a South Korean band, from Busan, that put out a 7″ out for Record Store Day that sounds really good! I want to get this record! The band is called Say Sue Me and their EP is titled "Semin". Sadly the story behind this release is not very nice, it is titled after the name of the original drummer in the band who has been in a coma for the last year. Two of the songs on the EP come from older releases, with him drumming: "My Problem" from their 2015 EP and "One Week" from their debut album. The two other songs "But I Like You" and "I Just Wanna Dance", which are new, are drummed by their friend Casey McKeever. The band members are Jae Young on bass, Kim Byungkyu on guitar, Sumi Choi on vocals and guitar and the aforementioned Kang Semin. It has been a while since I heard a fine sounding Korean band, maybe since Linus Blanket. I need to investigate more. They are at the moment touring the UK.
—————————————————————
Another week that I manage to have enough time to write two posts. This time though it is not strictly indiepop archaeology. Not a guilty pleasure either. This is fantastic pop to my ears. Straight-up pop. And as I finally bought the 7″ with the songs "Tarde Para Amarte" and "No Empeñes Mi Visón", I thought it was a good time to recommend this gem and to relive some memories that the A side of this record brings to me.
I can't recall the first time I heard "Tarde Para Amarte" (translates in English as "An Afternoon to Love You"). I must have been a kid. I didn't know who sang the song. I just grew up remembering the chorus. It is catchy, you can't deny that.
No, my family didn't have the record. I grew up in Lima, and during the late 80s, it wasn't the best time to be around. My country suffered the violence of the terrorist group Shining Path. But musically it probably was a golden age. The radio in Peru would play fantastic and obscure pop from all over. And as there was a renaissance of pop sung in Spanish, radio DJs looked all over the place for novelties. And that is how, I imagine, Bongos Atómicos, from Valencia, Spain, became much more popular in Lima, than in their own country.
Yes, I found out that they appeared on a 1987 edition of Spanish magazine Rock Delux, their sort of NME. But it seems they never achieved much there. I'm sure some people in the Valencia region remember them. But talking to Spanish friends during the years, they honestly had never heard them ever. I guess they weren't played much on Spanish radio. Whereas in Peru they were played since 1987, the year they released all their records.
I could find on a blog that Radio 1160 from Lima started playing "Tarde Para Amarte" on April of 1987. I was just 3 years old then. Radios would play it still during the 90s. It was a popular song, well known even at alternative discos. It wasn't the only band from Spain that had more of a following in Peru than in their home country. Among others there was Religión, Club Naval, Flash Strato (who I've written on the blog before), Pato de Goma or Tiernos Mansebos, among others. Bands that never played in Peru. But their records and songs were important for a generation.
I wasn't part of that generation that danced and partied with these songs. I came afterwards. I love the songs nonetheless. I always had a pop sensibility for melodies and catchiness. I think it is thanks to this pop education that I love indiepop. I think many of you will understand me.
I was to rediscover "Tarde Para Amarte" many years after. Around the early 2000s I was rediscovering all these Spanish bands that I once had heard when I was a kid, bands I didn't remember their names, songs that I didn't know belonged to this or that band. Through Soulseek I found out that this particular song was from Bongos Atómicos. Since then I've DJed it many times, and not only in Lima, but also in England and Germany.
I particularly remember the one time I DJed in Lima, at a Plastilina Pop Party. I saw people singing the song out loud and dancing like possessed! I didn't expect that! And it wasn't the older generation, it was my generation, younger people that loved this sort of music.
I only knew this song by Bongos Atómicos for a long time. It was only lately that thanks to Youtube I was to hear to more of their songs. They were varied, some good, some not as good. But it didn't matter to me. The good thing was that the two songs on the 7″ I bought today are their best. And I'm glad they were released together.
But I don't know anything about the band. My knowledge was limited to know that they were from Valencia, in Spain. I had read that somewhere. It is time to dig the web, see what I could find about them. There wasn't that much, there was enough though.
The band started to make a splash after recording their first demo. It won the 2nd "Concurso de Maquetas" contest organized by the Rock de Lux magazine. Thanks to that the band was to record their eponymous mini-LP at the Pertegás studios in their hometown. 5 songs were recorded then: "Uska Dara (Un Cuento Turco)", "Tarde Para Amarte" and "Nunca Debimos Llegar Juntos Tan Lejos" for the A side and "Puede Resultar Divertido"  "No Empeñes mi Visón" and an instrumental version of "Nunca Debimos Llegar Juntos Tan Tarde" for the B side. The record was released by Producciones Twins (catalog T 2518), the same label that became popular for releasing perhaps the biggest band of the Spanish 80s, Hombres G. The record came out with an insert including the lyrics for the songs.
This same record was released in Peru. Probably it is the only other country that released it. I don't think it is as popular anywhere else in the Spanish-speaking world. In Peru it was also released in 1987 through the label Epic (catalog SE 3431).
From what I've gathered, in Spain their most well-known song was "Uska Dara" which was actually a version of a Turkish song that was popularized in the 60s by Eartha Kitt. You can hear her version here. This song was released as the first single from the mini-LP as a 7″ with "Puede Resultar Divertido" on the B side. It was released by Producciones Twins in 1987 as well (catalog T-1776). It was also released on a 12″ but on this version both songs get the remix treatment. "Uska Dara" gets the "Desacato remix" while "Nunca Debimos Llegar Juntos Tan Lejos (instrumental)" got the "Madrugada remix". The 12″ catalog was T-1234.
Their only other release was the 7″ I am waiting happily to arrive home. Released by Producciones Twins (catalog T-1788) in 1987, "Tarde Para Amarte" was the A side and "No Empeñes Mi Visón" on the B side as I've mentioned before.
My first stop in my detective work was a blog called El Viaje Sónico. On a post dating from 2010 I learn some important facts about the band. First off the lineup:
– Rafa Villaba on drums and percussion
– Alberto Tarín on guitars and keyboards
– Rosa Elena on vocals
– Begoña aka. Kanekalón on backing vocals
The produced for their record was Esteban Leivas. During the recording of their mini-LP they had some help from different musicians including Nacho Mañó on bass (he was a member of the band Presuntos Implicados), Perico Sambeat on sax and Vicente Quintana who does the intro on "Uska Dara". Their manager was Rafa Cervera, who at the time was perhaps the best regarded music critic in Valencia. He even appears on the back sleeve of the record.
The article mentions that the band would also record another song, "Bon Gos, Atomic Os" for a compilation titled "Un Poc de Rock" where 6 Valencian bands were included. It was released by the label Xiu-Xiu Records also in 1987 (catalog XIU-BN-4). Seems they were only around for that year. The curious thing about this contribution is that they are listed as Bongos Atómicos and Remigi Palmero. Who is this Remigi? And the song included, that is the first one on the album, is a play on words of the band name. In Valencian, "bon gos, atomic os" means good dog, atomic bone. This song was composed by Cervera, Tarín and Villalba. It is a very different song if you compare it to the mini-LP. It is probably my least favourite song by them.
After the band split, Rafa Villalba and Alberto Tarín went to join a much more famous band, Seguridad Social. The two girls from the band, Rosa Elena and Kanekalón disappeared from he face of Earth.
Luckily my investigation doesn't end up here. I found an article penned by the band's manager, Rafa Cervera, dated from February this year. From it I could gather even more information and some fine promo pictures.
The first thing I learn is that the band performed on TV on a morning programme hosted by Jesús Hermida in TVE. It doesn't say the name of the programme. Or the year. I only wonder if this performance will appear someday on Youtube. It seems the host didn't like the band.
Rafa Cervera tells that he was obsessed by some demo recordings by Rafa Villalba. he thought they were unique, they were unlike anything he says. He was in love in particular with a song titled "Chiquitere" and he was on a mission to release it. After a lot of convincing, Rafa C. convinced Rafa V. to start a band. The band was called initially El Discreto Encanto and they played live for the first time in 1985. They shared lineup with Juana La Loca, Comité Cisne and Muzak among others.
Before being in Bongos Atómicos, Alberto Tarín had been in a band Segunda Sección. Never heard them. And I had never heard how El Discreto Encanto sounded like. Did they record any demos? Rafa V. used to DJ at Brillante then. At the same club worked Rosa Elena Sanjuán as a waitress. She joined the band. And then Begoña Kanekalón too, who had been previously on a theatre group named Putre Plastics.
It was in 1986 that they changed their name to Bongos Atómicos after a Lydia Lunch song ("Atomic Bongos").
The band didn't play much live. There was an instrumental song "El de las Ballenas" that ended up being used by Diego Manrique as the theme song for his radio show "Solo Para Ellas" on Radio 3. The song that obsessed Rafa C. was a song from those early demos by Rafa V. titled "Chiquitere". He thought about it as a hit. They re-recorded it at the Tabalet studios and they included it in the demo contest that they won. What other songs were included in this demo?
I mentioned earlier that the prize was recording a record for Twins. Well, there was another prize. They got an electronic drum machine by Roland. Rafa mentions his and Rafa V.'s influences. They liked Paul Haig, The Gist, The Raincoats. Good bands definitely. The record label director, Paco Martín, didn't let the band record the song "Chiquitere". He didn't see it as commercial enough. So they went and recorded "Uska Dara" as the promotional single.
Rafa C. complains that the label didn't care for the release. It wasn't promoted properly, perhaps because the band wasn't interested in touring the whole of Spain, but most probably because the label only thought about money. It seems it was a bittersweet situation for the band making this record. Even that TV appearance on TVE wasn't meant for them, but for another band in the label. As this other band wasn't going to be able to show up they gave the slot to Bongos Atómicos. Without a real lineup, Rafa C. ended up playing bass and they asked another friend, Luz Divina to play keyboards. The two other girls in the band were dressed in silicon dresses and it really didn't fit for the children segment of the TV show, the time where they were slotted to perform! It was disaster. That was the biggest highlight for them.
Years later, in 1993, Rafa Villalba was to record "Chiquitere". The lyrics being the same, but with a much dancier rhythm. More like a batucada number. Not for me. Not my style. But it was a success.
To my surprise Rafa C. links a Youtube video of a Peruvian band named Nicoleta (never head them before) covering "Tarde Para Amarte". A surprise for them as well, having no clue how the hell their long forgotten record and songs ended up being classics in a South American country.
::::::::::::::::::::::::::::::::::::::::::::::::::::::::::::::::::::::::::::::::::::::::::::::