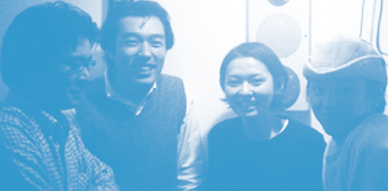 Been listening a lot to the last The Chills album. Wow. It's so good. Martin Phillipps songwriting is still so good, hasn't lost any bit of quality after all these years of silence. If you haven't bought it yet, I recommend doing so. Soon.
Other CDs that were heavily played this week at home were two releases from Jigsaw Records, Sleuth and Persian Rugs debut albums. I was already very familiar with the songs after listening to them online, but it's so different to play them on a physical format. I highly recommend both and I'm glad two bands that have appeared on Cloudberry releases have put out two solid albums late last year.
Hopefully this week I keep catching up with a lot of CDs and records that are piling at home. Perhaps some of them end up being good recommendations or discoveries for you. Especially now that indiepop seems very quiet.
Other two good recommendations that I got last week on the blog were two bands from Asia. The band Intenna from Malang, Indonesia and also the band Chestnut Bakery from Shenzhen in China. Two recommendations that came from John Quarmby. I thank him a lot for these! Especially surprised by the new crop of bands appearing in China, in mainland China, not Hong Kong. This was unknown years ago, but seems they are catching up! It will be interesting to see how these bands evolve, or if a scene actually appears. I'm very curious. Who knows, maybe 5 years from now we'll be attending Shanghai Popfest!?
As the past week was quiet, there were little news to go over. But today I was told that the infamous label that supposedly closed shop did it again their old trickery. Yes, they will continue releasing music. The same old story. Announce you close, get some people to sympathize with you, sell some records perhaps, then come back. It's really annoying and it gives labels a band name. It's no surprising a lot of people in the world think labels do no work whatsoever and artists should always be on their own, not dealing with labels as they are the devil or something like that. So be careful on who you support.
————————————————-
Pitwork: pumping apparatus used in a mine shaft
I picked up another record from my "P" 7″ box. There were many to choose, but I picked up the Pitwork 7″ as I really don't know anything about it! So this would be a good chance to investigate.
I remember I bought their one and only 7″ some years ago. I was trying to find all releases by their label, Clover Records, but it ended up being kind of an impossible enterprise. The label was Japanese and it seems not that many copies are available in the West. I'm guessing, and I'm hoping, the day I visit Japan I will be able to find more of their catalog.
One of the few records I could find was this four track 7″ on beautiful light blue vinyl. It was actually quite cheap on Discogs. The record was released in 1999 and included the songs "Shine" and "Love Sunday" on the A side, and "Pitwork" and "Cruel to Be Kind" on the B side. The catalog was Clover 712.
It's important to mention that the closing song was a cover of the Nick Lowe original.
"Cruel to Be Kind" is a 1979 single by Nick Lowe, co-written by Lowe and his former Brinsley Schwarz band-mate Ian Gomm, that peaked at No. 12 in both the UK and U.S. charts that summer. It also peaked at No.12 in both Canada and New Zealand. In the U.S., where it is Lowe's most well-known work, it remains his only single to hit the top 40, whereas in the UK "I Love The Sound Of Breaking Glass" remains his biggest hit after reaching No. 7 a year earlier.
I turn onto the back cover. We find some more information. On this record they are a duo: Aya on vocals and Nagao on the instruments and VS880. They counted with guest musicians Eiji Kanno on drums on the song "Shine", Michihiro Ito on rhtymbox and programming. Michihiro also programmed and mixing on "Cruel to be Kind".
The sleeve design was credited to Soyamame and Ayamachi.
Clover was a label based in Tokyo. Were Pitwork also from Tokyo? Clover is a great label if you are not familiar with it. They released records by well known names like 800 Cherries or Orange Cake Mix. Even Blueboy and Trembling Blue Stars had their Japanese versions of their records released by Clover.
There's a Clover website online and they have a small artist biography for Pitwork. We find there that four people are listed as part of the group and not two anymore. We have again Aya Uchida, Takashi Nagao, Michihiro Ito and a new name, Sneaker, who is listed as a coreographer! If they needed a coreographer, I would have loved to see their gigs!
I use Google Translate to understand the small bio. From it I gather that they started in Tokyo in 1998. That one of their songs appeared in an indie film (I believe the name of the movie was "Joy", but not 100% sure). And in 2000 they released a cassette on Clover Records called "Sunday Drive".
I try to find more information about this second release. I learn it has catalog number C-050. And also on an old Myspace page, I find three songs from that EP, "59th Street Bridge Song (Feelin' Groovy)", "Sunday Drive" and "Flowers". I can't manage to play them. Myspace is always broken. But I wonder if these three songs were the only ones on the tape or were there more?
I really enjoy the 7″ I have, especially the song "Shine". It's always very hard to find out information from Japanese bands, even more son from previous decades. But perhaps some Japanese indiepop fans can help me find out more information about Pitwork. And what happened to Aya and Nagao? Are they making music still?
Edit: Thanks to Stone Records and through Twitter we found through the user cherry335 some information of the tape! Thanks a lot cherry335! He posted for us a photo of the tape and we learn that it had actually 4 songs, on the A side it had "Sunday Drive" and "Someday", whereas on the B side "Flowers" and "Feelin' Groovy". It's mentioned that the last song is not a Pitwork original. So it is very safe to assume it's a cover of the Simon and Garfunkel original.
::::::::::::::::::::::::::::::::::::::::::::::::::::::::::::::::::::::::::::::::::::::::::::::
Listen
Pitwork – Shine