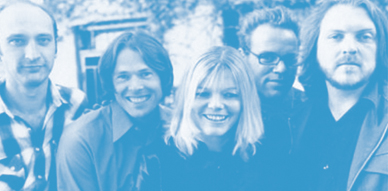 Thanks so much to Anna Burley for this fantastic interview! I tried in the past to interview The Killjoys but now at last I get to know a bit more about this fab Australian band! I've been a fan for a long time now, listening to their debut album Ruby so many times! But of course, they released many more records, made many videos, moved to the UK for a while and even won what would be the Australian Grammies! So if you haven't heard about them before, it's time you do!
++ Hi Anna! I read that The Killjoys were born after the break up of a band called Wild Science. I've never heard about it, what did it sound like? did you release anything under this name?
Wild Science was really a bunch a kids just wanting to play music . We rehearsed more than played live and loved every minute. It was driven by a very talented songwriter called Buzz Hiscock. He wrote great melodic indie rock We never recorded properly but there were many practice tapes!
++ Why did you decide to break up that band and start The Killjoys? Who were the original members of the band? What was different between the two bands?
Buzz eventually decided that a four piece rock band was what he wanted so Craig (who played trumpet and guitar) and I were asked to leave so they could become Violet Town. And we immediately formed the Killjoys finally able to write and play our own songs. The original members were Craig, me on guitars and voice, Jeremy Smith on bass, Will Larsen on drums and Caroline Scwherkolt on vibes. We were very keen on having a unique sound and wanted unusual instrumentation. I was and still am a huge Go-Betweens fan so they were an influence. Violet Town was very indie punk sounding. I also decided to be quiet when all the bands around us were very loud.
++ How was the Melbourne indiepop scene when you started the band? Did you enjoy any of the bands back then? Maybe you were involved in other bands too?
There was and still is a very healthy music/band scene in Melbourne. There lots of bands and many friendships, shared houses and people swapping bands , even a strong connection with bands from Sydney who would share couches and gigs. The Honeys, Frente, Glide, Somerfields, Falling Joys, Plums, Clouds, and many others. I joined Deadstar as a rhythm guitarist for a year, and also joined Grant McLennan for his Horsebreaker Star world tour .
++ You started your own label for releasing your records, right? Why was it called Audrey Records? How easy or hard was to run an indie label in Australia?
I admit I loved having a label I enjoy all the creative parts, posters, cd covers, t-shirts design etc etc, and yes it was for our own releases which was easy to run. Later when I gave it a go releasing other bands I found it quite difficult, mainly trying to meet other artists expectations. It was very hard work and took too much time away from music. So it is just for our use again now. We teamed up with the legendary Popboomerang label for our most recent release. He is the master of indie labels.
++ I hate to admit that the only release I have and I have listened is the great Ruby album (and the Fall Around Me 7″). But, let me say this is a fantastic album and not surprised it won a prize for being the best independent album of the year! How did this happen? Who gave this prize and what was required for you to win? Was there some kind of ceremony?
The Aria Awards are Australia's Grammies! We were very surprised and lucky to win with our first album. The awards were held in Sydney and I couldn't afford to go. Craig and Caroline went to accept the award which she accidentally dropped in Sydney harbour from a boat party! There it remains despite paying several divers to try and find it. We've been nominated a few times since but no more wins… Yet… 🙂
++ The album included many, many instruments, from vibraphones to trumpets, from cellos to violins. How long did it take to record it? How easy was it for The Killjoys to make music?
We are lucky in being able to play quite a few instruments between us, and for having such a varied group of musician friends who love to come and play. We recorded Ruby at Sing Sing Studios which we saved for by playing gigs. I really can't remember how long it took but being expensive probably no more than a week or two. We have always had a studio since then so making music is only restricted by time.
++ Why did you name the band The Killjoys?
Our original bassist Jeremy used to call me a killjoy for putting sad lyrics to joyous tunes and it just stuck..
++ I've been just watching the videos for "Michael Told Me" and "Beauty and Danger". They are fantastic. Did you record more videos? If you were to choose one more Killjoys song to make it a video, which one will you choose?
There are a few videos, I post them on youtube/thekilljoysaustralia. We haven't made a proper one in years mostly due to the cost. I love them but I always end up spend the money on making CDs etc I would have loved to make one for our last cd maybe for hey look at me now or pearl. I always have ideas haha.
++ You have quite a big discography, for a newbie like me, where should I start? Which is the record you are most proud of?
That's too hard 🙂 They all have a story and like most musicians I m in love with the newest song/cd. We had a retrospective cd for a while but now you can buy any track on http://thekilljoys.bandcamp.com to make your own. As I get better at website stuff I hope to put more samples on our website for new people to hear.
++ For a while the band relocated in England. What differences did you find between the UK and Australia? Was it easy to get reviews or to build a fanbase there? I guess it was like starting again from zero?
The big difference living in Europe (we lived in England Ireland and Holland at different times over 5-6 years) was more availability of gigs. Larger populations and music seen as a career and not a hobby meant that when we got past the first few shows we worked a lot. We were pretty poor but it was a rather charmed time. We made a couple of records in England. Half the band eventually became homesick , I wanted to stay as we were getting big festival gigs by then.. But we came home.
++ When you came back to Australia you set up your own studio. What made you take that decision? Which bands have passed through there?
We wanted the ability to make records whenever we wanted without being beholden to record company budgets etc. Craig has made it very successful, recording many other bands and the occasional film, you can see a list at audreystudios.com.
++ If I had to visit Australia, what would you recommend visiting or doing in Melbourne?
Well if you like music and eating you d have a ball. There is still lots of great music played all over town and the town is a food Mecca , lots of different cultural influences . You could ride a tram around on a Sunday going from gig to gig like we sometimes do, have a meal in between . Most people visit Australia for the beaches outback and animals. We have all that not far from Melbourne too but I hear from visitors that Melbourne is great shopping, eating, and music
++ What do The Killjoys do today? You are still going, right? Any new release in the near future?
Yes we still play off and on, both as a band and as a trio. Most band members are scattered in other bands so it's a juggling act. We put out a cd late 2011/2012 and we've started recording intermittently again so yes probably another record end of this year or early next. I had a country girl trio for a while just for fun and I played with Mick Thomas's sure thing for a few tours , so we are always doing something in music.
++ Anything else you'd like to add?
If anyone wants to keep up with the band I write a short blog every month that you can subscribe to or just read on our website. Killjoys.com.au. Or Facebook facebook.com/thekilljoysaustralia.
::::::::::::::::::::::::::::::::::::::::::::::::::::::::::::::::::::::::::::::::::::::::::::::