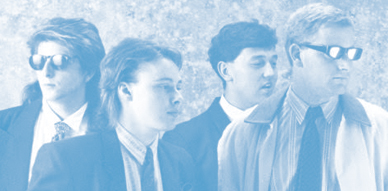 Thanks so much to Del Kwai for this great interview! I wrote some time ago about his band Mexico Red, trying to find more information about them. Happily Del was kind enough to get in touch and answer a bunch of questions and so retelling the story of this great mid-80s guitar pop band from London! Time for you to discover them!
++ Hi Del! Thanks so much for being up for this interview. The first question has been hunting me for ages, have you ever been to Mexico?
Hi Roque. No I've never been to Mexico but would love to get there one day.
++ So where was Mexico Red based back in the 80s and where are you based now?
We were based in London. I am still living and working in London.
++ And are you still making music these days?
Unfortunately not.
++ Let's go back in time, when did Mexico Red start? Who were the members of the band? And how did you all knew each other?
We formed in 1986. The band members were: John Richies, Drummer, from Canning Town in East London; Mike Danks, keyboard player, from somewhere near Manchester; Simon Wring, base player, from Tredegar in Wales, sadly Simon died in April 2011 age 45; and myself, guitar and vocals, from Poplar in East London.
++ Where does the name of the band come from?
In the 80's the Ford Car Company had a popular car called the 'Escort 2000 Mexico' and one of the car colours was called Mexico Red. John found the name in a Ford catalogue and we all agreed it was a name that suited us.
++ Was it your first band ever?
No, my first band was called Graphic. I formed it when I was 17 with a group of friends.
++ During those days there were many guitar pop bands in the UK. Did you feel part of a scene? Were there any other bands from that period that you followed?
We were part of the live scene, playing gigs in most of the known venues in and around London travelling around the country when possible.
There were a few bands playing around then: The Hurt, Icicle Works, Scarlet Party, Danny Wilson to name a few.
++ Talking about guitars, what was your first guitar? How old were you when you learned to play?
I started to play guitar when I was about 12 at school. My first guitar was a cheap Strat copy. I managed to get a real Strat at 17 which was another world for me.
++ And who would you say were the biggest influences of Mexico Red?
None of my family were musical in the least. However growing up I was a big fan of Bill Nelson.
++ You only released one record, in 1988. It was a fantastic 7″ with two songs, "Eternal Flame" and "Follow Me To Heaven". Care telling me in a few sentences the story behind each song?
I wrote Eternal Flame in 1986 on the way home from a trip to Wales. While we were there everyone was walking along some cliffs and an enormous wave came over the top of us. The whole group got soaked but somehow the water never touched me which gave me an invincible feeling (sounds corny now) but that's the truth.
I wrote Follow Me to Heaven in 1985. It was my attempt at writing a 'commercial/chart' song and it was the only song which was not recorded live.
++ What do you remember from the recording session for the single?
We were determined to record Eternal Flame live. Not having much money for studio time we managed to record it on the second take.
++ Were there any other recordings made by Mexico Red? Why weren't any more releases by the band?
Yes we recorded other material. There was only ever one other song released on a compilation LP called 'Vox Nouveaux'. The song is called 'Colour Field' and was recorded at Abbey Road Studios in London.
We were working towards releasing our own album but unfortunately we did not have the funds to complete all the recordings.
++ The 7″ came out on Hummingbird Records. Who were they? And how may copies were made?
Hummingbird was the band's own record label. Once we established a good 'live' following we also attracted a few con men. We tried hard to get a publishing deal and a recording contract with all the London based labels, Polydor, EMI, etc, but most of the companies would not entertain us without official management. From our negative experiences of PR men we decided to get a bank loan, create our own label and release our own record, which we did. We pressed 2000 copies of Eternal Flame and had an official release gig at the Hackney Empire in East London which was a sell out and packed to the rafters. We sold 1500 records at the gig (which paid for the venue). Most of the other copies were distributed to radio stations and record companies.
++ I really like the artwork for the single. What's it about and who made it?
The artwork is by Carl Jenkins from Tredegar in Wales. He was a friend of Simon's. Carl had his own band and we would meet up with him on our trips to Wales. He is a great artist and his work appealed to us and he offered his work for free. He also designed our name logo and the artwork for posters and t shirts.
I hadn't seen Carl for 25 years but met him recently when he turned up at my workplace as he is now working as a roofing contractor. It was great to see him again after all that time.
++ So, what's the best song you've written? and why?
My favourite song, because of the guitar solo, is 'Sailing on the Ocean'. My most memorable songs are 'Colour Field' and 'Brave New World' because in 1987 we were invited to compete in Battle of the Bands competition organised by the Arts Council which was held at an open air music festival in East London. There was 10,000 people there and it was a real buzz to get all the crowd to jump at the same time. We won the Battle and our prize was 2 days recording time at Abbey Road Studios in London, where we recorded these 2 songs.
++ Tell me a bit about gigs, did you play many? Which was the best one? Any anecdotes that you can share?
We played over 200 gigs and I honestly enjoyed all of them (apart from one) but the one that stands out to me the most was one of the gigs we had at The Rock Garden, Covent Garden, London in 1987. It was packed with a great crowd who were all up for enjoying themselves. We were the support band to (can't remember) and when we came off the stage the lead singer of the headline band said to me "how the f*** are we supposed to follow that". I jumped off the stage and played guitar and danced amongst the audience. It was a fantastic night.
Another one which stands out is one at the Cranbrook in Ilford, London. One of our roadies got into an argument with a gang of mods and knocked out a guy's front teeth. The place erupted while we were playing and the only way I could stop it was to offer everyone in the venue a drink. The fighting stopped but it cost me a week's wages paying for everyone's drinks. We never used that roadie again!!
We even went down well at known rock venues and were asked back on several occasions even though we were considered to be a 'pop' band.
The one gig which was an absolute nightmare was in a large tent at an open air music festival in Wales in 1987. There was an awful sound delay and we couldn't wait for it to finish. Never again! Simon was destroyed by that experience as it was his home town so lots of his friends came and we sounded crap. He was so embarrassed.
++ I haven't seen the single, but on a website it says that it included an insert. What was in this insert?
I've attached a copy of it. I sketched and wrote it so as to give more information about the band.
++ And then what happened with Mexico Red? When and why did you split?
By 1989 we were all skint and in debt. John and Simon had finished University and we all needed to get proper jobs. We were becoming disillusioned by all the promises and bullshit from various directions and so in 1989 we decided to split up. Me and (I think) Mike would have carried on but John and Simon were adamant that they had had enough. There were no massive arguments or any bad feelings, we just all went our separate ways.
The music was mine so I could have formed another band and carried on but I just didn't have the heart to start all over again.
++ Were you involved with music afterwards?
No. I still strum the guitar most days but I've never written another song.
++ And all in all, what would you say was the biggest highlight for the band?
Definitely releasing the single. Last year we were going through old boxes and I discovered my collection of old (some limited edition) LP's. I asked my sons to get on the computer to find out how much they were worth out of curiosity. Turned out our record was the most valuable and rare, go figure?
++ Thanks so much Del for everything, anything else you'd like to add?
I've attached a photo of the band from left to right Simon, Mike, me and John.
I've also attached a copy of the cover of the Vox Nouveaux compilation LP. I've attached a recording of 'Colour Field' hope you enjoy.
Its been great to reminisce and I really appreciate your interest.
::::::::::::::::::::::::::::::::::::::::::::::::::::::::::::::::::::::::::::::::::::::::::::::
Listen
Mexico Red – Colour Field