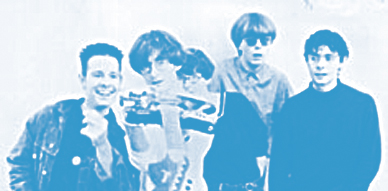 Thanks a thousand to Tommy Cherry for the interview!
++ How did The Bachelor Pad start? What were the members doing at that time?
I was a huge fan of Martin Cotter's guitar. He was in the Wee Cherubs at the time. Then about 1985 a lot of things happened at once. The Cherubs broke up, I first heard The Jesus & Mary Chain and I went to a new club in Glasgow run by Bobby G called Splash One Happening…I instantly left the band I was in (The Oysters) and recorded some demos with Martin and also Graham. The songs were Jack and Julian, Girl of Your Dreams and Norwegian Wood. Splash One was amazing…the first time I walked through their doors I heard Treason by The Teardrop Explodes. I felt I had come home at last…every record they played was fantastic. It was a scene. Within a year every major town in the UK had a copy of Splash. Then came the fanzines…it was like punk but with groovy Warhol kids instead of all those lumpy Clash fans and Sid idiots. I have a lot of fond memories of that period. We sent the demo to various fanzines and got a good response. Offers to play live meant we had to expand the line up. Fortunately, I was sharing a house with a keyboard wizard David Harris (who is a genius!) and Willie Bain from my old band The Oysters stepped in to play bass. Our first gig, thanks to Jim Honey of Simply Thrilled was with Baby Lemonade and Jessie Garon and The Desperadoes. It was a gas. We signed up for a record deal with Mike Stout the same day Andy Warhol died so he called the label WarholaSound.
++ Who or what were the band's main influences? Was it a dream at all to have your own bachelor pad?
Oh gosh! I think David Harris got it right when he said it was a head-on collision between The Buzzcocks and Syd Barrett. But we used to just chuck everything in there. Martin and Graham were big Smiths fans, I worshiped at the alter of psychedelia and David was just plain encyclopedic! The house we shared in Queen Square, Strathbungo was the closest I've been to a pig in shit…happy, that is!
++ What was the songwriting process like? I ask as most songs were credited Cherry-Cotter. Was it an easy task?
We did co-write a couple of songs, but mostly that was a Beatlesque conceit. Competition was much more rewarding than co-operation…a lesson I was to learn at a cost in real life too.
++ Was the band too self indulgent or was that one of their strengths?
Everything we did was to please ourselves. The Self was all.
++ The production on "Tales of Hoffman" was pretty extreme on some songs, was that deliberate and would you do it the same way again?
Our second single Do It For Fun was the most fucked up production ever, so after that the album sounded as smooth as a baby's bum to me. But then, I was incredibly stoned at the time. I wouldn't do any of it the same way again…once was enough!
++ The Coroners Wife seems very different from the other songs, how did it come about? Any chance the video for this song will appear on Youtube?
As far as I can remember The Coroners Wife was the first track recorded for the album sessions and it was mostly just Martin and me. We used a drum machine and later David did some overdubs. It was also a brand new made-up-as-we-went-along-in the studio type song, whereas most of them had been played before by the band in a live situation. I loved The Coroner's Wife and petitioned to have it released as a single. Don't know what happened there. I had no idea that anyone was interested in this stuff anymore, I'd see if I can dig it out and will post it.
++ You also recorded another video, for Country Pancake! When and where was this recorded? What do you remember of the recording session for this one? Was it true that it was included in an NME tape?
Country Pancake was recorded in 1989 and was meant to be our third single for Mike Stout's WarholaSound. This never happened due to the collapse of the independent Cartel distribution (Red Rhino etc). But that is why a video was shot and that's why we gave it to the NME for inclusion in their CND benefit video which also included Sonic Youth and I think Primal Scream. It was the first proper promo film we had ever done and it was filmed at the same studio where we did all our recording, Toad Hall Studios in Glasgow by Ali and Beanie. Beanie (Ian Carmichael) went on to form the classy indie-dance unit One Dove and is one great engineer and producer. We shared a great love of Sparks, T-Rex and David Bowie with him and he was always great fun to work with. It was a snowy day in January and we pretty much just made it up as we went along. When we had finished we noticed a box of dressing up clothes in the corner and spontaneously tried everything on. Ali kept filming it and speeded it up in the edit and that's how it ended with the notorious "frocking-up" sequence. The "Zaba daba daba" chant at the end was a reference to The Sensational Alex Harvey Band's The Man In The Jar. S.A.H.B. were the first and greatest band I ever saw live…still!
++ Was it planned that the debut single had one song with a chorus going "Hey Hey Hey" (Jack & Julian) and another with a chorus going "Yeah Yeah Yeah" (Albums of Jack)?
Yeah. I think they are both powerful and holy rock and roll mantras. Yeah Yeah Yeah is also one of my favorite Alice Cooper songs from the mighty Killer album and The Yeah Yeah Yeahs are also one of my favorite bands. Karen O is the female Ziggy.
++ How important was Jim Kavanagh for the band?
Jim was the first person to ever show us any interest. Although he only really dug one aspect of the band…the pop. He didn't really get our rock side. But that was ok. I don't think we should have signed up for his Egg Records though, and it did all end in tears. I was at my wits end by then and was a bit heavy on him at the time which I truly regret, so if you're out there reading this Jim I'd like to offer my sincere appy-polly-logies. I should have broke up the band when Martin left and we limped on past our sell-by date for a while. It all made me…um, less than happy, shall we say? But I am glad his thing has had a new life on-line. He deserves it for all his sheer enthusiasm.
++ "Tales of Hoffman" was released on a pretty well known label, Imaginary Records, home of bigger bands such as The Chameleons or Cud. How did you end up in this label and how different was the relationship between you and them compared to the one with Egg Records?
Imaginary Records was a weird thing. We'd had a really close relationship with Mike Stout for a couple of years. Then he arranged for Imaginary to put out the album and we duly toured with Cud (who were awful! Nice guys but music-wise, just awful!) and we never saw or heard from Mike again! He just vanished off the face of the earth. I heard a rumour that he was seen working as a croupier in a Singapore casino! I don't think there was any truth in it but that's how odd it was. Wherever you are Mike, all the best. You were a diamond geezer. Imaginary were just that…imaginary! They didn't seem to exist. They never made any contact with us at all. We used to joke about using a ouija board to get in touch. The lack of support caused us to drift which led to Martin leaving and the whole endgame of The Pad. It was all very odd but somehow all very typical too.
++ You had "Girl of Your Dreams" on a Sha La La flexi which are quite legendary especially as this label will later become Sarah Records. Were you a follower of these labels? What do you think of these C86 sounds being mythified?
That flexi made it as Single Of The Week in Sounds (a popular UK music weekly) so that was really funny. It also got us a lot of gigs up and down the country. I loved Matt Haynes fanzine Are You Scared To Get Happy. He was a real passionate ranter and not at all twee. He was also really funny. My one big regret is not getting to know him better. I think The Bachelor Pad should really have been on Sarah. It was our natural and spiritual home. I also loved Bob Stanley's Caff fanzine. It was filthy and hilarious. Real punk rock Joe Orton sort of vibe. These were my sort of people. Good home folks.
++ Maybe you can help me on this one, do you remember anything from the Milky Way flexi? I can't find any information about it aside that you had Sunshower Sun included on this one!
I have no memory of that whole episode at all…I have a feeling that Jim and Martin might be the ones to ask.
++ I always wondered about many of your songs as they include people's names like "Meet the Lovely Jenny Brown", "The Albums of Jack", "Jack and Julian", "Jack McLean in disguise" and "Abu Nidal's Bus". Are these songs based in real people too? Are these true stories? Is it always about the same Jack?
There was a bit of a trend for name-songs then. I think it probably came from the whole Lou Reed/Velvet Underground thing, y'know…Sweet Jane, Caroline Says and all that. We all wanted to be in the Velvets in those days. All the clubs aspired to be like the pary scene from Midnight Cowboy too! Lemme see, Jenny Brown, she was real. She had a show on Scottish Television at the time called Scottish Books which I used
to watch after rehearsals. I think I developed a crush on her. Jack McLean was a drink sodden, misogynist journalist with The Glasgow Herald that Martin had a strange love/hate relationship with. Jack and Julian was more archetypal. I had been reading about the origins of old English nursery rhymes like Jack and Jill and Jack just keeps cropping up all over the place. Jack is everyman…Jack o' Lantern, Spring-heel Jack, Jack in The Box. Remember that bit in Performance when Harry Flowers says "I know you. You're Jack The Lad"! The Albums of Jack was a Martin title and the line doesn't actually appear in the song. It actually went by the working title "My Love of Giraffe"! which was the name of a cheap toy rip-off of My Little Pony! The night before we recorded it Martin and I were watching the worst movie ever made, You Can't Stop The Music starring The Village People and one of the characters said "wait till you hear the albums of Jack" and Martin said that we should call the song that. That is actually my favorit Pad song. It still makes all the hairs on my plotty stand endwise.
++ What do you consider was the highlight of The Bachelor Pad?
For me, it has to be the gig we did in Lincon with The Telescopes. That and Grant Morrison writing us into the plot of a John Constantine Hellblazer comic book. A tape of our second single Do It For Fun is so noisy that we jam the nuclear bomb and save the world. What a gas to be in a DC comic. Thanks Grant. We used to do some gigs with Grant's band in the early days and on Grant's first television interview I dressed up as a nurse and administered him pills throughout…it was duly banned!
++ Will we ever see all the Bachelor Pad's tracks on a retrospective CD?
I dunno…do you want to put it out?
++ Why did the band call it a day? Did any of you get involved with any other bands after?
We should have called it a day the day Martin left as the whole thing was based on our dualist energy…we were Jack and Julian I suppose. Be careful what songs you write, they may come true! In 2000 I recorded an albums worth of songs with Stewart Christmas under the name The Whores (of Perception) and we played a couple of gigs at the 13th Note in Glasgow. But that is a whole other story, in fact I could write a book about it! Julian Cope was heavily involved. We imploded as fast as we created, yet despite this it was probably the best band I was ever in and the music was superior to anything else I ever did. If you are interested I will send you some MP3s. I think we may have been truly before our time!
::::::::::::::::::::::::::::::::::::::::::::::::::::::::::::::::::::::::::::::::::::::::::::::