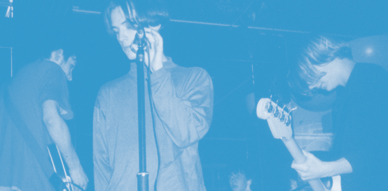 Thanks to Peter Stone, by way of Neil Edmunds, for telling me a bit about The Sweetest Ache. I guess it makes sense he didn't know the answer to some of my most curious questions! I'll have to bug Simon about them. For now please check Peter and Neil's new band The Milestone Band.
++ Hi there! Thanks so much for doing this interview! It's hard to keep it short for blog standards as there is so so so much to cover about The Sweetest Ache! I guess I'll take the chance to ask what seems to be the most mysterious things about the band! Though I'd love to do a second interview. But let's rewind. Let's go to the 80s. The Sweetest Ache started as The Spirals. Why did you change names? Care to tell me a bit about those early days? Are there any recordings from The Spirals by the way?
You would have to ask Simon Court about the Spirals sorry.
++ How did you all knew each other? How did the band come together?
Simon, Dave and Stu were in school together. Jimmy (Geraint Morriss) came for an audition as a drummer and got the job, and Peter was jamming with another band when Stuart asked him to join The Sweetest Ache.
++ Who came up with such a good name: The Sweetest Ache? Where did the inspiration came?
You will have to ask Simon on that one, but there is some truth in it.
++ Most people remember your releases on Sarah Records, so that's a must-do question. How did you end up signing to the Bristol label? How was your relationship with Matt and Clare?
We made a demo tape in the flat Stuart was living in and sent it to Sarah and they signed us, we then went down the beach to celebrate…
++ It's said that Simon said once he was a former member of Inspiral Carpets, how true is this?
Sorry again… I will ask him as I see him sometimes around.
++ How was the Swansea scene back then? Did you like any other bands from town? What were your favourite spots there?
Swansea was ok, but not as cool as Cardiff. We had lots of metal and punk bands as i recall, the underground dance scene was kicking off and we came then and totally shocked everyone with our mellow sounds at first.
++ On "Briaris", one of your fans' favourite songs, there's a girl singing. Who is she? And how did you decide female vocals for it? And what does "Briaris" mean?
The girl was called Louise and she was Stu's friends Nathan's girlfriend and she had a stunning voice so we asked her to sing…there are a few other songs with her on, but unreleased., and the title was named after Phil Briaris another friend of the band..
++ And now I do have to ask you about my favourite song: "If I Could Shine". Any story behind it?
The best song of the 90s, Simon and Stu wrote it. We recorded it in Vons studio in London and were late as our van caught fire on the way up, but what a song…
++ Also I'm very curious about why you called one of your songs and first album as Jaguar, why was that?
Pass. Sorry there was a reason but it escapes me. I'm sure Simon or Stu would know…
++ You will later release on what was considered the American Sarah, Sunday Records. But on this single "A New Beginning", your music had changed quite a lot! What had happened in between? Maybe it was really a new beginning? Where did the jangly guitars go?
We had done all these mellow songs and slowly started listening to Neil Young, Bob Dylan and harder rock. So we just evolved into a heavier direction.
++ And the album that came next, was Grass Roots on Vinyl Japan? How did you end up signing for the English-Japanese label? And is it true that this record sold 10 thousand copies?!
We made another album for Sarah, but by now people had left and it was only me, Stu and Jimmy so we got in Rob on guitar, Neil on bass, Stretch (Ian Seberton) on keyboards and sent Sarah the finished album, but they rejected it saying it was too rocky for them so Vinyl Japan picked us up. The jangly guitars just left, probably a bad idea at the time. But things happen…
++ So why didn't you get to be more popular?!
The new album came out very overproduced and polished and the raw sound we had started with in the recording studio was ruined. And i think it sounded too soft rockish and people lost interest. We then reformed under the name of Freedom and made about 7 songs with a great dirty rock sound and we went down well. We then go back together as The Sweetest Ache and started making a 3rd album, but we never finished it due to band commitments, oh well…
++ Looking back in time what was the biggest highlight of The Sweetest Ache?
Playing in the underworld in Camden, London. And playing in the Sarah events. We were a bit naughty but we loved going on tour.
++ Why and when did you call it a day? What do you all do nowadays aside from making music?
Simon, Stretch  and Stu are in Shooter. Jimmy and Dave are in France playing. I'm not sure about the others but me, Rob and Neil are in The Milestone Band.
++ So one final question for now, can you make laverbread? Do you have your own recipe maybe?
Get some seaweed, clean it, cook it with butter and eat up.
++ Thanks again! anything else you'd like to add?
One day I'm hoping to get the original band back together to tour.
::::::::::::::::::::::::::::::::::::::::::::::::::::::::::::::::::::::::::::::::::::::::::::::