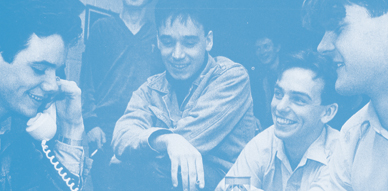 Stickleback: The Gasterosteidae are a family of fish including the sticklebacks. FishBase currently recognises sixteen species in the family, grouped in five genera.  An unusual feature of sticklebacks is that they have no scales, although some species have bony armour plates. They are related to pipefish and seahorses.  Stickleback are most commonly found in the ocean, but can be found in some freshwater lakes. The freshwater species were trapped in freshwater lakes in Europe, Asia and North America after the ice age, and have evolved different features from the ocean variety. They feed on small crustaceans and fish larvae.
What do I know about fishing? Not much. When I was a kid my mum used to take me and my brother to a fishing town, south of Lima, in the desert next to the Pacific ocean. There we'd spend some hours at sea, on a wooden boat, with a fisherman guide, and us throwing our bait, trying to lure big fish. I don't recalling fishing any fancy fish, no flounders or seabass. I remember fishing a lot of catfish. They were ok to have them fried, but not really for an appetizing ceviche, my favourite dish in the world.
The last weekend I was in Charlotte, North Carolina. There was no special reason, but to explore a new place. A cheap flight ticket and a cheap hotel room lured me. Upon arriving on Saturday afternoon a sudden and unannounced snowstorm hit the town, leaving me stranded at a BBQ place for hours. I thought it was going to be a bad omen. Happily it wasn't and the rest of the long weekend (it was President's day yesterday, Monday) was a bit cold, but sunny.
The thing that shocked em the most was how everything was so inexpensive there. I couldn't believe I was having $2.99 pints at a restaurant and $4.75 at a bar. There was no minimum for paying with card either. While talking to the townfolk I was impressed that they would pay just $650 for a three bedroom house. Compared to New York, even to Miami, it's really ridiculously cheap.
I feel they don't receive many tourists, though the town is known for hosting plenty of conferences. Perhaps they are used to business kind of tourists. People immediately asked me where I was from. I didn't fit in the city clearly. At first I thought because it was a mostly Anglo and African-american town, but in the end I ended up seeing Latin restaurants all over the place. Especially Honduran and Mexican.
I bought a bunch of records at Lunchbox Records. The clerk was Venezuelan and was really helpful. It was a bit odd that he thought I was from Spain. The best find was without doubt #Poundsign#'s "Wavelength" album which I've been looking for a while. I found it for dirt cheap. $7 for the LP.
There were random encounters. At a BBQ there was a German waiter who talked to me in German as he thought my accent was German. I understood what he said, he was telling me he was from Frankfurt, but I was so cold that I couldn't even say that I sprechen knleine deutsche or that I visit quite often, or something. It was a bit too random. That same night, walking on the big expansive sidewalks along Woodlawn Road, looking for a CVS or a Walgreens, my friend asked for directions to the only other couple walking around. Turns out, this older couple were Swedish, on a road trip, starting in Florida and that had already passed by Atlanta. It was terribly funny when I started talking to them in Swedish. They were quite impressed and perhaps a bit inebriated (as good swedes?) as they recommended us a steakhouse instead that served great wine. "So everyone in New York speaks Swedish?" the lady asked. She was great, so comical saying oka-iiiiiiii, with her thick nordic accent.
On the way back to the hotel, after hanging out in downtown area (which was called Uptown here), we met a Canadian couple, from Montreal. Time to talk in my rusty French. Funny enough it came natural to me, must have been all the cheap pints of the day. They were on a conference for some telecommunications business. They were looking for their hotel. I hope they found it. They were tipsy to say the least.
Next day, after having Arby's (because I don't know where's an Arby's in NY and it's the only thing I do miss from my time in Texas), walking around Charlotte's downtown, looking for a museum, I stumble again with the swede couple! They tell us they had been thinking about us because they saw a Walgreens! For them I was the svenska pojke already and we talked a bit. It seems they were having the time of their life.
During the rest of the trip I visited all museums but the Nascar Hall of Fame. Who cares about cars. Ate BBQ a couple more times. The sweet North Carolina style BBQ. Went to a mall and went to some more bars. I probably will never visit Charlotte, the Queen City, again, I've seen everything it had to offer. But I had a great time, and enjoyed that I didn't have to spend too much to enjoy it there.
———————————————————————
Back to fishing then. To The Sticklebacks. That's right, there are no Cloudberry related news this week. I'm terribly busy posting records all over the world. It's quite busy when you have two new releases to come out around the same time and only having two hands! But bear with me, after the small "Cloudberry" tour in March, there will be many more news! Promise! And later this week I will let you know about the special event happening in Stockholm on the 16th. If you are in town, please come say hello!
So, The Sticklebacks. Very obscure band. I've seen them show up on eBay a couple of times in the last years. I never bought the records though. I didnt know how they sounded. Happily the fantastic blog "From a Northern Place", that I recommend checking often, has shared the A side, "All You Get". And what a song that is. It has that fabulous jangle from Jesse Garon and the Desperadoes and Yeah Jazz, and you end up startled, wondering, what the hell happened? Why weren't they more famous? More known at least!
Dub is a genre of music which grew out of reggae music in the 1960s, and is commonly considered a subgenre, though it has developed to extend beyond the scope of reggae. Music in this genre consists predominantly of instrumental remixes of existing recordings and is achieved by significantly manipulating and reshaping the recordings, usually by removing the vocals from an existing music piece, emphasizing the drum and bass parts (this stripped down track is sometimes referred to as a 'riddim')
Dub House was the label that trusted in their music. Or perhaps it was their own label? I don't own the record yet. But I'm on that now that I've heard how good this song is! And don't you worry, the song don't sound reggae (or dub) influences at all. It sounds like perfect and classic jangle pop!
The B-side of the record is a cover, "It's For You", by The Beatles. And the record was released in 1987.
On the cover we see one of the band members in a close-up. On the back cover we see all the band members having a good laugh. I guess the cover star was the vocalist and the writer of "All You Get", Keith Gilles. He is sporting a very good haircut, very 80s! The rest of the band was comprised by Kevin Plummer on guitars, Alan Neal on bass and Owen Seymour on drums. The record was produced by Neil Scott.
I've googled and googled for more information about them to no avail. Many questions are up in the air. Who were Dub House records? Did they have more recordings? Even, releases? Whatever happened to them? Where were they based? Why didn't this release become an indiepop classic? Who came up with that cool guitar intro? And so on. Questions that will be unanswered for not too long I hope!
Anyone out there remembers them? Anyone knows anything else about them?
::::::::::::::::::::::::::::::::::::::::::::::::::::::::::::::::::::::::::::::::::::::::::::::