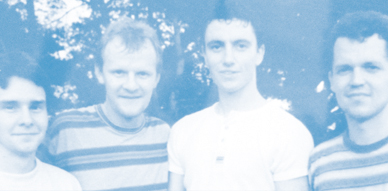 Thanks to Simon Rapsey for the interview! After writing the post about his band and asking for some more info about them some weeks ago Simon was kind enough to get in touch through Facebook and was up to answering all my questions about his band. The Kites released a flexi and a 7″ and sadly are quite obscure. But if you are wise enough you'll have a read and listen to their songs! They are so good!
++ Hi Simon! Thanks so much for being up for this interview! It'll be great to know a bit more about The Kites. So perhaps let's start by the band members? Who were they? And how did you all meet?
The Band first started in Plymouth by Ashley Chaplin (Guitar and Vocals)who started looking for likeminded souls to form a band. Dave Sarney (Bass) answered an ad posted on the Student Union Notice Board. A few guitarists were tried out at rehearsal sessions but eventually Dev Cross joined on lead guitar.  The band originally called themselves Stone Soup and had a couple of drummers before me. I joined later when the band were looking for a drummer for a recording session they booked – I originally went along to just provide drums for that session – but ended up staying.
++ Where you all studying the same degree at the university of Plymouth?
No – Ashley did Environmental Science, Dave and Dev both did Biology.
++ You mentioned to me that you had been previously in other bands like The Reddlemen and This Splendid! How did these bands sound like? Any similarities with The Kites? Did you release anything with them?
The Reddlemen formed much earlier whilst Dave and I were still at school.  They were less jangly than The Kites, slightly rawer. Nothing was ever released although we played a few gigs which were generally well attended.  A bootleg of  the Reddlemen live at Forest Hall was in circulation at one time. This Splendid! were more on the scene in the Reading area in terms of gigging and were more groove based – influenced by the sounds that were beginning to emerge from Manchester at that time. We released a couple of Eps – Caper and Slide Through
++ Were the other members involved in other bands as well?
Dave played bass in the Reddlemen
++ Why the name The Kites?
We realised a name change was needed as Stone Soup was a fairly terrible name and people wrongly assumed that the name was a contrived fusion of the Stone Roses and The Soup Dragons.  The name Kites came from one of our songs –  "Kites"
++ Did you gig a lot? What were your best gigs and why?
The band gigged a lot in the Plymouth area.. Gigs outside of the campus area could be quite hairy and often laced with the threat of impending violence both to us and those who'd come to see us.  Gigs in the further outer suburbs of Plymouth often ended with a hurried dismantling of equipment and a dash to the transit. Sets would begin with a cover of the Buzzcocks ESP and end with a crowd favourite – "Your Face". The lyric "I worshipped you" was initially confused as being "I wore shit shoes"  and was forever more sung along as such by the crowd.  Our best gigs were generally the ones supporting bigger named bands who ventured into Plymouth. There would generally be a good turn-out and we had to up our game a bit. Another gig that stands out a for me was we did a festival at Reading University. No-one really knew who we were so we started off playing to an empty tent but by the end we'd filled it.
++ Were there any bands that you really like playing with? Did you feel at the time, in the late 80s-early 90s, that there were like-minded bands? Or maybe you felt part of a scene?
Sadly no not really, we really ploughed our own furrow musically in Plymouth and later when we'd all finished university, because we were not all living in the same town, there was no scene as such to latch on to. Britpop was on the rise and we didn't see ourselves as really fitting in with some of those types of bands.
++ So you released two records on your on label Happy Accident, is that right? How was the setup for the label? How did you raise the money?.
Yes that's right. The money was raised through gigging, selling demos and putting in our hard earned cash. Suffice to say we never made a profit !
++ The first was a flexi, is that correct? It says on the back cover "This is a version of the original flex-disc released in the August 93 issue of Waste Management Today". What was that all about?
That was a joke really – it's correct that it was released as a flexi which you can tell by the wobbly uploading on youtube.  The cover of the flexi said "This is a copy of the original flexi released in the August Issue of Waste Management Today".  This was a (prob not that funny) in joke referring to the fact that Ashley was at the time working in Waste Management for the local council  – a job he took very seriously – composting was (and still is) the way forward.
++ In the flexi there are two songs, "Larry's Back" and "Rachel Head". Are these real people? What's the story behind these songs?
Rachel was, I think, based on a girl Ashley admired from a far. As I remember she was going out with his flat mate at the time – and so was unobtainable (a common theme for Ashley back then). Larry never existed. The idea was simply that the saying goes – "Happy as Larry"
++ Afterwards you released the single with "Faster". What other songs were in it? Did the record receive any press?
The B side was a song called Country Boy – which wasn't a serious song really – It was just something we used to mess about with and one time we actually played it live and it got a really good response. So it snuck into the setlist and became a live favourite.  We didn't really receive any press, but to be honest we didn't really go about promoting ourselves – apart from the occasional write up of a gig in the local press . A copy of the single must have surfaced in Bristol because we were contacted by Rodney Allen of the Blue Aeroplanes who said he liked Country Boy . I remember Ashley being particularly chuffed about this as he had long been a fan of the Blue Aeroplanes.
++ What do you remember from the recording session of the single?
I remember it to be a pretty fun and relaxed  – the studio was particularly unglamourous being in an industrial unit in Portsmouth. When we recorded time was always tight due to lack of finances but both songs were recorded in a couple of takes.  Faster being our most popular and well played song at that time so it was really easy to record.
++ As you know I know the three songs thanks to Youtube, no clue who that user that uploaded the tracks might be? I thought it was a mate of yours!
I think I know who it is – but no-one will step forward and admit it so technically it remains a mystery.
++ Are there more unreleased songs by The Kites? How come there were no more releases?
There is an earlier EP – Dreaming about Diving which was released on cassette and sold out quite quickly. When all the Larry's Back flexi discs had sold we put them on to a cassette with two to other songs, Waiting For Me and Why Today – which worked out cheaper than getting more flexis made up.  Also there are a few later recordings non of which were released – basically because we didn't have the finances to do so. One song in particular Polly Propylene we were initially keen to release but by this time we all had grown up jobs and families and didn't have the time to invest in trying to get it heard.
++ Was there any interest from other labels to release your songs?
No not really – but then we didn't send demos or releases to any labels, we really were poor at promoting ourselves. Then by the mid 90's Britpop and ladrock was on the rise and we were viewed as being basically too much of a throwback to the mid to late 80s.
++ And then when and why did you stopped making music as The Kites?
Essentially we just moved on in our lives – got married, had children etc. By this time we were all living in separate parts of the country, Ashley was living in Portsmouth. Dave had moved to Northampton and Dev had gone back to Wales so it wasn't that easy to organise times to get together.  We didn't really completely stop and very occasionally still meet up  – book a rehearsal space – just for the fun of doing so.
++ But you still make music with Ashley, right? Are these songs online?
Yes we still see each other more regularly and share tunes – both our own and other bands we like. It was Ash's songwriting which drew me to the band in the first place. I think he's has never really lost it as a songwriter and has a real knack with melody. He's always been quite self des precating about the stuff he writes. Non are online – maybe we should get round to uploading a few songs.++ Looking back, what would you say wathe best moment of The Kites?
Funnily enough my fondest memories of the Kites were just getting together for weekends in a drafty old village hall in Wiltshire, writing songs and having a good laugh. In terms of best moments it's difficult to pick one standout because they were all good times. I'm quite proud of  Faster and Polly Propylene.  Also the Reading University gig – that one was a bit of a triumph.
++ And aside from music, what other hobbies do you enjoy doing?
Aside from studying the finer details of Solid and Putrescible Waste Management, Ashley is into photography. Me I'm still a music nut , still collecting records and constantly searching for that next great song.
::::::::::::::::::::::::::::::::::::::::::::::::::::::::::::::::::::::::::::::::::::::::::::::
Listen
The Kites – Larry's Back