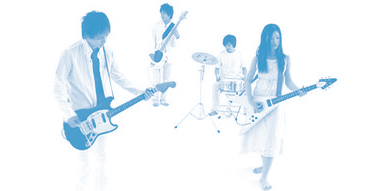 Finally May arrived. Arrived with allergies, spring and pollen, sure thing. But also with NYC Popfest. This year as I'm not traveling to Indietracks, this will be the main (and possibly only) indiepop event I'm going to. So that's pretty exciting!
During the time I was in China it seems that the lineup changed a bit. I came back to see some surprises on it. I thought maybe I should go through these new additions as I did with the earlier announcements.
The biggest addition and surprise was Cold Beat from San Francisco. A friend from work recommended me this band two months ago. We were just talking about our latest purchases on Discogs. He told me he had just bought a 12″ by this band. He said that I might like it. And hell I did. I immediately bought their album and 12″ single on Discogs. I thought better buy it now before it becomes popular and pricey even though these releases were some years old. Some days later I was talking to Maz from Popfest about Popfest and even though it was already late and the lineup had just been announced that I really loved this band and I couldn't believe it had been under everyone's radar in indiepop, that a friend that has nothing to do with the scene had pointed them to me! Anyhow, Maz loved them but I never thought he would book them!! Of course this makes me terribly happy, I will get a chance to see them. Named after a The Sound song, this is a very cool sounding band, fronted by Hannah Lew from Grass Widow (who I was never a fan go figure) and all their records have been self-released on their own Crime on the Moon. If you haven't heard them yet check this video for the song "Out of Time".
The Holiday Crowd will be coming back. It seems Palms on Fire didn't get their visas sorted. No surprise, that's always a pain for bands that need one. Especially indiepop bands that have little means. This is a pretty good replacement though as The Holiday Crowd is one of the best indiepop bands around for sure. My only complain of course is that they have already played Popfest and I love seeing new bands always. That doesn't mean I won't enjoy their show. Last time I saw them they were just astounding, great sound and a fantastic frontman. So if they repeat just 20% of that show, I'll be more than happy. I actually thought they weren't playing anymore as they had been so silent for the past few years. This is definitely good news, perhaps there's a new release in the horizon?
Pete Astor will be playing the free show on Saturday. Makes sense. He is coming with The Loft and it's definitely a good idea to see him playing solo. I did once as I have mentioned before in another post at the Lexington in London. He is really good playing his songs acoustically, it's really cozy, and the stories in between songs are ace. I think this will be the sleeper hit for the Popfest. A treat that I hope not many miss (Saturday afternoon show is by far the least popular Popfest slot).
So those are the three additions for this year's festival. But I haven't talked about the DJs, have I?
I'm not sure who is DJing between bands on Friday or Sunday. Does anyone know? On Friday there's a Cameo DJ party. As always Maz is the go to DJ if you wanna dance to some classic and new indiepop tunes. On Saturday the treat will be seeing Daniel Novakovic from So Tough So Cute DJ at the Knitting Factory. I look forward to this, as one of the best indiepop dance nights I've ever danced to was in London Popfest when Daniel literally had the dancefloor on fire.
What else is there to know? I don't know. Perhaps restaurants around the venues that I recommend? haha. Maybe.
————————————————-
I was remembering today the band Hartfield from Japan. I don't think there was any reason in particular. I just remembered that I really liked their album and I wondered what happened to them. I never knew much about them to start. I thought it was just a boy and a girl but it seems there was a bit more to the story.
When they played live they did have a full band, but Hartfield was really just Takateru Kagawa and Yukari Tanaka. First question then, were they a couple?
My introduction to them came with the 2003 album released by Clairerecords (fern 048) and also by Vinyl Junkie (VJR 010) called "True Color, True Lie". Okay, the proper version is that of the Japanese label, who licensed it to the Florida one. The album included 13 fabulous swirling dreampop songs mastered by Tomonobu Hara and mixed by Scott Cortez (from Astrobrite). The photography for the sleeve came thanks of Aya Watanabe, Naru & Hartfield.  The US version of the album included "Wonderful Word" and "Free Again", two songs that weren't on the Japanese version of the album.
I was in love with a song on it called "Girl Like You". I thought it was a masterpiece.
I didn't follow them then. Today I find out they released another record, a mini-album. It was called L.I.B.R.A. and was only released in Japan by Vinyl Junkie (VJR 015). It came out in 2004 and included 6 songs including a remix of "Girl Like You" by Pia Fraus. Included in the CD were two promo videos for the songs "Today Forever" and "She Knows". The support members for this record were Tatsuhiro Miura on drums and Takeshi Komine on bass. The mix for the record was done by Pia Fraus. Seems that the title of the album means "Leave it Before Ruins Again". Right?
Now, it seems they had a following in South Korea. In 2005 Pastel Music releases in that country a two CD compilation (!!) aptly titled  "True Color, True Lie + L.I.B.R.A. & MORE". In it all songs they released are included but also we get some remixes by Astrobrite of "Strangers When We Meet" and "16 Lover's Rain", an acoustic version of "My Christiana" and a cover of "Never Ending Story" (!). Someone on Discogs has commented that "This release comes in two separate jewel cases with separate catalog numbers. True Color True Lie has an exclusive insert in Korean about the band. " But I can't be sure at all. I have never seen this release but I will try to track it down! Seems like something I really need!
Now we do a bit of backtracking to 2001. That's the first time Hartfield appears to be released. They contribute the song "Girl Like You" to a compilation called "Seven Winters" released by G.A.C. records in Japan. It's a shoegazy records with shoegazy bands. Then their second compilation appearance that I know of is in 2003 when they contribute "(The Stars Will Shine Above All Of) The Streets (Alternate Mix)" to the "Pacific Union" compilation. Again a very shoegazy record with bands like Airiel, Pia Fraus or Monster Movie (and our favourite indiepop band Silver Screen).
The last time we hear from them was in 2006. On a compilation called "Never Lose That Feeling Volume Two" released by Club AC30 (AC303032) they contribute the song "Soon", which is a cover of My Bloody Valentine.
Online I try to dig more information about them. I find a cool review of their first ever solo gig in Japan, at a venue called The Shelter. You can read about it here. That was 2004.
Then there's a review page for their album. There are two English reviews and one in Italian. I mean, if you already know that you have to check it out because I'm recommending them to you, maybe these other reviewers will convince you. So try it.
And last but not least there's a bio on last.fm. From it we learn some important facts:
– They released three cassette singles by independence production and sold all 1,000 copies of them at independent record stores in and around Tokyo. Hartfield was later signed to Vinyl Junkie Recordings. They participated in a promotional compilation CD Way of a Ray which was released from VINYL JUNKIE Recordings.
–In 2006 they toured the east coast of the US with Chicago's Airiel, playing with such artists as A Place To Bury Strangers, Alcian Blue, Stellarscope, along with playing at the Pop Noise Festival in Philadelphia.
-Upon returning to Japan, Hartfield was looking for a new label to support their future albums and tours. As fans awaited the next release by Hartfield, no news surfaced, and the future of the band went on hiatus. It is unconfirmed whether or not Hartfield will create a new record. Their website www.hartfieldweb.com, is no longer up, leading many to speculate that the band has possibly broken up.
And that my friends, is where I lose their trail. There's barely anything written online. Perhaps there is in Japanese? But that I couldn't tell sadly. I wonder what happened to the members? If they recorded more songs? And if so, if they will ever release them? Are they still playing music under another name? Why the silence? I really liked this band.
::::::::::::::::::::::::::::::::::::::::::::::::::::::::::::::::::::::::::::::::::::::::::::::
Listen
Girl Like You