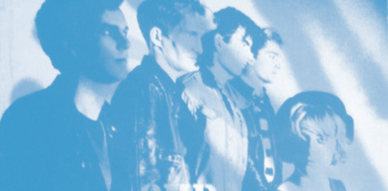 Hello! It's been almost two weeks since the last update and I will be honest, I didn't miss much blogging. I guess it must be because I was abroad on vacation and my mind was somewhere else. Now that I'm back in New York I started to miss this blog. I started to have nostalgia for endless afternoons looking for information about some obscure band and just writing some of my adventures and dreams.
There are a couple of news on Cloudberry side. If you head to the website you can check the Occasional Flickers A side for the next single they are putting out with us. The song is "Capitalism Begins at Home", and it's really beautiful. I always loved Giorgos vocals and had worked with his band before on Cloudberry with a 3″ and, even before that, on an album on Plastilina. Pre-order button will soon be up. So keep an eye.
About Tripping the Light Fantastic, as many of you have been asking me, it is being pressed at the moment. I will send to print the jackets during the weekend and will also sit down and write the inserts before it's too late. I have this nostalgia for their hometown, for Hamburg, so probably I'll be writing an ode to that fantastic city. So, if everything goes as I think it will go, the release date should be April 10th. Sorry for the delays, but all these price changes at the post office kind of pushed the release a bit.
The fanzine. Waiting for a song. That's all. As soon as we have it. We'll send it to print.
How can you help to speed up the process? Well, buying some records always helps! We did lose A LOT of money with the postage increase as we had pre-orders with the old postage prices. Of course it wasn't the customers fault, so we sent the records, at an almost 100%, to everyone who pre-ordered. I think we did the right thing. Though it did hurt us proper.
While abroad I got to see Alpaca Sports live. Also got the chance to spend some time with them, so nice lunch, and then a bit of chit-chatting. They are fantastic people and I can't wait until they come to NYC for Popfest in two months. Their live show was perfect. It felt like they've been playing for like forever. They know how to be tight and put a fun show. I believe they sold out all their records at the Madrid show by the way, and they brought lots. They were so successful there. The crowd was dancing and singing along the songs. A friend next to me told me he felt he was having a time warp to the early 90s, that Alpaca Sports would fit so nicely on one of those 3″ CDs that Marsh-Marigold used to release. I agreed. How couldn't they fit along The Seashells or my beloved 50,000 Elvis Fans Can't Be Wrong? Top stuff!
Andreas and Amanda are naturals on stage. I know Andreas favourite band might be The Brilliant Corners, but when I see him strumming the guitar I think of Julian Henry of The Hit Parade. Not that I've ever seen The Hit Parade live, but it's how I always imagined them. Amanda compliments the songs perfectly, hiding behind her goldilocks hair and appearing again, with whimsical charm and shy vocals. Pa Pa Pa. And start again. She told us about her Spanish jacket. Her amazing story. She wanted to go to some stores in Spain, but they have strange hours in this country. Closed on Sunday, closed in the afternoons. Strange. And Carl, is at the back, doing all the secret things that make Alpaca Sports sound great live. All those little sound effects are being taking at his little station at the back. It feels like he is some sort of mastermind in the shadows, enchanting all of us with the Alpaca Sports potion.
Another great "Cloudberry" moment was seeing The Garlands again. They headlined my party in Stockholm and they made me, and the crowd, swoon. It was quite interesting to see them in Sweden, the chatty Patrik and cute Christin not talking in English to the public, but in Swedish. It was a more natural feel to it that I enjoyed. They played all their hits. They made me so happy. Me standing at the front, watching how Maria's fingers crawl over the bass fret. And Robert banging the drums, full power! Einar is dissecting his guitar, playing those wonderful chords that make The Garlands special. Christin, well, I want to hug her, she is just great with her soaring vocals. And Patrik, he is the FUN. He makes The Garlands feel like the indiepoppiest band on Earth.
Other "Cloudberry" band I got to see in this trip was Los Lagos de Hinault. It was the only band that Oscar from Zipper liked. And I find it easy to see why. The lyrics. They do write fabulous lyrics. You'd might think it's a shame that they are written in Spanish and because of that not that many people can appreciate them. But the thing is, perhaps these lyrics wouldn't be that great if they were sung in another language. Think about that. Quirky, smart, and bookish, Los Lagos de Hinault are in a class of their own in the Spanish Pop scene. They deserve much attention I think. Perhaps they won't be huge ever, but they do deserve a cult-following. And judging by their live set, potent, direct, and with a lot of presence, I wouldn't be surprised. My only regret, not having being able to secure a photo of myself with the whole band!
And the only other band I'm going to mention in this small review is Zipper. They played early on Saturday's Popfest night. They were the special guests for this occasion as they had written the Madrid Popfest official song for this year. A blast of a minute and a half of pure POP! And how was their set? It was short, around 12 minutes or so, but it was a ricochet of fantastic melodies, fast guitars, catchy chorus, and an indiepop attitude that is so contagious. As always I'm so happy to see them, have some beers, some calamaris, some chorizo. They are the true indiepop band from Madrid. And because I'm so spoiled and lucky, they will be coming to NYC this year for Popfest. Can I actually ask for more? I wonder how many times I've seen them already. Thing is, every time they play they are so good that it's never enough.
————————————————–
Now let me talk about an obscure band. An Irish band! There are not that many more bands left to cover from the (by now) legendary mix CD Rupert gave me last year at Indietracks. Today let's try to uncover the mystery of Cuba Dares.
The Irish Rock web site has a small bio about them:
Ronan Stoke's band formed early 1982. Initially a duo of Stokes & Clancy plus a drum machine, this expanded Dennis Rusk (guitar), Tony Kennedy (bass) and real live drummer Barry O'Rielly. This lineup split when Ronan and Blathain moved the band to London circa 1984, where Rory Stokes, Paul Mooney and John McGrath all joined as The Sussed had split. Cuba Dares released one fine EP in 1986 (by which time Paul Mooney had moved on) which won single of the week in NME (among others) and is difficult to locate these days. The lineup that recorded the EP is listed above. They split sometime after.
There are reputedly many unreleased recordings.
The lineup mentioned in that bio is:
Blathain Clancy – vocals
Ronan Stokes – guitar
Rory Stokes – guitar/keyboards
Chris McKenna – bass
John McGrath – drums
They were based in Dublin and later in London.
Their discography only included that fantastic 12″ EP. IT was called "One Nine Eight Six EP". It included on the A side the song "Yellow and Red" and on the B side the songs "Sweet Ephemeral" and "Lost Without a Trace".
The engineer for this record was Simon Osbourne. And the record was released by Mastervolume Records. Catalog was MV12S1.
When I listen to "Yellow and Red" I do think of girl fronted bands of the late 80s like Suntime Glorious, Girl Of My Best Friend, The Honeymooners, Po! and The Sundays. to name a few. It's a terribly catchy song with a great melody. It's not super upbeat or anything, but it feels like it. I can picture it in a good indie disco, all the kids dancing even. "Bye Bye to all the dreams I had" Blathain sings. And I could feel that. Who hasn't had their dreams shattered? Totally. You can identify with this beautiful song, can't you?
The other 2 songs, the B sides, if you want to listen them, you can always head to their old and abandoned Myspace. "Lost Without a Trace" being my favourite of the two.
And this is all the information I could find online about Cuba Dares. I wonder what their name means. If it has anything to do with Cuba (most presumably, right?), perhaps they even lived there! I also wonder about those many unreleased songs that are said to exist. I'd love to listen to those one day! I'm sure they are fantastic. And also about their one and only release, how many copies were made, if there exist in some place a box with copies of this fantastic record. I'd love to own one one day, play it on my turntable. It'd be so great, songs like these deserve to be played on record, not as MP3, even less stream then! Anyhow if anyone of you out there know anything else about them, any anecdotes or anything really, please share! Would love to know more about their band story!
::::::::::::::::::::::::::::::::::::::::::::::::::::::::::::::::::::::::::::::::::::::::::::::
Listen
Cuba Dares – Yellow and Red