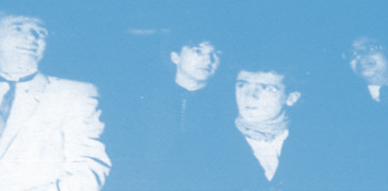 Maybe you know but maybe you don't. But now you can pre-order the debut 7″ by Stephen's Shore on our website. It will be out on August 15th and it includes 4 songs, "Ocean Blue", "If You", "Turn Your Head" and "Let's Go Home". Artwork by Fabio Consoli. I'm very excited by this newish band from Stockholm, Sweden, and its jangly songs. I'm sure you all are going to like them!
I have more release news to announce in the next few weeks, so it is very exciting. I know summers usually are the time when people are traveling and having vacations, going to festivals or even disconnecting with the world, avoiding phones and internet and doing that hippie thing of reconnecting with nature. Nevertheless I really hope you can have a listen to all these new amazing sounds I have in store and feel the excitement for indiepop music once again! Indiepop is alive and kicking!
Last week I was just all about NYC Popfest. The first two nights. The beers, the songs, the bands, the gigs, the friends, everything was just so much fun! It's a bit painful now, 4 or 5 weeks after to go back to happy times when now there's nothing even close to it happening! How I wish I could go back in time once again to that weekend when so many good friends and such good music was making all us feel the joy of our small, minuscule indiepop scene.
Saturday was at Baby's All Right for an early afternoon show. It was free and who can complain about that? It was packed naturally even though none of the bands are very well known in the US, or at least that's the impression I have. I had a very quick Indian lunch a couple of blocks away as I was running very late sadly. At least I had to be there at 3pm to catch Los Bonsáis who I had seen before in Madrid Popfest but I utterly love their songs, so just couldn't miss them. It was a bit stressful because of the train situation in Brooklyn, with several lines, like the F or the G, not stopping at their usual stops and so on. But we made it at 3pm, just on time when Los Bonsáis were playing their first song. Their was still some space in the front so we managed to get there. Vernon was already there, and we saw out friend José from Chicago who we had been missing the previous days.
As expected they were marvelous, Nel and Helena opened with "Nordeste" and ended their set with a cover of the Vaselines' "Son of a Gun", translated to Spanish as "Hijo del Señor". They even had a couple of their friends get on stage to sing with them this last song. Before that they had played my favourite "Ultramarinos" and a Television Personalities cover, "Punks a Tiempo Parcial".
The next band in my list to check out were Snow Fairies. It was quite a surprise for me to know that they were playing Popfest when they were first announced. I was a big fan of their songs back when I was a student and as it is the case with smaller bands, I never thought they would do a reunion gig at all. I know that after their demise they kept making music, especially as The Skywriters, but The Snow Fairies were in a different league I always thought. Actually yesterday I found myself listening to their album "Get Married" (I'm still missing their other album, help!) and I was enjoying it so much. No one makes music like this I thought. Back in the early 2000s there were many like-minded bands it seems. Today, none. It's a shame.
Joanny was super surprised by The Snow Fairies. Other friends as well. They put a great show that one would have thought that they deserved to play a better slot other than headlining the afternoon show. But that's how it is, who would have expected such a brilliant gig.
A walk through Williamsburg, now to the Knitting Factory. On the way a stop for pizza as the group was hungry. Not me. On the way we saw Remi walking by herself, of course she was to join us. Then at the pizza place Amanda would join us too. Big table, like the old times. After some coffee, and we met Sean on the line. Catching up a bit with Fortuna Pop's leader. But it was getting closer to the moment of truth, a lineup of Cristina Quesada, Tiny Fireflies, Alpaca Sports, Mercury Girls, The Chesterfields and The Primitives was waiting for us!
There were garlands on the stage. We had been shopping earlier in the week and Andreas had found these in a stationary shop in Soho. Now it looked great. Even better Cristina's dressed matched with the garlands almost. To open, "Pineapple Princess". Of course. Andreas would eventually join her. "Just Like Honey" by JAMC was loved by everyone. I was very happy when she played Family's classic "Viaje a los Sueños Polares", but everyone just accepted defeat to sweetness with their rendition of Alpaca Sports' "Just For Fun", now an indiepop classic.
Tiny Fireflies and their return to NYC Popfest was next. Now adding a third member to the band. The sound was bigger, and Kristine was a superstar on stage! The songs from the album sounded gorgeously, and they also played songs from earlier on, even one from a Cloudberry release which they kindly dedicated to me <3 . It was kind of a short set, seven songs or so. "Brightest Star", "Ghost", "Farewell" and more illuminated the Knitting Factory with a sound that was refreshing, much different to the rest of the bands in the festival. But when it was over it wasn't time for them to leave the stage. Oh no, they were going to join Alpaca Sports as part of the band.
Suddenly Alpaca Sports was a behemoth of a band! So many people, but so worth it!! I can't remember now the bass player name, but we had Andreas, Amanda, Cristina, Lisle, Kristine and Hampus on stage too. Heck, I wanted to join them too! It was such a good gig really, they played the classics, "Just for Fun", "I was Running" and "She'll Come Back for Indian Summer". They played some of the new ones, "I Love You", "Need Me the Most", too. It was also a return for Alpaca. A couple of years back they had played Popfest at Littlefield. It was a triumphant return, I could see people dancing and singing along the songs on the front. I was happy to see them once again and I start to wonder if they are becoming rapidly the band I've seen the most these past few years. Perhaps!
Burger time. And a small break. We got way too many fries so we took them to the gig. Joanny was happy to exchange pretzels for fries. Everyone happy. I couldn't get to the front now sadly. The Chesterfields were about to go and halfway to the front will have to do. "Shame About the Rain" to start. "Oh Mr. Wilson" to warm up, until "Sweet Revenge" came on and I was all happy and singing every song. And suddenly I start to wonder when will they play "Ask Johnny Dee". It wasnt happening! But hell, they played "Anywhere But Home" by The Caretaker Race. Wow! That was one of the best moments of the Popfest for me. I know Andy Strickland was playing now in The Chesterfields, so it kind of made sense. I do wonder though how many people in the crowd was aware of this fantastic band and amazing song. I hope many! In any case I was terribly happy. And then "Goodbye Goodbye", I got even happier! Then they started asking which song to play or something else, I can't remember. I just shouted "Johnny Dee". But first was another classic, "Last Train to Yeovil", and then finally, "Ask Johnny Dee". The band would finish the gig with an indiepop anthem, "Completely & Utterly". Afterwards I was happy to meet Simon Barber and that was ace too (and hopefully a Chesterfields interview in the blog soon!).
Funny enough a friend from work was also in the crowd. He had come for The Primitives! I thought that was a bit strange. I know a couple of co-workers like music, but they are more into indierock I'd say. But you can never stop getting surprised by what college radio did years before I went to uni. I think a lot of people learned a lot about some indiepop bands thanks to that (and this would definitely explain the crowd The Railway Children would bring the next day). Anyhow, The Primitives were on stage, and I was going to see them for the second time after Indietracks. Now this was a bit of a longer gig, almost 20 songs! And of course they played the ones everyone wanted, from "Thru the Flowers" to the mega hit "Crash". I was just terribly happy with "Stop Killing Me", "Buzz Buzz Buzz" or "Way Behind Me". Who could complain?
And to top it all, it was time for dancing just after. Right now I can't recall all the songs that were played. I remember one by Spearmint. I think The Smiths were played as well. I remember dancing though. But the songs seem blurry. It was Mondo Djs at this time, but they havent posted a list of what was played. In any case, it was late when we left Knitting Factory. Happy, exhausted, and with a huge smile in my face.
Seems I've written more than I expected! Seems the review of Sunday at Popfest will have to wait another week!
———————————————-
Chaperone: a person who accompanies and looks after another person or group of people.
So here's this band with a very early 80s name called Daryl and the Chaperones whose one and only 7″ I've been trying to track down for some time. Years now. Maybe some of you could help me. Especially those who are fans of White Town.
I like White Town of course, especially their classic indiepop records, "Hair Like Alain Delon" is such a wonderful song. I got to see Jyoti play in New York and also in the UK. But I've never even talked to him! Anyhow, you must be asking what does White Town has to do with this Daryl and the Chaperones. Well well, it was 1982 and a very young Jyoti Mishra was in this band.
As far as I know two songs were released by this band, both on this 7″ released by Shark Records in 82 (catalog SHARK 1). The songs were "My Baby's a Spy" and "B Movie". One in each side. The artwork of the record is a bit strange, there's circles, triangles and squares times four, what looks like a beach chair, and then a silhouette of a guy wearing shades and a hat. Also on the cover we can read Aris_Tographics, MaestroM Ltd Spacematic Print. I wonder why the name of the printer was on it?
The A side, "My Baby's a Spy", would also appear on a compilation called "Low Down Kids Companion, Volume 2", released in 2003 (!!). It was limited to a 100 copies and I'm not very sure what sort of compilation this is as I'm not familiar with the bands on it. Names like The Agents, The Spies, The Wild Boys or The Escorts don't ring a bell to me. Seems this was a DIY label that released some cool stuff, at least it looks very cool to me. The aesthetics are just like out of a fanzine from the 80s. The strange thing of course is that this was out in the past decade.
I have never had the chance to listen to the B side. Not yet. But the A side is a wonderful slice of guitar pop, proto-indiepop if you like to call it something. It's a lost classic in my book! You'll see now by yourselves.
The only other information I could find comes from the always reliable Tamworth Bands website.
The band was formed by:
James Woodward – drums and percussion
Ian Hewitt – guitar and vocals
Andy Redfern – bass guitar
Jyoti Mishra – keyboards
They had a slogan, "You are never alone with a chaperone", and it seems the only member of the band with links to Tamworth area was the drummer, James. He was from Clifton Campville.
Clifton Campville is a village and civil parish in Staffordshire, England. It lies on the River Mease, about 10 miles (16 km) east of the City of Lichfield, 6 miles (10 km) west of Measham and 7 miles (11 km) north of Tamworth. The village lies very close to Stafforshire's borders with Derbyshire, Leicestershire and Warwickshire. In 2001 the parish had a population of 764,[5] increasing to 912 at the 2011 census. There is a fine gothic church, dedicated to St Andrew,[6] and listed Grade I. The village pub, The Green Man, is also a historic building.
From this website we learn some more interesting facts:
The record was recorded and produced at Steve Adam's Studio in Birchmoor.
The band was formed 12 months before the single was released (so 1981).
The band originally had a Daryl in the band, Daryl Ainsworth, and thus the name of the band.
They seem to have gigged in Birmingham, Burton, Derby and Leicester.
And that's about it. Then of course we know that in 1990 Jyoti started releasing stuff under White Town. But that's 8 years in between! What happened in the meantime? What other bands was he in? And what about the rest of his bandmates? What did they do afterwards? Were they involved in other bands? Are there more Daryl and the Chaperones recordings? Would like to know more! Do you remember them?
::::::::::::::::::::::::::::::::::::::::::::::::::::::::::::::::::::::::::::::::::::::::::::::