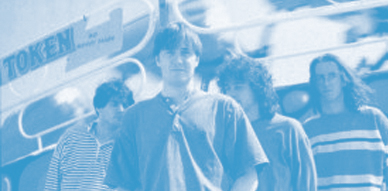 Thanks to Mark Lyons for the fantastic interview! Resque released one album and a string of popstastic singles in the early nineties, with "Yeah!" becoming big in Japan! They also recorded many promo videos, and toured extensively. As there is not that much written about them on the web I asked Mark if he'd be up for an interview after he commented on my blog. Hope you enjoy the interview and that you discover (or rediscover) the brilliant Resque!
++ I got in touch with you thanks to a comment you left on the Hookline & Silverfish post I did some time ago. You mentioned the Majestic gigs. I was never there of course, so I'm curious about them. Care telling me a bit about them?
The majestic gigs were two big charity shows organised by the local Reading radio station 'Radio 210'. We shared the bill with bands like 'Hookline and Silverfish', 'The Jeremiahs' and 'Sometimes Sartre'. They were legendary. Completely packed the largest venue at the time in Reading and certainly launched International Rescue locally.
++ Resque was formed in 1989. So I wonder if you were in any other bands before that?
I was in a band at school called 'The Unknown'. Honestly we were like a art experimental band! We were like a cross between Psychic TV and Echo and the Bunnymen. At least we thought we were! I was 14/15 years old when we we started gigging. I once got spat at by about 50 skinheads at Reading town hall. Pretty scary for a 15. Luckily it got better quite quickly after that experience. Couldn't get any worse.
++ And going further in the past, what would you say are your first music memories, like what sort of music you grew up listening to? And what was your first instrument?
My first musical memory is my mum playing me 'Help' by the Beatles when I was 7 years old. It was a real 'lightbulb' moment. I loved how it was a really catchy pop song with a really dark message. My first instrument was an second hand acoustic guitar at 12 years old.
++ Resque actually formed as International Resque. Why did you drop the "International"? And who came up with the name?
We actually called ourselves 'International Rescue' originally. Dave Simons, the lead singer, came up with two choices 'International Rescue' or 'The Men from Uncle'.
++ Who were the members of the band? What instruments did each of you play?4
The original line up was Dave-Vocals/guitar/Harmonica, Andy Lawlor-drums,Tim Banks-percussionist, Jem King-bass, me on guitar.
++ What would you say were your influences at the time of forming the band?
We were really influenced by 50/60's music, Def Jam and skate punk.
++ How was Reading back then? What were the places to go to? The venues to go check out up and coming bands? Were there any like-minded bands?
Reading back then was a completely different beast. There were only a couple of pubs and 3/4 music venues. 'Cartoons' wine bar was a great bar, the legendary 'After Dark' club, the 'Majestic' and 21 South St. There were lots of excellent bands in Reading at the same time. Too many to mention to be honest. Apart from the ones already named above there was 'Jo Jo Namoza', 'The Jaybreaks' and 'Jonah Reece' but most of the bands at the time in Reading were very good.
++ Your first release was the popstastic 7″ single "Yeah!". What a song! I have to ask, what is the story behind this song?
Our first release wasn't 'Yeah' but 'Love in the right direction'. It came out on local record label 'Acorn records'. There were only a 1,000 pressed I think. Maybe only 500. It's actually worth a few quid. Especially in Japan now. It features a saxophone solo from the chap who, I believe, played with Dexy's midnight runners. But I may have imagined that! It got lots of radio play on 210 and really helped cement our reputation locally. We were completely filling venues in Reading now. It was at this point that myself and Dave decided we wanted to take the band more seriously and make it our full time job. This decision caused a few of the band to re think their positions within it. It led to the only major personnel changes in the bands history. We welcome Roger Wells on bass and Wez on drums. With full respect to the first line up (who I still love dearly!!) this, for me, was the classic Rescue line up.
It was also at this point that we had to change the name from International Rescue to International Resque. We'd recorded the first single in Gerry Anderson's (Thunderbirds creator) studio and he didn't like the fact we'd stolen his name so we had no choice. It was then that we signed to 'Davy Lamp' records. Steve Lamacq's co owned indie label based in Harlow. We put one single out with them called 'Yeah'.
++ This song also had a promo video and it looks like you had a blast recording it. Where was it recorded? Who were the girls on it? Your girlfriends at the time? And how was that first experience doing a music vid?
We got good airplay nationally with 'Yeah' but the video really pushed us up the ladder. We recorded it on a rooftop in London. I had a friend who worked for a top modelling agency (Jess Hallett from Storm agency) and she got some of the girls to appear in it with us. The policeman in it was 100% real. He was very understanding.
++ This 7″ came out in a great label, Davy Lamp, who released another favourite band of mine the Blind Mice, how did you end up with them? How was that relationship?
We didn't really have a relationship with The Blind Mice. We were from different parts of the country. I remember they were good though.
++ Your 2nd single "So Way Down" came out on Groovy Tunes. Never heard that label, was it a self-release perhaps?
The next single was on the 'Groovy tunes' label. The only other act on Groovy tunes were 'Jive bunny'!! Their success paid for our single. We did go on lots of record labels. We enjoyed the signing parties!! 7 and 12 inch releases were all the rage at the time.
++ This 2nd release of yours came out in both 7″ and 12″ formats. What was the intention with that? And what would be your favourite format for music?
We did extended versions for the 12 inch.
++ Again, for "So Way Down" you recorded another promo video. At that time you wouldn't see so many indie bands making videos, how important do you think they were for you in promoting your music?
At the time videos were a really important promotion tool. The video for 'So way down' was a nightmare to record though. The director wanted us to play on the tube at closing time on a Friday night in London. It was an awful experience with half of London drinking population shouting abuse and throwing things at us!! If you look closely you can see how terrified we were.
++ It is just after releasing this single that you changed your name to Resque. And then on 1991 you were to release your debut album "Life's a Bonus", a record full of fantastic pop tunes. I read a bio about Resque saying that if you had released this album some years later you would have been accepted as a Britpop band, that at the time you didn't fit anywhere. Do you agree with this?
We then signed a longer deal with 'Musidisc'. A much bigger label home to 'The Levellers' and 'Zodiac Mindwarp'.  I think you're right about the britpop comparison. Just a decade to early!! And we definitely didn't fit into any genre at the time.
++ Was wondering if there were any other labels that were interested in your music at that time? the big labels perhaps?
We did have interest from the 'major' labels at the time. But Musidisc seemed to understand us the best. They were supportive of us. And we had all the normal band v label nonsense as well but they did their thing well.
++ You contributed to a couple of compilations. There was a song called "Move It" on a 1990 tape from the BRAG agency. Was it like your promotional agency? Or who were BRAG?
Brag agency was our booking agents. Lisa Bennet was the most incredible agent I've ever worked with. We pretty much toured non stop for years and years and she was truly superb. A major factor in the bands (small) success. We also had a superb manager called 'Gary Pettit' who really was the fifth Beatle.
++ There was also the "Disposable But Happy – Dozen" tape released on the fanzine of the same name. It came with a bunch of other awesome indiepop bands like The Penny Candles, The Rileys or Shelley's Children. How important was for you, and the independent pop scene in general, the fanzine culture of the late 80s, early 90s, do you think?
The fanzine culture at the time was a big asset for us at the time and we were regularly championed.
++ There was also a flexi-disc shared with The Hinnies on Why Not! Records in 1991. How did this happen? Were you friends or played gigs with The Hinnies perhaps?
I have no idea about the Hinnies Flexi disc!! You know more about that than I do!
++ In the hypothetical case of you being able to chose a band that was around the time as Resque for a shared flexi or 7″ what would your dream choice had been?
My dream choice for a shared Flexi disc with us back then would have been 'Senseless things'. We were fortunate to play a lot of the gigs with them and they were truly excellent in my opinion. Great songs and they looked fantastic.
++ I saw on Youtube a TV appearance of Resque playing "Watch Me When I Fall", which was your next single released by Musidisc. What TV programme is it? How was that experience? Did you get to be on English TV again?
The 'watch me when I fall' tv appearance was on a Saturday kids television show called 'Eggs and Baker'. Hosted by Cheryl Baker of 'Bucks Fizz' fame. It was actually one of the last things we did as a band in the U.K. And I think you can see we were tour frazzled after years and years of constantly playing most nights.
++ There is also a Japanese video of a Resque interview on Youtube. On it there are bits of a promo video of "She Drives My Train". Will that be ever uploaded to Youtube perhaps?
We did make a video for 'She drives my train', our most successful single. We got met by armed police at Brighton train station as we'd let off a smoke canister while filming on the train. I don't think it's online. We got played on Radio 1 with this I think. It's so long ago now! It was another push up he ladder either way.
++ Speaking of Japan, you had several no. 1s there in the independent charts. Do you remember which songs were the ones that reached that number?
We only actually had one Japanese number one and that was with 'Yeah'.
++ And how was your experience touring Japan? What cities did you play? And what was what surprised you the most of that country? Have you been back?
It was one of the highlights of the bands career. The tour of Japan was incredible. We were s lot more popular there than anywhere else. We had people waiting at the hotels for us to sign albums. That hadn't happened before. Both signing and hotels!! We played about 14 gigs in 16 days all over Japan and the islands. Finishing with two nights in Tokyo. We loved Japan and they loved us. We did consider relocating there at this time but it never really materialised. I've never been back but I'd love to.
++ What about gigs? I read you supported Carter USM several times. What other bands did you play with? And what would you say are the gigs you remember as the best and why?
We played lots and lots of shows with Carter USM and that was probably the most important factor in the whole Resque story. This really helped us get a following national and we got to the point where we were confident of pulling punters in all over the country now. Not an enormous following but a really amazing little cult following that would come to most gigs. Bunking off college and school to come to see us play. They were fantastic. The hardcore even had their own name. They were the 'Bros rape squad'. They were a group of about 12 girls who would just turn up wherever we played. They were such a mad following. It wouldn't have been the same without them.
The gig I remember most was the first time we played the famous 'Marquee' club in London. Not only was it an amazing show but it was the first national review we received. Melody Maker called us 'The Monkees of the 90's'. We were more than happy with that.
++ Where there any "bad" gigs?
There were bad gigs but not many considering we toured non stop for so long. Without blowing our collective trumpets we were really good live. In my humble opinion.
++ There is a fantastic gig of International Resque on Youtube were you play songs like "Things Our Mother Said", "Take Me Back in Time", "Social Worker", "Bounty Girl" and "Hobbies" I believe at a venue called The Square. What do you remember of it? What year was it?
No idea when that Harlow gig was but I do remember it. Just. As you can imagine they do blur a bit as age creeps in. It's probably the only ever recorded version of our post modern classic called 'Hobbies'. One of the most popular songs we played live.
++ What about the press and the radio? Did you get much attention from them?
We got great support from both press and radio over the years. We weren't press darlings but we only had one bad review as much as I can remember. That was from Caitlin Moran in the melody maker. She said of our cover of Prince's 'Alphabet Street' that we didn't murder it as such but we threw it's still twitching body into the boot of a car and drove it over a cliff! Apart from that one it was all good.
++ Was wondering if Resque left many more unreleased tracks? Or if everything you recorded was released?
There was one last recording session that remains unreleased. It did have one really great song called 'Fairweather friend' which was going to be the next single but unfortunately it never saw the light of day.
++ What happened in 1992, why did the band broke up? Did you keep in touch?
In 1992 I left the band after the Japanese tour as I'd given it 7/8 years and really wanted to try something different.
++ I read many of you went to different bands afterwards. Wez to Carter USM, you went to form Chuck and Roger joined Airhead. Do you think there were any similarities to the sound of Resque in these bands?
I don't think Resque's sound influenced the bands we all joined afterwards to be honest. Not because we didn't like it but just we all needed a change.
++ Has Reading changed much since those days? If one was to visit, it is one of the many cities I haven't been in the UK yet, what would be the places, the sights, one shouldn't miss?
I've not lived in Reading for about 14 years now. When I go back it has changed a lot since the 80's but that's no bad thing. Everything moves on.
++ Thanks again Mark for this extensive interview! One last question though, what was the biggest highlight for you in Resque?
The biggest highlight of being in Resque for me was the fact we didn't take ourselves too seriously. I got to travel the world with my closest friends. I pretty munched laughed from start to finish. We're all still really close and it was a huge part of my life. Im very proud of what ever little we achieved and I think we're generally remembered as a good band.
++ Anything else you'd like to add?
Thanks for showing an interest in my past. I really enjoyed reminiscing.
::::::::::::::::::::::::::::::::::::::::::::::::::::::::::::::::::::::::::::::::::::::::::::::
Listen
International Resque – Yeah!