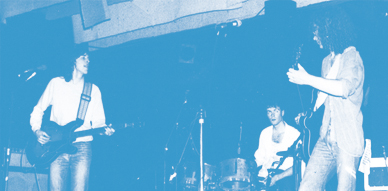 A long weekend ahead, and that's going to be great! even though most of it will be dedicated to box my records for the upcoming move. The rest of time, I look forward seeing Thomas from Pale Spectres as he will be in town and discuss music and the state of indiepop, he always has interesting views.  And rest. Relax and rest. That is a good idea too. But before the weekend ends, as there is no stopping on the blog, here are more songs for you to listen.
One of the bands I've discovered lately that I have enjoyed quite a lot is No Middle Name. I have recommended them before too. And now they have a new perfect slice of pop, featuring Samatha Whates on vocals, and it is their new digital single, "Saturday Girl Sunday Boy", will be part of an upcoming release on the label Entes Anomicos from Frankfurt, Germany. This is brilliant! Just the sort of indiepop I'm a sucker for.
"Show Me to the Sun" is the name of the new album by Melbourne's Tam Vantage, and it will be released on September 8th. On Bandcamp you can check out two songs from it, "Song From a Black Hole" and  "Grey Skies", and because of them I'm already very curious and eager to hear the remaining 8 songs that make up the record. This is the first time I hear the band but they had already released an album in 2015, "Life in High Definition", which I'll have to check out. The record is going to be released in a very limited run of 30 CDs and 200 LPs.
Another Melbourne band worth checking out are The Stroppies. Sadly their only release to date was a tape and I missed it. Why, why, why. I want these good records at least on CD. Not tapes. I've missed many fantastic records because they are being released on tape. CDRs are cheaper. Better sound and easier to play. Ah! Anyways. In the meantime, while I make my complains, I find myself enjoying the 7 songs that formed part of this mini-album (?) on Hobbies Galore. The band is formed by Angus Lord, Claudia Serfaty, Rory Heane and Steph Hughes. A superb discovery, I need to keep them in my eyesight, see what they put out next!
Who are The Life Absurd from San Diego, California? Three guys, Raif G on vocals, Gregory Cerwonka on guitars and bass and Alex Alvaron drums, and one song "Dark Fuss". Only one song on their Bandcamp and they already deserve to be recommended. The lyrics are also there if you want to sing along.
A release that came early this year and I missed was the split tape with the Indonesian band Brilliant at Breakfast and the Japanese band The Natsuyasumi Band. The cassette tape is now in its 2nd pressing and it includes 4 songs by each band. The release has some lovely artwork and has been released by the label Gerpfast Koleftif from Malang in Indonesia. The songs by Brilliant at Breakfast have already appeared in their excellent 2011 album "Being Verbose is Easy, Being Verbose Ain't Easy" and I believe the songs by The Natsuyasumi Band are all exclusive to this release, though in all honesty I only like their last song "Majic Journey".
Dan Weltman, Anna Kissell, Holly McIntosh, Steve Dixon and Matt Cheney are Bristol band Snails. This year they released the "Starting with Mine EP" 7″ on Undergrowth Records and they didn't play Indietracks. I'm not familiar with the band but their first song kind of hooked me, it sounded a bit like The Hermit Crabs. And yes, that is a good thing in my book. This one is by no means their first release, they have many more songs on Bandcamp, including an album titled "Safe in Silence" that has a song called "Winter Hearts" that I'm enjoying while I write these lines. I definitely need to listen their work in its entirety.
And that's a wrap!
———————————————————–
One more stop in this indiepop world tour. Back to the antipodes after checking out The Honeys from Australia, now onto New Zealand, to Flying Nun, Birkenhead, Auckland for The Exploding Budgies. Brace yourselves, this might be a long post!
Birkenhead is a suburb of Auckland, in northern New Zealand. It is located on the north shore of the Waitemata Harbour, four kilometres northwest of the Auckland city centre. Birkenhead was described as "wild and bleak" by the New Zealand Herald in 1883, as it was isolated from the city of Auckland by the harbour, and was little occupied. However, in 1882 it was chosen as the site of New Zealand's only sugar refinery, and in 1883 work began on what was later known as the Chelsea Sugar Refinery. The company built houses for its many new workers and thus the suburb of Birkenhead began. The Refinery was the main source of work for the area for many years, and still operates today.
After covering our geography and history lesson, now into what matters, the music of The Exploding Budgies. We know, from the site Audio Culture, that the band formed in 1984, and that it was one of a cluster of bands that shared a practice room in Birkenhead. On this small bio written by Russell Brown, we also get to know that The Exploding Budgies was a three-piece whose leader was David Mitchell. They released just one EP when they were around and later Mitchell was to join the band Goblin Mix. Afterwards Mitchell was to gain international fame with The 3Ds but that's another story.
The other members of the band were Glenn Eisenhut on bass and James Murray on drums. Needless to say Mitchell was on guitar.
There are some gig flyers here which are really cool. I love the design. On one we see that the band played alongside Marie and the Atom and Children's Hour at Windsor Castle. On another we see the band supporting The Chills and The Expendables at Mainstreet, Auckland in 1984.
The band's only EP came out in 1985, it was titled "The Grotesque Singers" and was released by Flying Nun Records (FN033). The songs on it were, on the A side, "Thorn:Field" and "Kenneth Anger" while on the B side there was "Hank Marvin", "See You Around the Stones" and "Sunflower".
So you don't know who Kenneth Anger is, well, let's do some more Wikipedia digging then,
Kenneth Anger is an American underground experimental filmmaker, actor and author. Working exclusively in short films, he has produced almost forty works since 1937, nine of which have been grouped together as the "Magick Lantern Cycle". His films variously merge surrealism with homoeroticism and the occult, and have been described as containing "elements of erotica, documentary, psychodrama, and spectacle". Anger himself has been described as "one of America's first openly gay filmmakers, and certainly the first whose work addressed homosexuality in an undisguised, self-implicating manner", and his "role in rendering gay culture visible within American cinema, commercial or otherwise, is impossible to overestimate", with several being released prior to the legalization of homosexuality in the United States. He has also focused upon occult themes in many of his films, being fascinated by the English poet and mystic Aleister Crowley, and is an adherent of Thelema, the religion Crowley founded.
There is even a cool story about the song "Kenneth Anger".  It goes like this according to Russel Brown: "When he was in New Zealand in 1993 (making a film about the infamous "witch" Rosaleen Norton), writer and director Kenneth Anger became aware of Mitchell's song 'Kenneth Anger'. The story goes that Anger stormed up to the Flying Nun office and demanded to hear the song. On having it played to him, Anger declared he loved it and left a message on a copy of the band's CD: "Love the song. Lots of love, Kenneth Anger." I then found the whole story in the Second Sight (Film Diary) blog.
What about Hank Marvin? Hank Brian Marvin is an English multi-instrumentalist, vocalist and songwriter. He is best known as the lead guitarist for the Shadows, a group which primarily performed instrumentals and was the backing band for Cliff Richard and subsequently for Marvin, Welch & Farrar. Many leading British and Canadian rock guitarists cite Marvin as an influence on them.
Most of the record was recorded at Lab Studios with Doug Hood and Bill. "Kenneth Anger" was recorded at Progressive Studios with Terry King. And "Sunflower" was recorded at The Practice Room with Peter Denniston. This song had the vocals of Linda and the word are credited to W. Blake. That means of course that this song is an adaptation of the famous poet William Blake.
This record must have been quite popular at the time. It was re-released in 1988. This time the jacket was glossy and the vinyl labels were standard Flying Nun ones instead of the original ones of the first release.
In 1991 these songs were to be re-released again, this time on CD and tape. A compilation titled "The Complete Goblin Mix & The Exploding Budgies" was released by Flying Nun in these two formats (FN 193). As I mentioned before these were David Mitchell bands. Other bands Mitchell had been involved were Plagal Grind, Chug, The Ghost Club and the Magick Heads.
The band appeared in a few compilations. The first time they appeared on a compilation was on the "The Last Rumba" (RUM 001) released by Flying Nun in 1983. On it they appear with the song "Paul Song". This is interesting, this song doesn't appear on the EP or on the re-releases.
Two other songs, "See You Around the Stones" and "Been There Once Before Once", appear on the tape compilation "A Spanner in the Works" released by Industrial Tapes (IND 012) in 1984. I'm curious about this compilation, I don't know any of the other bands that appear, were they jangly as well? I do think Papakura Post Office and Sheila and the Bankers are good band names.
I've never heard those three songs. Their third compilation appearance was to be in 2006 on the "Flying Nun 25th Anniversary Box Set" (FNCD500). On it they were going to show up with their most known song, their classic "Kenneth Anger".
Lastly don't forget to check the Extended Play special from 2012 about Exploding Budgies and Goblin Mix on Radio New Zealand where David Mitchell is interviewed.
A few questions remain. the first is of course if there are any more recordings by the band. The second is why were the songs that appeared on the different compilations weren't included in the compilation they had with Goblin Mix. Also why did they call it a day?
Maybe some of you remember them? Maybe saw them play live?
::::::::::::::::::::::::::::::::::::::::::::::::::::::::::::::::::::::::::::::::::::::::::::::