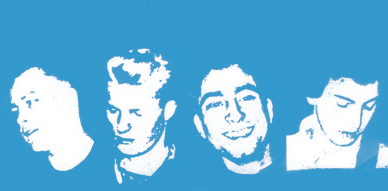 Thanks so much to Mike O'Sullivan for the interview and also to Paul Davies, also part of  the mighty City Giants! If you've never heard about this band well, prepare yourself as they were great! They only recorded one 7″ back in the late 80s but it's such a good single that well, it's timeless. Good thing is that they recorded much more stuff and will be available sometime soon it seems! Keep your eyes peeled!
++ Hi there! Thanks so much for being up for the interview. Are you still in Tooting these days? Or where in the world are you? What about the rest of the band members?
Hi Roque, Andy, Paul and myself still live in London- we all used to live and rehearse in Tooting. Tooting was best known for a very funny sit-com called 'Citizen Smith', he was a lazy, disorganized revolutionary Marxist called Wolfie, who led a rebellious group of half-hearted friends…very funny!
++ So just out of curiosity, what does Tooting has to offer? Never been there! And was it true that you were massive there?
Tooting is a town in South London, a brilliant place for Indian food! Our band posters used to claim that we were massive in Tooting, of course we were the only band in Tooting and even though our record sold more than Madonna's in the local record store- there was a touch of irony involved in the statement…
++ Let's go back in time. When and where did the City Giants start as a band? How was the recruiting process? Where did you knew each other from?
Andy and Mike the drummer were friends and posted an advert in the New Musical Express, looking for a bass player. I'd just moved to London from Cardiff to start Art School, answered the ad and joined the band. Paul used to come to our gigs and loved the band and joined later.
++ And why the name City Giants?
The band were originally called the 'Southern Movers' and one day with no real discussion we changed it. Andy came up with the name and it stuck.
++ Were the City Giants your first band?
I guess we all tried to form bands before we met, we were all pretty young at the time, so this was our first proper band!
++ How do you remember those early days of the band? Lots of practicing? What did you do when you weren't making music? Where did you all hang out?
Practicing was great fun, we used to rehearse above a Fish and Chip shop in Tooting which was probably detrimental to sales for the owner. We always had lots of friends hanging out, doing comedy dancing and sing alongs etc.. We were all students at the time and when we weren't practicing we were gigging, we played about 50 gigs in an 18 month period. Most of the gigs were in London and Cardiff/South Wales.
++ So let's talk music. Was there a certain reason for you all to be in a band? Any sort of inspiration?
We were all massively into music and still are, how can that ever change? We were only just discussing coming across people who claim not to be into music, what does that mean?
++ You only released one 7″ single. Care to tell me a bit about each of the songs that appeared on the record?
We released only one single, the three songs were the three newest songs we had at that moment in time. I guess they sum up much of what we were about. All three songs were one take recordings played live in the studio. The first and third songs are typically frenetic and up tempo, the second more melodic. Our gigs were always very boppy/dance orientated affairs. Lyrically, many of the songs were tongue in cheek, boy meets girl disaster/comedy tales, sometimes melancholy, sometimes ridiculous.
++ It's such a fantastic record I have to say. You released it under your own "Give it a Blast Records". Good name for a label! How did you like that part of the music "business", you know, selling, promoting, distributing?
I guess like many bands, we were so busy playing, practicing and doing our day stuff that eventually we ran out of steam on the business side of things. One of the highlights was meeting John Peel at Radio 1, who was kind enough to chat and play our record. We had a number of big/small record companies and management interested but weren't really prepared to compromise in terms of leaning into the pigeon hole that might have made us more attractive commercially. Ultimately, we loved playing live and were prolific song writers, but eventually you come to a crossroads and we had to stop. It's very exciting to start again with a bit more wisdom and experience. The same passion is still there!
++ Why didn't you get to release more stuff? A little bird told me there are plenty of unreleased tracks!
We've got a dozen or so tracks from that time which are being re-mastered now and we are just considering who and how that album will be released. We've been amazed at the interest from all over, especially from Japan!
++ Perhaps there were demo tapes that you sold at gigs? Do you remember that?
We've got loads of live gigs recorded and even an early DVD of a gig in London, with some unfortunate nakedness and some very comical audience dancing.
++ So yeah, what about gigging? Did you gig lots? What was the furthest you played a gig? Any favorites?
We played a lot in Cardiff and remember breaking down on the way to a gig once which wasn't good, not exactly rock and roll getting to the gig being towed by the AA truck. We played lots of small/medium sized venues in London, they were all good fun.
++ I heard you are going to have a track featured on the Leamington Spa Vol. 8! Care to tell me about this song?
150 seconds of genius!
++ That compilation series covers lots of great bands from the late 80s in UK that shared that great guitar pop sound. Did you have any favorite bands then?
Lots of different influences from different eras. Everything from rockabilly, punk, soul to rare groove,
++ Also during that time there was a big explosion of fanzines covering these kind of bands. How involved were the City Giants with them?
Not at all, always good to get nice reviews though..
++ Alright, so the sad part, when and why did you call it a day?
At the time I think we fulfilled various musical ambitions even though not commercially successful at that time, ultimately life goes on and timing is everything!
++ After that, were you involved with music?
Very much so, but I think we all wished we had stuck at it with the City Giants. It's bizarre to bump into people on the street after all these years who still quote your lyrics to you with a little smile.
++ And what are you all doing these days?
Hopefully going to record a few new songs very soon and maybe even some gigs in the not too distant future.
++ I hear there might be a retrospective album including lots of unreleased stuff, is this true? What are the plans for the future?
The retrospective album will be ready in a few weeks, I'll send you a copy asap!
::::::::::::::::::::::::::::::::::::::::::::::::::::::::::::::::::::::::::::::::::::::::::::::