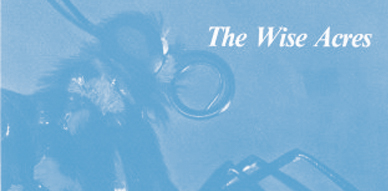 Thanks a lot to Sharon Bain for the interview. A bit more than a month ago I wrote a little piece about this great Scottish band on the blog and discovered that not only they had another record released, but that there were unreleased songs. I was lucky to stumble with Sharon on Youtube and now well, hope you all enjoy the interview. Great band! I really hope that retrospective CD project works out! I'd love to listen to it!
++ Thanks a lot for being up for the interview. So first question, whereabouts in the UK were The Wise Acres based? Are you still living there?
We were all brought up in a town just outside Glasgow…Renfrew. John, Sharon and Margo still live there…Rab stays on the other side of the River Clyde…Clydebank now. We all moved to different places when we were younger but have returned to our home town…to die.
++ So was The Wise Acres your first band? When did you form it?
Yes, it was our first band…we were originally called November but decided that was too boring a name so we all got drunk one night and read the bible for names…and came up with The Wiseacres…a name that seemed to sum us up well at the time…as people who thought they were wiser than they really were.
We started in 1985. We all used to go to a local night club that played indie tunes and had bands on. John and Rab were great friends as were Sharon and Margo so when we started talking about bands, we were all into the same music ( Velvet Underground, Iggy and the Stooges, Bowie, Spirit, Faust, Magazine, Dead Kennedys, Jesus and Mary Chain, etc) so we thought 'hey lets see if we can do this ourselves too'…
++ How did you all knew each other? How was the recruiting process? And which instrument did each of you play?
Sharon Vocals
John Guitar
Rab Bass
Margo Drums
No real recruiting process as none of us could really play (apart from Rab) but were so into music, we wanted to get up on stage and be a 'band'…total show offs. We were all friends so it seemed to work well.
++ And what does the name of the band mean?
A person with an affectation of wisdom or knowledge, regarded with scorn or irritation by others; a know-it-all. Seemed to sum us up.
++ What about gigs? Did you gig a lot? Any particular shows that you remember?
We all remember different gigs. Sharon remembers lying in puddles of beer at one gig. Playing to a load of drunken bikers in Edinburgh where the manager told us the crowd had bottled off the last indie band, however they seemed to like us. We were the house band in a couple of pubs in Paisley where we played every week…in varying states of sobriety.
++ Your first single "So Finally Sweet" was released in 1986, the same year as the C86 tape. That year an explosion of indie guitar bands happened in the UK. Did you feel there was some sort of a scene? Were you fans of any other bands of that period?
I think so, there seemed to be a load of bands that were into the same sort of music i.e. The Velvets and we definitely felt a kinship with those other bands…we hated them all tho and thought we were better than them…and we were right (ha ha….)
JAMC, The Pastels, Wedding Present, The Close Lobsters (in the early days we played a few gigs with the Lobsters…before fame beckoned and would always have a fight over who got the rider…a crate of Newcastle Brown Ale), Shop Assistants (a load of comparisons were made between us and them), The Primevals, BMX Bandits, Soup Dragons, Felt.
++ I really love the "So Finally Sweet" 7″, I think it's great! I love the guitars all over the record. How did the creative process work for you all?
John would write the song and would play it to Sharon who would come up with a vocal melody. Rab was/ is a grade 8 pianist so he would always polish up the rough edges.
++ And what about the artwork? Is that a butterfly?
The band asked a local artist to come up with a few ideas. We originally went with the idea of having a 'Warhol' type print of Maggie Thatcher, however the record label hated the idea so we went for something more 'conservative', pardon the pun…and yeah it's a butterfly.
++ My favourite song on that record is "One Day", so I was wondering if you can tell me what's the story behind it?
One Day is basically about the old Scottish phrase about 'never knowing the minute' by that we mean, life can change drastically at any given moment…esp. when you're young and having to deal with knife crime, gangs, drugs etc.
++ I never knew about the existence of the David 12″. Care to tell me a bit about this record? When and where was it recorded? Any anecdotes? The tracklist? Favourite song?
Recorded in London with Richard Preston producing/ engineering…a thoroughly decent bloke. We'd played a gig in Manchester and drove down to London afterwards. We recorded the whole thing in 2 days, while dossing in a squat in a derelict area of London with some people we knew. We then drove back to Renfrew through one of the worst snowstorms in UK history. John and Rab up front in the van and Sharon sleeping blissfully in the back. The van spun round after hitting black ice on the motorway, luckily no one else was stupid enough to be driving that night so we lived to tell the tale.
Sharon's favourite is 'Affectionate Friend' and John's favourite is 'Cuts Deep'
++ And you released both records on quite a "big" label for indie standards, Cherry Red. How was your relationship and how did you end up signing with them?
A fairly good relationship with the label but looking back, I don't think they promoted the band enough…We were just rolling along thinking the band would just continue to develop and grow. Unfortunately, it didn't work out that way. We had signed with them after sending a demo that they liked…some other labels were interested but we thought that CR was the biggest and would therefore, be best for the band.
++ On a comment on my blog post about you, Bart says there was an NME interview. Do you remember anything about it? Did you get a lot of support from the press?
The NME interview: Sharon and John caught the train from Glasgow to London esp. for the interview. However, they ate a bit of hash on the way and ended up tripping. So the interview was a bit of a blur and I think we came across as a bit aloof…not intentionally. Sharon said later on that she wanted to run away during the interview. She had previously told the journalists that she was hating every minute of the interview. We should have been slaughtered but they still seemed to like us and the published interview came across well. Generally, we got really good press and should have done more as a band given the support we had. C'est la vie!
++ What about radio? Tv? Did you ever thought about making a video for one of your songs?
We got some radio play from Radio one and Radio Scotland. Our type of music was seen as more underground than it is today and we had good feedback from some European indie radio stations also some US college stations.
We did make a video once but it was terrible so we didn't let anyone see it…we still laugh to this day about it.
++ And what about putting together all your songs on a CD, do some sort of retrospective CD? Cherry Red has been doing a lot of those, maybe it's your time?
Yeah, good idea…we may well do that. This interview has got us thinking about the band again. We might re-record some stuff and put it on youtube.
++ Tell me about the song that is on Youtube. What's the name? It's fantastic! Are there more unreleased tracks?
The song is called 'Drip Drip Drip'. We wrote loads of songs that never saw the light of day. Some were recorded, so if we can find them we may well put them on the compilation.
++ When and why did you split? Were you involved with music after?
We split because we started to drift apart as people and have other things that interested us. John stayed involved with music after The Wiseacres…to varying degrees of failure.
++ And what are you up to these days? What do you like doing in your spare time? Any hobbies?
Sharon is a Lecturer in a local college and is still into her music. She has 2 kids, her youngest has great potential to follow her mother's footsteps…. and more…
John works with drug addicts and still plays in a band (Mouse Eat Mouse). He has 2 kids, one of whom is shaping up to be a good wee drummer.
Rab works in a local casino. He also still likes his music and has 2 kids.
Margo is an accountant. Also has 2 kids. Sharon and Margo remain good friends to this day.
++ Looking back, what would you say were the highlights of The Wise Acres?
It was a lot of fun…loads of happy memories. We had our moment and it was good to be a part of something. We loved our music and enjoyed playing where ever we could.
++ As you are almost unknown in the internet, were it's impossible to find any information about The Wise Acres, I was wondering if you could tell me if you have special skills? any guilty pleasures? 🙂
Eh…Sharon has many talents however, that's for her and her husband only. Her guilty pleasure is a liking for the 80's hit song by Flash& the Pan 'waiting for a train'.
John has a penchant for flower arranging and takes a local zumba class.
++ Let's wrap the interview here, anything else you'd like to add?
Thanks for the interest and it's been a lot of fun.
::::::::::::::::::::::::::::::::::::::::::::::::::::::::::::::::::::::::::::::::::::::::::::::
Listen
The Wise Acres – One Day