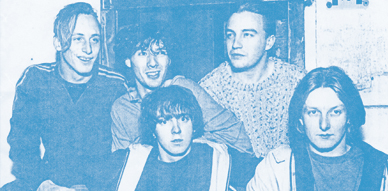 Less than a month for me to go on vacations and that feels very good. And then after that vacation in Thailand, just a month after it, I have it all booked to go to Peru for 10 days in January. When I am there, I'll even travel to the Amazon rainforest. Can't complain and can't wait for these trips to happen.
But what about indiepop? Well to be honest it continues to be slow at Cloudberry HQ. At the moment I'm waiting for The Seashells 7″s to arrive, and they should early in November. I hope they arrive the first week, as after that I will be traveling and won't be that convenient for me as I won't be able to post any orders. I'm crossing my fingers that they will arrive early.
After that we have the Pale Spectres 7″ and the Some Other Day retrospective album of course. The latter hasn't been announced on the website but will be up there for pre-orders soon. We are waiting for a handful of songs to be mastered. The artwork is finally done. Those are the three releases confirmed for the moment and who knows what will happen next. Can't promise much really as don't want to go into debt! I have to say that if sales don't get better the outlook will be a bit grim. And yes, I do understand prices are high at the moment but what can one do with such an unfriendly postal service?
What about indiepop news? I haven't seen many important news lately. But let me see what I can dig for you.
First off the Lost Tapes compilation, that includes (sadly for me as I will probably see no sales for their 7″ on Cloudberry) all of their previous singles, "We Thought It Was Okay At the Time (2013-2015)" is now ready for pre-orders on Shelflife Records. It will be released in both vinyl and CD formats and includes 14 songs. This is a must have for any pop lovers as their songs are pure pop bliss. It's release date is January 13.
My friends of Linda Guilala have a new video out as well. It is for the song "Accidentes" that was included in their last album "Psiconáutica". This is one of my favourite tracks in it. In the video one can notice that the band has changed lineup, but of course Eva and Iván are still in the band.
Lia Pamina, also on the Elefant stable, has a new video as well. I really loved the 7″ she released time ago, that one touched by Roger Gunnarsson's magic wand. So when I heard she was working on a full album, to be released in November, I was giddy. Things have changed though, now Lia's music has changed it seems. It is a bit different, not as immediate and catchy perhaps, more elaborate maybe. It is still very good and enjoyable, though I won't lie and say I prefer this over her previous effort. You can catch a preview for the album on the video for "Love is Enough".
And Juvenile Juvenile, the amazing band from Japan, also have a video for their latest single, "Perfect Lies". I have already raved this 7″ and here it is in all of it's splendor! What a song!
Last week I also posted on my personal Facebook a cool video of Grand MacDougall explaining, talking about, the Splash One posters. If you haven't seen it, I highly recommend checking it out. Anyone who likes design and indiepop will love this!
And on that same account of Vimeo, there's this cool video of Martin St John discussing his tambourine and more! I actually just finished his book about his time in Primal Scream and it was SO GOOD. Please read it!
————————————————————
Last week I wrote a bit about the Manchester North of England compilation box set due to be released on Cherry Red. It came to my attention, on their Facebook page, that they were trying to get in touch with a band called The Days. I thought "weren't they on some Leamington Spa?". So I checked, and certainly there was a The Days on Leamington Spa 4. But no, this was a different The Days even though later I would find Discogs had made the same mistake I made.
So who were these The Days from Manchester? The first clue comes from their one and only release a 12″ EP with 4 songs: "Fly", "Time of My Life", "Jigsville" and "Wake Up". This record was released by Visible Records in 1991 (catalog VIS/00121). I couldn't find any other releases on this label, might it have been a self-release then?
Happily today I found a good price for it, around 10 dollars including shipping from France, so hopefully it will be soon in my collection. That feels good.
The second clue comes from that same post I was talking about earlier. It is mentioned that they were featured in a TV special filmed in a big top in Middleton in 1991. They were featured alongside Raintree County, The High and The Railway Children. This event was christened as The Manchester Band's Night and it was sponsored by Heineken. You can watch the 16:22 minute celebration of pop music on Youtube here. In it The Days appear first, on this 6th of July of 1991, with the song Fly. It is a bouncy song, definitely Madchester, baggy, influenced. Much fun!
Someone on that post comments that he owns two tapes by them, probably demos. No tracklist provided. Then later on the thread Nik Jackson confirms him being on the band as the vocalist. Who else was in the band?
I found a The Days Facebook page. That wasn't that hard I think. How come Cherry Red was having trouble. We find the rest of the band members names: Carl Rogers, David Browne, Mark Millward, David Harvey and Paul Chadwick (joined 2012). What instruments did each of them play? And how come 2012? Have they been going still?
Well, it seems they had a website, but that one is no more online. I did find that they reformed at least around 2012 and played a gig in Glossop at The Redroom and later, in March 2013 a gig at The Roadhouse in Manchester. This was a gig were they supported the band The Celadors.
A little more digging and I find jACKSON and his Facebook page. That is the vocalist new solo project and he is thrilled to be part of the Cherry Red boxset. You can find more about him here.
Then I found a Youtube channel with a bunch of The Days recordings. Such treasure! We find here for our listening pleasure:
– A Thousand Ways
– Time of My Life
– Some Kind of Revolution
– Fly
– Lose Yourself – Recorded by Tim A. Duncan
– Wake Up (This is How I Feel) – Recorded by Nick Garside at Out of the Blue Studios, Manchester
– History
– Sunshine
– Share Me
– Jigsville (Chris Nagle mix)
– Trapped
– The Dawning Of Your Mind
– Lose Yourself (Live at the Manchester Academy)
We know from the "Sunshine" song on Youtube that they recorded a session live at the BBC in Oxford Rd, Manchester, for the Mark Radcliffe show. "Trapped", "The Dawning of Your Mind", "A Thousand Ways" and "Some Kind of Revolution" were also part of that session. "Share Me" on the other hand is a demo track that was used as the opening title music on the Granada TV show "Celebration".
Plenty of material in the end! I wonder then if they had more songs recorded other than the ones on Youtube. What about those two tapes someone mentioned. And why didn't they release any other records. Who were Visible Records? What happened after the band split?
::::::::::::::::::::::::::::::::::::::::::::::::::::::::::::::::::::::::::::::::::::::::::::::
Listen
The Days – Jigsville