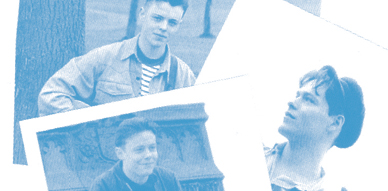 Thanks so much to Mark McCole for the fantastic interview! I wrote about The Sandalwoods time ago and Mark got in touch with me.  Luckily the band was making music again and they were up for answering my many questions! I discovered the band thanks to The Leamington Spa series and I've always been eager to listen to more songs from them!
++  So you were telling me that The Sandalwoods are back together, what are the plans for the band now? Maybe there are upcoming gigs already?
Hi Roque, we've recorded some new songs and they are in the Mixing Stage at present. They were recorded at John Ellis's Limefield Studios in North Manchester and we'll hopefully have them released in the next month or so and we'll be out gigging them also. John was a vital member of the Sandalwoods back in the day as you'll see (read on below)…
The new stuff is based on the same Indie Pop influence that we always had but we are now introducing some analogue synths and sequencers. We've kept the pop melodies but the lyrics are a a little darker and more direct. New songs (working titles): Pascal's Wager, Yum Yum, The Story of The Gullible. Attached is a snippet of Stepping Stones.
++ So far I've only heard two songs by The Sandalwoods, "The Day is Mine" and "Vanessa" and they are brilliant! If you don't mind, care telling me the story behind these two songs?
Will wrote the lyrics for these tunes and Vanessa is the only one we could probably attribute a living person to. We knew this beautiful girl called Vanessa who was the girlfriend of ones of our friends and Will decided to use her as his muse, so to speak!!
++ Both of the songs were recorded in the same session in Amazon Studios in Liverpool. How was that experience? Were there any other songs recorded then?
It was a great experience for us. We had done a few demos in various studios prior to this but this was a step up. We were lucky enough to catch the attention of a guy called Simon Duffy (worked with lots of people including the Boo Radleys) who came to a lot of our gigs and he happened to be an Engineer at Amazon Studios. Therefore, he also made the step up and Produced these tracks. As Widehead we did a few other sessions with Simon at Amazon. Will was also involved with the later Widehead stuff.
++ You also mentioned to me that you have other tracks from 'way back' but their sound quality is not the best. Even so, I would love to listen to them! But my question is, how many songs did you record and if you remember the names of them?
That's correct Roque, we recorded many tracks either in small studio's or on Will's Four Track Recorder in his apartment. Attached is the track Calendar Girl from Manchester Vol. 1 CD which although not great quality hopefully shows the rougher sound we were into around 1994. Also, attached is a track called Appetite which was a track from one of the Amazon sessions in 1991 (not great quality as it's an MP3 derived from a recording of a tape).
We have around 25 songs recorded from back in the day so I can't list every song title but a few stick in the mind: Snake in The Grass, Normal Henry, She Loves You, I'm Just A Gift..……
++ Let's go back to the early days of The Sandalwoods, to 1986. How did you, Paul and Will met and what made you start a band?
I'd heard of Will, who in the North Manchester area was known as a quality guitarist and he had a 1963 Telecaster which was unheard of for kids in our area! Paul met Will in 1985 and Paul played him a song he wrote which was inspired by The Monochrome Set. Will liked it and that was the start of it really. Together with our close friend Martin we formed the band.
++ And before The Sandalwoods, had any of you had been involved in bands before?
As a teenager Will had already played in a few bands including The Butchers with ex-school friends including Tony Kirkham (now keyboards for the Stereophonics). Paul and I played in a Rockabilly outfit called the Toy Town Trio.
++ What would you say are your first music memories? What sort of music was played at home while growing up? What was your first instrument?
The usual Parent influence for Paul and me which triggered our Country/Rock n Roll/Rockabilly interest which we still enjoy today. A big influence for Paul and I was an older cousin Mozz, who was an original punk who saw all of those bands (Stranglers, Clash, Buzzcocks, Joy Division etc.). He really introduced us to New Wave and very early Indie Music (Orange Juice, early Prefab Sprout etc.). Mozz Doogan has released 5 Albums under the pseudonym Transmission 13:
http://louderthanwar.com/transmission-13-stars-shine-darkness-album-review/
On top of that Paul and I used to obsessively listen to John Peel (every night 10pm) which opened us up to more eclectic music like The Monochrome Set. Will was obsessed by music from a very young age and was a Bowie, early Roxy Music, Talking Heads and Velvet Underground fan before he hits his teens. Will has a really wide range of musical and guitar influences which has been a very important element of our sound over the years
We all started our music life playing the Guitar.
++ Who came up with the band's name and why the name?
Martin Fisher came up with the name. We've known Martin since we were 5 years old and Martin and Paul were in the same class throughout their junior and high school days. Martin has a vivid and creative mind and was coming up with several names including the ludicrous 'Uncle Fester's Shark Infested Underwater Botanical Popcorn Garden'!!!! "That's a tough one to remember Martin. Do you have any shorter ideas?" "What about The Sandalwoods" Martin replied, and it stuck. Martin left the band after about six months. He has always been obsessed with Vinyl records and it was clear his passion was going to be DJ'ing which he still does very successfully today under the guise of MARTIN BREW. Also, check out his Music Mixes under the guise of J-Walk, well worth a listen:
https://www.youtube.com/watch?v=Ctun-HFsA6s
++ I read that the band played many different styles, from country to reggae and that you also included all sorts of instruments, from sax to accordion. How did that work out for you? And how come you are more known as an indie guitar pop band?
There were a number of bands in the early and mid 80s who were really mixes genres (Prefab Sprout and the Daintees) We saw how it was possible to play a varied style from Country to Jazz, Indie to Pop and that felt natural to us. We all wrote songs and all had our own favourite genres so we decided if the song is good enough then it shouldn't matter what style it is in. So it wasn't necessarily our music that was 'Indie' it was our approach and abandonment that fitted into the indie ethos. However, we pretty much settled on the Indie Guitar sound by 88' and hence the tracks you've heard.
We all started off as guitarists but we knew we all couldn't play the guitar and also employ a keyboard, sax player, bass player and drummer. Therefore, we all learnt the basics: Drums, Bass and Keyboards and swapped around but we still needed a multi-instrumentalist which is where John Ellis (Session Player – Corinne Bailey rae, Lilly Allen, John Squire) comes into it as he could play any instrument and was a vital jigsaw piece.
++ You contributed in the 80s songs to two compilations, "This is Manchester Vol. 1" and "Manchester". How did you end up in those compilations?
This is Manchester Vol. 1 (VANESSA) – We had a good following in the Manchester area and through our gigs and demo's we got some decent reviews. Tony Davidson who curated the album liked us and asked us if we would contribute. We knew Tony had Key 103 Piccadilly Radio Station in Manchester on board which was great as DJ Pete Mitchell played 'Vanessa' many times to promote the album. As a band, you always remember your first radio play! We also had great support from Craig Cash (UK TV Show: Royle Family) who played Vanessa many times on KFM Station.
Sounds Leamington Spa (DAY IS MINE) and Manchester Vol.1 (CALENDAR GIRL) – this was simply a case of the compiler somehow knowing who we were and asked us to contribute.
++ Speaking of Manchester, how was it back then? What were your favourite places to hang out? Your favourite venues to go check out bands? Whereabouts in Manchester were you from?
Will was born and bred in Manchester and has lived here all his life. Paul and I were born in Donegal, Ireland and as small kids moved over to Manchester. We all settled in the 'rough and ready' streets of Cheetham Hill, North Manchester. If we weren't gigging ourselves we pretty much had a weekly routine of hanging out at the famous Hacienda, watching bands at The Boardwalk and spending hours at Piccadilly Records challenging ourselves to finding the best, weird and wonderful indie records.
From Joy Division onwards Manchester became a central place for music all the way through the 80's with A Certain Ratio, New Order, The Fall, The Smiths but in early 1989 everything changed with the Stone Roses, Happy Mondays and Inspiral Carpets. The music changed and the city changed in terms of venues popping up everywhere.
++ Why were you listed as The Sandle Woods on the "This is Manchester" compilation? Was that a mistake or you went by that name sometimes? And what was White Metal Music, seems your song was copyrighted under that name.
It was a case of rushing the album out in quick time that meant things weren't checked before it went to print, hence the misspelling. White Metal Music was the company Tony Davidson set up to issue the release. If we knew then what we know now then we would have controlled our own copyright. Tony Davidson knew what he was doing as he ran off the Spain with the Mastertapes!!!!!
++ How did the creative process work for you? How often did you practice? How many recording sessions did The Sandalwoods do?
We very rarely wrote a song together from scratch in a rehearsal, we didn't want to be forced into writing like this as the end product is usually garbage. We rehearsed about three times a week however, we would be lucky to get through more than two tunes a night as we always loved the music debates, the joking, the drinking etc…We wrote separately and we would play the song to each other, usually acoustically at Will's apartment. If we all liked it we would help arrange it. Whoever wrote the song nearly always sang the lead vocal on it. It's pretty much the same today on our latest batch of songs, the only difference is that we can use Garageband and Logic to demo it. No-one in the band has ever been that precious about their song, we all trust each other when it comes to the critical and appreciation side of evaluating a song. We have all become better musicians and play more instruments and there is more emphasis on melody and instrumentation rather than songs derived from block chord structures (if this makes sense).
In total we did approximately six studio sessions and lots of tunes on Will's Four Track.
++ Were there any favourite bands in town that you liked or inspired your sound? Did you feel part of a scene?
As teenagers we all jumped on the usual bandwagon at the time The Smiths, Echo & The Bunnymen, Orange Juice, Aztec Camera, Prefab Sprout, Pale Fountains etc. There was no internet back then so it was obviously a lot harder to seek out those quality indie bands. However, we quickly picked up on Will's influence regarding The Velvet Underground and we often incorporated 'Run, Run, Run' or 'I Love You Suzanne' or 'There She Goes Again' into the set. We weren't really part of the Manchester scene. Partly timing (too late for the New Order phase and too early for Madchester Scene) but also we were not tied to being part of any scene.
++ What about gigs? I could find flyers for a gig at The Gallery and The Boardwalk. Did you play many? Any anecdotes you remember?
We played a lot, from our first gig in North Manchester in 1986 at an outdoor Neighbourhood Festival we played all over Manchester including Manchester University, The Boardwalk many times, The Gallery, The Venue to name a few. We also played across the North West from Leeds University to Liverpool.
++ Did you have a good following you'd say? What was the farthest you played from Manchester?
Yeah, we had a good following in Manchester. Paul and I were lucky enough to have a big circle of family and friends and word spread via them. Will likewise, seemed to know everyone in Manchester! Will knew loads of local bands and through them we also got a decent turn out at gigs.
++ Did you get much attention by the press then? What about radio or fanzines?
We had quite a few good reviews in the NME, Melody Maker, Fanzines etc. We had a very good review by Terry Christian, Manchester Evening News but I would say Mick Middles writing for Sounds Magazine was our best supporter giving us a few good reviews. Will kept a few of these and I have attached them.
++ You split in 1990 and you went to play in many different bands. Care telling me a bit about these bands? Did you release anything?
As Will previously mentioned, Paul and I started Widehead and Will played in this band later on and we just did a few demos in Amazon Studios: Tracks – WIDEHEAD, WALK ON WATER, PERSPIRATION and APPETITE. By the time we hd hit the late 80's the Pixies were a huge influence and we took a British Indie Pop sound and introduced very Pixie-esque guitar playing
Will was heavily into his Guitars at this stage and built up an armoury of vintage guitars and over 200 vintage and exclusive guitar pedals.
He was the subject of a feature article in the renowned Guitarist Magazine around 2002. Will went on to play with Pete Wylie, Andy Rourke, Brian Glancy (AKA The Seldom Seen Kid) and may more.
++ You reformed in 1994 with a heavier sound and then almost immediately became a covers band, right? Why the decision to reform and then change to a covers band? Are there any recordings from that heavier sound period?
The track Calendar Girl came from this 1994 session. In reality we never really 'split up'. We have always had phases were we get together play and record and then leave it for a year or two. As we got into our thirties and early forties we had more commitments but thankfully we are now ready to go again hence the new stuff. The covers stuff was just about having a bit of fun and keeping up our playing, however, we were adamant that we would only cover New Wave stuff: Jam, Undertones, Tom Robinson, Squeeze etc
++ Then when did you split again? What did you all do afterwards?
As stated we just lay fallow for a year or two at a time and just got on with our jobs, family etc.
++ Aside from music, what other hobbies do you have?
Will has no other interests apart from Music especially Guitars, he sleeps with a different one every night!! Paul and I love our sport especially Rugby and the famous soccer team Manchester United.
++ Are you still based in Manchester? Has it changed much? What are your favourite places now, any good bands around now? what are the sights no tourist should miss?
Will and I are based in the Prestwich area (home of the Fall and Elbow) of North Manchester and Paul is based in Liverpool. Manchester is even more vibrant and exiting now than ever before. It definitely is the 'second' city behind London and the music scene is massive. The only issue is that the music doesn't feel as exclusive as it once was in the late 80's/90's because there is so much of it now.
++ What would you say was the biggest highlight for The Sandalwoods during their time?
Paul was in the bathroom of The Crown and Anchor Pub in Manchester City Centre around 1990 and saw a piece of graffiti on the bathroom wall. It read: "All Manchester Bands are shit including New Order, Happy Mondays and The Sandalwoods". Not bad company to be in!!
::::::::::::::::::::::::::::::::::::::::::::::::::::::::::::::::::::::::::::::::::::::::::::::