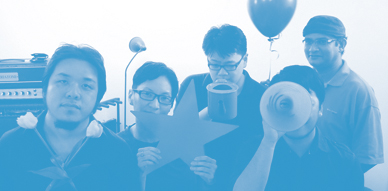 Thanks so much to Warren Chan for the interview! Ferns, the great Malaysian band, have just put out their second album, "Fairweather Friends", and it's just GREAT. I suggest everyone to check it out. On this interview we cover their beginnings, their new album, Malaysia, and the future. Also there are still some copies of the split 3″ on Cloudberry, don't miss that one too!
++ Great to see you back! This second album is really beautiful, I'm enjoying it lots. It's been some years since the first album and I'm wondering how do you think the band has evolved? What is different in Ferns these days?
Much obliged. Well, myself and keyboardist Abby are the only original members left from the 1st album, so the band dynamic changed quite a bit. While I am the primary songwriter, I usually just bring in a sketch of the song into the studio for the rest of the band to apply their own special touches. I've never been in favour of stamping a 'one true vision' on the band because that's just limiting and plain un-fun. This is why I really value all the different musicians that have collaborated under Ferns all this while. Because for me, it's kinda like having the chance to sample of all the best dishes at your favourite restaurant – for almost a decade now! These days, I'm working with a group of different, but no less exciting musicians to play with. We're a lot more loose and carefree than previous incarnations, and I think that kind of reflects in our new album.
++ The second album is titled "Fairweather Friends". What's the story behind this name?
There wasn't any real plan for thematic cohesion. After recording the album, we took a listen, and a number of the songs happened to reflect the same lyrical motif – weather. I guess I find it rather ironic that even while living in a tropical country such as Malaysia, people still have this romantic obsession with the four seasons – which we don't ever get to experience. It's just hot or wet here. That's actually what the song "I Should Be Having More Fun" is about. Making the best of our meteorological destiny.
++ Which is your favourite song on the album and why?
Personally for me, I'd have to say "Miss Stormcloud." It was actually the first song I wrote for the new album, and stylistically it sort of charted the direction for the rest to follow, at least in spirit. The music was recorded live with minimal overdubs, so there's this unreproducible relaxed vibe. The stars aligned somehow, allowing that performance to sound really special to me. It was a point of time when I said, "forget it!" – "I'm going to stop being obsessed with chasing perfection, put away my reverb and delay pedals for abit and start writing back-to-basics pop songs". If we didn't get "Miss Stormcloud" right, I think the album would have sounded much different. Less fun, for sure.
++ Are you avid indiepop fans? Who would you list as Ferns influences?
I wouldn't say avid per se. We're definitely familiar now with the indiepop legacy (e.g. Sarah Records, C86), but this wasn't always the case. I'd say that our sound is actually a happy accident derived from not actually having any indiepop influences originally. This is because all that great music was really difficult to get access to while we were growing up. And by the time we got to it, the "hey-days" were already over. Our 1st album ("On Botany") was actually an interpretation of what we thought a mashup between psych-folk pop (Flaming Lips, Mercury Rev) and shoegaze (Ride) might sound like. For some reason, fans around the world started identifying us as twee/indiepop.
Our new album "Fairweather Friends" actually benefited from greater familiarity with classic / newer indiepop stuff. Its hard not be influenced by all the newer generation of pop musicians such as The Lucksmiths, Pelle Carlberg, Camera Obscura, Jens Lekman and of course the mighty Belle & Sebastian – all of whom we have the pleasure of watching live in SouthEast Asia these past few years (Ferns opened for Pelle Carlberg and Club 8 for their Malaysia show back in 2008). But in the spirit of diversity, I still hold a special place in my heart for psych-folk and country rock tinged acts such as Wilco and Grandaddy as well.
++ Tell me about the recording of the album? How long did it take? Any funny anecdotes? What beer did you all have while at the studio?
All in all the album took about 3 years+ to record. It was actually meant to be a quick-n-dirty EP after the rather laborious process of "perfecting" the 1st album. But life got in the way and from an EP, an album was born song-by-song. We just couldn't stop ourselves! After that initial batch of 4 songs, we kept writing and adding on "just one more killer song" that had to be an the album. We ended producing the album ourselves, recording at two different professional studios and bits of home studio additions.
We all don't really drink, but food is a particular obsession for all Malaysians. Might do a culinary-themed one in the future!
++ And who is releasing the album? Is it self-released? Why did you decide to go that way?
The album is completely self-released with some distribution help within Malaysia from Soundscape Records. It's a particular quirk of the local industry where independent bands in the middle don't really benefit from being under a record company. Better to be in charge of your own destiny, as all the tools are readily available for you to promote your music. Although we'd to say, it really is like having a second job, at times! But it really is a satisfying experience at the end of the day. It's like the production process – I think every band should at least attempt producing an album before rushing to throw money at big-name producers.
++ The artwork for the CD is amazing. Im a sucker for illustration. Care to tell me a bit more about the artist behind it?
The artwork was created by an amazing and talented artist called Shieko (http://shiekoreto1.blogspot.com/) She's pretty well known in the local pop art scene, and her style skews towards the irreverent and quirky – which was a perfect fit for us. We were basically looking for an artist with a flair for storytelling and fuzzy-edged social commentary, so we're really happy she agreed to work with us. We basically just told her to do whatever she wanted. With a few basic concepts from her, we mixed and matched elements of what became the final product.
++ Let's go back in time. When did you start as Ferns? How did you all knew each other?
Ferns is an offshoot of an earlier band called This Body Broken in the early 2000s, which played melodic indie rock at the time. I was originally roped in as just the guitarist. After some time, members kept dropping out until I ended up (somewhat reluctantly) in the frontman / vocalist role. This was actually my first experience writing and singing songs in a proper band. It really was a learning experience, which I somehow muddled through and got better at it, thankfully 🙂
After a few years, we decided to drop the This Body Broken moniker, because well, we were just sick of playing heavy rock music – and low-key has always been closer to my temperament. Our only criteria for the new stuff was that it was to be poppy, catchy, played without distortion and swathed in reverb! You'd be surprised, but at the time we started, there were practically no other bands within the indie scene with that kind of sound. Everything had to be loud, for some reason.
With the stylistic shift, it also made sense for us to go with the "Ferns" moniker. All members of the band have been friends for some time now, and we met through various means. Though, our guitarist Johan was actually found through an online classifieds ad. He was still in Uni when we auditioned him, and we were just blown away at his versatility and sensitive approach to working melody into songs. So he was definitely a rare find, because a lot of guitarists tend to overplay. He's definitely a big part of the melodic backbone of the new album.
++ Care to list me the members of Ferns and what do they play?
Ferns are Warren Chan (vocals/guitar), Abigail De Vries (keyboard/vocals), Johan Fariz Tan (guitar), Adrian Yap (bass) and Rudy Frank (drums).
++ And if these Ferns members are not making music, what other hobbies do they have?
3/5ths of Ferns are huge football fanatics (Johan, Adrian & Rudy), so conversations on footie tend to dominate among them. I'm into technology and videogame culture in general. Abby into cooking, feminism and radical politics.
++ And how did you all agree in calling yourself Ferns? Where did the name come from?
Our basic criteria for a band name was only that it needed to be short and nondescript, and "Ferns" certainly qualified.
++ How is the indiepop scene in Malaysia? Are there any other bands worth our attention?
There is no indiepop scene in Malaysia. At least not in the traditional sense of bands directly tracing influences from 80s UK indie, right down to the Swedes and whatnot. As mentioned, that kind of music wasn't accessible back then and even now with the emergence of new wave indiepop, it hasn't quite caught on, unlike say, with our neighbours Indonesia. So being the only indiepop band in Malaysia has been a rather lonely journey, but does help us stand out a little, I guess. And the response from fans from around the world has been quite phenomenal, encouraging and touching. We never expected that what we were doing really had an audience. So, not to overstate things, we do feel that we have a responsibility to keep doing this for as long as we can.
We're still a big fan of pop music in any form however, so within that milieu we really like Liyana Fizi (a bossa nova-pop-tinged singer songwriter), OJ Law (one-man production and songwriting genius who goes from Beach Boys to Curtis Mayfield at the drop of a hat) and Couple (the only purveyors of authentic power pop (think Big Star, Teenage Fanclub, The Posies etc) in Malaysia).
++ And where are the places were you usually hang out? Are there any cool record shops or bars that have good music on the background?
Record shops and social hangouts conducive to creativity are a little lacking here. We do have a vibrant arts scene, but we're not really part of that. So we'd like to say that our primary hang outs are a) the practice studio and b) eateries. 🙂
++ Do you play live often? Which have been your favourite gigs so far and why?
We play quite regularly these days, especially in support of the new album. We've played extensively in Malaysia and Singapore at various festival and smaller events, but would definitely like to go explore the region in places such as Indonesia and Thailand.
One of our favourite gigs was actually during in 2008 for the Labrador Records showcase in Malaysia where Ferns actually supported Pelle Carlberg and Club 8 in concert. It wasn't just that they were amazing performers, but also that we learned a lot from their stagecraft and were honoured by their sheer humility. We also recently played a couple of small scale gigs in Singapore at an arts cafe and pub respectively – and what struck us was the support of long-time fans who knew our songs and were generous with encouraging words. Not quite sure if its a "grass is greener" situation, but we seldom get that kind of response back home in Malaysia.
++ For many years I've been wondering, and I guess now it's time to ask, about your first album package design. Who came up with that crazy idea of having turf on the CD cover?!
I credit the idea to both our keyboardist Abby de Vries and drummer at the time Dave Wong – who is also a very talented designer / artist. Dave basically turned the idea into reality – he just went to the hardware section of the local shopping centre and bought huge rolls of astroturf. The CD printers took care of the rest (though they sure were surprised at the time!) Not sure if it'd be done before or since, but it's always been a cool talking point for people. It has been some cause for concern when bringing it cross-border through immigration though because the "grass" resembles a certain illicit substance 🙂
++ On that first CD you worked with the great Isman from Fruit Records. How important was him for Ferns in the early days? And how close do you feel to the Singapore scene? It seems they have something small but nice going on there.
Isman and Fruit were hugely important. Because without his efforts in reaching out the global indiepop community – we might not even be doing this interview with you now! So in spite of limited resources, I really do give him credit for helping to expose us to a larger audience than we ever thought possible.
We have some really great friends in Singapore, though unfortunately as with Malaysia, there seems to be no active indiepop band scene. There are however, unlike Malaysia, a small number of dedicated fans there who grew up with the classic stuff – some whom probably even managed to see the legends in action during their heyday. So we do get lots of encouragement from them, as well as younger fans who've discovered the music. It's a real treat for us and them whenever we get to come down to play.
++ And after that first CD we worked together on a split CD some years back. We included two songs that are included in the new album as well, "Miss Stormcloud" and "Antisocial Scene". What's the story behind these two songs?
Well, Miss Stormcloud and Anti Social Scene were two of the earliest songs recorded for the new album. They were part of the "quick-n-dirty" raw live sessions, which we kind of ended up sitting on for a long time and didn't know what to do with until you came along kindly to ask to work on the split CD together with Shandy Express. That's why we're still fondest of those tunes, even though we didn't have as much time to polish them up as we might have. But I think the tunes really benefited from the self-enforced limitations.
If you notice, both of the songs are departures from the style of the of the first album. We wanted big, upbeat rhythms and wide-open melodies, kind of like our version of arena rock anthems. Except, we can't really rock, so that's basically what you get.
++ A couple of weeks back I tried Malaysian food for the first time here in NYC. So good! I was wondering if you'd recommend me your favourite dish, perhaps they have it and I can try it next time!
Malaysian food is rather unique because of our country's multiracial make-up (Malay, Chinese, Indian, Native, Eurasian). Though it appears the ones that most commonly get exported are either Malay or Chinese cuisine. You probably paid a premium for what we might consider to be street hawker food over here 🙂
My favorite dish is something called "char koay teow" – which is basically stir fried rice-cake strips garnished with prawns, egg, cockles and bean sprouts. Think "pad thai" but a more intense and primal flavour. It's difficult to get right because a large part of the flavour is derived from something called "wok hei" which is a slightly charred taste you get from intense heat. That kind of blazing fire cannot be replicated with gas stoves, which is why the really good cooks use charcoal to heat up their woks with.
(PS which restaurant did you eat at? Was it called Penang by any chance?? Cos Abby is from Penang)
++ And if I was to visit Kuala Lumpur, which are the sights or places I shouldn't miss?
Brickfields, it's a "Little India" of Kuala Lumpur. Alor Street, lots of good hawker-style eating along the street. Petaling Street, street shopping at its finest – though vendors do tend to try to rip-off foreigners so do be careful.
++ And now what's next for Ferns? Already working on the third album?
Not yet actually – we'll definitely be pushing Fairweather Friends for as far as we can. Definitely looking forward to opportunities to play outside of Malaysia, around the region – especially Indonesia which has a huge indiepop scene and the Philippines, which has a lot of great like-minded acts. We actually do already have new songs in the pipeline and performed live, so those might come out as singles or EPs soon. Check out a new song live here http://www.youtube.com/watch?v=jnfraIzoh6k
We're REALLY excited though, about the music video for our new single "Hey OK." It's our first proper music video, done by the talented trio of Fairuz Sulaiman, Sarah Ameera and Shieko (who also designed the album inlay). It's a fully hand-animated affair, no stop-motion or any form of computer-aided animation. Check it out here – http://www.youtube.com/watch?v=FuUqLNZ_O-I
++ Thanks a lot again. You can promote now the new album. Where to buy it? 🙂
Fairweather Friends can be obtained via Bandcamp (ferns.bandcamp.com), iTunes, direct mailorder from us, selected webstores in UK (Pebble Records), Japan (Apple Crumble Records), selected record stores in Malaysia and Singapore. The full list of channels is here http://on.fb.me/u9yAGf
++ Anything else you'd like to add
"Keep on poppin' in the free world?" Probably been used before, but seems appropriate 🙂
::::::::::::::::::::::::::::::::::::::::::::::::::::::::::::::::::::::::::::::::::::::::::::::
Listen
Ferns – Miss Stormcloud