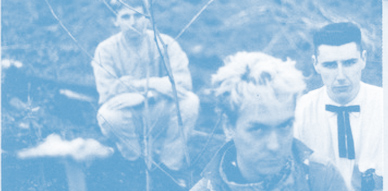 One more week into 2014 and I feel a bit more positive about the outcome for this year. I've been looking into pressing records in other pressing plants, in smaller quantities, and I think it will work out. At this time, selling 500 copies seem unrealistic, only a dreamer like me could have been doing this for so long. It's time to get practical.
A little bump on the way though, the Lost Tapes 7″ seems to be delayed in the pressing plant. Today was the release date but the records haven't arrived home yet. I have the sleeves and inserts ready but not the vinyl. This pushes back my plans! Hopefully they will be arriving next week. They were promised to me for this week, but they say they have been very busy with records for Record Store Day. That stupid day.
Indiepop news? Little. I did finish answering an interview for a Japanese fanzine that is being made by Atsushi from Mile's Apart Records. It's always an honour to be asked questions about the history of Cloudberry and the bands I love. I'll let you know when it is available especially if you know Japanese, as I doubt it will be published in English!
This week I've had family visiting so I haven't done much research or not even listening to much indiepop. I have no idea what is going on right now. The only "news" I've seen around is the announcement of Copenhagen Popfest that will take place in May this year. Sadly for me they announce the dates now when I had already booked my flight to Europe in April. A bit of a short notice. This time the return of Popfest to the Danish capital has a new crowd behind it. In the blog I interviewed in the past my good friend Danielle who with friends organized the first edition. After many years there's this comeback and it starts to shape up nicely with the sole announcement (as of yet!) of the mighty Felt Tips. Looking forward to their next choices.
Speaking about Popfests, both Madrid and Birmingham have ace lineups. Many Cloudberry bands will be joining these festivals. Only yesterday Lost Tapes was announced for Madrid! How I wish I could attend. But that's what happens when you live in the wrong continent.
But I'll stop complaining. We do have NYC Popfest and it's in a league of it's own. I've heard around rumours of bands coming to play but of course, I have to keep quiet! You should just trust the words from Maz, the organizer, when he says that this will be the best Popfest ever. Which is a lot to say considering the amazing Popfest 2013!
Well enough of chit-chatting, next week I'll come back with a proper indiepop story, it's been some time since I tell one of them. But now, let's move to what you came here for, to discover a new obscure band, right?
———————————————–
Splitting aces and eights is part of blackjack basic strategy. Rules vary across gambling establishments regarding resplitting, doubling, multiple card draws, and the payout for blackjack, and there are conditional strategic responses that depend upon the number of decks used, the frequency of shuffling and dealer's cards. However, regardless of the various situations, the common strategic wisdom in the blackjack community is to "Always split aces and eights" when dealt either pair as initial cards. This is generally the first rule of any splitting strategy.
I had no clue. Clearly I'm not a gambler. Though I admit I've been meaning to visit Las Vegas for so long now, checking now and then the price for flights from NYC to Vegas. It's never cheap though, so I keep looking.
I do know how to play blackjack I guess. I know the goals of it. Though I don't know the strategies or even less counting cards. Will it be safe to say this English band from the 80s did?
This band is as obscure as it gets. One 7″ released and that's it. Discogs though includes in their discography some stuff from the 2000s, but that's definitely another band. You should ignore that. The only release we care for is the one that has "Hard Luck Stories" on the A side, and "Love is a Duel" on the B side. Do you like horns? Well, then you might like their songs.
I've seen "Hard Luck Stories" listed many times on Rupert's Turntable Revolution blog. But I have to say for me, my favourite of the two, is "Love is a Duel". The music reminds me of one of my favourite bands ever, Friends. Sure, the vocals are a bit different, but the music does reminisce as it has those glorious horns, and upbeat hooks.
Sadly I only own Mp3s for these songs. I've been looking for their record for some time now, but it's been a hard luck story (pardon the terrible pun). Happily online, on cat45 there are some scans of the record and so we can learn a bit about this mysterious three-piece outfit.
The record was released by Other Records in 1987 (catalog OTH8). It seems it was their last release. Before that, this Oxfordshire label founded in 1985, had released singles by bands I've never heard like 5:30! and Virtue, as well as a bunch of compilations that include even more strange names for me like The Black Riders, Teacher's Pet, Criminal Sex and Electric Dog Sex. Not sure I want to hear these bands. For me it's no surprise that the label changed their name in 1987 to Metalother Records, to release, just guess, metal bands.
Aces and Eights wasn't metal at all. They seemed closer to The Lotus Eaters or The Pale Fountains from the photo on the back sleeve. The band was Simon Li on guitars and keyboards, Robin Stuart on guitar and Gary Moss on bass. For the recording of the single they had guest appearances by Phil Cesar on trumpet and flugel horn and Andy Taylor on harmonica. The record was produced by Ian Show and the fun illustration on the sleeve was credited to Nicky Hunt.
How many copies were pressed. No clue. Did they play much live? No idea. Where exactly in UK were they from? My guess is from London, but that is a mystery for me as well. But perhaps someone out there reading this knows something, maybe can solve fill in the blanks. Whatever happened to them after Aces and Eights? Did they continue making music?
::::::::::::::::::::::::::::::::::::::::::::::::::::::::::::::::::::::::::::::::::::::::::::::