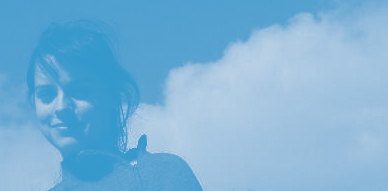 One of the worst moments in running the Plastilina label was the failed release for the California Snow Story album. We had already promoted in our website, approved the artwork, received the master, saw it leek on soulseek, but at the last minute we had to drop it. Why? Well, I guess it's not worth it to go into details, let's just say it was a 'misunderstanding'. A month later the album was released on the, now sadly-defunct, Letterbox Records label in UK. "'Close To The Ocean" was a gorgeous album, a step further for the band David Skirving (an ex-Camera Obscura) founded years before. The biggest improvement was that of the band becoming a duo with the addition of Sandra Belda. Her name was unknown for many (if not all) popkids but happily I was already familiar with her previous band: Superété. I knew, since day one, that this combo, these Batman and Robin of pop, were going to be able to craft a lush album.
I always found quite curious that the press release for the California Snow Story album mentions Sandra's past: "Sandra was previously the vocalist in the highly rated Valencia-based duo Superété. Superété recorded music in Spain in 2001/2002 and played frequently in Valencia and Barcelona in 2003 and 2004." I'm not being sarcastic or arrogant if I say that the band was and still is unknown to most of Spanish popkids. Of course, shame on them, but the band didn't really do any proper release. I do know that in their hometown, Valencia, they were quite popular though. I remember many years ago, probably around 2004, while working on a compilation for a Peru-only release called "Es Pop Mamá!", I was in touch with a band called Bisiesta, from Valencia as well. The guy from the band got me in touch with Sandra as he was so excited that someone so far away knew about this band he also enjoyed a lot. Those were the days when no one was on facebook or myspace, so it was straight to MSN, on a three-way conversation. Sadly Sandra was a wee busy working at the hospital and couldn't talk much. I joked saying she was the "Enfermera de Noche" (the night-shift nurse) which is a classic Spanish pop song by La Mode, we talked a bit about music, and then she had to go to do her duties. I never heard again from her till the day we got in touch about California Snow Story.
Back then there was a Superété website (which was www.superete.tk). I think at some point there was a Myspace. Today there aren't any remains of them, it's like Scipio Africanus' troops punished them. But if memory serves, Superété were a duo, a boy and girl duo, just like California Snow Story. It was formed by Sandra and Julio in Valencia. I'm guessing the press release is wrong when it says they recorded songs between 2001 and 2002. Their first EP dates from 2003. The second was released a year after and it's a bit different, you can tell the band grew up. Also, worth searching is a EP released by Julio under the name Julipop. How does it sound? Not so far from Superété, just that it had male vocals.
These are the two self-released EPs by Superété:
Cuando Amanece EP
01. Te Vas a Enterar
02. Septiembre
03. Cuando Anochece
04. Mi Robot
05. Cuando Anochece (Bot mix)
Superété EP
01. Tu Silencio
02. Martina Feliz
03. La Groupie Asesina
04. Te Vas a Enterar (Bot mix)
05. Cuando Anochece (Sleepdancing bot mix)
I'm giggling while listening the wonderful "Martina Feliz" (Happy Martina) who seems was a big fan of Le Mans! Or "La Groupie Asesina" (The Assassin Groupie) with those brasses and devilish lyrics! Or the playful "Mi Robot" (My Robot) which reminds me the happiest moments of the genius Antonio Galvañ from Parade.
They played many gigs in Valencia, even opening for Cola Jet Set, now a known name for UK people after their gig at Indietracks. Also the duo played along other favourites of mine, Nobel, who surely deserve some lines in this blog. On top of that, Sandra was also involved in writing stuff for the Jamacuco fanzine, which still is around. I guess I can still ask Sandra about the band, but I haven't been in touch in such a long time. I wonder what's she is up to. Maybe there's another California Snow Story album cooking? Maybe this time, I can be part of it? Or maybe I should just wait again a couple of years for news.
::::::::::::::::::::::::::::::::::::::::::::::::::::::::::::::::::::::::::::::::::::::::::::::
Listen