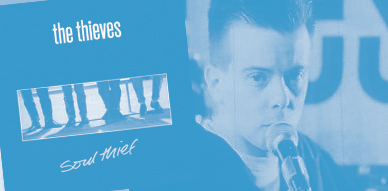 Thanks so much to Daniel Wylie for the interview. The Thieves were a Scottish band that released 4 singles during the late 80s before splitting. After his adventure with The Thieves, Daniel made it much bigger with the Cosmic Rough Riders. Please also check his latest solo stuff on his myspace. And now sit down and enjoy!
++ Thanks so much for being up for the interview Daniel. So The Thieves were based in Castlemilk. First time I hear about that place. How was growing up there? Was there any sort of scene? Where would you hang out and go see bands?
The Thieves were from Cumbernauld, 16 miles outside Glasgow. I was the only member of the band that lived in Castlemilk. Castlemilk is a council housing estate and had no music scene. There were band members that came from Castlemilk, for example; James Grant (Love and Money/Friends Again) and I'm sure one of Simple Mins was originally from Castlemilk and one of the guys from 80's electro duo Bronski Beat. Oh yeah and the girl singer from a short lived duo called Banderas.
++ And of course, being close to Glasgow was an advantage as during those late 80s there were so many great bands there. Did you have any favourites?
Glasgow has always had lots of great music venues so yes, it's a great city to live in. I loved Orange Juice, especially their second album, Rip It Up. Also Aztec Camera. I always had time to listen to Scottish bands. I bought a lot of their records as I wanted to support them and help them make it. It's always great for a city/country when it has successful bands.
++ So let's talk about the band. how did it start? How was the recruiting process? There's that story of the music advert at a Glasgow music store, which store was that?
Yeah, I answered an advert in McCormack's music store in Glasgow. They were looking for a singer and I'd just left a band called Pioneers West. I arranged to meet the band at a rehearsal space in Cumbernauld. My girlfriend at the time (now my wife) and I went along and I didn't like their music. They played me some really bad instrumentals. One was a ska tune and was terrible. But they were good players. I borrowed a guitar from them and offered to play them some of my own songs and they liked them. So I was in.
++ Were you involved in bands before The Thieves? Or was this your first experience?
Yeah, I was in a few little bands. Cubic Zirconia were a covers band. We played two gigs then the keyboard player and myself formed Transaction. After that it was Pioneers West and then for about two weeks I was in a band called India. Then I joined The Thieves.
++ Why the name The Thieves?
We were called The Bicycle Thieves but then found out someone else had that name so shortened it to The Thieves.
++ How does the creative process work for you? What comes first, music or lyrics? Do you usually get inspired by anything in particular?
Vocal melodies come first 90% of the time. Other times I might just be strumming the guitar and a tune will pop into my head. Lyrics are much more difficult. I wrote some of The Thieves songs on a Casio keyboard.
++ How many guitars do you have? And do you have a favourite?
A. I have two cheap acoustics. One I wrote all the Cosmic Rough Riders songs on which I no longer use. I keep it as a relic from my past in remembrance of a really creative period in my life. My son plays guitar (and he's great) and he has another three guitars. We only have one electric in the house. A Fender Telecaster. A white one that I bought my son for Christmas a few years ago.
++ How about gigging? Did you gig a lot? What are your favourite Thieves' gigs? And why?
The Thieves played a lot of gigs and recorded a lot of songs. Mostly demos but there's an unreleased album we recorded at a studio called Shabby Road, which was owned at the time by The Trash Can Sinatras. One gig I enjoyed was at Kelvingrove Bandstand. My friends, The River Detectives were also playing that day and it was broadcast on Radio Clyde. I also loved supporting The La's in Edinburgh.
++ Your first release "Talk Your Head Off" was recorded at Park Lane Studios in Glasgow. How do you remember those recording sessions? I read that Trevor was only 15 back then!
Yeah, Trevor was still at School. The sessions were pretty terrible. The engineer totally messed it up and the mix was shocking. The mastering at Abbey Road was even worse. We still had a lot to learn 🙂
++ You formed a label to release this single, Planetarium Records. How did you like doing label stuff? Did you find it easy to do promo and distro back then?
A. We had no distribution for the first single and ended up giving most of them away to people attending a gig we did at Barrowlands supporting Simple Minds. We got it sorted after that. We did almost all of our promo ourselves, learning from our mistakes as we went along.
++ What about your appearance on Famous For 15 Minutes. How did that happen? How was the experience of being on TV?
We had recorded some 4 track demos with Jim Brady (who helped us out on keyboards). We heard about the TV people looking for demos and sent off three songs. I had just written Star Spangled Banner the week before we did the demo. My Girlfriend (now wife) had just gone to work in America for three months and it was a funny look at me missing her. There were 12,000 entrants and the guys chose us because they loved Star Spangled Banner the first time they heard it. The other songs on the demo were Stranger Today and Silver Rain. Being on TV was strange and we became instantly recognised around town. It's a bit creepy when people you don't know think they know you. 🙂
++ And how was the experience working with Harry Enfield?
I didn't even know who he was at the time but the other guys in the band knew his TV comedy. He was lovely. Genuinely a nice person. He would sit with us for lunch and ask us all about our music and what life was like living and working in Glasgow. He kept re-writing his script and would learn his lines in minutes. He's a bit of a genius to be honest and a very nice man. Geoff Wonfor, who directed Famous For 15 Minutes, went on to direct The Beatles Anthology documentaries. He also worked on music show The Tube.
++ This appearance makes me wonder. It feels you were on the verge of something bigger, was there no interest from bigger labels? Why do you think it didn't happen?
Labels would come up and see us but would never commit. We were doing well on our own so didn't really care. We were selling 4,000 copies of our singles (ep's) and selling out The Mayfair (now The Garage). We were getting good support shows at the Barrowlands and around the country and we'd been on TV and built up our own following. We were our own little gang with our own record label.
++ You released, after the 7″, a string of three 12″ singles. Which song of your repertoire would you say is your favourite? And why?
From The Thieves repertoir? I like a couple of the B Sides. Calling All Stations and And Then He Died. I preferred the direction we were taking by the third ep and I like the song Paper from the Rain ep.
++ For me it is, "And Then He Died" is such a fantastic song, it stands up clearly on the Leamington Spa Vol.5 compilation. I was wondering what's the story behind the song?
I wrote the lyrics and the melody to a chord structure Tom McGarrigle was playing one day. It's about suicide. A friend of mine commited suicide by hanging himself but I didn't want the song to be graphically about his suicide. So I generalised it by turning it into a story of a body being found and a suspected suicide. I also wanted to keep the song upbeat and angry, not melancholic and depressing. You get angry when someone that matters to you like a good friend ends it all.
++ I still haven't been able to get around to have your releases, and online there is no tracklist for the 12″s, would you mind writing that down for me?
The first three are on Planetarium Discs and the fourth is on Limo Records.
Theft 1. Talk Your Head Off/The Party
Theft 2. Soul Thief/And Then He Died/Souvenir Of 1969
Theft 3. September Rain/Anxious Moments/Calling All Stations/The Splendid Gift
Limo 1. Rain (Beatles cover)/Paper/Can't Hold Back/Sound Of Music
++ And what about compiling all your releases on some sort of retrospective album, have you ever thought about doing that? Is there more unreleased material?
I haven't thought about it. There's a lot of material. Lots of demos and unreleased songs. It would be difficult to source the masters and a lot of stuff is on cassette and DAT. There's about two or three albums worth of songs.
++ When and why did you split? What did you all do after?
Trevor the Drummer was first to leave. We replaced him with Stevie Boyd and I thought we improved but then Trevor's brother Mark (guitarist) left. He wanted to go explore the world and wasn't getting to see much of it being in our band. The Thieves morphed into a band called Rise and we almost got signed by EMI but it didn't work out and people were getting into different kinds of music. At the time I thought it was a mistake to break up but of course, I went on to make solo records under the name Cosmic Rough Riders and managed some success. I got signed by Alan McGee had a couple of top 40 singles and sold over 100,000 albums. 🙂 Tom McGarrigle from The Thieves still plays on some of my records.
++ And what are you up these days? Still making music?
Yes. I've released over 100 songs over the last 11 years. Nine albums counting Cosmic Rough Riders and solo releases. I have a new album finished but haven't found a label yet. Check out some tunes from it at; www.myspace.com/danielwylie
The Thieves was my apprenticeship before I got much better.
++ I've been a couple of times to Glasgow now, and I've learned to enjoy the city and the haggis and the Irn Bru. I was wondering if you'd recommend me your favourite sights in town, restaurants, and perhaps any particular Scottish dish that you like?
I never eat out. I'm a choosy eater. I don't like haggis and I don't drink Irn Bru. I love the Transport Museum. In fact, I love all our museums and there are plenty of venues to watch bands. My current favourite is the 02ABC. Did you know it's free to get into any museum in Glasgow?
++ One last question, I interviewed Neil Sturgeon not so long ago and I've seen you have played together with him live. How did this collaboration happen? And what does Neil bring to the table? I can see that you have similar musical taste, no?
Neil is a great friend. He plays guitar on my last two albums, Car Guitar Star and the (as yet) unreleased new album, Fake Your Own Death. I've known him for years. Since I was in The Thieves. I've demoed my last two albums at Neil's house. I just turn up with my acoustic, he sticks a mic in front of me and I play him 16 or 17 new songs I've written. Once I decide which ones are being recorded, Neil will learn them too. He's a great songwriter himself and I would say we're big fans of each other's music. He also toured Spain with me as part of my band and also played some solo sets on the tour. He's one of life's good guys and is massively talented. I would urge everyone reading to check out his music.
++ Thanks again, anything else you'd like to add?
The Thieves interest from around the world astounds me in a nice way. When I look back, we weren't as good as I thought we were at the time but it's still nice to have some starting point to remind me of where I began to get my act together as a songwriter. Needless to say, in my opinion, I got so much better and looking back reminds me of just how much. 🙂
::::::::::::::::::::::::::::::::::::::::::::::::::::::::::::::::::::::::::::::::::::::::::::::