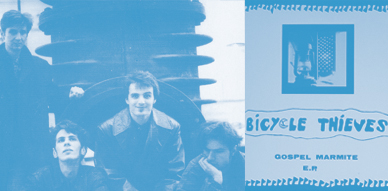 Just a few more days for vacations. So needed! But my commitment to indiepop continues, hopefully with at least one more post before Friday. This year I want to finish this exercise of finding fine guitar pop, indiepop, around the world. I think I'm getting closer. Maybe at the end I can do some sort of diagram or graphic of the countries I found bands worthy to be featured here.
But as it is usual I don't only care for the old, the classic, pop. I also want to find new sounds, new bands, the new generation of indiepop. So here are 5 recommendations to start this week!
For this review of new indiepop I must thank Pierre and his indiepop Facebook group Twee Lovers Club. It is there where I've found all of these!
The Primitives: The classic and legendary band has a new video by The Primitives for the song "Oh Honey Sweet". This song is being included on the 10″ titled "New Thrills" that is being released by Elefant Records.
Math and Physics Club: their label, Matinée, has just unveiled the song "All the Mains are Down" on SoundCloud. This song is the first single from the forthcoming album "Lived Here Before".  It is a brilliant and lovely by this already classic band who I've seen a few times, but never in the US I think! There are no more details about the record, so we can only wait!
The Legendary House Cats: John Girgus from Aberdeen has a new release out on his Bandcamp under this name. There are 12 songs which as the Bandcamp says are a collection of digital and streaming releases by this project. There are some remixes and some covers as well as some originals, and happily it is available on CD.
White Shoes & The Couples Company: the Indonesian band who has been around now for so many years (I remember we featured them on my very very old indiepop blog Mira el Péndulo) has a new video for the song "Hidup Hanya Sekali". Here they add quite a Latin flavour to it. Or maybe that's their new style? I haven't been following them for years now if I'm honest!
Rocketship: the Portland based band has a new flexi disc out titled "Songs from Yorozuya Detective Story". Yes, these are songs that were included in the movie with that name which I haven't seen. Have you? The songs which are very very short are "Sisyphus Strut", "Low Moon in Cancer" and "Low Strings in Cancer". They are nice instrumentals, though I wish of course they had lyrics. You know me, I need lyrics to love my indiepop. But then, that is just me.
———————————————–
Approaching the 40th featured country/band little by little. Today it is number 38 and it is the turn for Austria and the band Bicycle Thieves! Don't confuse them with The Bicycle Thieves from the UK that we covered many years ago on the blog!
I know very little about the band to be honest. I only discovered about a week ago! I was trying to find out fine guitar pop from Austria and it turned out to be a difficult task. I knew of Die Brüder which Uwe had once recommended me and even made me buy one of their albums from a second hand shop in Berlin. But I thought that they were quite popular, not very obscure and you could easily find information about them on the web. So I had to dig further.
It was thanks to a blog called the Austro-Rock-Lexikon that I was going to find out about Bicycle Thieves. I thought their name sounded poppy enough, especially as there has been an English band with that name in the mid-eighties, and I tried my luck.
I was to find a treasure trove of press clippings and photos. They all looked very much DIY, in the indiepop spirit. I was sure I was in the right path to finding something interesting. What's even luckier was that as soon as I searched for them on Google I was to stumble upon their Bandcamp. Now I could listen to them too!
So while I have their music playing I start my indiepop archaeology on Discogs. There I end up finding out that their first record, a 12″EP, came out in 1989 on Moon Records (catalog Apollo 1).  The "Gospel Marmite" EP is perhaps their poppiest, and definitely my favourite of their releases. On it they had 3 songs on the A side and 4 on the B side, 7 in total. On the A side there was "Mirror Man", "Leaving By Train" and "There She Goes My Mind" and on the B side, "Bullets in My Gun", "Sunflower Island", "Down by the Fishes" and "Worms for Breakfast". I listen to these songs and I think of Flying Nun Records. Don't you?
On the back of the jacket we see that the band was formed by Ronald Hartwig, Peter Fally, Fritz Hartwig and Johannes Hönlinger. They were based in Vienna and the songs were recorded between January and February of 1989 by Gebhard Sengmüller. All songs were written by Ronald and the extra backing vocals on "Sunflower Island" are credited to Gary Danner. The artwork has these very cool insect diagrams. I like it a lot.
After this release their first album was to be released in 1991, "King Backwards II". It came out on Moon Records (Apollo 2) and had 10 songs. I start to suspect that the label was their own. The A side had "Joe", "Applecake Town", "Belgium", "God" and "Miriam", while the B side had "Mesmerized", "Romania", "Christian", "Karen" and "Magic Bus". Here I see what instruments each of them played. Peter played bass, Michael, drums, Fritz guitar and Ronald guitar too. It says that the LP came with a lyrics sheet. This LP was recorded in Berlin and the art was made by Amina Handke.  On a review of the record their sound is compared to the Postcard bands.
Lastly, in 1992, the second album was released. Titled "The Liquid Dandies", the 10 song record came out now on a different label, Sacro Egoismo (102). This was a label based in Baden and was around in the 90s. The songs on this record were "Mafia Methods, "The Liquid Dandies", "Dead Line", Life on One Leg" and "Gospel King" on the A side and "Stamboul Train", "Losing My Religion", "I Swallowed the Spoon (Instead of the Soup)", "The Fryzas" and "Kafka's Last Words" on the B side. 300 copies were made of this record.  This record was released after the band had already split. They are actually demo recordings it says, and yes, "Losing My Religion" is a cover of REM, but in a sort of tango.
I keep looking for information and notice that after the demise of the band Ronald was involved in a band called Trelkovsky. With this band he was to release a couple of CD albums. I could find a website for him but everything is in German, and I can't seem to find different information to that on the Austro Lexikon site. It also seems that today Ronald is making music under the name Diatopia.
I look carefully to the press clippings, see if there is something interesting in them. I see one where it says that the band was around from 1986 to 1991. One that mentions them playing on October 29th 1989 at a venue called Chelsea. Another from 1991 when they played the Termine venue on February 20th.
I see on Youtube a little story on the Franz Bilik channel. Here he tells his experience about finding about the band: "first came across the Bicycle Thieves when Rainer Springenschmied mentioned them in an episode of the Punkerecke in FM4 (which was about a million times better than this travesty called "Basement Show" by the way) when he asked Panza if he paid attention to any of the bands after the first wave of Austrian punk bands and mentioned the Bicycle Thieves as an example. The Bicycle Thieves existed from 1987 to 1992. Musicwise they had a British post-punk influence going on with a lot of jangling guitars and hushed vocals. And while I definitely wouldn't call the Bicycle Thieves punk in a musical way they certainly had a bit of the DIY spirit to them as well as releasing a record on the Viennese punk label Sacro Egoismo. After their split in 1992 guitarist/vocalist Roland Hartwig and drummer Michael Peter formed the experimental outfit Trelkovsky, who you can also hear on this channel."
I start to wonder if they appeared on any compilations. I couldn't find any. Nor if the other members of the band were involved with other bands. What did Fritz or Peter do afterwards?
This is definitely the first time I mention an Austrian band on the blog, perhaps there are Austrian readers and can help. What else do you know about them?
::::::::::::::::::::::::::::::::::::::::::::::::::::::::::::::::::::::::::::::::::::::::::::::