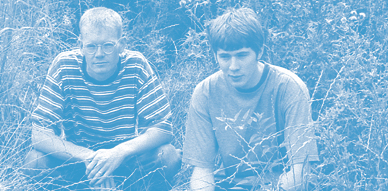 Thanks so much to Stephen and Marc for the interview!
++ Bulldozer Crash had a drummer on the first single, right? How did the band start and how did it end up being a duo?
Stephen: The drummer was Lee (Patrick) Skelly from the Prescriptions and who is now in the Peas. Patrick also designed the Sarah Said sleeve. The band was originally called Bulldozer Clarts and that was me and Geoff Suggett, but he left and found fame with the Lavender Faction. We would later record together again as Kosmonaut, Geoff also took the photos of the fish on the cover of Imperfection. I carried on by myself and asked Patrick if he would help me record some of my songs, he said yes. We went into the studio and recorded three songs but my voice was rubbish, so I left the studio gutted. Graeme Elston who at the time was in in the Love Parade (and it was he who suggested Crash instead of Clarts) put his brother Marc's name forward for vocal duties, we returned to the studio and Marc added his vocals to those first three songs. I smiled for a week after I left the studio that day.
Marc: I was at a loose end after university and missed making music, the student bands I was in  had done a bit of recording but I was always a sideman, Bulldozer Crash gave me the opportunity to boost my ego as a singer plus I was able to work with Stephen whose enthusiasm always impressed me.
++ Your first release came out on Sunday Records, the best American indiepop label (I think that's a fact). Also two later singles came out in the Rolling Meadows label. How did you end up releasing there? Usually British band at the time would release in British labels, you know.

Stephen: Albert who ran the label had heard the Bulldozer Clarts song "Walks Away" on my Positively Teenage compilation tape and wrote and asked us if we would be interested in releasing a single with his soon to be started label. I have a feeling he believed the little fib I told on the back of the PT fanzine that we had just toured the UK with the Pale Saints. We did send the first demo tape "Meek" which had the two songs from the first Sunday 7″ and "Recollections" to lots of UK labels but none of them were interested, I still have all the reject letters.
++ That first single was Sarah Said. It included "Changing", one of your most upbeat tracks, as the B side. Was "Sarah" a nod to Sarah Records? Which bands were you listening at the time? I can see that you were very influenced by the jangly guitars, but also with some noisier bands as you did a "Changing" version with lots of feedback!
Stephen: Most of the original lyrics to Sarah Said were quotes from Matt's AYSTGH fanzine, but I had to change  them, maybe a few did get left in though. I was listening to all sorts of bands at the time, The Byrds, The Beatles, The Jam, Stone Roses, East Village, Razorcuts, Choo Choo Train, Springfields, I still listen to them now. Changing was my Dinosaur Jr. song, well I thought it was.
Marc: I always loved jangly guitars from The Byrds to the first Primal Scream album, I think it's a Celtic folk thing. I felt more comfortable with our jangly side, I could never rock as hard as Stephen.
++ Automatic Smile was your second single and on this one you worked with Jyoti Mishra from White Town. He added keyboards and also produced the single. How did that happen and go? Where you a fan of White Town at the moment?
Stephen: Jyoti recorded and produced everything else we did after the first single. I was already a White Town fan, having wrote about them/him in my Fresh Air fanzine and we used to write letters to each other. We ended up working with him after a chance meeting in the Derby branch of Vision Express. Marc was working in there during his summer holidays and Jyoti came in to get his glasses fixed, they got talking and our first recording session at Satya Studios was booked.
Marc: The recording sessions with Jyoti were a breeze and he ironed out our musical creases an absolute treat. Weekends of creativity and talking nonsense about music…pure joy!
Stephen: I loved everything about my visits to Derby , I remember catching the train down before I learnt to drive and then shitting myself the first time I drove down. I thought I was the bees knees, carrying a guitar on the train, it was what I always wanted to be, in a band, recording songs and there was even someone daft enough to release them! I couldn't have been happier at the time. I loved it in Jyoti's bedroom studio , we would say "can you make the guitar sound like the one on the new Dinosaur Jr. record" and he would. The time he started muting the guitars at the start of Only Baby Heads Smiling, I can still remember thinking at the time this sounds fucking amazing, to my ears we had turned into Kraftwerk. Or when Jyoti added the strings and horns to Marc's song Upwardly Mobile Friend it suddenly it was a soul song. The moment was later spoilt by Marc by mentioning Swing Out Sister!
++ Third single is in a label I really love: Heaven Records. You can't have enough of those little Heaven zines! But something that does surprise me is that there is barely nothing written about Bulldozer Crash in these zines. Do you have any idea why was that? Why did your only British release was on this label?
Stephen: It was actually our second single, those were the first songs we recorded with Jyoti. It just became our third because Albert worked faster than Heaven. I'm not sure why we never featured in any of the Heaven fanzines, maybe they didn't like us? They wanted us to sign a publishing deal with them, we didn't want to and we didn't hear much from them again. They only ever sent us one copy of the single each and that was it, at the time I thought it was a mite stingy of them. I'm sure they must have boxes of unsold copies tucked under their beds. Years later I read an interview with a Fat Tulip and they said they  released our single because Albert Sunday had asked them to.
Marc: My best Bulldozer song was on this release, I must find the demo, it was one of those Eureka moments.

++ To close your discography you released a fourth single, Headfirst and then a mini-album, Imperfection, on Sunday Records. Was it any different to record for this format than doing it for the singles?
Stephen: It didn't feel any different because I'm sure we were supposed to be recording a 6 track 12″ and  a couple of songs for a compilation LP Ulrich from A Turntable Friend was putting out called "Calling At Duke Street". When Ulrich told us he didn't want to use them, Albert suggested putting all eight onto a mini album.
++ Which release of yours is the one you came up happier with the end result and why?
Stephen: I like them all for different reasons, I wouldn't be able to pick just one, sorry.
Marc: I love Mrs Robinson's Daughter, it has funkiness, brevity and a story…a proper pop song.
++ There was also a couple of songs on different compilations, do you remember where did they appear? There's two on a Japanese one called "Behave Yourself", there was the cover of Po's Fay on the Sunday flexi…
Stephen: We had quite a few songs songs released on a few of the Sunday compilations CD's (Sunny Sunday Smile,(I took the photo on the cover of that one) A Different Side of Sunday, Rollling Meadows – Songs about Our Past) and two songs on Behave Yourself which was on a label called Behaviour Saviour . The original version of Changing with a ton of feedback was included on numerous compilation tapes at the time, I'm afraid I don't remember the names of them all.
Marc: The version of Fay was recorded before I  was aware of the wonderful device called a Capo…very difficult for me to listen to now!
++ I guess it's a silly question, but why Bulldozer Clarts on the Positively Teenage tape?
Stephen: See the answer to question 1, it was just the original name. Clarts is a northern term for mud!
++ Why did you name the band Bulldozer Crash?
Stephen: We thought it sounded good.
++ What about gigs, did you play often? What were your favourite bands in Durham?
Stephen: We only played two gigs, one in Derby at the Victoria Inn  supporting Pure or Eva Luna, not sure which and the Heaven/Sunday gig in Nottingham both in 1991. The Love Parade will always be my favourite band from Durham.
Marc: I thought The Crimson Mints were like Pretenders and Graeme reckoned Final Kick from The Liberty Ship album was pure Crimson Mints… I was going for a Pretenders guitar style so it makes sense. I wish we'd played live more often, in some ways The Liberty Ship were a full band version of the ideas I had in Bulldozer Crash.
++ How big and exciting was having the Woosh club so near? What did it bring to people like you?
Stephen: The Woosh club was excellent, it used to be on nearly every friday night upstairs in a a pub called The Broken Doll in Newcastle, it was run by Stephen Joyce and he put on all the great indie bands of the time, I saw so many of my favourites, seeing them inspired me to write about them in my fanzine. Jesse Garon and the Desperadoes , 14 Iced Bears, The Siddleys, The Driscolls, The Pastels, Vaselines, (although those last two weren't at the Broken Doll), I also discovered lots of great local bands like The Gravy Train, The Sunflowers,The Nivens, The Crimson Mints and the Love Parade. They knocked the pub down years later. I used to record most of the gigs on a really crappy tape recorder stuffed in my pocket, I recently listened to a Jesse Garon gig and the sound quality is atrocious, much worse than I remember. Looking back we were quite lucky to have such a club.
++ I know you kept doing music after (should be another interview!) but why and when did you call it a day as Bulldozer Crash?
Stephen: I don't think we ever did call it a day. Although it's now ten years since we did any recording together. We are always threatening to do something again but we never do. Maybe one day.
Marc: Distance and real life ended B Crash, I wanted to play in a full time rehearsing band. I never consider us split up…where's that Rickenbacker?
++ I know you Stephen did one of the BEST fanzines ever "This Almighty Pop!" (should be another interview as well!), but did Marc was involved at all with the fanzine culture?

Marc: I dabbled but never for fanzines, I did a bit of blogging on music more recently. I found the indie-purism hard to understand as I have broad musical tastes.
++ You are still involved in indiepop till this day. What differences and similarities do you see between those days and the scene today? Do you have any particular stance on MP3 releases?
Stephen: I don't ever remember the music I wrote about in my fanzine being called indiepop back then, not sure when that started? It was just indie music to me and that's what Bulldozer Crash music was, I think? Today everything seems to get done a lot faster. The internet is great for that, the instant communication is certainly something I like, even though I do miss real letters. Blogs are great too for finding out about new bands, I just wish there was more paper fanzines. I don't like MP3 only releases, I much prefer something to hold, vinyl or CD. I do still rip my cd's to my computer and I like the fact that I can take lots of my favourite songs with me wherever I go on my ipod.
++ Anything else you'd like to add?
Stephen: Thanks for asking the questions, it's nice someone remembered us. If any one wants to have a listen  I've put all the songs we had released and a few unreleased ones too up here maybe someone will enjoy them. http://www.box.net/shared/tar4nsm3n0
::::::::::::::::::::::::::::::::::::::::::::::::::::::::::::::::::::::::::::::::::::::::::::::