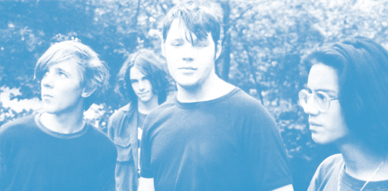 So last week was quite a busy one for the blog, 4 posts!! Three obscure bands plus one interview. I wonder how will this week fare. I'm kind of making it up to you all as I won't be posting for a whole week at the end of the month as I'm going to Spain for 9 days. So maybe if you can't keep up with my pace now, during that time you should be able to catch up with the blog.
So why don't we cut the chase and start with my new pop findings?
Graham Fellows: after 33 years he is back! I love his first album, "Love at the Hacienda", which is available again at his Bandcamp, and now finally after all that time Graham is back with a new album titled "Weird Town". It is a bit different though, maybe more folky and introspective, more mature you could say, but still the lyrics, they are great! This new 13-track album was recorded in his home studio in Lincolnshire. If you are not aware who Graham is, well, you should know that Graham was the new wave icon Jilted John who then turned to be John Shuttleworth. And in even better news you should know he will be touring the UK promoting this new album! Exciting!
Ella Blixit: don't know much about this Stockholm artist. Just saw that some friends were going to be attending a gig of hers and decided to have a listen. And I thought the songs from her "Broken EP" sounded great. Definitely this is not strictly indiepop, but it is poppy, with some great melodies thrown in there. It is electronic pop, mind you. But it is classy and elegant. A bit like what Club 8 has been transforming into in their last albums. The EP has four songs, "Winners", "Broken", "What We're Asking" and "Zu Zu Sami". My favourite, "Zu Zu Sami".
Lindh: the band sharing that gig I saw with Ella Blixit is called Lindh. So I thought why not, let's find it and have a listen. I could only find one song on SoundCloud titled "Heartcourt". It is a nice song, electronic pop again, and even though it is a bit hipsterish for many of us popkids, it is quite enjoyable. I look for any other details about Lindh and see that she is based in Stockholm/Uppssala and was previously half of the band Lissi Dancefloor Disaster.
Luby Sparks: some weeks ago I recommended the new video for Luby Sparks song "Thursday". Well that video is no more. Instead they have uploaded a much nicer video for that song! So check out the latest one by the fantastic Japanese band whose releases I still don't have. What's the best way to get them? Any tips? I was supposed to trade with their previous label, but haven't heard from them in ages. Not good!
Strawberry Punks: it is actually not the name of a band but the name of the new compilation that is available to stream on the fab Dismantled Records from Jakarta, Indonesia. There are 5 songs by 5 different bands. We have The Shoptalks' "Makiko", The Whistling Possum's "Them Are Pigs", Grrrl Gang's "Just a Game" (my favourite of the comp!), Kaveh Kanes' "This is Pure" and Odd Gesture's "Sick of You". The label says that these songs are a very good way too start 2018. I'm not going to argue that!
————————————————————-
Afterglow: light or radiance remaining in the sky after the sun has set.
It seems without giving it too much thought I'm researching bands from all over the world and not just the ones from the British Isles. That is a good thing, right? Today I wanted to find out more about Afterglow, who I thought I owned their records, but looking through my database I noticed I actually don't know any of them!! I have to fix that of course. So I had a look on Discogs and found a copy of their only vinyl release, a 7″, for a fair price. Sadly I'm still missing their two CD EPs.
I also think that they should be included in that compilation I dream of Australian indiepop from the 80s and 90s. Hopefully one day I can put it together.
Afterglow were based in Melbourne and they were around in the early 90s. They were more of a shoegaze band, and as I said they put out only 3 releases. As soon as you open Discogs you get two names that were involved in the band Dave Wroe and Greg Ng. But we see a photo of four people. This will be the one of the mysteries to solve.
But let's start in order. 1992. That year they were to release a 7″ on one of the best indiepop labels from Australia, Summershine Records (SHINE 023). The record had two songs, one on each side. On the A side there is "Fall Behind" and on the B side there's "Melt Down". Both songs were recorded in November 1991 at C'est Ca Studios which was a recording studio based in the area of Collingwood in Melbourne. At this same place The Sugargliders used to record. The engineer was Dave Hannan. Other credits on the sleeve tell us that the band took care of the art and that the record was distributed by Shock Records. The vinyl itself had runout etchings. On the A side it says "Shoegazers of the World Unite".
The next year, 1993, the band released a CD EP on the Supersonic Records label (SS103). I look on Discogs for this label. It says it was an Australian Rock and Shoegaze label but the only releases that appear are those by Afterglow. But this was catalog SS103. What was SS101 or SS102? No clues yes. Maybe it was their own label? In any case this first CD EP by the band was called "Vision" and it had 5 songs proper, though there is a 6th unlisted track which is actually all of the 5 listed songs together on one track. What does that mean? That "Lost in the Funhouse", "Stay So Young", "Slow Song", "Vision" and "Fall Behind", the 5 songs from the record, are played twice. The credits tell us that Paul Sloss did the artwork, with photography by Beth Cook and Ritchie Brooks. The songs were produced and recorded by Dave Hannan. The engineer was Michael Hewes. There is a bassist listed for the first four songs, James Brown.
In 1994 the band released another CD EP, "Teddy's Got a Gun". It came out on the same label, Supersonic Records (SS104) and again they did that same trick with the unlisted track at the end, though this time after playing the 6 songs included in the EP they added a 7 song, "Vision", from the previous EP. All in one track, the 7th. The songs on the EP were "Run For Your Wife", "Mirror", "Raccoon", "Where You Are", "Bright and Eady" and "Teddy's Got a Gun". This time the art was created by Grant Adam with photography by Jim Kellam and Ritchie Brooks. The songs were produced, recorded and mixed by Dave Hannan. We also see that "Where You Are" had synthesizers credited to Ritchie Brooks as well.
I see on the sleeve of this EP that they actually had a Fanclub, and it seems they were based in the area of Bulleen in Victoria. Bulleen is a suburb of Melbourne, Victoria, Australia, 13 km north-east of Melbourne's Central Business District. Its local government area is the City of Manningham. The name Bulleen originates from the nearby Bolin Bolin Billabong. Buln-Buln translates to lyrebird, which is generally accepted to be the suburb's name meaning.
Also here I see what instruments each of the band members play. Dave Wroe played guitar and vocals, Greg Ng played guitar and vocals too, while we see Rob played drums and percussion and Marcel played bass. No last names for Rob or Marcel. One more mystery to solve?
That same year they appeared on the compilation "All in the Family" that was released by Mushroom Distribution (DOC8000). It was a comp made for the children of East Timor and included 15 songs. Afterglow appears last with the song "Run For Your Wife". The next year, 1995, they appeared on the "Just a Taste" a compilation Slumberland Records (Slumberland 008) released as a sampler of Australian indiepop. Here the band appears along so many classic bands like the Tender Engines, The Rainyard, The Earthmen and more. Afterglow contributes the song "Fall Behind".
Their last sort of compilation appearance was on the first Munch video compilation. Released in 1994 on VHS by Season Records (Season Two), it included videos by many classic bands from the time like The Cat's Miaow, Even as We Speak, Boyracer, The Magnetic Fields and more. I remember these videos being up on Youtube some years ago, now I can't find them all. One of the ones that I can't find is the one by Afterglow and their video for the song "Lost in the Funhouse". A shame really. I can't remember what it was like. Would love to see it again.
I look for the band members. I see Dave Wroe was part of the band Feverdream that released an album called "You Don't Know Us But We Know Who You Are" released by Satellite Records. On the other hand I see that Greg Ng was part of the band Snout when they released the albums "The New Pop Dialogue" in 1996 and "Circle High and Wide" in 1998. After those two albums Greg left the band.
A mention of Afterglow appears on The Steinbecks website. When telling the story of The Sugargliders they mention that they used to offer gigs to Afterglow. But that's about it. I can't find anything else about Afterglow on the web. The mysteries remain unresolved. What happened to them? Why did they split? What other bands were they involved with? And what are they doing now? Who remembers them?!
::::::::::::::::::::::::::::::::::::::::::::::::::::::::::::::::::::::::::::::::::::::::::::::
Listen
Afterglow – Fall Behind