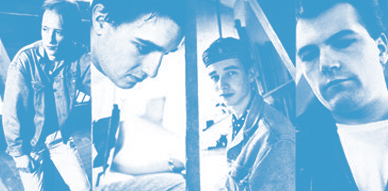 Thanks so much to Arthur Magee for the great interview! It's been a while since I tried to interview this band that I first got to know thanks to the Leamington Spa series many many years ago. Then I was able to hear their one and only EP on Ugly Man and I was just like… wow! It was always a mystery for me why they are not much more known, more of a household name for guitar pop fans. Luckily now Arthur answers many of my questions and hopefully you'll be discovering a new fantastic band or you'll get to know a thing or two about this fab Manchester band.
++ Hi Arthur! Thanks a lot for being up for the interview once again. It was a long time since we were in touch, during the Myspace days, and now I have a new opportunity to ask you many questions! Of course I have to start this interview asking you about that perfect song of yours, "Pessimistic Man", if you could tell me the story behind it?
It's Stuart's song. I'll ask him. Stuart says:
Pessimistic man is the usual tale of a miserable Yorkshire lad trying to decide on what's the worst thing happening in his life. Written in the time of the poll tax, campaign for nuclear disarmament, strikes and the everyday toil of trying to get a job and a mortgage, the ray of light is that all this is inconsequential and it is missing a loved one that is praying on the young lad's mind.
++ There was a video for this song too. Where did you get the budget to make it? What do you remember the time making it, any anecdotes? And why was it black and white?
Budget!!! Are you joking. I blagged it from a friend of ours who ran a video company and the amount spent on it was NOTHING! It was filmed in Whitworth Park in Manchester on a bitterly cold Sunday in November. We got a lot of our friends down and just acted out scenes. Stuart or his brother Duncan made the props, the large bomb and the big heart. The furniture came from the flat Paul and I share in Hulme. I remember the Manchester Martyrs Parade passing down Oxford Road as we filmed. The video was in colour with some shots in black and white for the effect!
++ Let's rewind a bit, was Fallover 24 your first band or had you been involved in other bands?
No Fallover 24 was my first and last band. Outside of Fallover 24, I've known excellent musicians, technically brilliant but they've never been able to match what I felt with Paul and Stuart. There was something magical there, I can't explain it but there was.
++ And before that, what was your first instrument, what sort of music was heard at home when you were little?
Guitar. My mother loved Elvis, Roy Orbison and shows like West Side Story. I'd an Uncle Pat who played guitar and piano and he used to encourage us to write songs when we were kids. I can remember three of us sat on top of an upright piano as he played. He showed us that there was magic in the mundane, an incredible gift to give. When I was really young I heard and loved the Beatles and I watched the Monkees on TV. Actually how Fallover 24 lived was a bit like the Monkees except we didn't have a beach house in Malibu, we'd a cockroach infested flat in Hulme, Manchester. As I got older I listened to more punk and ska bands as well as Motown, glam rock etc. I will always love the Undertones. Mostly, I love good songs and good songwriters whatever the genre or era. I'm a sucker for a good melody. Stuart was into David Bowie, Jonathan Richmond and Talking Heads whilst Paul liked Madness and bands like them. We'd a big range on influences in the group.
++ When starting Fallover 24 what sort of bands were you listening to? Did you follow any bands in Manchester at the time?
You know I really can't remember too well. We used to go and see a lot of bands though. I became good friends with the Skol Bandeleros, who were a cowpunk band and the best live band on the scene by a country (excuse the pun) mile! The Man from Delmonte were good too. I saw the Stone Roses a few times and they were just about ok.
++ How was Manchester then? What were the places where you used to hang out? What were your favourite venues or clubs?
We lived in Hulme which was a horrendous 1960s housing project in inner city Manchester. The accommodation was so bad, they'd given up on it and rented it out to students. Bear in mind that Manchester has 50,000 students coming each year and they bring an energy. I'd studied in London for 3 years and I met more people in Manchester in 3 weeks than I did the whole time I was in London. People in Manchester tend to take you as they find you. It has a proud radical heritage and that still exists to this day, a sort of 'Fuck You' attitude but with a kind and open heart. There was real poverty in the city but also an incredible vibrancy. It felt like anything was possible and everyone seemed to be in a band. We had a regular gig at the Red Admiral in Hulme which was full of people selling nicked goods but it was run by a lovely Irish couple and they paid us. At the time, the place to go for bands was the International who'd a guy booking for them called Roger Eagles who really got some great bands there.
++ How did Fallover 24 start? How did you meet the rest of the members?
I met Stuart whilst he and I were trying to chat up the same girl. We ended up chatting each other up! Paul we met at a gig. Vic came from an advert in Melody Maker, drummers are always hard to get.
++ And where does the name Fallover 24 come from?
You each drink 24 cans of lager and what happens? You …(wait for it..) Fallover!!!
++ I read that the strength of the band was that you had 3 songwriters. How did that work for you? Like, how was the creative process when someone came up with a new song?
Mostly it was very, very good as we spurred each other on. Sometimes someone would have the whole song virtually written like Stuart did with Pessimistic Man and we'd add to it, Other times, we'd finish a song together. There was always a pressure to get your song heard which is probably why we never did the same set twice.
++ Your first gig was at The Red Admiral in Hulme. What do you remember from that day? How long did you play, who did you support, and what songs were on the setlist?
It was a Tuesday at the start of December. We'd actually supported a band at the Gallery but Stuart was ill so it was just Paul and myself and we played after about 2 rehearsals. I saw a picture recently and you can see I'm shouting the chords to him. At the Red Admiral, we used Harry from Gone to Earth as a drummer and Stuart was back so that was our first proper gig. I was so nervous, I was nearly sick but the idea was to face the fear, get going and make a start. Sometimes people in a group will wait until they're ready but you're never ready. Better to get up and do it and if you make mistakes, so what? I think we played for 40 minutes in front of our friends and after that we were up and running.
++ It's said that you never played the same setlist twice, that must have been hard! What other gigs do you remember fondly and why? Is there any gig that you played that you would prefer forgetting, that wasn't very good?
We didn't play the same setlist twice. We used to rehearse constantly and we were all writing tunes. It kept it interesting for us but looking back, there were an awful lot of really good songs that people never heard. In retrospect we should have been a little more disciplined in our approach. Playing live we were a real mixed bag. I remember a gig in Belfast at a student club when we were really brilliant. That said, I can remember a few others when we were shocking. A big issue was acoustics playing in large spaces with the sound bouncing everywhere.
++ You recorded your first demo in 1986. What songs were in it? The same as in the EP later released on Ugly Man Records?
That was recorded at Out of the Blue in Manchester. The songs were:
The Greystone
Cloth Stained Blue
Shipyards
Questions
None of these were on the EP but Cloth Stained Blue was featured on The Sound of Leamington Spa compilation.
++ At that time you were supposed to record a single with Martin Hannett, is that right? What happened?
Martin heard the 4 track of Pessimistic Man and loved it so we went to Strawberry Studios to record it. He just wasn't at it and it never worked out.
++ Then, in 1989, you would release the "Pessimistic Man" EP on Ugly Man Records. How did you end up in this label and how was your relationship with them?
I knew Guy whose label it was and we were getting fed up with Martin who'd miss recording sessions etc. We wanted to keep the momentum going so we went and recorded it ourselves.
++ Had there been interest from other labels? Maybe some majors?
The single and video secured interest from several Majors but to be honest we weren't ready.
++ What do you remember from the recording sessions for the single? you recorded it yourselves, right?
Yes after we'd tried to record it with Martin Hannett. It was a studio in Old Trafford in Manchester and the only clear recollection I have is Paul pressing a large red button on the desk and nearly wiping all the recordings. It was like something from a cartoon, "Umm this button says, 'Do Not Press' but what could go wrong?" so he pressed it!
++ It must have been a highlight when you beat on the local charts the likes of The Stone Roses or The Happy Mondays. What position did you reach? And how did this impact the band?
It wasn't a highlight, we were just trying to push the record and we did all that on our own with no support. I was glad that we were mentioned but no more than that.
++ How come this didn't translate nationally?
We'd no support, no money for pluggers or advertising. The record was on the Ugly Man label but we'd paid for it ourselves. Essentially we were a corner shop competing against large corporations and we couldn't do it. There was also a lot of inverted snobbery in the Indie scene, we weren't 'indie' enough. I'll explain what I mean. We were told that our video was going to be featured on Snub TV which was a national programme in the UK. We cobbled the last of our money together and sent it down to London by courier. We came home one day to a message from the show's producer telling us that they weren't going to play us as we weren't indie enough! We were living in a cockroach and mouse infested flat in Hulme at the time. Not indie enough? A mouse drowned in our chip pan! It was a blow and not the only one. It felt like a punch in the stomach!
++ There's only 4 songs on the EP, but I wonder if you recorded more songs at all? Perhaps there were more demo tapes?
There were. We recorded versions of songs on Stuart's Tascam Porta Studio but we didn't have the money to go into professional studios. In fact we only did this twice. Our first demo and the recordings for the EP.
++ What was the idea behind the artwork of the EP, that sad clown is the pessimistic man?
It was a great idea from Carl who did the graphics. Just inverting the normal perception of a cheery clown. Mind you clowns are scary now aren't they? At one stage I wanted to change it to the Smiley icon beloved of the rave crowd but we didn't have the time or money.
++ What happened in the spring of 1989, why did you split? And what did you all do after musically?
Looking back, I know I was suicidal and I think I was having a nervous breakdown. We'd set up a recording studio and to be honest it wasn't really something I wanted to do. A lot of things came to a head and I wasn't in a good place and I mean that literally, Paul had to talk me down from a ledge. I know I must have been hard to deal with as I was on a real downer at the time. We remained mates though. When you've driven 200 miles with only enough money for 2 cups of coffee between 4 people, it bonds you. It took me 2 to 3 years before I could look at a guitar and I started to play solo. I never wanted to be in another group. It would have been hard to replicate what we had. Sometimes we were abysmal but other times we were truly magical.
++ How was the press and radio? Did you get much attention from them?
A bit but like I said, the promotion budget was zilch. I thought, if you put out a great record, people will play it. I was naive, it doesn't work like that. I think we sent it to the NME 8 times before we got a review. Melody Maker gave us a live review and John Peel played it. I'm not sure if local radio in Manchester even played it. We also got the video on late night MTV when it started in Europe. All this we did ourselves, ringing people up, hassling them etc. It's what you need to do but it's draining.
++ And what about the so called C86 scene, did you ever feel part of it? Did you get much attention from indiepop fanzines perhaps?
No, we didn't feel part of it or at last I didn't. People start bands for lots of reasons but it's never to be part of a scene. That's a terrible reason to start a band. Be yourself, do the music you love otherwise you'll never do anything. We were friends with some bands in Manchester though and we met some wonderful, amazing people.
++ What about today, are you all still in touch? Making music perhaps?
I've always kept in touch with Paul and Stuart. They're more than friends to me, more like brothers. We are a caring but dysfunctional family. Sadly, I've lost touch with Vic the drummer. I did speak with him a few years back but I'm not sure he wants to be found. We listened to some of our old 4 track demos and recordings we made of rehearsals and realised that actually we've written some really brilliant songs that have not been recorded properly never mind heard. We get together when we've the time and we've put 4 of our old songs down. How do they sound? Really great. We're looking to get more recorded.
++ These days, what other hobbies do you enjoy having?
I run a walking tour in Belfast which is where I'm from. I love football but I've a family so outside of them and my guitar I don't have a lot of free time. I try and listen to as much new music as I can usually in the car.
++ Are you still in Manchester? Has it changed much since those days in the 80s? Are there any good band still in town?
No I don't live in Manchester anymore, I'm from Belfast and I live there now but I do go over. In fact I'm going in January to meet up with Paul and Stuart from Fallover 24 and rehearse some of our old songs. I'd like to get 4 more recorded soon. Stuart still lives in Manchester whilst Paul lives in Warwick in England's West Midlands so you can see the logistics of getting us together are difficult. Manchester has changed incredibly in the last 15 years. It's totally transformed and reminds me of New York. It will always produce bands but what makes Manchester special is the approach to music. Most places people go to hear what they know or have heard before. In Manchester they go to hear something new, something different which is incredibly liberating.
++ I guess we should start wrapping it, I think I might come up with even more questions if we don't stop, but I would like to know what was the biggest highlight for you of being part of Fallover 24?
Meeting Martin Hannett was good, not because he was a so called legend but because he and I used to get on well and would go for a beer in Chorlton. Hearing the record unexpectedly on John Peel was lovely too but the real highlight was meeting wonderful people like Paul and Stuart who I was in Fallover 24 with, Mandy, Sue and Anthony from the Skol Bandeleros, Dave Thom and Harry from Little Douglas/Gone to Earth and many others like Tony Dooley or Sheridan McLoughlin, Herman and John Nancolis from a project called the Site. It was the worst of times but it was also the best of times too, to paraphrase Dickens.
++ Thanks again for the interview, anything else you'd like to add?
I always describe us as an unpopular pop group so we're setting up a web site:
We're recording our old songs as we never had the money first time around and people will be able to access them from the web site when we get it up and going. I think they sound fabulous, pure pop, two guitars, bass and drums with great tunes attached. We're doing this for the love of it and because it's still good fun and also because it's always annoyed me that the songs never reached the light of day. Looking back, I'd say to anyone that if you want to do something, do it. To most people Fallover 24 never existed, we didn't create a splash, more a pebble into the sea but that pebble still created small ripples and those ripples have come back to us from all over the world. People have contacted me from New York, Canada and Japan which I think is incredible. I'd like to think we did something positive which this world needs. So if you've got something you want to do, do it, life is short but make sure it's positive. It might not work out how you wanted but at least you'll have no regrets and when you're a middle aged old fart like me you'll have something to look back on. To paraphrase Helen Keller, "Life is an adventure or it is nothing".
Oh and we're available for weddings, bar mitzvahs etc…!
Love, light and peace
Fallover 24
You can contact us at: Fallover24@gmail.com
::::::::::::::::::::::::::::::::::::::::::::::::::::::::::::::::::::::::::::::::::::::::::::::