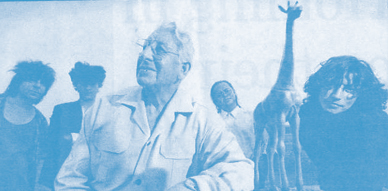 Sometimes you get asked those silly questions, what's your favourite colour? your favourite number? or your favourite animal? For the last one I usually answer the giraffe. No particular reason. Something on the subconscious probably. Also in the early days of the label I loved drawing giraffes on the thank you notes for the customers. So there must be something about them, perhaps those strange geometric brown spots on their body, or their long long neck, or those little antennae they have?
Whatever it was, it made me grin the first time I heard there was a guitar pop called The Giraffes. I found out about them on the Jangle Pop Boutique blog many moons ago. This one was a nice blog, recommending mostly obscure bands. I believe the writer was from Romania but he disappeared also. And he hasn't updated his blog in ages. I wonder if Blogger will close it someday. Anyways, he did a very small post about The Giraffes saying:
UK band "The Giraffes" released their debut single – "Pass Me By" in 1988 on the "Love Madness" label. There is no additional info about this band on the internet. "Pass Me By" is a lovely jangle anthem.
That and a link to this great track that is "Pass Me By". That was it. So the indiepop researcher in me decided to dig a bit more today.
The name giraffe has its earliest known origins in the Arabic word الزرافة ziraafa or zurapha, perhaps from an African name. It appears in English from the 16th century on, often in the Italianate form giraffa. The species name camelopardalis (camelopard) is derived from its early Roman name, where it was described as having characteristics of both a camel and a leopard. The English word camelopard first appeared in the 14th century and survived in common usage well into the 19th century. The Afrikaans language retained it.
Now let's move to the 20th century. To 1988. Let's go to the West Midlands in the UK. This is when and where The Giraffes emerged. After the experience of being in bands like Ens, Reluctant Stereotypes, Pink Umbrellas and Squad, founding members Steve Edgson and Sam McNulty were joined by Nigel Williams (from Wedge Cafe), Larry Lupin (ex-God Toys), Robin Hill and bassist Richard Priest (who later managed Pulp) to form The Giraffes.
There is not much stuff online about them, it's true. And their records seem to be over the 15 dollar mark I allow myself to buy these days. One day of course I'll be rich and my mark will be over 100 quid. So as I write this lines, my only experience with them is that great "Pass Me By" song that I actually played in Malmö some months ago when DJing there. My friend Graham was really surprised by it, he wondered how such a good song was so obscure. I ask myself the same. It could have been a true indiepop classic! So yes, this song was the A side of their debut 7″released on the "Love and Madness" label. The B side was called Rooftops. This single was released on October 1988 and was produced by Paul Sampson.
The second release is probably the most obscure one, I'm not sure if it's a 7″ or a 12″. It was the "One Step" single, also released in the same label in May 89. This one was produced by Roger Lomas though. Third and last release is perhaps the one that is easier to find by the Coventry band. It is the "Lazy Hazel Heart" 12″ that has that lovely jacket cover of a black and purple giraffe. Again, same label and same producer.  This one was released on January 1990. The other two songs on this record are "Think of You" and "Lose My Soul". There is also a 7″ version of this single sans "Lose My Soul" and the lovely sleeve. But the story doesn't end there. It seems they kept going and they finished their album in July 1992. It was called "Giraffitti" and was never released. It was produced by Sampson and Lomas. Quite a clever name for the album, no?
Many years later, the two founding members, Edgson and McNulty would start a project by themselves properly called "Two Giraffes". There is a website that is not updated since Feb. 2009 and also you can stream many songs from their myspace. They are rather good!! Unfortunately they haven't signed in since 2007 so getting in touch was impossible. Oh! And there's a video on Youtube for their song "Silvery Trees". A bit more ska that we are used to, but enjoyable! And what about the video "Pure Poetry", the Two Giraffes' World Cup song? Wonder if as The Giraffes they got to record any videos too!
Sadly surfing through google I found out that Steve Edgson died in July 2009. So perhaps some of the many questions about the band will be unanswered forever. I do hope that the album gets to see the light of day. If the rest of the songs on it are as half as good as "Pass Me By" we'd have a corker of an album. I'm crossing fingers here that we'll hear from Sam McNulty someday. I just wrote through his Youtube account. We NEED to listen to Giraffitti and the rest of The Giraffes songs. "Pass Me By" is way too good to not to want more!
::::::::::::::::::::::::::::::::::::::::::::::::::::::::::::::::::::::::::::::::::::::::::::::
Listen
The Giraffes – Pass Me By