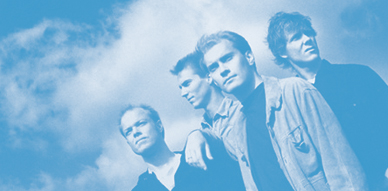 As I've done for the past few years, I post on my personal facebook my Indietracks schedule: the bands I want to see, the ones I'll skip, the ones that clash, and so on. Last year I shared it here on the blog and I thought this year I should do the same. So here it is!
But now, it's also your turn to share with me what are you looking forward to see? Who do you think is missing in this year's lineup? Are there any major clashes this year aside from the Manhattan Love Suicides and the Blue Minkies? Please comment away!
So finally was announced the rest of the lineup and the stage times and as I've made a bit of a tradition I'll share my schedule for Indietracks. This year I'm a bit less excited about the festival but there are still some bands that I want to see. Also this year I did my homework and have listened to every single band that has been invited unlike other years. Having so much free time this Indietracks might be a good thing as I'll get to hang with friends that I probably won't see in a while because I plan to take a break from Indietracks next year and possible the one after. Anyhow…
Friday
I will arrive to Alfreton at 8pm, take a cab to the Travelodge to leave my things and head to the festival. Realistically I'll be there around 9:20pm or so. Hopefully before. And so I will miss The Chills. Happily I did buy tickets for their London show the day before. How come The Chills are not headlining this day is a question that I can't find answers for. Maybe they wanted to go to bed early? I don't know!! So yeah, no bands for me this day. Just hanging. No dancing either, Come Again DJs are a mystery to me. They seem a bitter, but maybe they play good tunes?
Saturday
14:00-14:40 – Wolf Girl. I think the best discovery for me in the lineup. Good job here team Indietracks! Poppy and a classic indiepop sound!
14:-40-15:20 – The Royal Landscaping Society. One of my favourite new bands to come from Spain. I saw a little gig by them sans the drummer in Seville a couple of months ago, and it was really beautiful. One of the concerts that can't be missed. I'll run for lunch after them!
15:40-16:10 – Thee Ahs. Saw them at NYC Popfest last year and they were a lot of fun. The Canada band should bring an air of fresh air to the festival. Will Sarah wear her bikini t-shirt?
16:15 – Marc and Graeme Elston. This is indeed a treat. Half Bulldozer Crash and the great man behind The Love Parade. Graeme already played the train before and that has to be the best performance ever on the steam train at Indietracks Festival. With his brother he should top it?! Or make it better?!
16:40-17:00- Linda Guilala. Another repeat for me, I think they played Indietracks 3 editions ago? They have now a new album and won't count with Adria or Paulita joining them. But still will they bring some guests to the stage? Sadly I will only catch them for 20 minutes.
17:00-17:40 – Dorotea. Okay, I've seen them before at London Popfest but I don't mind seeing them again as they are one of the few bands I won't get bored seeing time and time again. I wonder though if that big Swedish contingent of last time will make an appearance in the crowd this year to sing every song from the top of their lungs!
18:00 -18:40- Blue Minkies (Manhattan Love Suicides). Will have to choose the Blue Minkies as my chances of seeing them any other time is very small. I love this band. I really like The Manhattan Love Suicides as well. I really do. I don't understand why this clash exists when there's a lot of space for them not to clash with good bands. You can just make them play on Sunday too! Please?!
18:40-19:20 – Spook School. Third gig I'll see by the Edinburgh band this year. Yes, I like them.
19:20-19:40 – Joanna Gruesome. I saw them last year here in NYC and they were quite fun. But only 20 minutes for me as I need to move for the cherry on the pie.
19:40-20:40 – Popguns. Another repeat, but this one is also worth it. Their gig at NYC Popfest as my favourite this year so far (along the My Favorite one). Hopefully after the Popguns I can still find dinner.
DJs, will check out Ready Steady Girls definitely. The other DJs are not of my liking.
Sunday
12:40-13:20 – Axolotes Mexicanos. This is also very awful. So early they have to play? Seriously? They are a fun, energetic band, and they will play to people that just woke up and are hangover? I think their time to play is a mistake, but what can you do. I'll try to save some energy to be excited at their show.
13:20-14:20 – Thyme Machine. They have nice tunes, nothing super special but proper indiepop at least. Lunch afterwards.
15:00-15:40 – Wendy Darlings. Another repeat from a previous Indietracks, but Baptiste and Suzy's band I really like, I will be there front row.
15:40-16:00 – Bordeauxxx. Another fine band with nice tunes. Definitely worth checking out for me while drinking my warm beer.
16:00-16:40 – Hobbes Fanclub. More repeats though to be honest last gig I saw by them was cut short by the sound person. Well, okay they did play the day after a longer show. in any case this is one of the bands not to be missed at this Indietracks, great songs, the right attitude, and the always charismatic Leon. Will their album be ready? Would be cool to get a signed copy.
16:40-17:20 – Very Most. Saw them last year at NYC Popfest. Repeat again 🙂
17:20-17:40 – Cosines. Saw them last year in London. More repeats.
17:40-18:00 – Flatmates. Saw them just two months ago. Let's continue.
18:00-18:40 – Night Flowers. One of the best bands to come out from UK in recent times. I will say though that the first songs they put online were my favourite. Ive been liking a bit less the new material. Let's see them live.
18:20-19:00 – Screen Prints. The best announcement today. I love this band!!!
Dinner time then. And it seems Indietracks ends very early for me on Sunday!! Of course will go see my friend Alex dj as 7iete Pulgadas at the marquee, if anyone is going to play the good songs at Indietracks it will be him! I look forward the Spanish gang dancing here as well!
And that's it. Too many repeats to be honest (12 bands!!!) but well, let's try to be positive and hope for some exciting surprises. Still the best about the festival is seeing friends and eating terrible burritos. Chin up!
————————————————————–
I saw Storsegel's single on Popsike for 62 dollars. Then I found it for 4 dollars. I always say, just keep looking and you'll find it. There's no need to spend big bucks on a record. The only problem is my 7″ is still in Sweden with Andreas from Alpaca Sports who was kind enough to win the bid for me on a Swedish site! But I cannot wait to share this fantastic song with you!
This is a beautiful slice of jangle in Swedish. The "Last Bus", that's what the A side means. "Sista Bussen" is such a great song that reminds me of classic early 90s bands like This Perfect Day, Merry Dance, Hip Horace or Amanda Om Natten. I read somewhere only 500 copies were pressed too.
The record was released in 1990. It was a self-release and the B side was "Vanmakt" (Powerlessness). Still waiting for my 7″ to hear this B side. Will pick it at Indietracks when I'll see again my good friend Andreas!
Lyrics and music on the record are credited to Klas Öhling. The record was recorded at Match Town studios by Mats Siltberg between October and September 1990. It was also produced by him with the help of the band. The only other credit on the back sleeve is for the black and white photo of the band, the girl who took the cool pic was Nastasja Jovic.
Googling around I found that the members of the band were:
Klas Öhling: guitar and vocals
Klas Andersson: guitar and backing vocals
Anders Lind: bass, accordion, backing vocals
Janne Lindblom: bass and backing vocals
Jonas Ander: drums
Storsegel, in English by the way means "mainsail". The mainsail is the principal sail of a ship, especially the lowest sail on the mainmast in a square-rigged vessel. Were they into seafaring, sailing, or just the seas? It's an interesting question. The band hailed from Jönköping in Sweden. The city is not on the ocean but it lies on the coast of Lake Vattern. This is the second largest lake in Sweden and the sixth in extension in Europe.
I also read that there was a promo video for the song Sista Bussen, but I haven't been able to find it. I also read that there was an album released by the band, a CD album. Any information would be greatly appreciated.
I found out that they contributed a song also for a compilation called Projektet. The song included was "Kanske Stannar Tåget" ("Maybe the train stops' seems they really liked mass transit!). This record was released by Matchtown records in 1991 (catalog MTR2003). In this compilation the Mop Tops also appear as well as Meatbox. It's a fine bet to guess that this compilation includes bands that recorded at the studios based in Huskvarna. On this record there's a little info about the band that says that the band started in 1989 and the bandmates have been into music for around ten or twelve years before.
In 1992 they played the Amazonas stage at Hultsfred Festival. That same year the band split when Klas decided that it was time to leave the city. In their city they had payed venues like Palais and Kulturhuset. But it wasn't until 2011 when he returned to Jönköping when the band reunited for a one-off gig on April 16th of that year at a venue called Lingon. And that was it. That's when I lose the trail of the band. If you know anything else by them, it would be great to know! Share the knowledge 🙂
::::::::::::::::::::::::::::::::::::::::::::::::::::::::::::::::::::::::::::::::::::::::::::::
Listen
Storsegel – Sista Bussen