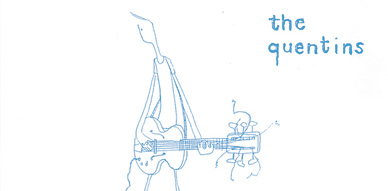 The end of January. Time is going fast. Some bad news. Another hard drive failure. Doesn't look good this time. Whereas my other hard drive, the first one that stopped working, seems to have been recovered, this one looks in a bad shape. I wonder what can be salvaged. If it will take a toll on Cloudberry? I wonder… a lot of back catalogue was on that backup hard drive, and I was just waiting to get the other hard drive to start transferring what needed to a fresh one or the cloud. How could I imagine two hard drives would fail within a month and a half. Tough life. Maybe it is a message? That Cloudberry has to suffer more and more obstacles? As if postage prices is not enough.
There are some good news though, I sent Some Other Day's master to the pressing plant and it should take around a month and a half for it to be ready. So March. That's when you should be able to get your pre-orders. I'm very very excited. Now onto getting Pale Spectres to the pressing plant. That's the next step. I count with your support for these upcoming releases.
During the weekend I was planning how to reboot the Cloudberry Podcast. Was figuring out which sections should come back, which shouldn't. I guess one decision would be that the interviews should be shorter. That I think will be hard as I love talking to bands/friends, but I think for the sake of the listener, a shorter interview is better. I also would love some suggestions from all of you. I would like to have a new Podcast by March. Please let me know how can I make it better. If you haven't heard any of my previous Podcasts, you can check some of them here.
My office has moved, now I'm working in the Financial District, very close to the 911 Memorial. Today was my first day. I kind of miss Midtown, but I guess eventually I'll like this area. It is just a matter of finding the cheap/good food places around here. It takes me 10-15 minutes longer too, to commute. That is not a terrible thing, I can read a bit longer one of the many books I want to read (I've set a low 45 books as a the year goal in Goodreads).
Music-wise I listened a bunch of music this weekend, but mostly old CDs that I keep buying, The Honeydrips, Cranebuilders, Young Marble Giants, Blissful and The Earthmen. I did get on the mail the Saint Etienne' Fox Base Alpha 25 year anniversary boxset. I still have it in shrinkwrap, shame on me. They sent me an extra t-shirt. There must have been a mistake. Now I have 2. Maybe people will think it is part of my uniform, same as my collection of black jeans.
On my portable CD player I still have "C16", the very nice compilation Joel Felipe has put out in his Impermeable label. There are a bunch of new discoveries on it, so I keep listening. Haven't bought any other new release. What do you recommend? Is there anything new worth getting?
Indiepop seems quite. The world seems loud. Maybe when the world is quite, indiepop is loud? I wonder.
I found a nice sounding band on Bandcamp if you are curious, they hail from St. Leonards in the UK and they are called "No Middle Name". Their album "Fondness", released in hand-made CDs, sounds really lovely. Never heard anything from them before even though it seems they have more releases. I can only ask why bands like this don't get invited to Indietracks? If they sound so nice and they are in the UK, why not? Why get Sweet Baboos and other crappy non-indiepop bands? The mysteries of life.
——————————————————————
Rediscovering some flexis I own. What about this one by The Quentins? My girlfriend doesn't know what's playing and she enjoys the guitars on "Take it All Back". It sounds very lo-fi. But sounds fun, like so many indiepop songs from the period, from smaller bands that maybe their whole output was defined by appearances on compilation tapes. You know, just like the Hipflasks, The Pilgrims, The Kensingtons, The Almanacs and so on. Bands that I love.
These sort of bands of course lack presence on the internet. You can barely find any information about them.  At least the flexi, the only proper release The Quentins put out, appears on Discogs. We know that it was released in 1991 by the Sheer Joy label (catalog Joy 001), and it was the sole release on this label. Most probably then a self-release.
Two songs on the flexi, "Take it All Back" and "Let Down". The artwork on the cover is simple, a drawing of a guitar player and his amp. On the back sleeve we see that this drawing was made by a girl named Rachel. There is also an address. The band must have hailed from Ashford, in Kent.
Ashford is a town in the county of Kent, England. It lies on the River Great Stour at the south edge of the North Downs, about 61 miles (98 km) southeast of central London and 15.3 miles (24.6 km) northwest of Folkestone by road. In the 2011 census, it had a population of 74,204. The name comes from the Old English æscet, indicating a ford near a clump of ash trees. It has been a market town since the 13th century, and a regular market continues to be held.
The band would appear on at least two tape compilations according to Discogs. In 1992 they would contribute the song "Haven't You Heard?" to the "Teeny Poppers" tape released by Anorak Records in France (catalog SHOUBIDOUWA 01). Maybe our friends Guillaume or Fabien remembers them? They were part of the Anorak Family and I met them after they resurrected the label around 2007. Saw them at Indietracks a couple of times. Ah! I miss those days!
Anyhow, this seems to be a great compilation, would love to listen to it. You have songs by bands like The Gravy Train, Hope, Budgie Jacket, Bouquet, and more! Wow. Good selections!
Their second tape appearance is on the "Polythene Star" tape released by the Flaming Katy label (catalog FK001). I don't know anything about this label or compilation. It was released in 1993 and The Quentins contributed "Feel so Grave". There are some known bands in it like Mary Queen of Scots, The Kensingtons, Peru, Southville and even Boyracer. The cover artwork was credited to Anna and it was hand-coloured with crayons. The compilation was put together between 1992-1993.
Their location, Ashford, helps me find just a few more hits on the web. The first is that of a band called The Dale Coopers. It is listed that they supported The Quentins at The Monarch in Chalk Farm, London on the 4th of May of 1993.
The only other information I could find was on a zine in PDF format uploaded to Angelfire (this must be old!). The zine seems to be called "Your Mornings Will Be Brighter" and it dates of September 2000. It says it is "your indispensable free guide to life and music in South Kent". There is a timeline for a band called Intensified who were celebrating their 10 year anniversary in 2000. We can find that in 1991 a Karl Wirrmann joins the band and it seems that he was formerly the bass player with The Quentins! That is the only name I could find associated to the band. Who were the other Quentins? Was he replaced? Or did The Quentins split in 1991?
There are so many questions. I still would love to hear the two other songs not on the flexi. But 4 songs released is very little. Did they record more? Did they release anything else? Would be interesting to find out more about them. Do you remember anything else by The Quentins?
::::::::::::::::::::::::::::::::::::::::::::::::::::::::::::::::::::::::::::::::::::::::::::::