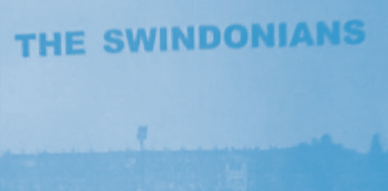 There was a time when we traveled night and day. We stayed at hotels and had breakfasts a la carte. Life felt glamorous. It wasn't five star hotels or first class. A Travelodge could do; the economic seating on a train, facing an old couple, could do too. And it was perfect. For a week we criss-crossed the close-by towns, like a zig-zag, like a connect-the-dots game.
Like two dots, we got separated again by the ocean. A mass of water, a mass of nothingness. Pure and pristine nothingness.
We had arrived in Wales after Indietracks. On the train, which stopped at Chesterfield and Bristol, we held hands and joked. She taught me the basics of knitting, but of course I wasn't skilled enough to coordinate my fingers and make tiny knots to eventually build something worthy with the yarn. She leaned on my shoulder. The green scenery flashed through the window. We were supposed to see sheep in Wales we were told. We didn't see any. We did keep our eyes wide-open.
Upon arriving to Cardiff, Wales capital, we were greeted in English and Welsh by the train announcers at the station. We giggled at the sound of Welsh. We walked two mere blocks to find our hotel. The front desk guy seemed to be new and took forever to register us and get us a keycard for our room. A room on the third floor of a building in one of the main streets of the town. You know, very close to Sainsburys, Weatherspoons, and the like.
We left our things and went for a stroll, on the hunt for a nice place to eat lunch. We ended up in the old library which is now a restaurant. Fish and chips, salad and Brains beer. We sat by the window on a chilly summer afternoon. We ate slowly. I emptied a handful of tartar sauce packets, and she helped me with some of my fries.
Down the main road we ended up by the castle walls. The majestic Cardiff castle. We would visit it a couple of days after. But today the plans were different. We were going to explore the huge Bute Park. Without a map we circled the castle first, and then headed to a stone circle which wasn't ancient at all, maybe just a century old, a commemorative thing. Some tree trunks carved with celtic motifs, and another tree trunk carved with animals caught our sights. We walked on the grass, fresh and humid. The park, full of open spaces, and greenness, felt endless. I wanted to hold her all the time.  We walked and walked until we decided to return. And through small paths, of muddy ground, we found our way to a cafe in the middle of the park. In the meantime, I had already burned my hand with some plant who I must have touched by mistake. Of course she knew what plants were good or bad, which to touch, which to smell. A native of the forest. A fairy. Me, always a big city guy, never close to nature. So much to learn.
Coffee with soy milk. Five o'clock in the heart of Cardiff. I watched her drink with a grin on her face. I stared at her. Trying to sketch her on my mind for the many months I won't see her. Making a personal photograph, her with the clouds behind. Then it was time for more walking, more exploring. Next stop, Cardiff Bay.
Our Lonely Planet guide, which we both have brought our own copy, recommended us visiting it. And of course we thought it was very close to the city center. Turns out they are two different towns that today are connected by roads and urban sprawl. So it was quite a walk. We could have easily taken the train, but we didn't know. At our arrival a common sight for us by now, Japanese tourists. We felt at home. She asked me if I would like to live there. I said, why not. She said she would. She'd like it very much.
She especially loved the Cardiff Library which we visited in our way to Cardiff Bay. A huge modern building. 5-stories if I remember correctly. Books in English and in Welsh. All signage also in both languages. She explored the Welsh books with such interest. The orange signs at the library and the blue carpet made it very cozy to me. Something about those colors appeal me. She looked beautiful there, the librarian in the library. A foreign library but her home still. Like a fish in the water, she swam across every aisle, explained me about microfilm, showed me some books that are among the most read in Stockholm, and told me it wasn't a good idea to make out in the library. Of course, what I was thinking, it is a sacred place for a librarian.
Opening her big brown bag, pulling out a plastic bag, she fed herself candy from time to time. Perhaps that was the secret she had to not get tired. I don't want to boast, but I do have a lot of energy when it comes to visiting new cities and places. And she kept up to that. Which until now, in my life, I hadn't found anyone that could do it every day, for a week. And so, we finally made it to Cardiff Bay to notice that the Roald Dahl area was closed. We headed to the Norwegian church instead, a tiny timber structure. We walked towards a lightship and some statues on the way. Ended up in a playground. It was deserted at almost 7pm. We climbed some rope ladders and took pictures of ourselves together. Me serious, she making faces. Then we childishly played on the see-saw. We held hands, we left the playground.
Then we walked on the promenade while she cursed and hated the seagulls. She finds them annoying, nasty birds. She explained them to me, that in Sweden they have two names, that there are actually two varieties. For me, all of them look like seagulls, or chickens. But she knew what she was talking. The sea was a bit murky and the sand very different to the one I was used in Miami. More like dirt brown and with lots of pebbles. On our right side, modern shopping centers rose one on top of each other. Famous American brands and names all over the place. At the end of the promenade a pier with a Turkish restaurant. Our friend Cristóbal had recommended us eating there. But we were too late. They had very affordable prices until 6pm. So we headed back to Cardiff, the real, the main Cardiff. We thought about taking the train, but we couldn't find a place where to buy the tickets. While we searched up and down the station, the train left. So we walked back.
Monday was almost over. And it started to dawn on me how little time was left on this trip. My heart accelerated. After a quick dinner we went to the hotel and watched some British TV. It was terrible, but having her by my side, doing something as mundane as watching TV, felt terribly good.
————————————————————–
I'm not sure if our train passed by Swindon. But this week's obscure band is The Swindonians.
Swindon is a large town within the Borough of Swindon and ceremonial county of Wiltshire, in South West England. It is midway between Bristol, 40 miles (64 km) west and Reading, 40 miles (64 km) east. London is 81 miles (130 km) to the east. In the 2011 census, the population of Swindon was 209,000 people, including the small towns of Highworth and Wroughton, an increase of 16.2% since 2001.
Perhaps not very original in their band name as they were based in Swindon (no joke!), but their elusive record is a gem, a true indiepop gem. Their songs remind me so much to The Wishing Chair, another obscure band that I reviewed in the blog. Fantastic jangle with a dramatic feeling. How much I wish I could find a copy of this record. I've been looking for it for two years now since a friend recommended it to me after he had found seven tracks on Youtube.
The five tracks are:
– A Sense of Home
– Give Me Back My Sanity
– In the Rain
– Ring a Ring of Roses
– Song for the Homeless
– Sun is Burning
– Windowshopping
On Youtube there's a small legend added by the uploader of these tracks. It mentions that these songs are from the self-titled 7″ EP on Hope Records. I really doubt that 7 songs fit on a 7″, but for sure some of them were included in it. I wonder which. Also, who were these Hope Records? Perhaps it was their own label.
The only other information included is that the band was a duo. Mumfie on vocals and Julian Sanger on vocals as well as guitar, bass and drums.  A true multi-instrumentalist! The 7″ EP was recorded at their home using a Marantz SD-285 tape deck and a Sharp RT-3151 tape processor in the Spring / Summer of 1992. Just at the end of the golden years of indiepop. Perhaps that's why such a lovely record didn't catch more attention, everyone had moved on to other sort of music. For me, it's hard to grasp that. When I listen to the bone-chilling "In the Rain", I can only think of indiepop greatness. A beautiful, heartfelt song, with beautiful guitar playing. It reminds me of other 'rain songs', like those by The June Brides or The Cavalcade. Something about it. Something about that rain, that British rain that never stopped raining while I was there in July.
If anyone knows anything else about The Swindonians or have any extra copies of the record please get in touch! Would really love to know more about them!
::::::::::::::::::::::::::::::::::::::::::::::::::::::::::::::::::::::::::::::::::::::::::::::
Listen
Swindonians – In the Rain