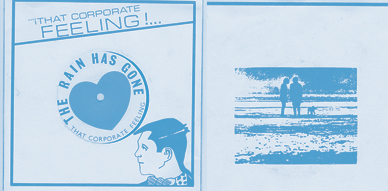 Happy 2014!
First proper post of the year! It's true I've posted three interviews so far but to be honest I wrote the questions the previous year. So this is really the first time I sit with the idea of writing something worthy. Well, hopefully it's worthy.
I want to start with some label news because it's been pretty quiet here lately, hasn't it? So many of you might know that there's a new release around the corner. Next week we will be releasing a new 7″!! This time we are releasing our second Spanish band in our 7″ series. First one was Zipper if you remember! Now we will be putting out the new 4-song EP by Lost Tapes. Who are they? Maybe you haven't heard about them, and that's totally ok, though I believe this year they are going to make a splash. They have been confirmed to play SXSW and I believe they will be playing a couple of indiepop festivals. So keep your eyes peeled. Their music is a bit of a surprise. The duo of RJ and Pau have been making music for a long time, not together, but in separate bands. Bands that are big and popular in Spain like Tokyo Sex Destruction and La Habitación Roja. But they love indiepop, they love the gentle sounds of The Field Mice, Brian, Brighter, so they decided to give it a go together in a new project, in Lost Tapes. So far they have only "released" a digital release on the Eardrums digital label. It ended up in many year end lists. It was lush. It was beautiful. I was terribly happy that they wanted to release their debut on Cloudberry. The songs included are four, "War in the Netherlands", "Skylines", "Poetry Dates" and "Chances". There's even an awesome video we've been promoting for the opening track. You can already order it from the site or you can wait until your favourite mailorder has it. Hopefully you'll have it in your hands soon! You'll love it! On top of it all the sleeve has been gleefully illustrated by Barcelona's Marta Llumbart!
A lot of people have been asking about The Rileys release. And yes, it's taking some time. It will be released though, come on, don't despair. I'm positive it will be out next month. I wish it had been sooner, but as you are my friends I'll be honest, sales have been quite bad on November and December so, there hasn't been much cash to pay for new releases. It works like that you know. Sales become releases. So sometimes things have to wait until we can afford to put the new record out. So here's an idea, if anyone out there know any ways we could raise our sales, make some interesting merchandise, or exclusive deals, I don't know, something that could work, please on the comment section leave some ideas. I would really appreciate that. I really don't want to end using a kickstarter or having to close the label. I'm going to fight! Anyways, let's hope for February for The Rileys. I'll keep you all updated when I have a release date.
The other project I want to work on this new year has to do with the blog. I want to finally publish in book form some of these interviews I've been doing for 5 years. I've been meaning to do so for some time. Many friends have asked me to do it, and I said I would. And then I never did! It requires a lot of time. It's not just copy/pasting. I need to design the book with Cloudberry standards. It has to look good. I need photos to illustrate it as well. I can't just publish a music book with just text, can I? But yeah, I'm hoping that by Indietracks time the first volume of these books will be published. I don't have a name yet for it yet. So any ideas are welcome!
So that's that.
What else is important this year so far. Well it seems there will be a Chickfactor festival in March here in New York? Will have to keep an eye on that. I hope it's not like last year that The Pastels were confirmed and didn't end up coming. I hope it works out well this time! Also of course to look forward for me is NYC Popfest and Indietracks. I have yet another trip to Europe in April that I'm looking forward. Will be in Spain, Norway and Sweden. Yes, always Spain, always Sweden. But I managed to squeeze a new country to visit. And I'm pretty excited to go to Oslo for the first time. But also I will be visiting new places in Spain, like Seville, Granada, Cordoba, Cadiz and Málaga, and in Sweden I'll visit Göteborg for the first time. I will end up in Stockholm my last days of the trip. It's like I always need to visit that city that I love (and hate).
Shaping like a fine year so far, right? What else would I like? I definitely want to DJ at Indietracks. But who knows if someone will invite me. That's something I've been wanting to do since the first time I went. Crossing fingers, though I doubt it, as I don't have a club, right? Speaking of Indietracks, I'm pretty scared as the plane tickets already are very expensive. I can't find anything under 900 dollars. Wonder if it will work out the way I wanted. For that price I feel like a terrible idea just to go for four or five days. For that price I need to at least spend two weekends there. If that happens, maybe I end up doing that trip that I always wanted to the north of Wales, to those towns and castles that I've been daydreaming of, Beaumaris, Caernarfon, Conwy, Harlech…. but we'll see. I kind of want to save vacation days for a later trip to China.
And that's more or less in a nutshell what I'm expecting for this 2014. There are of course another releases in the works, but as soon as they are 100% confirmed and I have a song to share or something, I'll keep it secret. But follow me here on the blog, I'll be updating it every week as usual.
—————————————————
Now into one of the most obscure mysteries of indiepop: That Corporate Feeling.
As you can imagine there's NOTHING about them online. I've looked all over the place and I can't find anything. The only thing I know is that their sole 7″ is really sought after by indiepop collectors. I've known that for years. I've heard their classic song "The Rain Has Gone" for years. But you know, I've never known anything else about them.
The few bits of important information are that it was released in 1984 on a label called Platform Soul. This was the first release of the label so it's kind of safe to assume that this was a self-release. On Discogs it says that this 7″ was a promo 7″. That could explain the scarcity of it.
The A side was naturally "The Rain Has Gone" a proto-indiepop gem, packed with horns and a pounding bass. If sped up this could have been a major discoparty footstomper I reckon. Still it's a beautifully crafted popsong. It's no wonder everyone wants a copy of it! Me included of course!
The B side is "Industrial Backlash". I wonder if there's a relation between the name of the band and this song. Seems there's a thread, no? Perhaps there was some sort of political background to the band. A socialist view? I wonder.
The only other thing I've ever seen is the sleeve. The front sleeve is quite nice. It has a die cut in the center, like old jukebox 45s. You can see the vinyl label having a bright red heart. The sleeve meanwhile has an illustration of a guy with a mullet. Perhaps it was the style? Perhaps is an illustration of the vocalist? Who knows. The back sleeve is even a bigger mystery. There's just a photo, black and white, of two persons and what it seems like a dog.
There's not much else online. I have no clue who the band members are. It all remains a mystery. Do any of you know anything else about them?!
::::::::::::::::::::::::::::::::::::::::::::::::::::::::::::::::::::::::::::::::::::::::::::::
Listen
That Corporate Feeling – The Rain has Gone