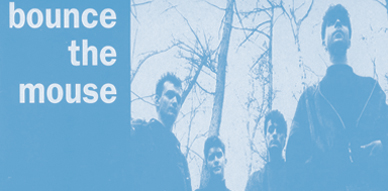 Thanks so much to Jonny Hankins for the interview! Thanks to Ricky from the Madchester Rave On Blog I got in touch with Jonny because 1. I had written about them on the blog and was looking for more information and 2. the band was reuniting for a gig in Manchester. These were definitely two great reasons to ask Jonny if he was up for answering all my questions and so I could learn the story behind this great Manchester band from the mid and late 80s!
++ Hi Jonny!  Thanks so much for getting in touch and being up for this interview! I notice that there is going to be a Bounce the Mouse reunion gig! How did this happen? When and where will it be? Was it easy to figure out the logistics for this to happen?
Hi, yes there is going to be a reunion on 3rd February, at Gullivers in Manchester. It is a celebration that 30 years have passed since the recording of Will you Ever Say, and its later release. We have loosely kept in touch over the years, more sporadic between some members and closer with others, but we have never fully lost touch. A couple of years ago the other members met up for a beer while Steve was in the UK but I was abroad, and you know however you interpret the events it was a great period for us, making records, touring, our first experience in the music industry, and so you inevitably refer to these things when you meet up after years. Last year I was 50 and I had a party in Manchester, Adam and tom came as did loads of other musician mates from the time that I am still in touch with like the New Fads, Thrush puppies and old road crew and sound engineers, and I think that ignited the spark. Steve had a trip to the Uk to plan so we decided to meet up. Why not even have a practice? Why not do a gig. We got a fair bit of interest and so here we are, or will be anyway, Saturday night in Manchester.
++ I see that you are all living in different places around the world, how did this happen? And are you still making music wherever you are?
Yes Steve went to the USA a long time ago, I think at least 20 years ago. I think he got football coaching qualifications at first and got into sport management, which is still his line. I am not sure exactly because we only ever talk about music, but I know he is in sport. I went first to Italy, then the USA and now I live in the Netherlands. I have always done music. In Italy I played in a blues band and collaborated with a DJ called Kres, we did a kind of Run DMC inspired hip hop with a rapper, and I did theatre training and did cabaret and story telling with a band. In the USA I was part of an organization called the Revels, I did a big scale musical and Christmas album, and made a film that Kres wrote the music for and we did a couple of shows over there. In the Netherlands I play in a 25 piece percussion band. I have expanded my repertoire but have managed to continue at a more or less professional level wherever I have lived.
++ So where were you all from originally? Manchester?
Yes we were all brought up in Greater Manchester. I worked with Adam and we decided to get a band together, which we called Bounce the Mouse. After a couple of years we disbanded and formed another band under the same name, and that is all of the members that we know now.
++ And had you been involved with any other bands prior Bounce the Mouse?
Adam and I had started with this previous incarnation, but I had been playing music since I was a kid. I played guitar in my first band when I was 13 or 14. Steve and Tom had both had experience in the local band scene, so we had a few contacts when we started. Steve knew a lot of people in the Manchester scene and we managed to start on a higher level than we had operated on. None of us were complete beginners.
++ What would you say were your first music memories? Like what sort of music did you listen to at home growing up? Or what was your first instrument and how did you get it?
My mum and dad were great jazz lovers, so my first musical experiences were with trad jazz. I saw a lot of bands with trumpets and trombones. My dad liked blues, Robert Johnson and some of the wilder jazz singers, as well as the Carpenters and a lot of easy listening from the 70's like the Manhattan Transfer. One of my early favourites was Tom Jones, and I liked the Shadows, and they were the first group I ever saw with my parents at a big concert at the Apollo in Manchester, late 70's. That is very uncool, but if you think about the 90's surf guitar bands that were around like Huevos Rancheros it was the direct forerunner of that wave, and that was cool. I played, well tried to play various instruments when I was young, but I was no good so ended up as a drummer. Yes the jokes are true. I tried trumpet and played a type of xylophone instrument in a marching band when I was in my early teens. I have always had a guitar and had lessons but I can't play it even today.
The first club band I saw was Orange Juice at the Hacienda in about 1983. That was after I started work and was introduced to indie and rock music on a large scale.
++ At the time of forming Bounce the Mouse what would you say were your influences?
Well we listened to a range of stuff, The Doors, Julian Cope, Velvet Underground and Echo and the Bunnymen amongst others. I think we were influenced by the bands around at the times a bit too, like the Bodines and Orange Juice , but also Spear of Destiny and some of the noiser stuff that was current. We never quite fit in with what we used to call jangly music because we were a bit noisier, although that was the circuit we were on. We had a Marshall, and so the sound reflected that. The Smiths were massive too, and a lot of bands were influenced both by Jonny Maar in terms of guitar sound and by Morrissey, but we didn't have those sounds. The Stone Roses were a big influence, as were the Happy Mondays. And we saw a lot of other bands, and played with everyone from McCarthy to Carter and the Levelers and Blur. You take something from everything you hear I think, especially if you think that we saw these bands regularly. I saw the New fads about 90 times, Cud and the Family Cat about 40 or 50, the Levellers 20, and I think that influences what you do.
++ How did the band start? How did you all know each other? Was there ever any lineup changes?
Myself and Adam wanted to continue our adventure after the first Bounce experience, and we asked around in the local music shops and looked for adverts from other members. Manchester was buzzing at that time, and that is how we got together. And because we knew people and were already in the flow we started playing very quickly, and we were playing real venues like the Boardwalk and that led us just to being in the right place, I don't know about the right time, but it gave us possibilities.
We stayed with the original line up until toward the end of the band, when we tried out a couple of new members in order to add something to the sound, but the nucleus was always the same with some fringe help.
++ Where does the name of the band come from?
There are a few possibilities here. We spent some time chosing the name and had various mouse like suggestions. One of our stories involved animal feeding. In the original Bounce the Mouse we had a bass player who had a Monitor Lizard in a glass box in his bedroom. He used to feed it live mice, but as it was not Malaysia but Manchester the lizard was not very active. So he had a pair of long pliers that he used to feed it with, something like a giant thing that you might imagine used in an operation in a hospital, but to get the lizard interested in the mouse he used to bounce the mouse on the lizard's head. Another more plausible possibility is that it comes from a Peter Gabriel lyric. "I prefer this to be a mouse called Bounce, rather than an unkind act".
++ Where did you use to practice?
We practiced at a rehearsal room in Chorlton in Manchester that was owned by a drummer called Mark. He had a band that made a few records too, a kind of funky outfit, and we would go twice a week. Then we moved to a rehearsal room in the city centre called Redhouse. This was an underground world with a small 8 track studio and 4 or 5 spaces full of bands. Everyone started there, there was a sofa and we would meet up with other bands and play. I still see Trevor the old sound engineer sometimes, and various other members of bands that were down there. It was damp and the gear smelled when we put it in the van, but it was a busy place. We played there twice a week throughout our time.
++ Your first release was the "Will You Ever Say?" single on your own label. I read that it happened because during a gig at the Boardwalk you met Chris Nagle and he urged you to record that song. Do you remember what gig was that? And why did he urged you to do so?
I can't remember the gig, but he was a regular and had access to downtime at Strawberry Studios as well as having a name in the industry. He came over after the gig and suggested that he would produce it if we payed for the studio, overnight, not at full rate. So we took it. We were playing regularly there at that time, as I said before we were in the right places.
++ I love that single, that song is truly a favourite of mine. So if you don't mind, would you tell me the story behind "Will You Ever Say?"?
Well we were a new band when we wrote that song, and we were writing 2 or 3 songs a week. Some of them got lost before they were played, but we had a lot of imagination. If you think about the arrangement with the bass introduction and the swing of the main part it is really quite original, and the vocal line is catchy, so it stood out in the set for that I think. And when we recorded with Nagle we did not change the arrangement as we did with later productions, it just kind of grew out of nothing into what it sounds like still today. It captures a feeling I think, and did at the time.
++ The songs for this first record were recorded at Strawberry Studios in Stockport. How was that experience? I read it was quite productive as they would later offer you releasing as second single!
Well Strawberry had been a big studio a few years before. It was the first 24 track outside London, and had done a lot of stuff, so you can't help but feel that when you are there. We were always in overnight with Nagle, and so had the place to ourselves. And although it was a bit dated inside, the desk and technology had been at the highest professional level. Apart from the odd demo this was our first studio experience, following in the tracks of Joy Division and many other famous Mancunions, so it was exciting. Jimmy Hendrix had played in the pub over the road, it had been the centre of the North West music industry, and was still operating on a high level although losing pace with technology. We had a good relationship with Nagle and the in house engineer Jonathan Barrett and as they wanted to relaunch a record company that had existed in the past (I think it was even called Strawberry Records) they asked us if we would like to put something out. A great opportunity.
++ So in 1989 you released "Like Lorraine" on both 7″ and 12″ on Big Round Records. At this time you got the chance to play shows with The Levellers, The Family Cat and Cud. You got the support of the label. Did you see much difference between being on a label or being a self-released band?
Yes we had a small budget for promotion, so we could make some postcards and the record company paid for both 12" and 7 and all of the promotional distribution. They had a good distribution deal (we had gone through Red Rhino with the first single and they had gone bankrupt), and they knew a lot of people. I think the real difference was that we had met our manger Jim Tracey who was Social Secretary at the Manchester Polytechnic and he used his contacts to book out a tour. So we had 4 extra pairs of hands, and that allowed us to tour and promote the single. It was a professional team, we did about 30 dates to promote the single in the May, than toured again in September, it got us a lot of press and sold the records.
++ And who was this Lorraine? A real person or not?
Well it tells a story, and as we know stories are always true at the time that they are being told.
++ And why was the record released on both 7″ and 12″ formats?
Well Dj's played 12" at that time not so much 7. So if you wanted to get something played in a club you had to produce a 12" version. And we were fontunate that we had some backing, and so we did both.
++ At the end of that year you changed your name to Sinister Groove. Why was that?
Well we started to get major record company interest, and they wanted to see if they could make a serious commercial band, that is what they want, and so we under their influence looked for a more serious sounding name. We played under both names toward the end of that year, so there was no sudden stop and start, we played on one night under one name and on another under the new name. EG records and Island put up some money for us to do some demos under the new name, and they wouldn't have done that had they thought that we wouldn't bend a little towards commercialism.
++ I notice too that the sound of the band changed with the name change. What sort of sound were you looking for at this time?
Times had changed and musical sounds had changed. The arrival of the Happy Mondays, Stone Roses and New Fads really introduced this groove feel. Our change in sound reflected what we were listening to and who we were playing with. But the change in sound was also tied to this change and the record company interest. And we changed producers. We started working with Clive Martin, and that was a dramatic change. He was an internationally known producer, had won an Oscar for the soundtrack to 7 Years in Tibet and gold disks with the Hunters and Collectors in Australia and Le Negre Verde in France. And his influence changed the sound. But the Happy Mondays had broken through too, and there was a lot more dance influence in guitar music, so the musical genre changed at the same time as our production capabilities. We had stepped up a level in production quality and resources, which brought expectation, and you can hear the difference. We were looking for a sound that you could get played on daytime radio 1.
++ Are there any more songs by Bounce the Mouse that remain unreleased?
We recorded "Get Down", that was never released that had been an early BTM song, but as I say this was at a time when we were playing under both names so any of the Sinister Groove demos that are about are of songs that were played under both names. I think the sound had changed by the time the name changes, and the effect of the resources made the sound seen so different. There was no gap though and you can only write a few songs in a year, especially if you are playing a lot, so I don't think you should see them as separate entities. So there are loads of unreleased songs that were played by Bounce the Mouse but recorded as Sinister Groove.
++ And what would you say was your favourite song of your whole Bounce the Mouse repertoire and why?
I think Sugar Hates Spice is my favourite to play for the groove, it is lazy but noisy. Get Down too, it marked the passage into thinking about the music in terms of dance rather than rock. We even made a version with just a drum machine, aiming for a kind of I Feel Love feel.
++ What about gigs? Did you play many? What were your favourites? Were there any bad ones?
Yes, we played loads over a short period, real touring. 3 days on, one day off. Huddersfield Polytechnic always treated us well, real food and a full rider. Playing with Pulp in London and Blur at the Hacienda, the Alnwick Festival was our first festival, playing with Hellbastard amongst others. Soho and the New Fads gigs in London were great, and a turning point in our carrer and playing ability, so I have fond memories of those shows, touring with the Family Cat was always fun and the Aberystwyth University gig stands out. We played the Mean Fiddler which was another fine show and the Treworgy festival in Cornwall with our mates the Levellers in the crowd, all good fun. We had a few very poor ones though, crossing the line into punk ethics that I wouldn't like to relive, smashing stuff up, thinking we were rock n roll, playing to empty venues (the George Roby in London being the example), but it is a trade you have to learn. To learn the limit of what is show and what not, how much alcohol you can drink and what you can and cannot say.
++ And where was the farthest you played from home?
We only played in England, the farthest was the Cornwall festival, probably 500 Km, but we played the entire country, and more than once. Every city you have ever heard off and another 30 that you have never heard of.
++ Did you get much attention from the press or the radio?
We got loads of press just due to the fact that we gigged a lot. Local radio played our records and we did a lot of interviews, we got a few plays on national BBC Radio 1 as Sinister Groove too. Various press articles in the NME and Melody Maker, we got a mention every week in the gig guides and reviews for the records. Not all good, but not all bad either.
++ What about fanzines? I know they were big back in the 80s, maybe you were involved with them?
Yes M62 was a good local fanzine and they wrote about us, as did a few others like Kill Everyone Now another Manchester based Zine. Later when I joined Dumb we targeted the fanzines much better, they were missed in the early days as we went for national press. We did get it though so I don't want to say it was a mistake.
++ Then what happened? When and why did you decide to call it a day?
Well we had been pushed and pulled by record company interest. That had led us to taking on new members, and changing what we wanted and aimed for, what we thought about what we were doing and into being critical of what we were doing and probably of each other. It is not a healthy way to lead your life, you are trying to please different people who want different things, and at some point we decided that were not going to be able to do it and it wasn't fun anymore. We realized I think that the reason we had started was not the same reason we were doing it for now, and we decided to call it a day.
++ What did you all do afterwards? I know you were involved with Dumb, but what about the rest?
Adam moved into acoustic music, and became a very accomplished acoustic guitarist. He is well know on the local scene. Tom took a break for a while, but has always played and kept his contact with other local musicians, Steve went off to the USA and I don't really know how much he has done, and as I said before I was a founding member of Dumb, then did a load of other entertainment stuff. None of us has lost contact, and you see the results now that we have begun playing together, we are all better musicians that we were then. Although we play less we play as mature players, we have continued to learn.
++ How do you feel when people tag your music or you as a C86 band? Do you like that term?
As I said we were always a bit too noisy and probably uncool for the scene that this term really reflects, although we toured with a lot of the bands that were on the original cassette and we definitely got press interest off the back of that scene. We were not at the end of the day trying to fit into that scene either, we wanted to sell loads of records, and we thought they were all singing about miserable stuff that was a bit too introverted. The early BTM stuff was noisier, Will You Ever Say was the closest to that sound, but the set did not really sound like that. Like Lorraine certainly wouldn't fit into that category. It was a movement though and it helped all indie bands at that time I think as it created an image for a kind of movement, and being crap and cheap recording was no longer a problem.
++ And today, aside from music, what other hobbies do you have?
I still do theatre, I like to write, I write for my job too and I see what I do as art. I use the skills we used as a struggling band to promote myself and the organization I work for. I learned a lot and I still use it. I was a teacher for 10 years and stage experience is good for that, now I do lectures in Universities and it is good for that too.
++ One last question, what expectations do you have for this upcoming gig of Bounce the Mouse, going back to the UK and all?!
Well I am sure we are going to have a great time, and we will not be the only old people at the gig. There will be loads of our old peers, and I believe they are doing free camomile behind the bar and allowing pipes and slippers.
++ Alright! That was quite a talk, anything else you'd like to add?
Well thanks for giving us the chance to share this time. I find it both strange and warming that there is interest in this music from years ago, and that people like you re writing about it and people actually want to read it, it's great. I used to say that when you make a record it's like immortality, someone somewhere will find it in 30 years and play it, and here you are. Great, and thanks.
::::::::::::::::::::::::::::::::::::::::::::::::::::::::::::::::::::::::::::::::::::::::::::::