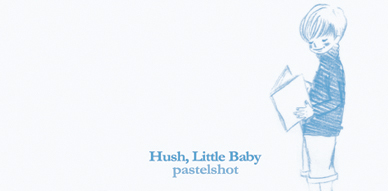 Even less news this week for indiepop as far as I know. The only worthy piece of news for me was the new video that the New Zealand band, The Prophet Hens, have published on Youtube for the song "Popular People (Do Popular People)" that is included in their 2nd album "The Wonderful Shapes of Back Door Keys". I played this album a lot last week, so that was quite cool that their video coincided with my listening.
I promised reviewing the Lima Popfest spring edition lineup. Sadly it seems I mixed up the weekend it was happening and well, it happened last Saturday. I don't know how it went, hopefully it was a success, but I'll go ahead and do a review of the bands for all of us that are not aware of many of these South American bands that were part of the festival.
I hope I'm not being too harsh. All in all, the even, Lima Popfest, does a fantastic job bringing bands from the region and fans together. That is what matters in the end. And to have fun. Maybe live these bands sound totally different too. I would have loved to attend. Also it matters the taste of the locals, and they really love some of these bands, I've seen them hyped by Tobogán Andaluz and Los Niños del Cerro for example. Me, I'd be hyped by Los Lagartos, but then, people are never usually excited for local bands. They want the ones from abroad. Same thing happens to me!
I wish that Popfest continues, even this exercise of listening to new music is really rewarding for me. There should be more Popfests, more gig organizers, that way even if I can't attend, at least, I'm going to be able to listen to new music, sometimes I will like it, sometimes I won't. But I will give the links to you, popkids, and maybe you like ones that I didn't like, and dislike the ones I liked. That's the beauty of it.
——————————————————-
Been meaning to "introduce" you to Pastelshot for some time now. Maybe you already know them, they are not new. I only discovered them this year.
True, it is not often that I feature obscure Japanese bands in the blog. But there are times when I have to. Especially because Japanese bands are usually obscure for us Westerners. We don't get to know much about their members, their gigs, what happened to them after or before the band and so on. Maybe that information is actually available in Japanese on the web, I don't know. I don't know Japanese, so it ends up being very difficult to track down Japanese bands and find information. In that sense, it would be great if Japanese fans can help me uncover the mystery of Pastelshot.
I don't know when their mini-album came out. I can't find a year. It came out on a label I mean to explore in a detailed way, abcdefg*record (catalog a-g007). I remember this label from the Myspace days, they released a band I really like, Naivepop or Petitfool. I never got round buying their records so maybe now I could start with the magic of the internet. I wonder though if all their catalog, all those bands I've never heard before like Strawberry Machine or Yucca, are as good as Pastelshot is.
Through the catalog I kind of have an idea when was the their mini-album "Hush, Little Baby" released. I think it must have been in either 2001 or 2002. It included 8 songs and it was released in CD format. The songs being: "Fade Into the Clouds", "Red Bus Goes Through Our Days", "Walk Or Not", "Drops", "Night Moves On", "White Bird Sings Another Song", "Hesitation" and "Funny Card".
I'll go over this record again in a bit. The thing is, that before the mini-album was released they did appear on a compilation titled "The Lucksmiths Japan Tour Sampler", a CDR that I'm guessing was sold or given away while the Australian band toured in Japan/ This CDR was released by a classic Japanese label, Clover Records (catalog CLCDR-824) in 2001. The song the band contributed was "Red Bus Goes Through Our Days (Demo Version)". I'm assuming this is a very rare record.
There is another compilation appearance listed on Discogs. On the compilation "ABC Make Up On Monday" released in 2009 by abcdefg*record (catalog a-g 004) they contributed "Summer Song".
Luckily I have the mini-album and can now unveil some details about the band. We know the band is actually a duo formed by Keisuke Kamiya and Mamiko Yokote. They got the help of many friends on the record like Noriko Yamada (drums), Yasuaki Takahashi (bass), Kei Matsuura (guitars), Makoto Sasaki (flute) and Akiko Sumino (cello). The record was mixed and also disigned by Yukio Hirai and mastered by Kasuya Nagae.
There are some thank you notes as well and I can see they thank some bands like Harmony Hatch or Hazel Nuts Chocolate. They also thank the Blue Badge Label's head honcho Toshiyuki Higumi. What a great label is the Blue Badge Label, right?
The beautiful illustrations on the booklet were made by Tamami Yokote. Maybe Mamiko's sister?
I look for Keisuke Kamiya on Discogs. He seems listed on a band called Tiala. But it sounds PUNK! Is this the same Keisuke Kamiya that makes such gentle pop on Pastelshot? For the other people involved in the record, I find no info.
I find a small review entry on the Tonevendor mailorder site. Actually you can get their record there for a good price if you are not in Japan, that is a good tip. It is said that the band had 3 independently released cassettes before the CD came out. Now Pastelshot got all my attention. I want to listen to these three tapes!
Tonevendor accurately describes their music: Like a soundtrack to a movie, this is "the melody of small love". Heartbreaking, warm and touching you brightly. Boy/girl vocals complete the sound perfectly. 8 tracks. Japanese import. From this review we know this was a long-distance band, one of them was in Tokyo, the other in Nagoya. Who was who, and how did this work out for them?
Ok, so they were on other compilations. Perhaps they were on Blue Badge compilations? It would make sense if they thank the label. So yes, in 2002 they appear on the compilation "Send My Badge" with the song "Walk Or Not" and then on 2000 on the cassette compilation "Her Breast Pocket" with the song "Ray of Snow".
Now, where else to find them? Where are they now? It's been around 15 years or so since they released this lovely mini-album. What did they do after? I'd love to listen to the songs on compilations that don't appear on the CD, and also of course, those three tapes they released before joining any labels.
I google and only find a bunch of Japanese and Chinese sites that seem to sell the record. I go to the abcdefg*record site. There's no information there either. The band just vanished.
::::::::::::::::::::::::::::::::::::::::::::::::::::::::::::::::::::::::::::::::::::::::::::::