16
Nov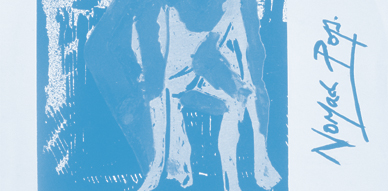 It is still quiet here. I did buy my Lush tickets for a concert that is still a year away. A bit crazy if you ask me. But that's how it is in the days of modern capitalism. I don't even book my flights with such anticipation. I did with Lush though. Who knows what will happen in a year time. Perhaps I have to be somewhere else other than NYC and they'll probably keep my money if I can attend. Or I would have to sell the tickets to someone else for a lesser value. Ah! It makes me a bit annoyed but at the same time I'm really excited to see them!
Now I think I should start fixing my record room. It's been messy for months and I have records in places they don't belong. I need to do some sorting. Put the 7″s in alphabetical order at least. The CDs are growing everywhere and there are no shelves left for them. I need to invest in new shelving furniture in IKEA soon. Especially as boxes of Cloudberry stock are piled everywhere. As it's also my guestroom in my small apartment, and assuming next year friends will come visit at least for NYC Popfest, I should fix this room soon! It's not very comfy at the moment.
Then on Saturday I fly to Peru for a week. I guess it won't affect any orders as there hasn't been any on the past two weeks (!!!!). Cloudberry becoming less and less popular. These are the times we live in! But if you place any order next week, be sure they will be sent on the first week of December to your place.
I have booked a side trip too while in Peru. Can't be all the time in Lima as I know it so well (though eating there is like paradise, everyday you can eat amazing and delicious dishes). I'll be flying to Puno, so I can visit Lake Titicaca and the Uros people and their floating islands made of reed. Will also try to cross to Bolivia and see Tiawanaku. And in Puno visit Sillustani and Aramu Muru. Places so mysterious that I've always wanted to visit. Hopefully I don't get any altitude sickness!!
And that's what's been happening. Don't know of many new releases that came out the last week. Have you heard of anything worth getting? I still haven't got my hands on the Sun Days and I feel it's taking forever to get this record. It's never on Jigsaw and not on Discogs either. I probably just need to make up my mind and order it all the way from Sweden. I think it's the only record that has came out this year that I really want that I haven't got.
Though perhaps that is not 100% true and now that December is coming and everyone starts doing their year end lists I will see what I've been missing.
————————————————
Mystery in indiepop is synonymous to Nomad Pop.
I heard this band for the first time on my Japanese "nemesis" PomPomTakashi's myspace. I thought it sounds so fresh and fun. Trumpets here and there.
A nomad (Greek: νομάς, nomas, plural νομάδες, nomades; meaning one roaming about for pasture, pastoral tribe) is a member of a community of people who live in different locations, moving from one place to another. Among the various ways Nomads relate to their environment, one can distinguish the hunter-gatherer, the pastoral nomad owning livestock, or the "modern" peripatetic nomad. As of 1995, there were an estimated 30–40 million nomads in the world.
Of course I don't have any contact with Takashi. He hates everything about Cloudberry as he wants to keep his bands and discoveries secret or at least he needs to be credited as the great discoverer, the Columbus of indiepop. Bit childish. But it's been a long time, perhaps he has changed, I don't know. To be honest though, many indiepop collectors know about this record and I would love to own to have a copy.
The problem with this 7″ is that there is absolutely no clues on their sleeve to know who were Nomad Pop. We do know that they liked art. Their sleeve has two nice modern art paintings. One on the front, and one on the back. The one on the back is signed by a Caroline Hepburn. I looked for her, but no luck. There seems to be an actress that appeared on a movie called "One Night Stand" in 1997 alongside Dennis Quaid. But I assume that's not her.
We do know that the record was released in 1986. The label was Redhouse Records (catalog RHR 1). And it included two songs. They were both A sides. The A one was "Dignity", which I have never listened before, and "Best Man" as AA, double A side.
That's really all there is for this band. I assume they were British. But that's all I dare to guess. Does anyone remember them? Did they play many gigs? Did they record any other songs? Would love to know more about Nomad Pop!
:::::::::::::::::::::::::::::::::::::::::::::::::::::::::::::::::::::::::::::::::::::::::::::
Listen
Nomad Pop – Best Man