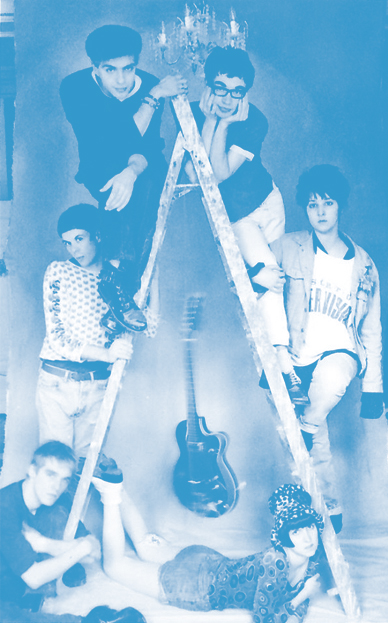 Thanks so much to Klaus Cornfield for the great interview! Throw that Beat in the Garbagecan! is one of my favourite bands ever, so it was quite thrilling to receive these answers! On top of it all this year the band is reuniting for a one off gig in Berlin and I'm so planning to go. I already have a concert ticket! Just missing the plane ticket! But yeah, it's so exciting! There is more information about the event here if you are wondering. And you can buy the tickets here! Throw that Beat had a wonderful career, with many albums, EPs and singles, all of them packed with hit-songs, and many indiepop classics in my book. If you haven't heard about them yet, well, maybe it's time for you to discover them, and if you are a fan like me, I hope you learn a thing or two, or just enjoy the interview! Happiness!
++ Hi Klaus! Thanks so much for being up for an interview. First of all I have to say that I'm so very happy that you are reuniting for this one gig in September. Why did you decide to come back? And will there be more concerts or this is just a one-off?
I was about to become 50 years old and decided to ask Oli, Lotsi, Iwie, Alex and Ray to play once more, just for the fun of it. They jumped on the train all together quite happily – and it grew fast from the idea to play "a bunch" of songs to a whole 90 Minute Rock show. But we decided also to keep it cool. One big evening! No further promises or expectations.
++ I have never seen you live before, so for me this is going to be a great first time, so looking forward to it. Many German friends have told me that your gigs were so much fun back in the day. What can I expect in this gig? Is it going to be the full lineup of the band? Are there any unreleased songs that you'll play? How many songs will you play? Bringing any special merch? Any little gossip will do!
Of course we printed a new poster and we will sell a few leftover XXXL shirts that were stored in my parents cellar for quiet a long time. Some rare records from another ancient box will be also waiting for our meanwhile loaded and grey haired fan people at our merch stand, along with our iconic merchandise girl Soosoo Sunbeam. We are very happy to announce that Lotsi will be back for this concert, which for me is the very exciting element in this whole enterprise. The fun will be there i suppose, the awkward announcements, Iwie's silly hat, me stepping on guitar cables and falling over…I don`t think anything can change that in us…
++ So going back in time, and I know most of your German fans will know all these answers, but I think the English-speaking won't, I want to ask about the early days in Nuremberg. How was it? Was Throw That Beat your first band experience? And if there were any bands in town that you liked at the time?
No, there was not one band in town that we liked when we got started. There were 3! The shiny Gnomes, the Truffauts and the Gostenhof Giants. Along with some other fine talent like the Kern brothers or Albi Illegal and his psychedelic hardrock group the Illegal State of Mind. And we had the Zabo Linde, a club in the south part of Nuremberg which introduced us to great small indie bands in the eighties, like the Feelies, the Go-Betweens, the Milkshakes, the Wedding present, the Television Personalities and many more. We were all the musical children of one man. Michael Demmler, who owned a small alternative record store and gave me my first very good record. My first buy was the Television Personalities live bootleg "live at Forum Enger" and "Jonathan sings" from Jonathan Richman. That was a new world.
++ And talking about cities, now you live in Berlin, and the gig will be happening in Berlin. When did you move? And whereabouts in Germany would you say you have the biggest fanbase?
I moved to Berlin 10 years ago. I don't want to say it is the perfect place to be automatically, but for me it was. It's a little bit like Piccadilly Circus in London. Everyone comes here once in a while. Some old friends who I know from all over Germany moved to Berlin as well. Since we used to play so many shows all over the land, we have a good chance to find many of our audience in the biggest and dirtiest city that's available. Berlin. Anyway, no matter where we would do the concert, there will be a lot of people that have to travel for it. I only worry a little bit about the CO2 that will be released only for this one concert….ayayay…what a shame…
++ You took the name of the band from a B-52s song, but the whole band had great stage names, I always wondered where those names came from. For example, the Cornfield part. What's the story behind that?
Lotsi Lapislazuli and Iwie Candy XO7 and their sister Soosoo Sunbeam. They invented fake names for themselves that were so funny that i got jealous and begged them to make one up for me. So they stuck their heads together for a minute and came up with "Kalle Cornfield". Which i liked, except that i kept the Klaus from my real name. Oli changed to Polli, when we watched too much Monty Python sketches with dead birds. Pollunder means Pullover in German- Oli's favorite winter clothing, So that resulted in Polli Pollunder. Lord Ray was always Lord Ray, don't even know where that came from. When we looked out for a band name in 1986, we liked the words "beat" and "garbage" very much, and we decided to use the longest band name of all the bands on the planet.
++ Also by the end of Throw That Beat in the Garbagecan's run as a band you shortened the name of the band to just Throw That Beat. Why was that?
After a few years the joke was used up and the records became CD's and there was no way to print such a long name on those crappy tiny plastic things. We also thought that shortening the name would sound fresh and could help the audience to see us in a new light. Did it help? No.
++ You played so many gigs back in the day. What would you say were the best and why?
Brixton University, CBG`S, Open air in Barcelona, Heidelberg, Kotbus, Roskilde Green Stage, Tokio, somewhere in Shibuya on the 8th floor, Transfer in Erlangen, all those and many other concerts were just perfect moments for us i think. It really doesn't matter so much how big the crowd was, but on those occasions I remember that it was packed and hot and I even remember that I collapsed once in Cologne, because I wore a fake fur hat on stage.
++ And how was the visit of The Fat Tulips to play with you in Germany? Any anecdotes you could share?
They loved to play the blues in the backstage room.They were just so adorable, and they let us stay at their homes when we toured in England.
++ Do tell me how did the first contact happen with them and Heaven Records? How did this friendship start?
That is so long ago, I can't recall how and why we met them. I guess that someone wrote letters and then picked up the phone. Maybe a fax here and there…those were undigital times…yes…fax…can you believe it?
++ My first encounter with your records was here in the US, through Spinart. How did you end up signing with them? And why only two of your albums came out with them?
Spin Art did very good work. They discovered us a little bit too late to start releasing our records from A to Z, so they decided to make their own compilation. That went up to number 49 in the College Radio Charts, so don't say we did not make it big in the USA. We saw the effort behind it and for a week we even experienced some kind of hype, especially when we played at the CBGB's. The room was crowded only when we were on stage, I swear! It was almost frightening…maybe they were crowding up to beat us up…but no. They loved it as if the other bands were Poison and we were The Cure.
++ Most of your records came out on Electrola though. Who were they? And how was your relationship with them?
Robert Wolf and Monika Markowitz wanted to try something new and with us they did. After we got guaranteed in the contract that we would play the music the way we wanted to, we were very surprised, but we liked it!
++ You have so many fantastic songs, but can I pick two and you can tell me the story behind them? What about "A Choclatbar for Breakfast" and "Little Red Go-Cart"
When i was a kid I woke up early in the morning on the week ends and sneaked into the living room where my parents were hiding the chocolate bars. The song seems to use this picture to tell us something about a lost feeling that the author wishes to come back again. I wish I knew what I was really thinking…still. Little red go-cart was Lotsi's idea while she heard me playing D A G A very fast on my old red Astro guitar. I adore the line "submarines just run ashore, people cry and go to war".
++ And if you were to pick your two favourite songs from your repertoire, which would they be? And why?
"I dedicate my life to you" is my all time favorite. Its impossible to tell the second one, I think I love them all the same, but the one I call "my song" is the mentioned. First I was singing it to someone else, till I recognized is really about me – which made me cry a little bit, because suddenly it became so sad and still sounds happy.
++ You recorded also a bunch of videos. How was that experience? Who came up with the ideas for them? What was more fun, recording at the studio or filming videos?
For the videos we threw all our ideas together and Iwie would take care of the rest. Hiring a camera and sound man and editing. She still is working in that field and saved our tiny butts from looking stupid with her editing work. A kiss for Iwie! Recording music was a 10 to 20:00 job mostly. Later we recorded in huge studios, where Suzie Quatro recorded some hits and was reported to have thrown a cake on the ceiling. The cleaning woman told us this story from the seventies when she saw how well we behaved – except for the last day. I remember getting very drunk at least once when we finished the record and listened to the pre-mixes. Sooo drunk, I climbed on a lamp…and on a few other things I can't remember properly. Recording new songs was one of my favorite parts of being in a band. Along with most of the concerts.
++ Something I also love about your records is the artwork, the photos you used, the imagery. Who was in charge of that?
We were lucky to have some talented friends who helped us with the photos, Billy & Hells for example, who I hung out with when we started. We even got Jürgen Teller for a shooting, because he knew Iwie from school. As a cartoonist I supplied a few comic strips, but the beautiful artworks of the albums and singles are made by Lotsi. You can't beat Lotsi's stuff.
++ About your songs, they are quite unique, so I always have wondered where did you get inspiration and who had influenced you to pen such songs? Also if you ever considered doing German songs for Throw That Beat?
We wrote one German song! "007 Sehen". Iwie sings it. Kind of a test balloon. We loved it and were about to do at least one or two more. But we took so much inspiration (that's how you call it) from English and American music, comics, films and TV shows, (not to mention Mr Kurt Vonnegut) that it felt very natural to us to use English. Gladly English lyrics by German bands were awfully dull in the eighties. And the rest of the world did not so much better with a few exceptions. All these boring clichés that were used made me sick, so we were proud do it a little bit funnier than the rest. We spit on the radio broadcasting and pressed things like "fuck" and other beep words on vinyl…just because we liked it better that way. The trick was to stay open for any subject to sing about. It may be a very small object that makes big sense. Once when we waited for Iwie to show up for our rehearsal and she did not show up, we wrote a song about waiting for Iwie. As simple as that. It ends with a long keyboard solo by Iwie, because she might have been late, but finally she came. It`s still one of my favorites. It seems to say so much more than it really does. The minor chords gives it such a sad and beautiful meaning. But there are a few crappy lyrics as well by me from the very first beginnings. I had to learn the hard way myself.
++ So when and why did you all decided to call it a day? What did you do all after?
That was after our last tour in 1997 I think. There was not much despair or anything. The end faded in very gently when when we drove over a dark autobahn from Switzerland to Nürnberg listening to "My name is Jonas" from Weezer. The workers are going home…that was my feeling.
++ Something I've always wondered is if there are still any unreleased songs by Throw That Beat? And if there are plans for any sort of reissues or new releases in the future?
There is a very charming and trashy fanclub tape that waits to get digitalized, and a few very rare covers and B-sides. We will make it available on our homepage soon.
++ And looking back to those days, what would you say was the biggest highlight of the band?
Our very own red Throw That Beat in the Garbagecan! Viewmaster with 3D Bandportraits that EMI made as a promotion gadget for the Cool Album.
++ I've been to Berlin before, but as you are a local now maybe you can give me some tips! What are your favourite areas to go for a walk? favourite German dish that I should try? And what about beer?!
Beerlin! If you like Beer, you will find enough variations – If you ask me, try Egernseer. Its hardcore. And eat currywurst, if you can find one. They died out almost in the last 10 years. They are even more hardcore. The best food will be Turkish food in Kreuzberg. Miammiau
++ Ah! and before I forget, favourite chocolate bar?
Ritter Sport Alpenmilch
++ And one last question, how many guitars do you own?
3 Guitars. A small acoustic nylon string from the thirties made out of maple wood and a red 1964 Astro (Instrumentenbau Stromer halfacoustic) and a 1974 Gibson Halfacoustic.
++ Thanks again so much Klaus, anything else you'd like to add?
Thank you for your patience! Feel free to correct my words in spelling and commas and dots and stuff. make me sound like i know what i`m doing please:-)
::::::::::::::::::::::::::::::::::::::::::::::::::::::::::::::::::::::::::::::::::::::::::::::
Listen
Throw that Beat in the Garbagecan! – A Choclatbar for Breakfast