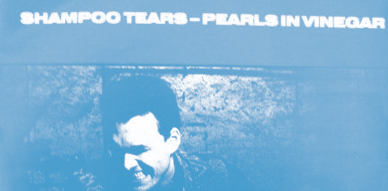 Thanks so much to Jörg Heiser for this interview. It's been a pleasure to find about them as I've been recommended his band by so many friends, and at last I could get to know more about them! Please check Jörg's new band, La Stampa here.
++ Hi Jörg! Thanks again for doing this interview. Hope I find you fine. I hear you were just on a small tour with your band La Stampa, how did that go?
It was great fun! 5 silly chaps in a car.
++ So let's get back in the time machine. When did you form Shampoo Tears? What do you remember from those early days, the first rehearsals?
We formed Shampoo Tears in 1987 I believe. We were three guys from school – me on Keyboards and Guitar, Thorsten Schinke on bass, Christian Krämer on guitar, and Christian's neighbor and early childhood friend Martin Ignatz on percussion, and later full drums. We rehearsed in Christian's cellar (when there was still no full drum set). We had no clue how you make a song. The early stuff was more like tracks, we used a cheap Yamaha drum computer. "Pearl in Vinegar" was one of our first "proper" songs.
++ Was this your first musical project? What sparked you to start a guitar pop band? What music were you listening at the time?
Yes this was the first thing. We were inspired to form a band by stuff like New Order, The Cure, The Smiths, and the C86 bands (the NME-Sampler C86 and bands like Wedding Present and Stump). Wimp pop. The old punk idea that anyone could form a band, but with an effeminate wimp twist.
++ Why the name Shampoo Tears?
A track by Scottish pop band Win had that title. We liked the ironic romanticism of it.
++ Your only release was the "Pearls in Vinegar" 7″, care to tell me a bit about the songs on the record?
It's kind of crazy and absurd, but I still can't find the single. It must be in one of the boxes I haven't opened yet after I last moved. So to be honest I only remember the title track, and especially the line "boredom is the death of love". And Christian's guitar solo afterwards, which I do think has a very good hook.
We recorded the tracks in a basement studio in Wiesbaden, and the same studio had been used by Thomas Anders, singer of Modern Talking.
++ Tell me about the artwork of the single, who is the guy in the photograph?
Klaus Hartmetz, a friend of the band. He was a fan of both Bruce Springsteen and Einstürzende Neubauten. Got me hooked on the latter.
Photograph by Bernd Bodtländer, who continues to be a great photographer, also of music bands.
Where is Klaus today? I should try to find out.
++ Why weren't there more Shampoo Tears releases after it? Maybe there were some compilation appearances or demo tapes?
No… We renamed to Svevo when the music became more indie-rockish (we discovered distortion… in the wake of Mudhoney and Dinosaur Jr…)
++ How was the process to get signed to the Die Schwarze 7 label?
We played some gigs in Wiesbaden, and I was also a bass player for a while with She Splinters Mortar, another C86-type band from Wiesbaden.
Stefan saw us live and like it, and there weren't so many bands at all at the time who did that kind of music.
++ How was Mainz back then? What were the best venues to play gigs or hang out? What other good bands were in town?
Mainz – that was not least Brückenkopf, the early days of electronic music in Germany, with people like Ian Pooley etc. We were the only guitar pop band from Mainz really (correct me if I'm wrong), though there were some in Wiesbaden like aforemention She Splinters Mortar.
In Wiesbaden-Schierstein was a great club where I saw stuff like Spacemen 3.. Wartburg had concerts by F.S.K. and Sonic Youth that I remember dearly… And then of course Frankfurt with Batschkapp (a great Felt concert) and Negativ (Nirvana before they were big..)
++ Stefan from Die Schwarze 7 said: "they were a real band, which means that they rehearsed intensely and followed a clear plan: they wanted to play as often as possible". How often did you play? Did you play all over Germany? What were your favourite gigs you played?
Well, we rehearsed maybe once a week. Not really that nerdy. As Shampoo Tears we did not SOO many gigs, we were essentially still a school band -stuff in the region, like, say, a festival in Oppenheim, or support gigs in KUZ (Mainz Kulturzentrum).
++ When you called it a day with Shampoo Tears, you started Svevo, which I hope we can do an interview about it some other time. What were the differences between these two bands?
As said, these were essentially the same band. The main difference was that we switched to German lyrics – impressed mainly by Kolossale Jugend from Hamburg. We did a tour with Blumfeld in 1994 when our first album was released. That was great, we played in front of audiences of around 800 people and were well received. Still our label was small (Peace 95 from Offenbach, they also released the first Stereo Total) and distribution was poor (Semaphore) so we only sold maybe 800 CDs or so.
++ And what happened after Svevo? What are you doing nowadays?
Well during Svevo I had already started to write mainly as a music journalist, for Spex and tageszeitung etc. Then I gradually became an art critic. Today I'm co-editor of frieze magazine. And I play in La Stampa.
++ As you live in Berlin now, and I will visit your city again in September, I was wondering if you could recommend me a good place to get a beer? And which beer should I get, what's your fave?
Any Schultheiss in any corner bar. That's downhome Berlin style. Many people hate that beer, I think because of preservations against its main clientele (lumpenproletarians). A really nice bar is Altberlin on Münzstraße. You can have a nice Kölsch at Bar 3, but beware the moody waiters..
++ And a before a beer perhaps I should get some food, any good restaurant recommendations?
El Reda, the best lebanese food in town, in Huttenstraße (a bit off the way in Moabit, but you can
also look at Peter Behrens' great AEG industrial building from 1908 nearby). It's a ten minute taxi ride from Tegel airport though.
++ One last question, how do you see Berlin as a music town? Is there much going on? How would you compare it to Mainz from Shampoo Tears days?
Berlin is extreme when it comes to music: loads and loads of Bands playing in town. But to be honest
there are not so many Berlin-based bands that I'm excited about. I like Jens Friebe and Doctorella,
Christiane Rösinger is great, and there's good electronic stuff by the likes of Jan Jelinek for example.
But my musical tastes are not based on where a band is from. Gunjasufi is great and he's from Las Vegas, but that's not important. It's just great music. Mainz was a provincial nothing against this. That's why we wanted to get out.
++ Thanks again Jörg, anything else you'd like to add?
No?
Thanks!
::::::::::::::::::::::::::::::::::::::::::::::::::::::::::::::::::::::::::::::::::::::::::::::
Listen
Shampoo Tears – Frozen Weekend (thanks so much to Krischan for the mp3)